DelveInsight estimates by 2030, the Car-T cell therapy market in Acute lymphoblastic leukaemia would approximate to USD 1,315.7 million in the 6MM (U.S. and EU5 including UK, Germany, Italy, France and Spain), emerging as a multi-billion-dollar industry.
Acute lymphocytic leukemia (ALL) is a tumor that afflicts bone marrow and hampers the production of healthy White blood cells. ALL is acute cancer denoting its rapid progression, if not treated can be fatal within a few months. One of the most common types of cancer, Acute lymphocytic leukemia starts from the bone marrow and invades the other parts of the body through lymph nodes, spinal cord, liver, spleen, and central nervous system.
As the name suggests, ALL results in soaring in production of lymphocytes, and on the basis of types on the type of lymphocytes affected, ALL is categorized into B-cell ALL, T-cell ALL, Burkitt-type ALL and Philadelphia chromosome–positive ALL (Ph+ ALL).
Some patients have also reported a type of leukemia called biphenotypic acute leukemia, or mixed phenotype acute leukemia or ambiguous lineage acute leukemia, i.e., a leukaemia, which has characteristics of both ALL and/or acute myeloid leukemia (AML).
Acute lymphoblastic leukemia occurs due to mutations in the DNA of the bone marrow directing it to continue its proliferation non-stop. This results in a quickened production of lymphoblasts that fail to mature into lymphocytes. Although, the etiology of acute lymphoblastic leukemia remains unknown; however, certain environmental factors have been implicated in the etiology of Acute Lymphocytic Leukemia such as exposure to benzene, ionizing radiation, or previous exposure to chemotherapy or radiotherapy, as per Yana Puckett, et al.
Also known as acute lymphoblastic leukemia, signs and symptoms of the disease include gum bleeding, pain in the bones, fever, nose-bleeds, swollen lymph nodes, shortness of breath, fatigue, and others.
Acute lymphocytic leukemia epidemiology
Acute lymphoblastic leukemia is the second most common acute leukaemia, with 80% of the all cases are diagnosed in children. ALL is pretty much less common in adults; however, survival rates and long-term prognosis for adults depict a grim picture. According to the American cancer society, Acute lymphocytic leukaemia incidence is estimated to be at 1.6 per 100 000 population. Moreover, the year 2016 witnessed approximately newly ALL diagnosed 6590 out of which, 1400 resulted in deaths.
According to Paul, S et al., Acute lymphoblastic leukaemia incidence follows a bimodal distribution, i.e., the cases are either diagnosed during childhood or around the age of 50.
DelveInsight estimates that by 2020, Acute lymphoblastic leukaemia incidence would range between 0.4 to 2 per 100,000 population in the Asia-Pacific and South American countries. Moreover, globally, the prevalence is expected to increase during the forecast period (2017-2030).
ALL treatment approaches and unmet needs
The clinical hallmark of ALL is altered genome and chromosomal abnormalities in differentiation and proliferation of lymphoid precursor cells of B-cell lineage and T-cell lineage. Identification of genetic alterations paves the way for better management of the disease and better prognosis as compared to traditional methods based on age, WBC count, and others.
Despite major breakthroughs in identifying alteration and defining prognosis of ALL, the backbone of the treatment stays multi-agent chemotherapy comprising three phases, namely, remission, consolidation, and maintenance, with CNS prophylaxis at intervals throughout therapy. The remission therapy includes the use of vincristine, corticosteroids and anthracycline with allogeneic stem cell transplantation for eligible candidates. As per the American Cancer Association, chemotherapy is the mainstay of ALL treatment. Amsacrine (NordMedica), cyclophosphamide (Baxter), and cytarabine (Pfizer) are some of the cytotoxic drugs available for chemotherapy in ALL used for the destruction of cancer cells. Therefore, the rising importance of chemotherapy is a major contributing factor behind the growth of Acute lymphoblastic lymphoma market size.
Dose intensification has brought improved outcomes in paediatric patients; however, the limitation in the use of theses drugs are elderly patients are unable to tolerate such high doses regimens and carry a particularly poor prognosis as only 30–40% of adult ALL patients manages to achieve long-term remission. Moreover, many times chemotherapy do not reach the marrow or drugs do not act in a certain manner required to get rid of tumor cells. Associated side effects such as hair loss, diarrhoea, haemorrhage have always been a cause of concern.
It is therefore paramount to focus shift from conventional chemotherapy methods to a treatment approach that brings relief from the side effects and are efficient in patients of all age-groups.
CAR – T cell therapy market in Acute lymphocytic leukemia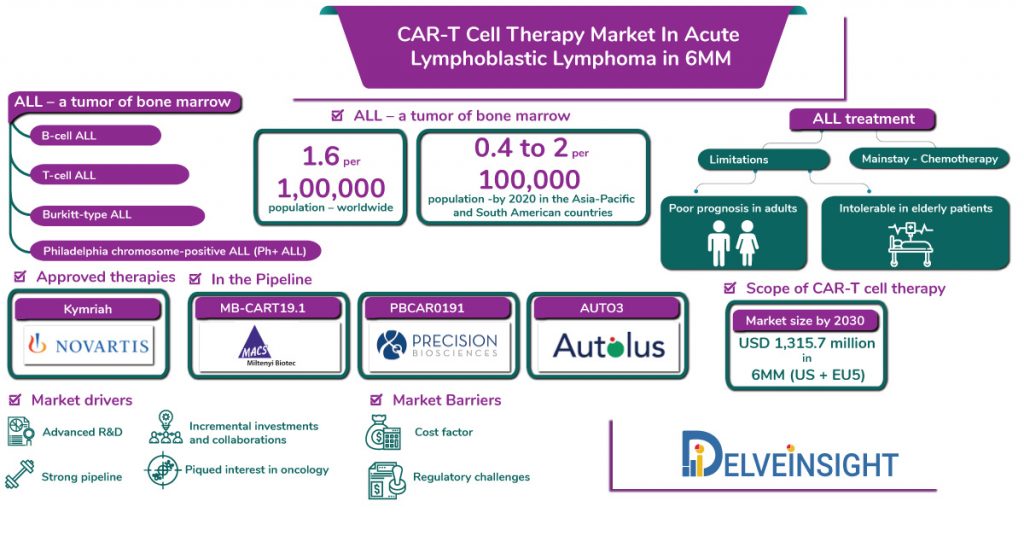 Chimeric antigen receptor (CAR) T-cell therapy has successfully cured cancers wherever chemotherapy failed. The treatment involves correction of genetic errors in autologous T-cells directing it to express a tumor antigen – CAR – chimeric antigen receptor – followed by ex vivo cell expansion and re-infusion back to the patient.
Recently CAR-T cell therapies have emerged significantly to target antigens in Acute lymphoblastic leukaemia patients. Results of several clinical trials testing the efficacy and safety of CAR-T cell immunotherapy have shown some promising results. The year 2017 marked a milestone after the FDA approved tisagenlecleucel (CTL019) – under the brand name Kymriah – by Novartis, a CD19-directed CAR-T cell product for the treatment of relapsed/refractory ALL. It is the only approved cell therapy available in the Acute lymphoblastic leukaemia market for paediatric patients.
The approval of Kymriah resulted in an influx of the investors investing in several pharma and biotech companies developing their immunotherapy pipeline candidates to remain afloat in the highly competitive environment.
Despite these, the strict regulatory approvals with a less favourable outcome for the therapeutics and the adverse side effects of the drugs used in the therapy hinder the growth of the market worldwide.
The global Acute Lymphoblastic Leukaemia market boasts of a robust clinical pipeline under development in various stages of development. The emergence of potential therapies, MB-CART19.1 (Miltenyi), PBCAR0191 (Precision BioSciences), AUTO3 (Autolus Limited) will significantly impact the market in the future.
CAR-T cell therapy market in ALL: Pipeline
The Acute Lymphoblastic Leukemia market consists of the big pharma players as well as the mid-sized companies, hence is moderately competitive. Moreover, DelveInsight estimates by 2030, the Car-T cell therapy market in Acute lymphoblastic leukaemia would approximate to USD 1,315.7 million in the 6MM (U.S. and EU5 including UK, Germany, Italy, France and Spain), emerging as a multi-billion-dollar industry.
MB-CART19.1 – a CAR T-cell therapy by Miltenyi Biotec is in Phase I/II clinical trial for the treatment of r/r B-cell lymphoma, and acute and chronic lymphocytic leukemia. The drug is currently in phase I/II stage for the treatment of Non-Hodgkin's lymphoma, and in phase I stage of the clinical trial for the treatment of patients with r/r CD19-positive B cell malignancies.
PBCAR0191 – novel CD19 targeted allogeneic CAR T therapy candidate under development by Precision BioSciences for the treatment of relapsed/refractory (r/r) B-cell acute lymphoblastic leukemia (B-ALL) and non-Hodgkin lymphoma (NHL), is currently in phase I/IIa clinical trial. The FDA has granted PBCAR0191 Orphan Drug Designation for the treatment of ALL.
AUTO3 – a CAR T-cell therapy for T-cell Lymphomas is under development by Autolus Limited. The therapeutic candidate is in phase I/II of development for the treatment of T-cell lymphomas. In April 2019, the FDA granted orphan drug designation to AUTO3.
Way ahead
As per DelveInsight analysts, the advances made in CAR-T cell therapy since the introduction of the idea of developing CAR-T cells to tackle malignancies until the timeline reaching the present date have been commendable. The decades-long journey and the approval of therapies and many others receiving designations heralds to the bright future of CAR-T cell therapy market in Acute lymphocytic leukemia.
Moreover, ongoing research shows that the day is not far enough when CAR-T cell therapy would be the talk of the town grabbing a maximum chunk of the market, providing relief to patients who have acute lymphoblastic leukaemia.
In addition to incremental R&D, rising focus of most of the pharmaceutical companies in oncology, it is expected that few new small-sized companies will also penetrate the market shortly. The recent advances in survival rates and positive clinical outcomes in patients with B cell malignancies also highlight the future scope of CAR -T cell therapy market. However; the billion-dollar price for one-time therapy is something which till date remains debatable.
Conclusively, DelveInsight estimates an increase in the size of CAR T-Cell Therapy market for Acute Lymphoblastic Leukemia anticipated for the study period, 2017–2030 attributed to increasing incident population of Acute Lymphoblastic Leukemia patients in the 6MM, along with the expected entry of premium price asset such as antigens, cell therapies will have an impact on market size.