Chondrosarcoma is a group of bone tumors made up of cells that make too much cartilage. As per DelveInsight analysis, the total incident cases of chondrosarcoma in the 7MM comprised approximately 2,331 cases in 2022 and are projected to increase during the forecasted period. Our estimates suggest that the United States had the highest incidence rate of chondrosarcoma among the seven major markets, with ~1,300 reported cases in 2022. Among the stage-specific rates of conventional chondrosarcoma, localized conventional chondrosarcoma accounted for approximately 75% of the patient share, while the rest of them were metastatic in nature. When it comes to disease progression, the rate is quite high in patients with high-grade conventional chondrosarcoma as compared to the one's with low-grade conventional chondrosarcoma
The challenges in chondrosarcoma treatment and diagnosis
The path to a chondrosarcoma diagnosis can be arduous and time-consuming due to the rarity of this type of cancer. Patients may undergo numerous tests and seek expert advice before obtaining a conclusive diagnosis. Regarding diseases like chondrosarcoma, there is no prescribed course of action following chondrosarcoma diagnosis. The disease is challenging to treat and rare, which makes conducting comprehensive studies difficult. Relying on data from a single institution regarding the incidence and survival rates of the disease may not be reliable. Instead, gathering data from population-based cancer registries is necessary to ensure accurate and representative information.
A glimpse of chondrosarcoma subtypes and grades
Chondrosarcoma is a type of tumor that comprises various subtypes. These tumors can develop independently, known as primary tumors (making up over 85% of cases), or arise from pre-existing benign osteochondromas or enchondromas, or secondary tumors.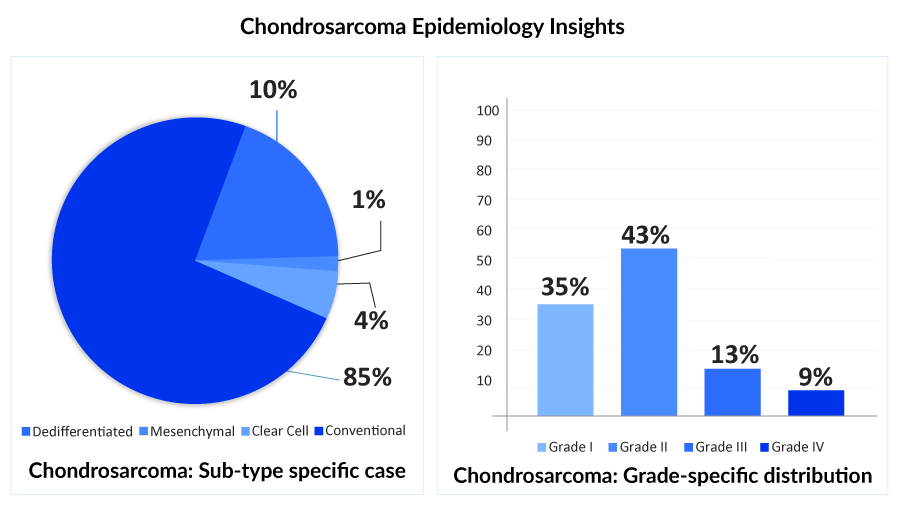 The majority of chondrosarcomas, approximately 85%, fall into the category of conventional chondrosarcoma, which is notoriously challenging to treat using chemotherapy, which is why it is a primary area of interest. In terms of grade-specific cases, Grade I and II chondrosarcomas tend to be fairly slow-growing, whereas grades III and IV can grow quite rapidly. It is estimated that about 75–80% of all chondrosarcoma cases are considered low-grade in nature. According to DelveInsight estimates, in the United States, there were around 485, 584, 177, and 125 cases of Grade I, II, III, and IV, respectively, in 2022.
How do tumor grade and stage shape the chondrosarcoma treatment journey?
While chemotherapy and radiation therapy may have limited effects on conventional chondrosarcoma, they could prove helpful for rarer subtypes of this type of cancer, such as mesenchymal chondrosarcoma. Dedifferentiated chondrosarcoma might benefit from chemotherapy, though the success rates are inconsistent across the literature. Current chemotherapy recommendations include cisplatin and doxorubicin, extrapolated from recommended osteosarcoma treatment regimens. However, the primary mode of chondrosarcoma treatment is surgical management, with limb salvage surgery being a popular choice. Amputation is only necessary for advanced or recurrent cases. As chemotherapy and radiation therapy are typically ineffective for most chondrosarcoma types, surgery remains the mainstay in managing this cancer.
What does NCCN recommend for chondrosarcoma treatment?
According to the ESMO's clinical practice guideline, trabectedin may be an option for mesenchymal chondrosarcoma. Additionally, Dasatinib and Pazopanib have shown modest efficacy in chondrosarcoma metastatic and widespread chondrosarcoma and are recommended by the NCCN guidelines. IDH1 inhibitor such as Ivosidenib has also been added as a treatment option for patients with IDH1-mutant conventional or dedifferentiated chondrosarcoma in the NCCN guidelines.

Inhibrx's INBX-109: Promising candidate for chondrosarcoma treatment
The fact that chondrosarcoma encompasses multiple subtypes and grades has sparked interest in investigating each one in-depth and discovering specific treatment options. We are aware that low-grade chondrosarcomas rarely metastasize. In contrast, high-grade chondrosarcomas, which comprise 5–10% of all conventional chondrosarcomas, are highly aggressive and tend to spread to the lungs. This creates an addressable patient pool for emerging therapies for chondrosarcoma treatment to target patients initially diagnosed with metastatic chondrosarcoma and those progressing from localized disease. As per DelveInsight analysis, the total chondrosarcoma market size in the 7MM is approximately USD 9 million in 2022 and is projected to increase during the forecast period (2023–2032) at a CAGR of 24.8% due to increasing awareness of the disease and the launch of the emerging therapy for chondrosarcoma treatment.
Delivering chemotherapy to chondrosarcoma, located in the cartilage with no blood vessels, is a major challenge. Direct injection of drugs into veins cannot ensure the drug reaches the tumor. However, using monoclonal antibodies that remain in the body longer can achieve the desired level of medication, leading to tumor cell death. One such chondrosarcoma drug which has shown hints of benefit for people who receive the medication is INBRX-109, being developed by Inhibrx. Inhibrx is pushing its luck in the conventional chondrosarcoma treatment space.
INBRX-109 is a tetravalent DR5 agonistic antibody that can potentize DR5 through efficient receptor clustering, causing cell death. Currently, the drug is being evaluated in a potentially registration-enabling Phase II chondrosarcoma clinical trial, and the company anticipates topline data readout from this pivotal trial by the second half of 2024. If the results are positive, the path to approval for chondrosarcoma treatment with INBRX-109 could be open by 2025.

INBX-109 is poised to gain a significant competitive edge by carving out a unique space among patients with unresectable or metastatic conventional chondrosarcoma and capturing the first-mover advantage. It is expected to establish a strong foothold in first- and second-line metastatic patients with fast uptake. Furthermore, given the absence of foreseeable competition in these patient subsets, INBX-109 is not expected to reach its peak anytime soon (post-launch) in terms of revenue until it gets challenged with patents.
Unmet need in the chondrosarcoma treatment market
Chondrosarcoma's rarity presents challenges for conducting clinical trials and understanding the epidemiology. Limited outcome data for locally advanced or metastatic patients highlights the need for new chondrosarcoma treatment options. While few Phase II trials have shown promise, the low enrollment and varying dose levels of Phase I trials hinder their ability to conclude. Retrospective studies are encouraged to gain more insight into the disease, and urgent efforts are needed to increase the number of studies and chondrosarcoma treatment options available for this orphan disease. In addition, the scarcity of epidemiological studies on chondrosarcoma makes it difficult to develop evidence-based prevention and management strategies due to limited data on the disease's prevalence, incidence, risk factors, and outcomes. Thus, more research is necessary to improve our understanding of this rare disease and improve patient diagnosis and chondrosarcoma treatment outcomes.
FAQs
1. What is chondrosarcoma?
Chondrosarcoma is a category of bone tumors made up of cells that generate too much cartilage. The most prevalent type of chondrosarcoma, called conventional chondrosarcoma, normally grows extremely slowly. Dedifferentiated chondrosarcoma, myxoid chondrosarcoma, clear cell chondrosarcoma, and mesenchymal chondrosarcoma are rare subtypes of chondrosarcoma that grow swiftly and spread to other parts of the body.
2. What are the symptoms of chondrosarcoma?
The chondrosarcoma symptoms can vary depending on the location and size of the tumor. In the early stages, chondrosarcoma may not produce any symptoms. As the tumor grows, the chondrosarcoma symptoms may include pain, swelling, limited range of motion, fractures, numbness or tingling, and others.
3. How is chondrosarcoma diagnosed?
The chondrosarcoma diagnosis typically begins with a physical examination and a review of the patient's medical history. During the examination, the doctor will look for any visible signs of bone or joint abnormalities and may also feel for any lumps or masses in the affected area. The doctor may also order blood tests to look for signs of inflammation or other abnormalities. Imaging tests are often used to help diagnose chondrosarcoma. These may include X-rays, CT scans, MRI scans, and bone scans. 
4. What are the current chondrosarcoma treatment options?
Chondrosarcoma treatment options may include surgery to remove the tumor, radiation therapy, and chemotherapy. The choice of chondrosarcoma treatment depends on various factors such as the size and location of the tumor, its grade, and the patient's overall health.