Hearing loss is a growing public health concern, and the number of cases is rising globally at a significant pace. As per the WHO, more than 1.5 billion people (nearly 20% of the global population) live with hearing loss, and 430 million of them have disabling hearing loss. According to the NIDCD, in the United State, about 2 to 3 out of every 1,000 children are born with a detectable level of hearing loss in one or both ears. Similarly, approx. 15% of adults (37.5 million) aged 18 and over report some trouble hearing. As per the estimates, by 2050, there could be over 700 million people with disabling hearing loss worldwide.
Hearing loss or hearing impairments are leading causes of socio-economic burden. Unaddressed hearing loss costs the global economy US$ 980 billion annually due to health sector costs (excluding the cost of hearing devices), educational support costs, productivity loss, and societal costs. In low- and middle-income countries, it is a major health issue due to a lack of awareness about timely diagnosis and treatment. Similarly, inadequate healthcare infrastructure is another major challenge in these countries. As per the projections by WHO, global hearing aid production covers just 3% of the need in low- and middle-income countries.
Hearing loss often leads to a debilitating ringing in the ears known as tinnitus. Hearing loss is a preventable disease affecting majorly adults aged 70 years and older. In older people, diabetes or high blood pressure is the major factor for hearing loss. Additionally, viruses and bacterial infections, stroke, brain injury, or a tumor are other key contributors.
In recent times the cases are observed to be rising among all age groups due to many different factors. Among young age people, hearing loss can occur due to prolonged exposure to high-intensity sound. Similarly, acoustic trauma from a sudden and loud noise can also lead to noise-induced hearing loss. Complications due to diseases such as Measles, meningitis, rubella, and mumps can also induce hearing loss.
Hearing loss can lead to several outcomes, such as isolation and frustration. It is also observed that hearing loss is closely correlated with chronic diseases such as dementia and several other mental healthcare disorders, thereby affecting the quality of life. Early detection and interventions can play a key role in mitigating hearing loss. Currently, several types of therapies and treatments for hearing loss are available in the market. Similarly, assistive technologies, including hearing aids, cochlear implants, closed captioning, and other devices can help individuals live normal lives. Moreover, speech therapy, aural rehabilitation, and other related services are found to be effective in hearing loss treatment.
Most Common Types of Hearing Loss
A hearing loss can occur when any part of the ear or auditory (hearing) system does not work well. The ear can be segmented into three parts Outer Ear, Middle Ear, and Inner Ear; the dysfunctioning of any part of the ear can lead to hearing loss. The basic categories of hearing loss are sensorineural hearing loss, conductive hearing loss, Auditory Neuropathy Spectrum Disorder, and mixed hearing loss. Conductive Hearing Loss occurs when the natural movement of sound through the outer or middle ear is blocked. It may occur due to earwax and can be treated with medicine or surgery. Sensorineural Hearing Loss occurs when there is damage to the inner ear or hearing nerve works. In Auditory Neuropathy Spectrum Disorder, sound enters the ear normally, but due to damage to the inner ear or the hearing nerve, there is a problem in the transmission of sound from the inner ear to the brain. Similarly, the sound isn't organized in a way that the brain can understand.
Devices for Hearing Loss Management
Hearing devices increase and improve overall hearing. The hearing devices are available in a variety of sizes, forms, and designs. These devices may enhance life in a variety of ways. There are several devices available to help and enhance communication skills. The most used devices for hearing loss treatment include
Hearing Aids
Hearing aids are sound-amplifying devices developed to help persons with hearing loss. Hearing aids differ in terms of design and technology. Hearing aids come in a variety of forms, including behind-the-ear (BTE) aids, in-the-ear (ITE) aids, and completely-in-the-canal (CIC) aids.
Hearing aid devices have gained popularity in recent years as the global prevalence of hearing loss and deafness has increased. The growing burden of the elderly population is also expected to boost demand for hearing aid devices in the future years. This is because age-related hearing loss, also known as presbycusis, develops gradually as a person ages. Furthermore, increased exposure to high decibel noises may result in noise-induced hearing loss, increasing the demand for hearing aid devices.
Moreover, the active participation of the leading market players will drive the hearing aid devices market forward. Presently, the leading MedTech giants such as MoreiSome of the key market players operating in the hearing aid devices market include Amplifon, Audina Hearing Instruments, Inc., Sonova, Demant A/S, audifon GmbH & Co. KG, GN Store Nord A/S, Arphi Electronics Private Limited, Foshan Vohom Technology Co., Ltd., RION Co., Ltd., Eargo Inc, Elkon Pvt Ltd., Starkey Laboratories, Inc., WS Audiology Denmark A/S, Horentek Hearing Diagnostics, Bernafon, Unitron, MDHearingAid, Istok Audio Trading LLC, AlgorKorea Co., Ltd., Microson, and others are operating in the hearing aid devices market.
As per DelveInsight analysis, the global hearing aid devices market was valued at USD 7.01 billion in 2021, growing at a CAGR of 5.47% during the forecast period from 2022 to 2027, to reach USD 9.61 billion by 2027.
As per the analysis, Europe is expected to lead the global hearing aid device market in the future years. This dominance is attributable to the increased prevalence of hearing loss in the community. Furthermore, the Asia-Pacific region has significant future potential in the hearing aid devices market. This is due to the region's growing elderly population, who are prone to suffering hearing loss. Additionally, an increase in hearing loss cases, growth in disposable income, and expanding government activities to promote awareness about hearing loss and its prevention are expected to drive up demand for hearing aid devices in the region.
Cochlear Implants
A cochlear implant is a tiny electronic device that stimulates the cochlear nerve electrically. The implant contains both exterior and internal components. The exterior component lies behind the ear and uses a microphone to take up noises. It then processes the sound and sends it to the implant's internal component.
The cochlear implant market is now gaining traction due to the increased prevalence of hearing loss among the global population, where hearing aids are ineffective. Furthermore, increased exposure to high-intensity sound, which can cause hearing impairments and hearing loss, would increase demand for cochlear implants.
Additionally, the increased prevalence of age-related hearing loss is a driving factor in the cochlear implant market. According to the National Institute on Deafness and Other Communication Disorders 2021 statistics, around 2% of persons aged 45 to 54 years had disabling hearing loss, and the percentage jumped to 25% and 50% of those aged 65 to 74 and 75 and older, respectively in the US.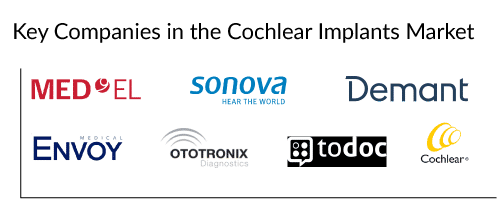 As a result, several leading companies are working in the cochlear implants domain. Currently, key players such as MED-EL Medical Electronics., Sonova, Demant A/S, Cochlear Limited, Envoy Medical., Ototronix, TODOC Co., Ltd., and others are involved in developing novel products to improve the treatment landscape, which further boost the cochlear implants market.
As per DelveInsight's latest published report titled "Cochlear Implants Market", the global cochlear implants market was valued at USD 1.52 billion in 2021, growing at a CAGR of 9.92% during the forecast period from 2022 to 2027, to reach USD 2.68 billion by 2027.
Furthermore, the government and several organizations are launching a number of programs to assist research in the field of cochlear implantation. For example, during the 2022 American Academy of Audiology (AAA) meeting in March 2022, members of the American Cochlear Implant (ACI) Alliance exchanged research and clinical practice with other community members. The conference was created to allow attendees to network with their colleagues in the community, remain up to current on future material, and learn about recent advancements in the audiological sector. This is anticipated to boost the expansion of the cochlear implant market in the coming years.
Assistive Listening Devices
Assistive listening devices (ALDs) or assistive listening systems are a wide range of gadgets that help the person hear sounds in everyday situations. Some public facilities, such as auditoriums, movie theaters, houses of worship, and meeting spaces, have ALDs. They can be used to improve listening in these situations by those with normal hearing as well as those with hearing loss. Distance, bad room acoustics, and background noise may all be mitigated by using ALDs. To that end, many ALDs have a microphone near the source of the sound and a receiver near the listener.
The listener may normally change the loudness of the receiver as required. Careful microphone placement keeps the speaker's voice level consistent regardless of the distance between the speaker and the listener. The speaker's voice may also be heard clearly over background noises such as chairs moving, fan motors operating, and people conversing. ALDs can be used with or without hearing aids.
The assistive listening system market size has been expanding at a quicker rate with considerable growth rates over the previous few years, and it is expected to rise considerably in the forthcoming years. Assistive hearing devices' electronics have progressed, and they are now equipped with modern broadcasting systems, driving the market for assistive listening devices ahead.
Furthermore, the assistive listening devices market has seen a wide range of technical improvements, with some devices improving access to music and other leisure pursuits. The primary income drivers for the market include FM sound systems, hardwire devices, infrared sound systems, alert/alarm systems, telephone listening devices, and induction loop systems.
Moreover, the rising emphasis on enhancing the effectiveness of ALDs has driven medical device manufacturers to explore for attractive prospects in the assistive listening devices market. Currently, major players dominating the assistive listening devices market include Siemens, Permobil AB, Sonova International, Starkey, Sivantos, William Demant Holdings, MED-EL, Widex, Cochlear, Earlens, and others.
Personal Sound Amplification Products
Personal sound amplification products (PSAPs), or sound amplifiers, are devices that raise the volume of sounds in particular contexts for non-hearing-impaired users. These devices might be utilized in the circumstances such as hunting (listening for prey), bird watching, listening to a lecture with a distant speaker, and listening to quiet noises that would be difficult for someone with normal hearing to perceive (for example, distant conversations and performances).
PSAPs, unlike hearing aids, are not meant to help or compensate for hearing loss. These are not medical devices and are not subject to the FDA's medical device regulations. Social isolation caused by hearing loss is extremely detrimental to one's general health and well-being. Amplification with well-fitted hearing aids reduces social isolation and improves health. Meanwhile, experts are unsure if PSAPs are as successful in boosting health as hearing aids.

Personal sound amplifiers are increasingly being used in commercial applications to help businesses develop. An aging population that is more susceptible to hearing loss and other disorders linked with it will drive demand for the worldwide personal sound amplifiers market. The leading companies such as Williams Sound, Bellman and Symfon, Etymotic Research, Audiovox/RCA Symphonix, Sound World Solutions, Comfort Audio, MERRY ELECTRONICS, Tinteo, Sonic Technology Products, and others are currently holding the major chunk of the market.
Implantable Middle Ear Hearing Devices
In conductive hearing loss, the natural movement of sound through the external or middle ear is hampered, and the inner ear cannot receive the full sound. Conductive hearing loss can be surgically corrected. When surgical or medical interventions cannot correct hearing loss, acoustic or bone conduction hearing aids can help the patient. Due to issues related to anatomic fit, sound quality, or personal preference, hearing aid devices are generally not preferred by patients. Similarly, due to external ear pathologies, acoustic hearing aids cannot be used.
Implantable Middle Ear Hearing Devices are the best alternative to external acoustic hearing aids. Over the past few years, some semi and fully implantable middle ear hearing aids have been approved by the FDA. Semi-implantable and fully Implantable middle ear hearing devices can assist in increasing the transmission of sound vibrations reaching the inner ear. These implants consist of a small prosthesis attached to one of the bones of the middle ear and can treat conductive and sensorineural hearing loss. Implantable Middle Ear Hearing Devices have an advantage as they can amplify the sound traveling to the eardrum (as with a hearing aid), and these prostheses help move the bones directly.

Globally, some of the key MedTech giants such as Cochlear Ltd, Envoy Medical Corporation, MED-EL Medical Electronics, Medtronic, Olympus Corporation, Ototronix, and several others are actively working in the Implantable Middle Ear Hearing Devices Market.
Future Perspectives
Deafness and hearing loss is a widespread condition and is found in every region and country. The growing cases are a major concern, and it is a highly under-recognized public health issue. It lowers the health-related quality of life and decreases the physical and cognitive function of the affected individual. It is also one of the leading factors contributing to the growth of chronic disabilities and the severe economic impact on individuals and their families. The increasing prevalence is creating a significant burden on the health care system, though it is largely preventable. As the old population grows globally, the cases are expected to rise further in the coming years.
To overcome the therapeutics challenges and fulfill the unmet need, globally, pharma and MedTech companies are actively working in the hearing loss therapeutics and hearing aids/implants market. Additionally, a few key companies are working on a new kind of regenerative therapy for hearing loss. With the use of regenerative therapy, small molecules are programmed to progenitor cells to create the tiny hair cells that allow us to hear. The ongoing development is expected to deliver clinically meaningful improvements in hearing loss management in the upcoming years.
As per DelveInsight, Hearing Loss management will evolve immensely in the coming years owing to growth in the early screening and diagnosis rate, rising awareness among people about hearing loss, favorable initiatives by the governments, and the launch of emerging therapies. Similarly, the technological advancements in hearing device development and the launch of products by the MedTech giants will also contribute immensely to the hearing loss market growth.