Diabetes is a condition in which the blood glucose (blood sugar) level is abnormally high. Glucose, which is obtained from the food consumed, is the primary source of energy in the body. However, the excess glucose level in the blood can cause health issues over time and can lead to vision disorders like Diabetic Retinopathy (DR) and Diabetic Macular Edema (DME). People with diabetic retinopathycan produce an excessive amount of protein called vascular endothelial growth factor (VEGF), which leads to the formation of abnormal blood vessels in the eye. These blood vessels will swell and leak, ultimately leading to impaired vision. DR is the most prevalent diabetic eye disease and the leading cause of irreversible blindness in people in their working years in the developed and other developing countries.
It is observed that over time, people with diabetic retinopathy will develop diabetic macular edema. Diabetic Macular Edema occurs due to the unusual leakage and buildup of fluid in the macula from damaged blood vessels in the nearby retina; the extra fluid in the macula results in fuzzy vision. General signs and symptoms include dark spots like a smudge on glasses or gaps that may appear in the vision, blurred vision, double vision, fading colors, or the affected person may find bright light or glare difficult.
"According to Eye Health Data and Statistics by the National Eye Institute, DME affects ~10% of Americans suffering from DR. According to DelveInsight estimates; the United States currently has over one million DME cases. When the number of diabetic patients increases, so does the number of patients suffering from DME and other vision disability related to diabetes. Many times, the condition is underdiagnosed because diabetes and DR often can go undetected until late stages."
DME diagnosis is clinically performed by fundoscopy. It is referred to as a clinically significant central-involved macular edema (CI-CSME) when the center of the macula (fovea centralis) is thickened or swollen and as clinically significant non-central-involved macular edema (NCI-CSME) when not. Secondary sources suggest that nearly 60% of the patients are categorized as central-involved macular edema (CIME), meaning that the retinal thickening in the macula does involve the central subfield zone that is ≥1mm in diameter. Tests that help diagnose DME are visual acuity, refractive error examination, fluorescein angiography (FA), optical coherence tomography (OCT) scan, pupil examination, slit-lamp examination, and retinal examination.
Intravitreal injections (IVT) are the gold standard of DME treatment. Anti-VEGF therapies, Avastin (bevacizumab), Eylea (aflibercept), and Lucentis (ranibizumab), are used to inhibit the action of a protein called VEGF to avoid retinal leakage and block vessel formation. Anti-VEGFs are the paradigm of DME treatment due to their proven efficacy and clear role of steroids in the DME treatment paradigm.
"Since approved anti-VEGFs are expensive, the Diabetic Macular Edema Therapy Market has witnessed an off-label use of Avastin (Roche/Genentech). According to DelveInsight's DME market analysis, about half of the US ophthalmologists still prescribe off-label Avastin as first-line DME therapy. However, in EU-5 (Germany, France, Italy, Spain, and the United Kingdom) and Japan, there is a substantial variability in the use of off-label Avastin with lower usage in EU5 and relatively higher usage in Japan. However, when compared to the US, the usage in both regions is quite low."
Several implants are also used to combat DME, especially in nonresponders to repeated intravitreal anti-VEGF injections; corticosteroid implants provide an alternative therapeutic approach and are usually used as a second-line treatment for nonresponders to anti-VEGF injections. At present, two slow-release sustained delivery systems of intraocular steroids being used for DME. Ozurdex is a dexamethasone implant that releases dexamethasone for a longer period. In addition, Iluvien is a long-acting fluocinolone acetonide implant that releases small doses over time. It has been approved by the US Food and Drug Administration (FDA) and available in the Diabetic Macular Edema Therapy Market.
Even though there are existing therapies in the DME therapy market to target DME, several unmet needs still prevail. Anti-VEGFs are not without flaws, despite providing effective and sight-altering treatment for DME patients. Anti-VEGFs are first given as three monthly loading IVT injections, in which patients are given another injection every 5–6 weeks, depending on the treatment plan and anti-VEGF therapy used. Patients and doctors are burdened by the number of appointments, tests, and care costs, putting more pressure on hospital and clinical services. The therapy burden felt by these patients makes it impossible for them to stick to their treatment plans, which eventually harms their health. Because of the strict anti-VEGF treatment regimen, one might not get permanent damage by missing an appointment, but the severity of damage might increase, resulting in improved vision impairment. Consequently, to overcome these burdens, longer-acting treatments are required, which will significantly reduce the burden on patients and the healthcare system.
Diabetic Macular Edema Pipeline Therapies
New pharmacological therapies are being designed to target the underlying biochemical pathways that trigger DME due to the limitations of current treatments. Concerning the emerging landscape, some potential therapies can considerably improve the patient's condition that would eventually drive the Diabetic Macular Edema therapy market growth if and when launched. Few pipeline drugs that are being developed to target DME are Beovu (Brolucizumab, RTH258), faricimab (RO6867461), KSI-301, ADVM-022, GB-102 (Sunitinib Malate), and several others.
Brolucizumab, a VEGF inhibitor, is being developed by Novartis for the treatment of DME. It is the most advanced humanized single-chain antibody fragment (scFv) in clinical trials. Notably, this drug was approved by the US FDA for wet-age-related macular degeneration (AMD) in October 2019 under the brand name Beovu. Novartis has reported topline results of the Phase III KITE (NCT03481660) and KESTREL study (NCT03481634) for DME. In the KITE study, the drug has demonstrated non-inferiority vs. aflibercept (2 mg) in mean Best Corrected Visual Acuity (BCVA) change after a year. In the KESTREL study, the company has reported similar outcomes of 6 mg brolucizumab – the dose approved for neovascular AMD – relative to aflibercept. More than half the patients in the brolucizumab (6 mg) arm were maintained on a 3-month dosing interval through year one following the loading phase. However, according to the American Society of Retina Specialists, there is a disparity in the inflammation profile of brolucizumab compared to the inflammation of other anti-VEGFs; there have been 14 cases of vasculitis.
Faricimab (RO6867461), a potential therapy from Roche,is the first bispecific investigational antibody for the eye. It targets two distinct pathways that drive various retinal diseases: angiopoietin-2 (Ang-2) and vascular VEGF-A. Roche has mentioned satisfactory results from its two Phase III studies, YOSEMITE and RHINE,evaluating faricimab in people with DME. Roche is set to file Biologics License Applications (BLA) in DME in 2021 (US/EU joint filing).
KSI-301 is an investigational anti-VEGF therapy based on Kodiak's Antibody Biopolymer Conjugate (ABC) Platform. The drug is engineered to keep drug levels in ocular tissues potent and efficient for longer than current agents. The company has presented its Phase Ib data focused on DME at the American Academy of Ophthalmology (AAO). Phase III studies, GLEAM, and GLIMMER, are in progress for evaluating the efficacy, durability and safety of KSI-301 in patients with treatment-naïve DME. The company is claiming that the patient will require only four injections in a year compared to nine and eight injections of Eylea and Faricimab, respectively.
Adverum Biotechnologies is also evaluating its gene therapy, ADVM-022. The company utilizes a proprietary vector capsid, adeno-associated viruses (AAV).7m8, carrying an aflibercept coding sequence under the control of a proprietary expression cassette. The company is conducting a Phase II trial (INFINITY) to evaluate ADVM-022.
At last, GB-102, from Graybug Vision, is a potent small-molecule multiple receptor tyrosine kinase inhibitor, sunitinib malate, in a proprietary microparticle formulation designed to be administered intravitreally every 6 months. The company initiated the Phase IIB study for GB-102 in 2019.
Below is a list of all the approved and emerging therapies in the Diabetic Macular Edema Therapy Market with details of the patient population they are targeting, along with the number of doses that would be required in a year.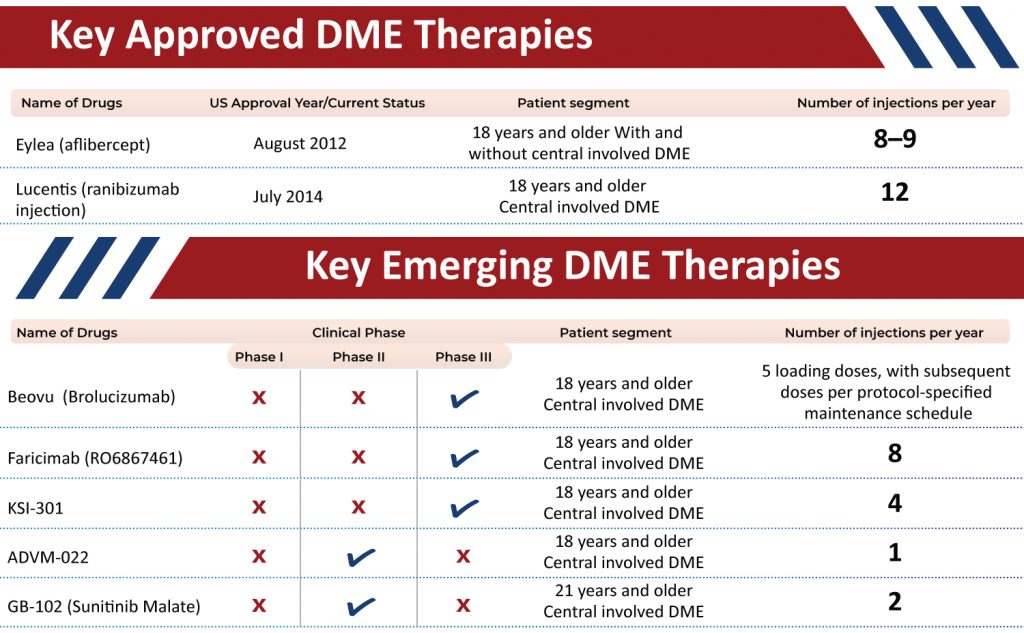 Market Forecast
Despite the significant use of anti-VEGF and corticosteroid treatments, a substantial percentage of patients with chronic or resistant DME may not report clinically relevant vision changes in the real world. Furthermore, regular intravitreal administration to obtain and sustain the benefits of anti-VEGF therapy for a long period puts an immense burden on patients, families, and caregivers. Moreover, the high cost and side effects associated with intravitreal injections also highlight the significant unmet need. Since DME imposes an indirect and direct link with Diabetes and Diabetic Retinopathy, monitoring and controlling blood sugar levels is also a major factor to monitor. All of these aspects have fuelled the development of novel next-generation anti-VEGF, combination drugs, and gene therapy as well for the treatment of DME. It is safe to predict that the treatment space will experience a significant impact in the coming years due to the improvement in the rise in the number of healthcare spending across the world.