Duchenne Muscular Dystrophy (DMD) is a rare disorder, but it is one of the most common genetic conditions, affecting roughly 1 in every 3,500 male births worldwide. It is usually observed between the ages of three and six. Duchenne Muscular Dystrophy signs and symptoms include pelvic muscles atrophy, followed by involvement of the shoulder muscles. Muscle weakness and atrophy spread from the trunk and forearms to other muscles throughout the body as the disease advances.
In addition, most patients' calves appear enlarged. As the disease progresses the most affected individuals require a wheelchair by reaching adolescence. Life-threatening severe DMD complications may eventually develop, such as cardiomyopathy and respiratory difficulties.
DMD is an X-linked inherited disease Duchenne Muscular Dystrophy causes include the mutations in the DMD gene on the X chromosome. Dystrophin, a protein present on the inner side of the membranes of skeletal and cardiac muscle cells, is controlled by the DMD gene. Dystrophin is hypothesized to be involved in the maintenance of sarcolemma. Duchenne Muscular Dystrophy life expectancy is between the ages of 16 and early 20s.
Moreover, a thorough clinical assessment, a complete patient history, and a number of specialist diagnostics, including molecular genetic tests, are used for Duchenne Muscular Dystrophy diagnosis. Specialized blood tests (such as creatine kinase) are also used to assess the presence and amounts of certain proteins in muscle (immunohistochemistry).
Duchenne Muscular Dystrophy Epidemiology
As per DelveInsight Duchenne Muscular Dystrophy Epidemiology Report, the total DMD prevalent population was more than 30K in the 7MM in 2020, which is further expected to increase by 2032. The United States accounted for approximately 16K prevalent cases of DMD in 2020 which was the maximum in the 7MM. Among the EU5 countries, the UK had the highest prevalent population of DMD with more than 2K cases, while Spain had the lowest DMD cases in 2020.
Duchenne Muscular Dystrophy Treatment Outlook
The only Duchenne Muscular Dystrophy treatment available are steroids like dexamethasone and gene-targeting therapies including exon skipping from Sarepta Therapeutics and NS Pharma for two small subsets of patients. These DMD therapies may, at best, slow the progression of Duchenne. The Food and Drug Administration approved the therapies after studying a few dozen boys. The approved DMD therapies received a positive response and helped the patients.
Explore our blog to know more about Duchenne Muscular Dystrophy Treatment Market
According to DelveInsight's Duchenne Muscular Dystrophy Market research report, the total market size in the 7MM is anticipated to reach approximately USD 8 billion by 2032. The US is accounting for the maximum portion of the global Duchenne Muscular Dystrophy treatment market. The factors driving this growth are the newborn screening of DMD, increasing awareness programs, upcoming launches and approvals, and robust pipeline activity in the gene therapy for DMD.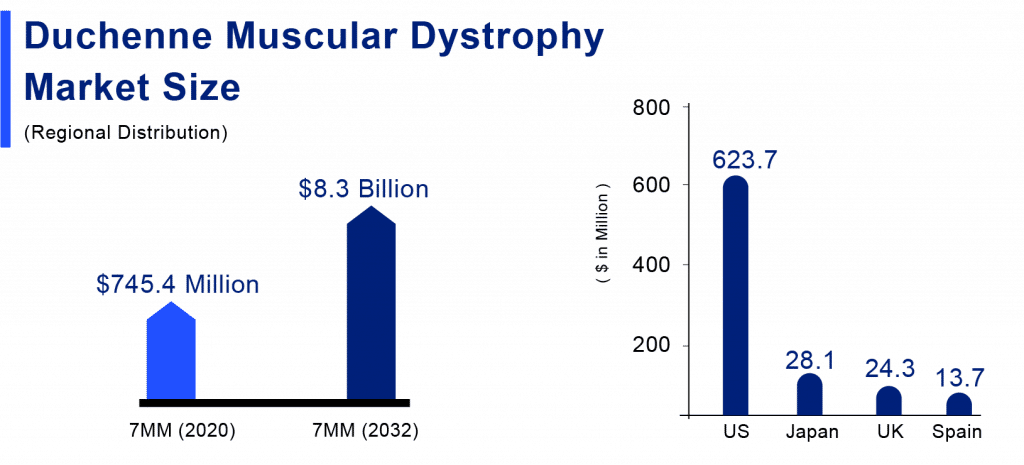 Upcoming Potential Duchenne Muscular Dystrophy Gene Therapy
Duchenne Muscular Dystrophy has long been a promising candidate for gene therapy, but overcoming several difficult technical challenges has proven difficult. For example, the dystrophin gene is too large to fit into the adeno-associated viruses, or AAVs, that are commonly used to deliver gene therapies. Researchers are trying to ensure that enough gene therapy product was delivered to muscle tissue to have an effect.
Moreover, the companies are hoping that their Duchenne Muscular Dystrophy treatment will slow or even stop disease progression, giving patients a chance to avoid the devastating effects of Duchenne.
The leading companies developing gene therapy candidates for DMD are Sarepta Therapeutics, Roche, Pfizer, Solid Biosciences, and Regenxbio.
SRP-9001: Sarepta Therapeutics/Roche
SRP-9001 is a gene therapy candidate for Duchenne Muscular Dystrophy treatment. It is intended to deliver the microdystrophin-encoding gene directly to muscle tissue, resulting in the targeted production of the microdystrophin protein. It employs a non-lethal modified virus (AAVrh74) with a high affinity for muscle tissue, allowing for targeted delivery. It also has a muscle-specific promoter, which is a DNA element that regulates the activity of a gene called MHCK7. MHCK7 is intended to increase gene activity in the heart and skeletal muscles, which are the most affected muscle groups in DMD patients. The drug is also known as rAAVrh74.MHCK7.micro-dystrophin due to its construction.
The gene therapy is currently being evaluated in a late-stage clinical development trial for the Duchenne Muscular Dystrophy treatment. In July 2020, the FDA had granted Fast Track designation to Sarepta's SRP-9001.
Recently Serepta released the topline results from Part 2 of Study SRP-9001-102 (Study 102), an ongoing, double-blind, randomized, placebo-controlled clinical study to assess the safety, efficacy, and tolerability of a single dose of SRP-9001 (delandistrogene moxeparvovec) in 41 patients with Duchenne Muscular Dystrophy, 21 of whom were in the placebo crossover cohort.
Participants in Part 2 of Study SRP-9001-102 scored 2.0 points higher on the mean North Star Ambulatory Assessment (NSAA) 48 weeks after SRP-9001 treatment compared to a pre-specified matched external control cohort (p value=0.0009).
Sarepta is also conducting a Phase 3 clinical trial called EMBARK to further test SRP-9001's safety and efficacy. The trial's participants will get either a single infusion of gene therapy or a placebo, and they will be tracked for 52 weeks (about a year). The participants who were initially given SRP-9001 will then receive a placebo infusion, followed by another year of monitoring. The trial's main purpose is to monitor changes in NSAA scores. EMBARK is currently recruiting males with DMD aged 4 to 7 in various locations across the United States.
PF-06939926: Pfizer
Pfizer's PF-06939926 is an investigational gene therapy for Duchenne Muscular Dystrophy treatment. It is a recombinant adeno-associated virus serotype 9 (AAV9) capsid containing a shortened version of the human dystrophin gene (mini-dystrophin) controlled by a human muscle specific promotor. Because of its ability to target muscle tissue, the AAV9 capsid was chosen as the delivery mechanism and is administered intravenously.
Pfizer's PF-06939926 was designated as an Orphan Drug and Pediatric Rare Disease by the FDA in May 2017 and an Orphan Medicinal Product Designation by the EMA for the treatment of DMD. The company announced in October 2020 that its gene therapy product had also received Fast Track designation from the FDA.
But unfortunately, a participant in Pfizer's Phase Ib open-label study died unexpectedly. The FDA has ordered a clinical halt to the trial, and Pfizer is investigating the causes of death. The patient was a part of the study's non-ambulatory arm. Pfizer is also conducting a Phase III study of the same product, which is being developed globally. PF-06939926 is among the two gene therapies in late-stage development for DMD, with Sarepta Therapeutics' SRP-9001 serving as its main competitor. Following this major safety event, the uncertainty surrounding PF-06939926's future could potentially pave the way for Sarepta's continued dominance in the field.
SGT-001: Solid Biosciences
SGT-001 is a novel AAV vector-mediated gene transfer therapy that aims to address the underlying genetic cause of DMD. SGT-001 is a systemically administered candidate that provides the body with a synthetic dystrophin gene called microdystrophin. This microdystrophin encodes a functional protein surrogate expressed in muscles and helps stabilize essential associated proteins such as neuronal nitric oxide synthase (nNOS). According to data from Solid's clinical program, SGT-001 has the potential to slow or stop the Duchenne progression, regardless of genetic mutation or disease stage,
SGT-001 is based on groundbreaking dystrophin biology research conducted by researchers at the University of Washington and the University of Missouri. SGT-001 has received Rare Pediatric Disease and Fast Track Designation in the United States and Orphan Drug Designation in the US and EU in 2017.
In September 2021, the company reported Positive 1.5-year functional data and patient-reported outcome measures (Pediatric Outcomes Data Collection Instrument, or PODCI) for Patients 4-6 in the ongoing IGNITE DMD Phase I/II clinical trial of SGT-001. The company previously reported 1-year data for the same measures in March 2021. The findings showed that the microdystrophin protein remains expressed and functional in biopsy samples collected 12 to 24 months after SGT-001 administration. These findings showed a significant improvement in patient-reported outcomes and provided encouraging evidence of functional benefit 1.5 years after treatment when compared to natural history data.
RGX-202: Regenxbio
RGX-202 is intended to deliver a transgene encoding a novel microdystrophin with functional elements of the C-Terminal (CT) domain found in naturally occurring dystrophin. In preclinical studies, the presence of the CT domain was shown to recruit several key proteins to the muscle cell membrane, resulting in improved muscle resistance to contraction-induced muscle damage in dystrophic mice.
Additional design elements, such as codon optimization and CpG content reduction, have the potential to enhance gene expression, increase translational efficiency, and reduce immunogenicity. The NAV AAV8 vector, which has been used in numerous clinical trials, and a well-characterized muscle-specific promoter (Spc5-12) are used in RGX-202 to support the delivery and targeted expression of genes throughout skeletal and heart muscle.
In January, The FDA approved Regenxbio's request to conduct a Phase I/II clinical trial in the United States to assess the safety and efficacy of RGX-202, its experimental gene therapy for Duchenne Muscular Dystrophy (DMD).
The Phase, I/II trial, named AFFINITY DUCHENNE study, which is set to begin in the coming months. Contact information and locations are not yet available, but initial trial sites are expected to open in the United States, with sites in Canada and Europe to follow.
In November 2021, RGX-202 was designated as an orphan drug by the FDA for Duchenne Muscular Dystrophy treatment. This designation is designed to provide regulatory assistance and financial benefits to the therapy's clinical research and evaluation, as well as a seven-year period of marketing exclusivity in the United States after regulatory clearance.
What Lies Ahead?
Gene therapy for Duchenne Muscular Dystrophy is to be the most promising DMD pipeline candidate in the Duchenne Muscular Dystrophy treatment market. Sarepta is a market leader in this category, with three out of every five marketed therapies in the US market addressing DMD.
Sarepta and Pfizer are evaluating their lead candidates for gene therapy in the late stages. However, unlike Sarepta, Pfizer does not have any additional candidates that may join the market and earn market share if its gene therapy treatment fails to win approval, implying that the stakes are higher for the latter.
Even if both gene therapies reach the market, PF-06939926 is likely to face a delay due to the recent death in its Phase Ib trial. As a result, SRP-9001 would gain a competitive edge. Regardless, Pfizer will need to examine the situation and acquire the data necessary to continue the Phase Ib trial and make changes to future trials, such as omitting certain mutation types.
Despite the risks mentioned above, which may result in lower uptake than Sarepta's product, Pfizer could still capture a significant market share and see a return on its investment before more gene therapies enter the market.
FAQ For Duchenne Muscular Dystrophy (DMD)
What is Duchenne Muscular Dystrophy?
Duchenne Muscular Dystrophy is a rare disorder, but it is one of the most common genetic conditions, affecting roughly 1 in every 3,500 male births worldwide. It is usually observed between the ages of three and six.
What type of genetic disorder is DMD?
Duchenne Muscular Dystrophy (DMD) is an X-linked disease that is inherited. DMD is the most frequent type of muscular dystrophy that develops in childhood and primarily affects men.
What is the life expectancy of DMD?
Duchenne Muscular Dystrophy is the most common type of muscular dystrophy. DMD has a life expectancy of 16 to early 20s. Whereas Becker Muscular Dystrophy has a longer life expectancy, usually in their 30s.
Which companies are working on gene therapy for Duchenne Muscular Dystrophy?
Five pharmaceutical companies, namely Sarepta Therapeutics, Roche, Pfizer, Solid Biosciences, and Regenxbio, are currently working on gene therapy for Duchenne Muscular Dystrophy.
What causes Duchenne Muscular Dystrophy?
Duchenne Muscular Dystrophy is caused by a dystrophin gene mutation (a protein in the muscles). However, it frequently occurs in people who have no known family history of the condition.
How many gene therapy for DMD are in the pipeline?
Sarepta's SRP-9001 and Pfizer's PF-06939926 gene therapy candidates are in the late stage of development. While Solid Biosciences SGT-001 and Regenxbio's RGX-202 are in the early stage of development for DMD treatment.