Insulin is a hormone secreted by the beta cells of the islets of langerhans in the pancreas. The hormone is responsible for the maintenance of normal blood glucose levels by facilitating cellular glucose uptake and regulating carbohydrate, protein, and lipid metabolism. Inappropriate functioning of insulin due to damaged beta cells or inability of the body cells to utilize the insulin produced can lead to diabetes type I and type II, respectively.
The global diabetes prevalence in 2019 was estimated to be 9.3% (463 million people), rising to 10.2% (578 million) by 2030 and 10.9% (700 million) by 2045, as estimated by the International Diabetes Foundation. Talking about the US, the region alone accounted for 34.2 million diabetes patient pool (American Diabetes Association). The prevalence rate of diabetes (diagnosed and undiagnosed) for all ages in the United States is 10.5% out of which approximately 1.6 million of the population have type I diabetes comprising 1,87000 children and adolescents. The percentage of prevalence is high among Americans of age 65 and older.
According to the International Diabetes Federation, an estimated number of 59 million adults (20-79 years) were living with diabetes in the IDF Europe Region in 2019. The Region has the highest number of children and adolescents (0-19 years) with type 1 diabetes – 296,500 in total. Moreover, the prevalence of diabetes in Japan for the adult population is 7.9% which is 7,390, 500 out of the total adult population (93,968,800).
According to WHO, in 2019, an estimated 1.5 million deaths were directly caused by diabetes. As there is no cure for diabetes, the administration of insulin in severe cases is the only option left with patients suffering from diabetes, which is done with the help of Insulin delivery devices.
Insulin Delivery Devices
Insulin delivery devices are used to inject insulin into the body. There are different types of insulin delivery devices available comprising syringes, pens, jet injectors, insulin pumps, artificial pancreas with a closed-loop delivery system.
The origin of diabetes therapy is associated with the discovery of insulin and its applications. Initially, big and heavy reusable syringes with plungers, barrels, and long large-bore needles were used for insulin delivery. These syringes and needles have to be sterilized by boiling for reuse. In 1924, Becton Dickinson manufactured the first specialized syringe for insulin injection. In 1925, Novo Nordisk launched "Novo Syringe". By mid-1960s BD manufactured the first one-piece insulin syringe with an integral needle. Continuous efforts by manufacturers and advancement in the technology led to the introduction of insulin syringes that are in current use. The advent of diabetes therapy, starting with the syringe for injecting insulin, graduating to insulin pens, insulin pumps, sensor-augmented pumps, hybrid closed-loop systems, and cloud-based data systems has transformed patient care.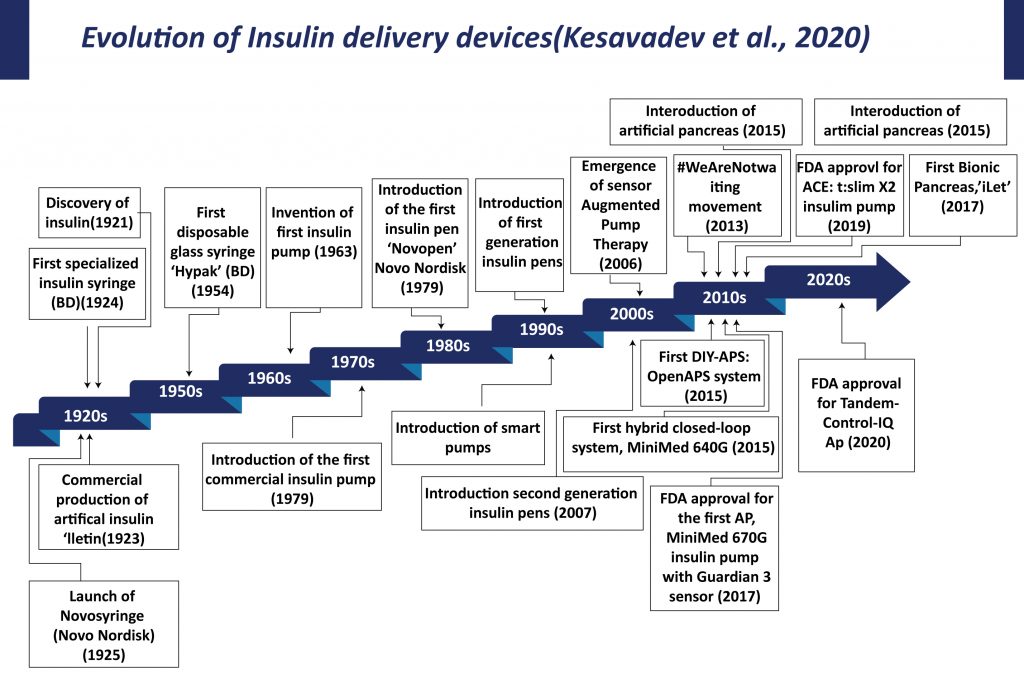 Insulin Delivery Devices can be of several types ranging from Insulin syringes, Insulin pens, Smartpens, Insulin pumps, Patch pumps, Insuline inhalers, and many others.
The insulin syringe has three parts: a short and thin needle made of a special material, a barrel to hold the insulin, and a plunger to either draw the insulin into the barrel or push the insulin out of the barrel through the needle. These syringes are available in different dose units with prefilled insulin. The syringes are either reusable or disposable with metal or glass bodies. Becton, Dickinson, and Company is the leading manufacturer of insulin syringes with various range of products such as BD SafetyGlide™ 6mm insulin syringe, BD Safety-Lok insulin syringe, BD U-500 insulin syringe, and BD Veo™ insulin syringes.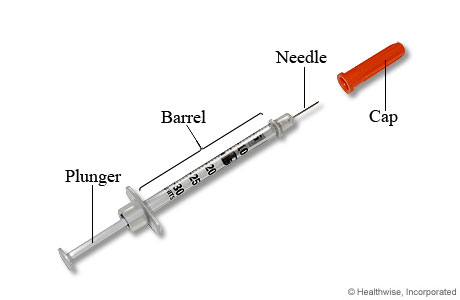 These syringes are available in different dose units with prefilled insulin. The syringes are either reusable or disposable with metal or glass bodies. Becton, Dickinson, and Company is the leading manufacturer of insulin syringes with various range of products such as BD SafetyGlide™ 6mm insulin syringe, BD Safety-Lok insulin syringe, BD U-500 insulin syringe, and BD Veo™ insulin syringes.
In 2016, a BD U-500 insulin syringe with an ultra-fine 6mm needle was approved by FDA for insulin injection.
The major Insulin Delivery Devices market players offering insulin syringes are Medline Industries, Inc. (Medline Insulin Safety Syringes), Abbott Laboratories (FreeStyle Precision Insulin Syringes), and B. Braun Melsungen AG (Omnican® series, Omnifix® series, and Injekt® series), and NIPRO (GLUCOPRO Insulin Syringe), among others.
| | |
| --- | --- |
| Pros | Cons |
| Cost-effective | Poor dosage accuracy |
| Widely available | Unpleasant psychological impact |
| Sizes for every dose | |
| Syringe needles come in different lengths | |
| Easy to measure | |
Insulin Syringes: Fors and Againsts
The introduction of insulin pens was a milestone in insulin delivery devices history. In 1985, the first insulin pen NovoPen was launched by Novo Nordisk followed by NovoPen 2 in 1988. Currently, there are various commercially available first-generation insulin pens in the Insulin Delivery Devices market such as NovoPen family(Novo Nordisk), AllStar (Sanofi), and prefilled pens, such as FlexPen, FlexTouch (Novo Nordisk), Humalog Pen, Kwikpen (Eli Lilly), and SoloSTAR (Sanofi).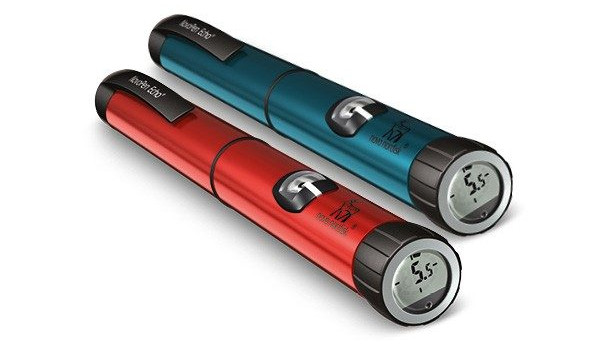 An Insulin pen comprises of three main components: an insulin cartridge, a disposable short needle, and an incremental "one-click per unit" dosing. These pens offer more accurate, simple, and convenient insulin delivery over syringes. Insulin pens are primarily of two types reusable insulin pens and disposable insulin pens. Reusable insulin pens have a replaceable cartridge whereas disposable insulin pens consist of pre-filled insulin cartridges and are for one-time use.
Insulin Pens (Novo Nordisk)
There are also next-generation insulin pens, known as smartpens. These smartpens are incorporated with a memory function that allows them to store the date, time, and amount of the previous doses. In 2007, Eli Lilly launched HumaPen MEMOIR, the world's first digital insulin pen with memory.
| | |
| --- | --- |
| Pros | Cons |
| More accurate, simple, and convenient | Difficulty in applying a mixture of insulins |
| Causes less pain | High cost |
| Provide better treatment | Lack of universal insurance coverage |
Insulin Pens: Fors and Againsts
On November 12, 2020, Medtronic announced the launch of InPen™ integrated with real-time1 Guardian Connect™ CGM data.
Novo Nordisk, a pioneer of insulin pen has launched NovoPen 6 and NovoPen Echo Plus second-generation insulin pen (connected insulin pens) with near-field communication (NCF) technology that allows scanning of these devices to transfer the data off to another device in the first quarter of 2020.
In September 2019, Sanofi and Abbott announced their non-exclusive partnership to integrate glucose sensing and insulin delivery technologies to simplify diabetes management. Abbott's FreeStyle Libre mobile app and cloud software and Sanofi's connected insulin pens, apps and cloud software are currently in development.
Insulin pumps are advanced gadgets that are used to deliver insulin. Initially, these pumps were designed to treat type I diabetes and were huge and had to be carried like a backpack. The first wearable insulin pump, known as the 'blue brick' was introduced in 1976. Ten years later, MiniMed introduced an implantable insulin pump to administer insulin intraperitoneally. The new generation external insulin pumps are comparatively small, compact, handy, and effective.
Typical components of an insulin pump are:
an insulin reservoir
infusion set
tubing or catheter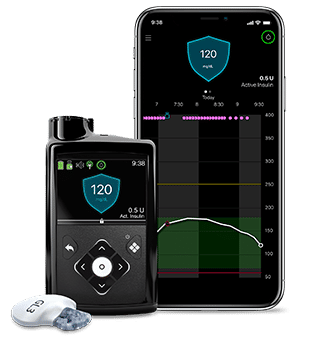 The insulin reservoir is connected to the infusion set and a catheter to continuously deliver insulin to meet the daily requirement. The pump has user-specific in-built programs to dispense insulin at basal rates (slow, continuous) and in incremental (bolus) doses before meals.
Therefore, these pumps eliminate the need for multiple injections on a daily basis resulting in less insulin variation. The popular insulin pump models commercially available in the market are MiniMed (Medtronic), OmniPod (Insulet), T:Slim (Tandem), DANA R (SOOIL), Cellnovo, Accu-Chek Solo Micropump (Roche), and mylife YpsoPump (Ypsomed).
Insulin Pump (Medtronic)
| | |
| --- | --- |
| Pros | Cons |
| Less Jabs | High cost |
| Delivery of different basal rates at different times of day | Changing infusion sets more difficult than single injections |
| Reduced risk of complications | Risk of diabetic ketoacidosis (DKA) |
| Flexibility with food and exercise | Skin infections |
Insulin Pumps: Fors and Againsts
In November 2020, Eli Lilly and Ypsomed had announced a non-exclusive, global agreement towards advancement in automated insulin delivery system as part of Lilly's connected diabetes solutions.
On June 11, 2020, Medtronic announced CE (Conformité Européenne) Marking of its MiniMed™ 780G system, a next-generation closed-loop insulin pump system for the treatment of type 1 diabetes in people age 7 to 80 years.
In February 2020, Abbott and Insulet Corporation announced their partnership to integrate a next-generation insulin sensing platform with automated insulin delivery technologies for optimum diabetes care.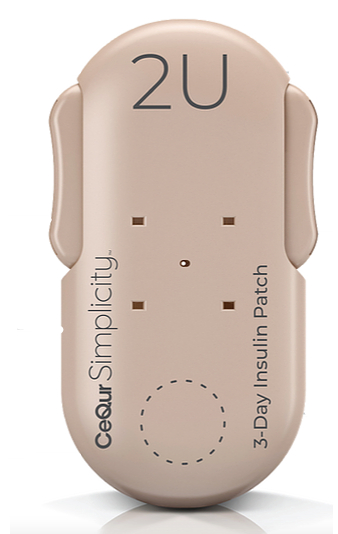 Patch pumps are a type of infusion pump. These are free of infusion sets, small, lightweight, and attached to the skin through an adhesive. Patch pumps offer additional comfort and flexibility to users.
It comprises an integrated infusion set and automated inserter that converses wirelessly with an integrated blood glucose meter. Some of the patch pump models that are commercially available are CeQur Simplicity (CeQur), V-GO (Valeritus), OMNIPOD® DELIVERY SYSTEM (Insulet Corporation), among others.
Patch Pump (CeQur)
| | |
| --- | --- |
| Pros | Cons |
| Better adherence | A limited number of fixed basal doses |
| Customized delivery of complex dosing regimens | Don't keep track of how much insulin you have taken |
| Small, and compatible | Device cannot be taken off |
| Less invasive | |
Patch Pumps: Fors and Againsts
In July 2018, Cequr purchased a certain asset from Calibra Medical-a subsidiary of Johnson & Johnson, the company has sold its Calibra product (marketed as OneTouch Via, but never launched).
In 2019, South Korean Company EoFlow received FDA approval for its newly designed patch pump-EOPatch-in the U.S.
An artificial pancreas or a "closed-loop" is a combination of progressive technologies to engage automation to obtain glycemic targets. In general, the artificial pancreas links three devices: a continuous glucose monitoring sensor to measure the blood glucose level and sends data to a computer algorithm that analyzes the data and calculates the required insulin dose and an insulin infusion pump to deliver insulin as per the computer instructions. The key Insulin Delivery Devices market players are Medtronic, Insulet Corporation (Omnipod Dash System), Dexcom, and Tandem Diabetes Care, Inc (t: slim X2 Insulin Pump).
| | |
| --- | --- |
| Pros | Cons |
| Precise and continuous insulin delivery | Infusion site infection |
| Convenient & patient-friendly | Expensive |
| Allows temporary basal rate | Mechanical problem |
Artificial Pancreas: Fors and Againsts
MiniMed 530G was the first-generation artificial pancreas approved by FDA in 2013. On September 1st, 2020, Medtronic received the FDA approval for the MiniMed 770G system, a hybrid closed-loop diabetes management device. This new insulin pump system is based on the MiniMed 670G system, providing smartphone connectivity and an expanded age indication to ages 2 and above.
In 2019, Medtronic started the clinical trials on the MiniMed 780G system, which has novel features including automatic correction boluses, Bluetooth connectivity, and remote software updates.
In 2018, Insulet's Omnipod Dash System, comprising of a tubeless, waterproof, Bluetooth wireless technology pump with a capacity of 200 units of U-100 insulin and an advanced personal diabetes manager (PDM) that regulates the pump, obtained FDA approval.
In 2018, The DBLG1 hybrid closed-loop system (Diabeloop) comprising Dexcom G6 CGM, Kaleido's patch insulin pump, and the Diabeloop decision-making algorithm received the CE marking.
Insulin inhalers are insulin delivery devices that use compressed air to deliver dry insulin or dissolved rapid-acting insulin to inhale. The inhaled dose goes directly to the lungs from where it is absorbed into the bloodstream.
The first inhalable insulin, Exubera (Pfizer), was approved by the FDA in 2006 for the treatment of type I and II diabetes. However, the product was withdrawn due to dose inaccuracy from the Insulin Delivery Devices market.
Afrezza, a rapid-acting technosphere insulin powder by MannKind Corp. is the only FDA-approved insulin inhaler that has provided significant glycemic control and reduction of hypoglycemia in type I diabetes patients.
These devices are a recent development in diabetes management. The device sends a fine insulin spray through the skin by utilizing a high-pressure air current over needles. Insujet is an insulin jet injector device that creates a fine jet of insulin that penetrates into the skin. The InsuJet™ system is developed for people with diabetes and is used to administer insulin.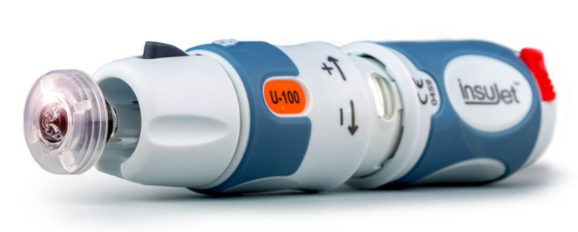 A special, needle-free nozzle is the key feature of the system. By pressing insulin through the nozzle orifice, a fine stream of insulin is created that easily penetrates the skin. Subsequently, it facilitates the least insulin resistance, ensuring the easy and even spread of insulin in the subcutaneous layer.
Insulin jet injectors (InsuJet)
| | |
| --- | --- |
| Pros | Cons |
| Re-usable | Fairly expensive |
| Faster absorption & action of insulin | Causes bruising in some individuals |
| Painless | |
Insulin Jets Injectors: Fors and Againsts
Insulin Delivery Devices Market Forecast
Diabetes is a chronic disease that has affected the population worldwide. Continuous monitoring of blood glucose levels and continuous administration of insulin is the only effective way for proper diabetes management among diabetes patients. There has been commendable technological advancement and high-speed development in the currently available diabetes management devices available in the Insulin Delivery Devices Market to improve the quality of life and increase longevity among diabetes patients. The modern insulin delivery devices comprise next-generation insulin pen, closed-loop system, insulin inhalers, and others. These devices have evolved slowly over the past decade. The increasing prevalence of diabetes is anticipated to spur the demand for innovative insulin delivery gadgets. Rising awareness among the patients and growing demand for automated systems for glycemic control and its management act as a driving factor for the growth of the Insulin Delivery Devices market size.
Moreover, for proper diabetes management-intensive, research & development is being performed by various medical device companies active in the diabetes management segment. The most recent devices are the artificial pancreas (a closed-loop system), manufacturers are focused on excavating this technology for enhancing the lifestyle of diabetic people. At present, insulin pens, insulin pumps either tethered or patch pumps are in use due to their easy availability, cost-effectiveness, advanced technology systems, as compared to conventional insulin delivery devices such as syringes. Key Medtech players in the Insulin Delivery Devices market such as Medtronic, Sanofi, Abbott, among others are continuously improvising and launching smart technologies to make management simpler and easier. However, the high cost associated with the technologically advanced devices and less awareness about these devices makes them less approachable by patients and the goal for effective diabetes management still remains the same.