Marijuana also referred to as cannabis, is always in debate for its benefits and detriments. In some countries, it is legal while in some countries it is considered as a recreational and harmful product, and its cultivation, trafficking, possession, and ingesting can lead to a fine or even imprisonment. However, along with the legalization debate, worldwide a number of parallel research is underway on the bio-medical applications of cannabis or cannabidiol (CBD) products.
Over the years the clinical research and trial conducted around marijuana have produced many noteworthy results and researchers have found them as a very significant treatment option. Worldwide numerous clinical trials are going to evaluate the safety, and effectiveness of medical marijuana for a number of diseases. As of today some of the diseases and conditions for which the medical marijuana clinical trials are going on includes:
Chronic Pain
Chronic pain is a substantially undertreated disease, which hooks people on a slew of medications for its management. However, recent years have witnessed a soaring interest in cannabis for treating chronic pain owing to the perception of cannabis being safe, cost-effective and a decreased dependence on opioids for managing pain.
At present, the medical marijuana market is experiencing several pharma players exploring the safety and efficacy of medical marijuana to address chronic pain. GW Pharmaceuticals, Otsuka Pharmaceuticals, Aurora Cannabis, and Pfizer have been interested in exploring cannabis for pain management. GW Pharmaceuticals, a few months back, expressed its desire to commercialize its drug derived from cannabis extracts Nabiximols, also known as Sativex,  in early 2021, which is right now undergoing Phase III clinical trials. Further, Aurora Cannabis is investigating a formulated whole-plant cannabis oil extract, MRCP001, as an add-on therapy to current treatment regimens for chronic pain in the Phase II stage of development (COPE – NCT03522467). Earlier this year, Aurora announced the purchase of a US-based CBD company, Reliva with an intention to carve out its presence in the American medical marijuana market. 
Cachexia
Cachexia often called cancer cachexia, is a wasting syndrome that results in weight loss, weakness, loss of appetite, and fatigue. Worldwide, a number of companies such as Tetra Bio-Pharma, MedQualis, Cannabics Pharmaceuticals Inc., GlaxoSmithKline, Parexel, and others are working in developing marijuana-based therapies that can relieve cachexia symptoms. 
Currently, Tetra Bio-Pharma in collaboration with MedQualis is investigating its drug PPP011 (which is right now Phase 3). Another pharma giant, GlaxoSmithKline in collaboration with Parexel is also evaluating their Interventional drug GSK2881078 (currently in phase 2 testing). GSK-2881078, which is a selective androgen receptor modulator (SARM) might prove to be a potential treatment for cachexia.
Ahead of all, Cannabics Pharmaceuticals, one of the leading personalized cannabinoid medicine companies, had completed the study for Cannabics Dosage-Controlled capsules for the treatment of cancer anorexia-cachexia syndrome (CACS) in advanced cancer patients. The company is now looking forward to exploring the research and commercial opportunity for its drugs.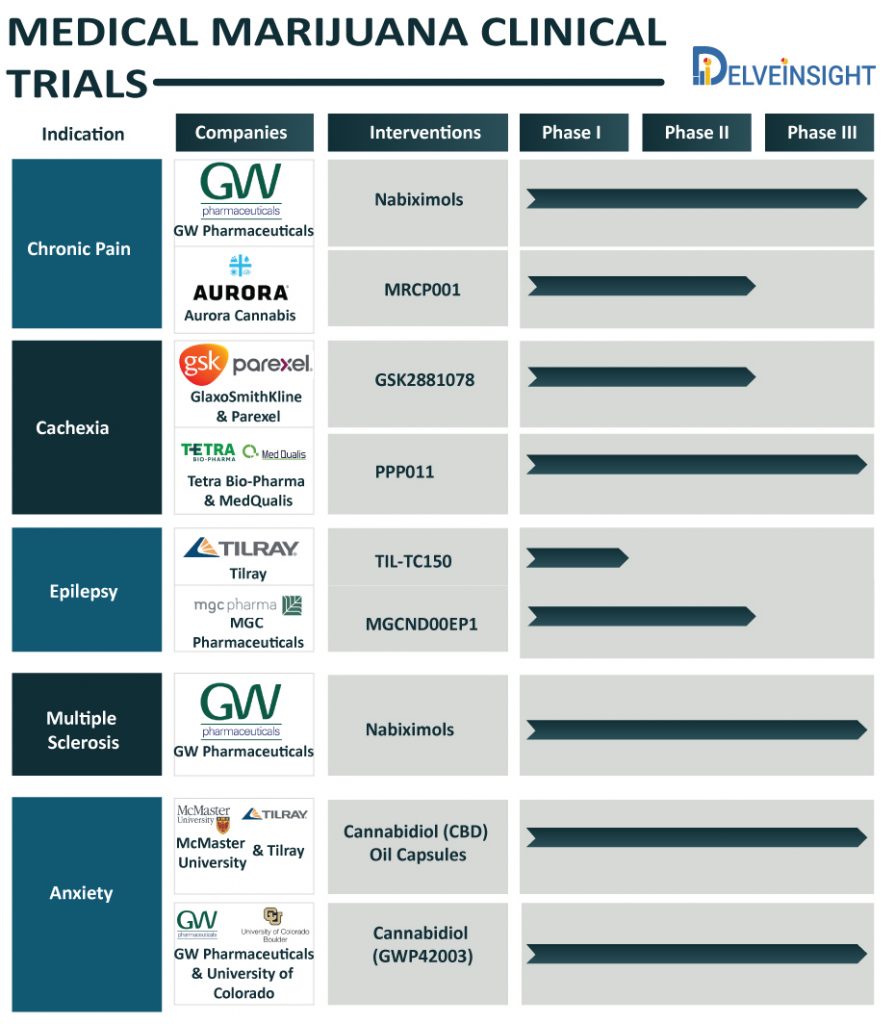 Epilepsy
Epilepsy, a central nervous system disorder, affects the normal functioning of the brain, causes seizures, and unusual behavior in the affected individual. The exploration of the marijuana in the epileptic patients can be attributed to the inclination of the patients affected with seizures reporting efficacy of marijuana in controlling seizures and mood disorders.
Tilray, a Canada-based pharmaceutical and cannabis company, is working in collaboration with the Hospital for Sick Children to test their potential drug TIL-TC150 for drug resistant epilepsy due to Dravet syndrome. To assess dosing and tolerability of CBD-rich cannabis extract (TIL-TC150), Tilray is conducting Phase 1 clinical trial (NCT02983695) of the drug, which is expected to be completed by 2021.
The other potential drug for epilepsy is in process by MGC Pharmaceuticals. MGC is testing the safety and efficacy of its durg MGCND00EP1, which is Phase 2 trial, is expected to act as an add-on treatment in children and adolescents with resistant epilepsies.
Multiple Sclerosis
Marijuna is also in demand in the Multiple sclerosis space. To find an effective treatment for Multiple Sclerosis, companies such as Almirall, S.A., and GW Pharmaceuticals Ltd. are exploring the potential of marijuana. Multiple Sclerosis, a long-lasting disease, attacks the brain and spinal cord (central nervous system). Cannabis sativa (marijuana plant), contains chemicals that can affect the mind and body.
GW Pharmaceuticals appears keenly interested in exploiting marijuana for medicinal purposes. The company is conducting the phase 3 study of Nabiximols – oromucosal spray (NCT04203498) as an add-on therapy for spasticity due to multiple sclerosis. The drug, also known as Sativex, is in trials for other conditions including PTSD, Spinal cord injury spasticity. Although Sativex is approved in many European and South American countries along with Canada, Israel, and Australia, it is currently not approved in the USA.
Anxiety
Anxiety disorders affect a significant population worldwide. It is characterised by feelings of fear, dread, worry, stress and uneasiness. A significant number of research is going on to treat Anxiety through marijuana.
McMaster University and Tilray are jointly working on cannabidiol treatment for anxiety disorders along with social anxiety disorder, panic disorder, and agoraphobia. The study of the Cannabidiol (CBD) Oil Capsules (NCT03549819) is in Phase III trials for the treatment of DSM-5 anxiety disorders.
In another study, the University of Colorado, Denver in collaboration with GW Research had completed the study of tolerability and efficacy of Cannabidiol (GWP42003) in addressing tremors associated with Parkinson's Disease. The GWP42003-P oral solution is found to be relatively safe and reduces tremor, anxiety in Parkinson's Disease.
Way ahead
Apart from these, a significant number of studies are going on to access the impact of medical marijuana on Peripheral Neuropathy, Chemotherapy-induced Peripheral Neuropathy, Huntington's Disease, Irritable Bowel Syndrome, Schizophrenia, Psychosis, Glaucoma, and so many others. Medical marijuana has become a hot topic nowadays. However, the positive results and quite a sizable amount of investment in medical marijuana might gleam eyes, there are hurdles that hinder the growth of the medical marijuana market in the form of authority approvals, availability of marijuana, and large-scale clinical evidence.
Even so, several jurisdictions have legalized the use of cannabis. Owing to the scope of legal clearance from other governments, increasing social acceptance, commercialization and business opportunity, an increasing number of clinical trials, and the wide range of therapeutic uses that cannabis can offer, in the coming years the medical marijuana market is expected to gain the attraction of other pharmaceutical and biotech companies.