Today's healthcare industry utilizes many types of robots to improve the current standard of care and help humans do the things that they were not able to do in the past, that too more quickly and with fewer errors. Definitely, some might feel uncomfortable with the idea of robots assisting in medical operations or comforting them in times of stress, it is becoming unavoidable and very common in the world of healthcare to take the aid of Medical Robots and their applications in healthcare industry is rising.
In the late 1980s, the very first commercial surgical robots were built and the first commercial myoelectric prostheses were being used in rehabilitation centers around the world. During the last three decades, Medical Robots in the past have been increasingly used to perform a growing number of health tasks. They show promising future potential for use in a wide range of health issues.
A variety of reasons for the development of medical robotics that includes factors such as robots are tireless unlike humans and can perform precise movements beyond the human range of motion, their hands don't shake ever, in addition, they can automate lower-level or repetitive tasks and leave the high-level work to humans. They are flexible and can be programmed to perform a number of tasks. They are also considered much more versatile and cost-effective.
Medical Robots offer many advantages, but it was observed that their acceptance in the healthcare industry was very slow due to several safety reasons, in order to be deployed on a wide commercial scale, Medical Robots need to provide certain advantages such as cost reduction, eases of use, faster recovery, scar limitation, human-machine communication capabilities, and so on.
Here are three main classifications of recently developed Medical Robots currently being implemented in hospitals and treatment centers to improve the quality of care and patient outcomes.
Medical Devices
Medical Robotic Devices usually assist in surgeries, streamline hospital logistics, and diagnosis and drug delivery devices. Robots in the medical devices field are transforming how surgeries are performed, revolutionizing drug delivery, streamlining supply delivery, diagnosis and disinfection.
Surgical Robotic Devices
Surgical Robotic Devices offers a wide range of surgical procedures. This particular class of Medical Robotic Devices can perform different types of surgeries such as prostatectomies, hysterectomies, urologic and gynecological procedures. Some of the most common types of surgeries performed by robots in medical surgery nowadays include names such as Heart Surgery, Endometriosis, Thoracic Surgery, General Surgery, and Colorectal Surgery.
Many tech companies and manufacturers in the healthcare industry are increasing their R&D efforts for robotic surgical systems. Currently, many medical robotics companies who are also considered to be giant manufacturers in the medical devices field such as Johnson & Johnson, Medtronic, Intuitive Surgical, Zimmer Biomet, Accuray, Stereotaxis, Smith & Nephew, Globus Medical, Stryker, Auris Health, Siemens Healthineers, and others are currently involved in developing innovative robotic surgical solutions to meet the needs of healthcare workers and patients. Although the overall robotic surgical systems market is dominated by Intuitive Surgical, the landscape is rapidly changing. The entrance of new key players is bolstering the Medtech surgical robotics market.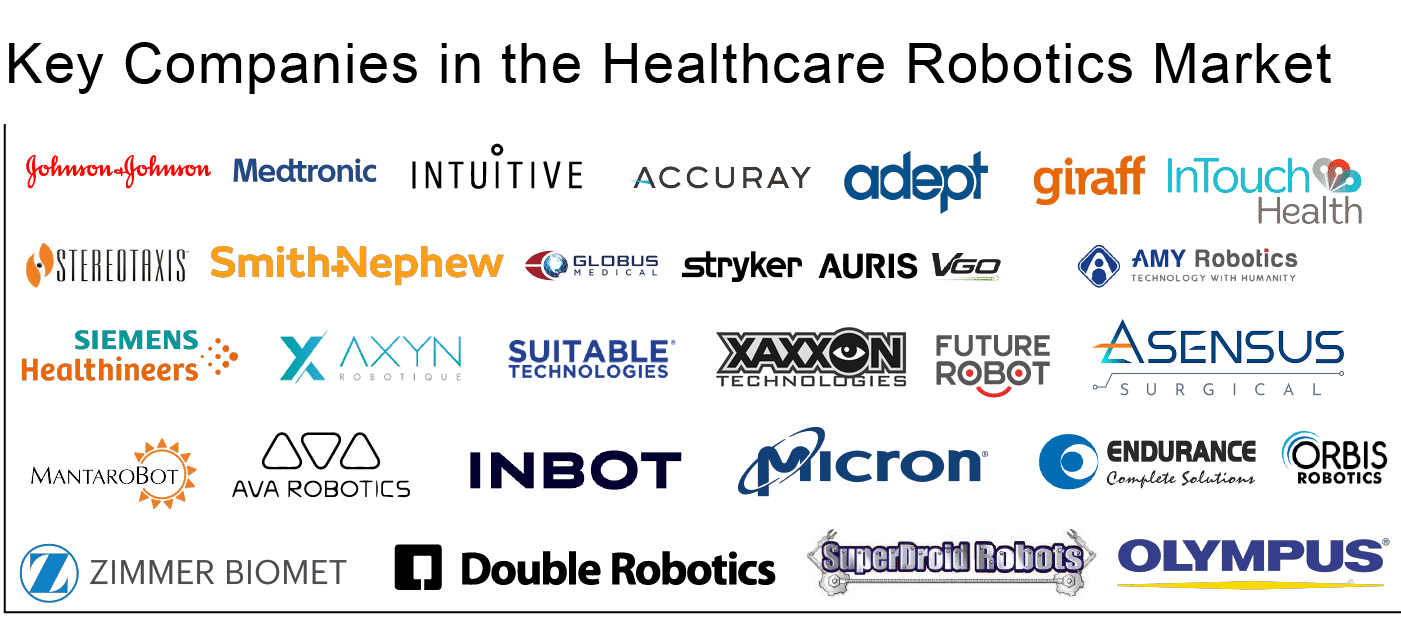 As per DelveInsight analysis, the Global Surgical Robotic Systems Market was valued at USD 4.5 billion in 2020, growing at a CAGR of 11.5% during the forecast period from 2021 to 2026 to reach USD 9.8 billion by 2026.
Some of the specific product lines from medical robotics companies focus on individual therapeutic areas for minimally invasive robotic surgery. For example, the da Vinci Medical Robot System manufactured by Intuitive Surgical is a general surgical robot focusing on a myriad of surgical procedures in urological, bariatric, and gynecological surgical procedures. Additionally, the MAKO System from Stryker specializes in orthopedic surgery, specifically partial and complete knee replacements.
Medical Robots for Diagnosis and Interventions (Drug Delivery)
Medical Robots contribute to on-screen consultation regarding patient diagnostics and care as well as interventions used in different illnesses. For these particular types of Medical Robots for diagnosis and intervention, a design of Biomechatronics device must be followed among specialized clinicians, engineers, therapists, and scientists from different fields to fill all the requirements of an acceptable technology health solution. A series of Biomechatronics actions are necessary for robots in the medical industry which includes medical diagnosis, supporting rehabilitation, delivering treatments, and supporting patients in preventions programs.
Some of the other most common requirements for Medical Robots for diagnosis and interventions comprise features such as safety, quality, remote handling, enhanced access for documentation, the overall cost of health care cheaper, allowing inaccessible areas, independent living, social participation allowance, support for the aging population, resolving economic factors, efficiency, and minimally invasive procedure.
Medical Robots for diagnosis and drug delivery now plays a key role in the medical field for diagnostic expertise, for example, Telepresence Robot Surrogates manufactured by various companies such as AMY Robotics, AXYN Robotique, MantaroBot, Suitable Technologies, Double Robotics, VGo Communications, SuperDroid Robots, Adept MobileRobots, Ava Robotics, Orbis Robotics, Inbot Technology Ltd., Endurance, Giraff Technologies, Xaxxon Technologies, R.Bot, Wicron, InTouch Health, FutureRobot, another common type of medical robotics include Endoscopy-Bot mainly used for diagnostic procedures manufactured by medical robotics companies such as Asensus Surgical, Inc., Olympus Corporation, Intuitive Surgical Inc, Brainlab AG, Medrobotics Corporation, Johnson & Johnson, and many others.
Assistive Robotics
As per the WHO, globally, more than one billion people are living with some form of disability, and nearly 200 people experience considerable difficulties in functioning. The number of cases is rising due to various factors, leading to inequality in education, employment, and several other fields. Along with these, it also worsens the socioeconomic outcomes of the affected person and their families.
To overcome the challenges and to provide a reliable solution for people with disability, globally some of the key MedTech & HealthTech companies are actively involved in the development of a variety of Assistive Robots. The major purpose of Assistive Robotics is to provide mobility, strength, and coordination, to the disabled person. The research activities in the Sensor, Actuators, among others are providing the necessary momentum to the Assistive Robotics development. The incorporation of new technologies such as artificial intelligence, and Deep Learning (DL) techniques, are also widening the scope and application of Robotics.
Wearable Robots
In recent times, wearable robotics have been tested in patients suffering from various musculoskeletal diseases such as spinal cord injury, osteoarthritis, and several others. Wearable robots are like a mechatronic system designed as per the shape of the human body and also perform some basic functions. Wearable Robots are helpful in providing locomotive functions necessary for day-to-day physical activity such as walking and in some impaired human motor control. In the development of wearable robots, several factors such as kinematic, weight, and sensors, play a key role. The ongoing development in the software and the hardware segment is expected to significantly improve the functionality of wearable Robots in the coming years, thereby the quality of life of the affected person as well.
Rehabilitation Devices
Robotic therapy or Rehabilitation Devices has emerged as one of the finest options for physical and occupational therapy as compared to conventional therapy. Rehabilitation Devices are basically designed to optimize the neurological recovery of the affected person with repetitive motion. Robotic therapy provides necessary aid to the person with the condition or disease related to brain injury, central nervous system (CNS), musculoskeletal, stroke, spinal cord injury, and other neurological disorders.
Robots Mimicking Human Body
The application of robotics is touching new heights which were unimaginable a few years back. Moving from electronic medical devices, now companies are working towards the development of Artificial Organs or implantable bio robotics organs that can mimic functions like the human organ. Artificial Organs are engineered devices that can be easily integrable into the human body in case of damaged organs. At present, most of these devices or bio robotics are in the early stage of development, expected to hit the market in the coming years.
Prostheses and Artificial Organs
The shortage of donor organs is one of the major challenges in the healthcare system. To overcome this, some of the key companies are actively working in the development of artificial kidneys, artificial hearts, orthopedic implants, and several others organs. Prostheses and Artificial Organs aim to improve or restore the function of unhealthy or defective body organs. The demand for these Therapeutic Artificial Organs markets is gaining momentum as the R&D activity in the segment is growing.
Body-Part Simulators
Body-Part Simulators are in use to provide training for practical and clinical skills to the healthcare professional. Body-Part Simulators have various benefits as they help to understand complex biological systems without harming the human body/organ. The robotic simulators are available ranging from relatively simple physical models to highly complex computer-enhanced systems. These systems can perform functions that humans can do like sweating or tearing, imitating breathing, blood pressure, and heartbeats.
Drivers in Medical Robotics Market
Almost all the healthcare segments right from diagnosis to surgery, from clinical training to drug development & production, are transforming with the greater adoption of robotic technology. In the coming years, technological innovation and its adoption are expected to make the use of robotics in healthcare more versatile and adaptable. As per DelveInsight, the increase in R&D activities by MedTech/HealthTech companies is expected to drive the growth of robotics in the healthcare market.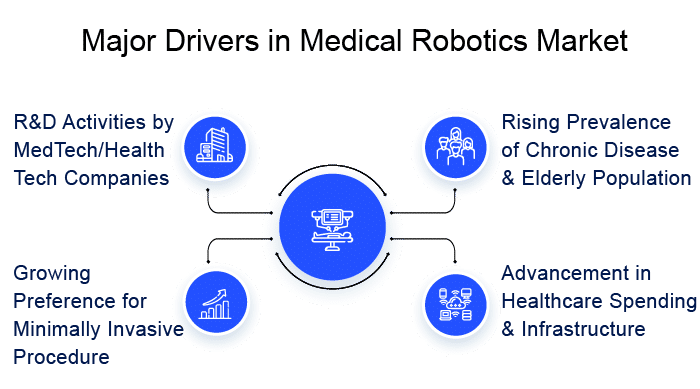 As compared to the traditional method, the robots are capable of performing more complex procedures with greater precision. With the rising awareness and growing demand for non-invasive procedures, about robotic surgery, the robots will encompass a major chunk of surgeries in the coming years. Similarly, the rise in chronic health disorders and the geriatric population will also stimulate medical and rehabilitation robots market growth.
Currently, some of the key companies such as Intuitive Surgical, Stryker Corporation, CMR Surgical Ltd, Auris Health, Accuray Incorporated, Johnson & Johnson, and Medtronic, are dominating the medical robotics market. However, as new companies and several startups are entering the segment, the landscape is expected to evolve immensely in the coming years. Additionally, the rise in the funding for medical robots research and the merger & acquisition in the segment will further drive the growth.
Barriers in Medical Robotics Market
The demand for robots in the healthcare segment is growing, however, there are several factors that impede the growth. The high cost is one of the major drawbacks of robots that hamper their wide-scale adaptability. Providing necessary training to the professionals, operational expense, and infrastructure up-gradation, lead to the rise in the overall cost of the robot, not just in healthcare but for almost every sector that employs robots in their system.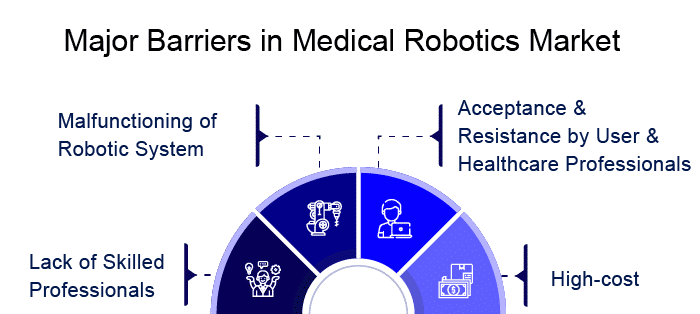 A robot encompasses several electro-mechanical tools and devices such as arms, consoles, optical systems & cameras. There is always a scope for malfunctions of these electro-mechanical systems, which can be fatal in some cases. Advancement in technology can reduce the robots' errors but the chances of malfunctions can't be neglected at any point in time during the operation. Apart from this, sometimes there can be some inability from the human or surgeon's side due to inadequate knowledge or skill. Similarly, it is observed that there is always some type of resistance on the part of patients and healthcare professionals before adopting any technologies in their working environment.

What's Next in The Future of Robotics and Healthcare
A new world with whole new possibilities of innovation is coming under progression, where robots are becoming essential for healthcare services. Robots in the medical industry is turning out to be very sophisticated and responsive systems of medical treatment. Medical errors, mental illness, cancer are viewed as long-term intractable problems in healthcare but Medical Robots are assisting in finding new ways for their treatment. Medical Robots are continuously evolving rapidly with advancements in data analytics, machine learning, computer vision, and other technologies. Robots in the medical industry are considered to be advantageous in several ways such as they complete tasks efficiently, autonomously, and more accurately.
Many medical robotics companies are working in collaboration with pharmaceutical companies, researchers, laboratories, and universities in order to explore the next generation of medical robotics solutions. With advanced technology and research support, the discovery of new applications for AI and IoT technologies within the field of Medical Robotics is under progress. These contributions support ongoing innovations that increase automation, drive efficiencies, and solve some of the greatest healthcare challenges.
FAQs
What does a Medical Robots do?
Medical Robots allow surgeons to skillfully use surgical instruments inside the patient's body during minimally invasive surgeries. Doctors can undergo complex surgeries with more precision and flexibility.
How are robots used in the medical field?
Robots aid in surgery, for precision and minimally invasive procedures. Apart from that, they are used for diagnosis, drug delivery, wearable and rehabilitation devices, and also as newly developed prostheses.
What company makes Medical Robots?
Intuitive Surgical is currently the global pioneer in Medical Robots, but with the continuously evolving Medical Robots market landscape, any company can lead in the coming years which includes names such as Johnson & Johnson Medtronic, Zimmer Biomet, Accuray, Stereotaxis, Smith & Nephew, Globus Medical, Stryker, Auris Health, and many more.