It's no longer startling to learn that the best-performing surgeon at a hospital isn't human. With their unrivaled precision and ability to work without fatigue, medical robots are one of the most valuable applications of robotics in the healthcare industry. These robots are used in various medical scenarios, including complex surgical procedures, and they have completely transformed the speed and efficiency of healthcare services around the world. Puma developed by Unimation was the first medical robot, and it was used in 1985. Using CT guidance, the robot implanted a needle for a brain biopsy. Since then, several companies, including Intuitive Surgical, Mazor X, Johnson & Johnson, Stryker, Medtronic, CMR Surgical, Preceyes BV, Microsure, and even some universities, have responded to the demand of hospitals that are gradually but steadily committing to integrating robotic operating systems. So, what exactly is robotic surgery?
What is Robotic Surgery?
As the name implies, robotic surgery is surgery performed by a robot. It's a minimally invasive surgery, which means it can execute sophisticated surgical procedures through small incisions with minimal scarring. The robot, like a scalpel or a set of forceps, is the instrument in this situation. The surgeon will be seated at the robot's controls, guiding the surgical instruments at the robot's ends with high-definition 3-D cameras. Furthermore, robotic surgery can be used for a variety of procedures including Coronary artery bypass, gallbladder removal, hip replacement, kidney transplant, removing cancerous cells from sensitive bodily regions such as blood arteries, nerves, and vital organs, and many more. Now the question is, is robotic surgery expensive? Is it painful? What are the types of robotic surgery?
Types of Robotic Surgery
After receiving FDA approval in 2000, Intuitive Surgical Inc's da Vinci Surgical System has revolutionized the healthcare system. The system was approved for general laparoscopic surgery. It has undergone various adjustments throughout the years and now offers a wide range of surgical procedures. The robot can perform different types of surgeries such as hysterectomies, prostatectomies, urologic and gynecological procedures and greatly enhance patient satisfaction and health outcomes. Today, it is installed in over 1,700 hospitals across 67 countries, and so far, nearly 775,000 patients have benefited from it globally.
Heart surgery, Urologic surgery, Endometriosis, Gynaecological Surgery, Thoracic Surgery, General Surgery, Colorectal Surgery, Head and Neck Surgery are the most common types of robotic surgery available nowadays. As robots are getting advanced with new and innovative features, it is transforming and making their way into several other types of surgeries, which were hard to believe years back.
Is Robotic Surgery Affordable?
Robotic surgery is slightly more expensive than open or laparoscopic surgery. Moreover, Robotic surgery is much easier to learn than the other two types of surgeries. After a few surgeries, it is expected that people will be proficient in any surgery, including robotic surgery. The robotic surgical approach accelerates the rate at which proficiency is attained. The robotic platform makes the surgery more accessible for the surgeon. It also makes the surgery more precise and doable in certain difficult situations, adding value to the procedure, especially when compared to a minimally invasive approach.
Is Robotic Surgery Painful?
Compared to open surgeries, the pain and physical scarring are minor in robotic surgery. Robotic-assisted surgery provides more benefits than traditional surgeries and provides patients with a better, less painful, less risky, and faster recovery experience. It is an improvement in all aspects of surgery. Over the last decade, robotic-assisted surgery has become the principal surgical treatment for a variety of illnesses. It is a significant improvement over open surgery because it eliminates problems and provides several advantages.
Robotic Surgery vs. Laparoscopic Surgery? What is the Difference?
Most people are confused between robotic and laparoscopic surgery, and they consider both of them the same. But Robotic surgery is a more advanced form of laparoscopic surgery. Laparoscopic surgery is a minimally invasive surgical procedure that involves the use of a camera to examine regions of the body that are difficult to reach. The camera is attached to a tube and introduced through a succession of 0.5 to 1 cm cuts. Minimally invasive surgery is a feasible alternative to open surgery because it avoids many of the hazards that come with it. Both technologies have been present for decades, with laparoscopic surgery gaining popularity in the early 1990s and robotic-assisted surgery becoming more frequent in the following two decades.
These techniques necessitate advanced training, much of which is now included in residency and fellowship programs, but they may also necessitate additional focused training courses or even one- to two-year programs devoted solely to honing these techniques. The ability of these often tiny mechanical robotic "arms" to reach inaccessible areas by human hands or even human-guided instruments is one of the benefits of robotic-assisted surgeries. This has been incredibly beneficial in head and neck cancer surgeries, such as those involving the voice box, tongue, and tonsils. It also allows for smaller incisions, easier recovery, less pain after surgery, and a quicker return to normal activities.
What are the Major Advantages of Robotic Surgery?
Robotics Surgery has gained immense popularity over the past few years due to its advantages over conventional open and laparoscopic surgery. Being minimally invasive is one of the significant advantages of Robotics surgery, and due to which the patient experiences less pain and recovers quickly. Apart from that, the chances of infection and bleeding also reduce remarkably.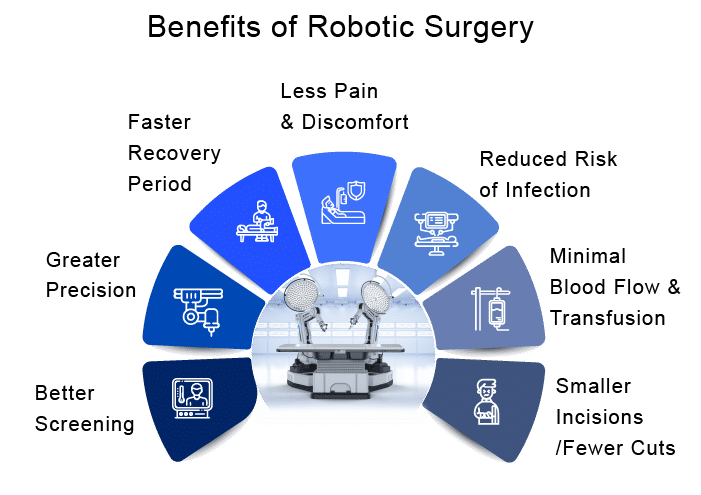 With technological advancement, surgical robots are getting more advanced and providing a greater degree of movement and precise dissection. Similarly, new visualization capabilities like magnified three-dimensional (3D) vision, high-resolution HD cameras, and binocular lenses provide additional comfort and superior maneuverability to the doctors. Moreover, robotic arms and robotic towers improve control & coordination and reduce fatigue-related errors.
What are the Major Disadvantages of Robotic Surgery?
Like every coin has two faces, surgical robots have several disadvantages associated with them. Mechanical failure is one of the major risk factors. Although the chances of malfunction are quite rare, but it can't be neglected at any point in time. It may lead to possible injuries, cuts, or tears to surrounding organs and nerve damage in some cases. Some of the surgeries, such as neurological procedures, require additional safety and accuracy; any small error may lead to permanent damage to the complicated organ and even death in some cases.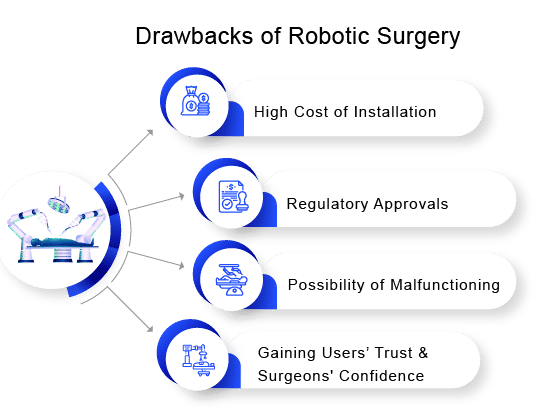 Similarly, the lack of experience is another major disadvantage of Robotic Surgery. Healthcare professionals need to be adequately well versed with the functioning of the robots to conduct the surgery more efficiently. As the robots are getting advanced, the surgeons also need to acquire skills and knowledge with time. The cost associated with Robotic Surgery is also a key drawback. It is observed that the robotic surgery system requires a high cost of installation, which in turn leads to an increase in the cost of a surgical procedure. The annual maintenance cost and training of the healthcare professionals require additional expenses. The high cost of robotic systems makes it out of the preview of common people.
It is observed that the time regulatory approvals also create some challenges in the adoption of robots in healthcare. Getting multiple clearance and approval for testing, modification, & amendments, building a network of distributors, and technical support across different geographies takes time and numerous resources. Apart from this, gaining users' trust and surgeons' confidence are other major challenges for companies in the Robotics Surgery segment.
Robots Are Introducing A New Dimension To Healthcare System, Learn more about the Growing Significance of Robots in Healthcare Service Delivery
Global Surgical Robotic Systems Market Dynamics
In March 2021, an Israel-based company Memic Innovative Surgery received regulatory approval from the US FDA for their robotically-assisted surgical device. It is the first FDA-approved device for transvaginal hysterectomy. Similarly, In October 2021, Medtronic received the CE (Conformité Européenne) Mark for their Hugo™ robotic-assisted surgery (RAS) system for gynecologic and urological procedures. With this approval, now Medtronic has access to the European market for this device and giving it an edge over its competitors. In another major development in the Surgical Robotic Systems Market, Brain Navi Biotechnology, a Taiwan-based company received the CE (Conformité Européenne) Mark for their NaoTrac, a robotic-assisted surgical robot (in November 2021).

Explore more about the key trends, ongoing development, merger & acquisition in the domain at Surgical Robotic Systems Market Outlook
The overall prospects for the Surgical Robots look encouraging and provide ample opportunities for the MedTech companies to explore and grow. As per DelveInsight, Global Surgical Robotic Systems Market was valued at USD 4.5 billion in 2020, growing at a CAGR of 11.5% during the forecast period from 2021 to 2026 to reach USD 9.8 billion by 2026.
Key companies operating in the Robotic Surgery Segment
Robot surgery is one of the most competitive segments in the MedTech domain and evolves immensely with technology advancement. As discussed earlier, the da Vinci® Surgical System by Intuitive Surgical is one of the most advanced Robotic Surgery systems in the market. It has led the segment over the past 20 years. The other major player giving tough competition to Intuitive Surgical includes Johnson & Johnson, Stryker, and Medtronic.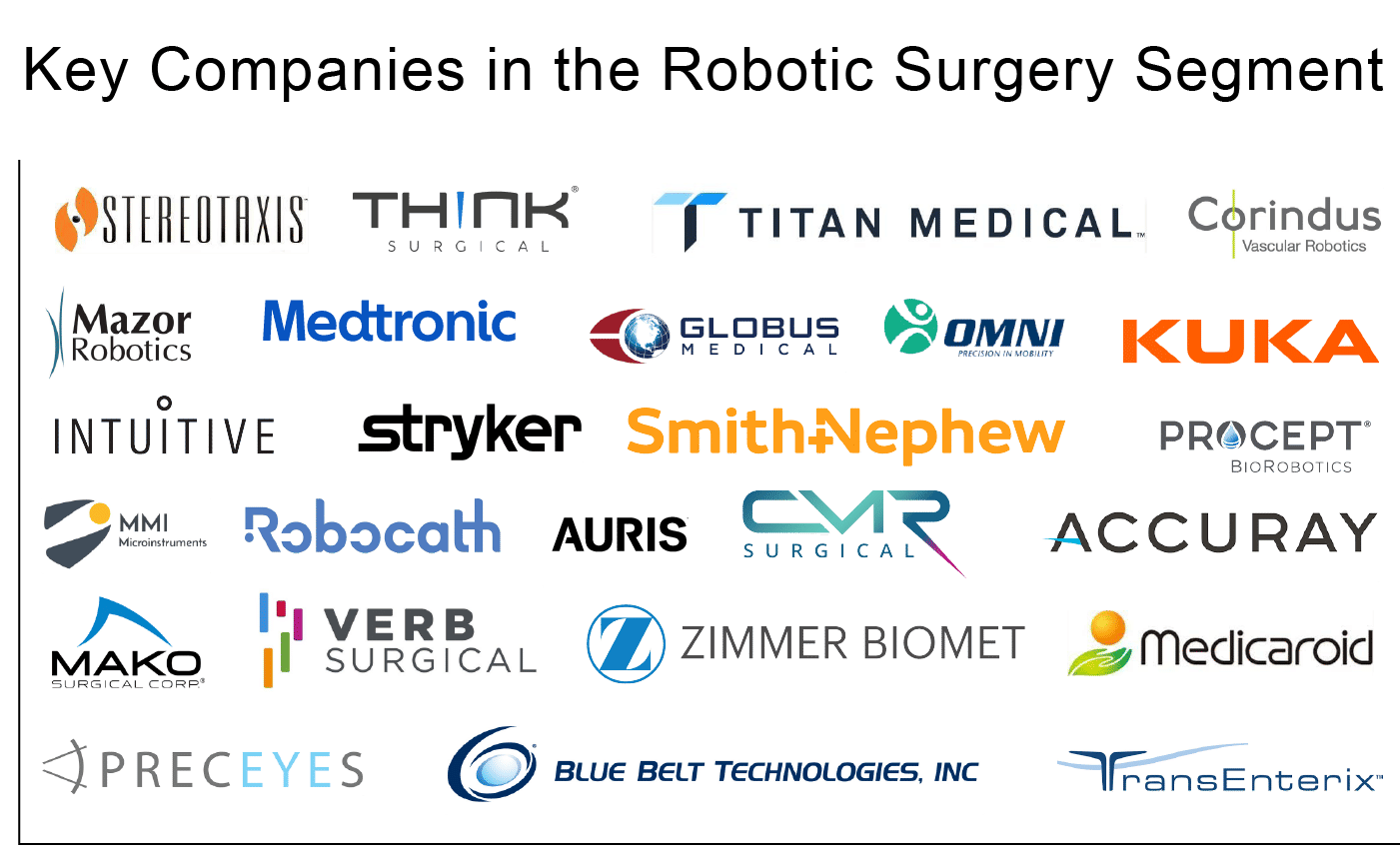 Similarly, other major MedTech companies in the Robotic Surgery Market include Think Surgical, MAKO Surgical, Verb Surgical, OMNIlife Science, KUKA AG, CMR Surgical, Preceyes BV, Microsure, Titan Medical, Surgical, Stanmore Implants Worldwide Ltd, Blue Belt Technologies, Smith & Nephew, Corindus Vascular Robotics, Renishaw, Auris Health, Medicaroid Corporation, Zimmer Biomet Asensus, and Surgical (Transenterix).
With the growing demand for minimally invasive surgical procedures, advancements in technology, increased investments, and R&D activities, the Robotic Surgery Market is expected to become more diverse and competitive with new players across different surgical segments, and geographies estimate DelveInsight.
Emerging Trends in Robotic Surgery
North America and Europe currently hold the major chunk of the global Robotic Surgery Market in terms of revenue due to well-established healthcare infrastructure, awareness among the people, and high purchasing power. Additionally, other key factors such as the growing prevalence of cancers & degenerative bone disorders, rising government initiatives regarding disease treatment awareness, new product approvals, are also expected to influence the Surgical Robotic Systems Market in the region. However, growing markets such as India, China, Brazil, and the Middle-East region provide immense opportunities for companies to operate, generate revenue, and dominate the untapped market.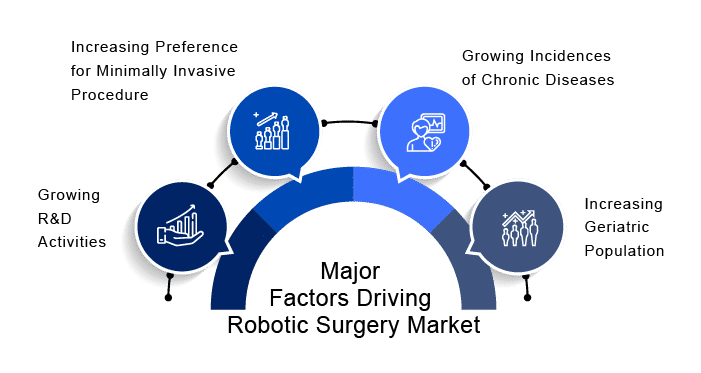 The growth in sensors, remote navigation technology systems, 5G services rollout, robotic proliferation, advancement in AI & machine learning, and Internet of things are some of the key emerging trends in the robotic surgery segment, set to provide the necessary momentum to the market growth and surgical outcome. Robotic Surgery is the future of healthcare; as per DelveInsight, along with the technological advancements, some of the key factors such as an increase in the funding for surgical robot R&D and growing demand for minimally invasive technology will stimulate the Robotic Surgery Market growth with a rise in acquisitions, mergers, and collaborations across verticals.

The Covid-19 pandemic and the lockdowns directly impact the Surgical Robots supply chain, manufacturing, and surgical procedures worldwide. However, as the situation continues to improve with the vaccination coverage and awareness about preventive measures among the public, the Robotic Surgery Market is expected to bounce back and to observe a growth in procedures conducted worldwide in the coming years.
Frequently Asked Questions
What is Robotic Surgery?
As the name implies, robotic surgery is surgery performed by a robot. It's a minimally invasive surgery, which means it can execute sophisticated surgical procedures through small incisions with minimal scarring.
What are the Major Advantages of Robotic Surgeries?
Robotic Surgeries are gaining popularity due to various benefits such as faster recovery period, less pain & discomfort, reduced risk of infection, better screening, greater precision, minimal blood flow & transfusion, smaller incisions/fewer cuts, and among several others.
What are the Key Disadvantages of Robotic Surgeries?
Despite several advantages, Robotic Surgeries have some drawbacks associated with them which include the high cost of installation, the possibility of malfunctioning, and tiresome regulatory approvals. Apart from these gaining users' trust & surgeons' confidence, are other challenges hindering the wide-scale adoption of Robotic Surgeries.
What is the Global Outlook for Surgical Robotic Systems Market? And What CAGR is Expected to Grow in the Coming Years?
As per DelveInsight, the Global Surgical Robotic Systems Market size was estimated to be $ 4.5 billion in 2020. The market is expected to grow at a CAGR of 11.5% during the forecast period (2021 to 26) and is expected to reach $ 9.8 billion by 2026.
What are the Key Factors Driving the Global Surgical Robotic Systems Market Growth?
The Surgical Robotic Systems Market is witnessing a surge due to the rising geriatric population, increasing Incidences of Chronic Diseases, growing inclination towards minimally invasive surgical approaches, and the technological development in product manufacturing, among several others
Who are the key players operating in the Global Surgical Robotic Systems Market?
The Surgical Robotic Systems Market is one of the competitive segments in the healthcare domain. Globally, several key MedTech companies in the Surgical Robotic Market include Intuitive Surgical Inc, Stryker, JOHNSON & JOHNSON MEDICAL DEVICES COMPANIES, Medtronic, Avateramedical GmbH, CMR Surgical Ltd., Medicaroid Corporation, Medrobotics Corp, Asensus Surgical US, Inc, Globus Medical, Microport Scientific Corporation, Smith & Nephew PLC., Accuray Incorporated, THINK Surgical., Renishaw plc, Zimmer Biomet, Corindus, Inc (Siemens Healthineers), Preceyes BV., MicroSure, Memic Innovative Surgery Ltd and others. Owing to the positive outlook, several new players are expected to enter the market in the coming years.
Which region dominates the Global Surgical Robotic Systems Market?
As per DelveInsight, North America is expected to dominate the overall Surgical Robotic Systems Market during the forecast period, 2021 to 2026. Various key factors influencing the market growth in the region include the rising growing prevalence of cancers and other diseases, high disposable income, sophisticated healthcare infrastructure, new product approvals, and high awareness among the people about robotic surgeries and their benefits.