Artificial Intelligence (AI), with its wide range of applications, is enhancing the speed and accuracy of businesses across various industries such as manufacturing, healthcare, finance, marketing, and several others. To take advantage, globally, companies, whether big or small, are actively adopting artificial intelligence technology in their systems & processes. Apart from enhancing the capabilities, it is also significantly reducing the operational costs, improving their efficiency, and also enhancing the customer experience along with the growth in revenue.
Artificial Intelligence in Healthcare Sector
Healthcare is a front runner in adopting new technologies & innovation in its processes. Similarly, in the case of Artificial Intelligence, there has been a significant advancement over the past few years. Pharmaceutical & biotechnological companies, MedTech, and startups are actively working to deliver innovative AI products across segments such as patient monitoring, drug discovery, preclinical experiments, clinical trials, genomics, and early diagnosis & detection tools. AI-based robot-assisted surgeries, cybersecurity, patient management, and fraud detection are other areas in which AI is making significant progress. The ongoing Covid-19 pandemic has also accelerated the adoption of AI-based technologies in healthcare, and the adoption trend is likely to continue in the coming years.
Here are some of the most innovative applications of Artificial Intelligence in Healthcare –
Artificial Intelligence in Drug Developmental
Drug Discovery takes a lot of time, money, and effort. On average, the drug development process takes anywhere between 10 to 15 years of time & costs nearly billions to the manufacturers. Similarly, the effort can't be justified if only one drug got approved for every 100 medications in the first stage of a clinical trial for a particular indication.
To overcome these challenges, many established companies and startups are investing heavily in Artificial Intelligence in the drug development process. Starting from screening chemical properties to find new drug targets and from molecular design to organizing databases of drugs, all the segments are slowly using AI. In fact, the preclinical stages are also using AI to select the most suitable animal model for a particular condition or disorder. It is expected that in some cases if the AI is fully employed in the clinical trials, it can save upto 90% of the drug development cost.
Clinical trials include a broad range of activities, among which the Clinical Trial Participant Identifier is one of the initial segments. The selection of accurate target patient populations, recruiting, and participant retention is the major component of the Clinical Trial Process and can provide authentic results. Using the conventional method to select the desired patients with matching the desired phenotype can take too much time, which is also a labor-intensive process. However, with natural language processing (NLP) the issue can be resolved significantly.
Globally, some of the prominent pharma giants adopting Artificial Intelligence drug discovery solutions include GC Pharma, Hansoh Pharmaceutical, AstraZeneca, Bristol Myers Squibb, Sumitomo Dainippon Pharma, Takeda, and Others. Similarly, the leading startups in the AI-driven clinical trial market include Deep Lens, AiCure, Owkin, VeriSIM Life, Unlearn.AI, and many others.
AI as a Virtual Nursing Assistant
After drug development and treatment, the Nursing Assistant is the second most vital application of Artificial Intelligence in healthcare. Globally, there is a vast demand for nursing professionals. With the help of AI, it is quite easier for the healthcare organization to manage and engage with a high number of patients at a single time. Not just in terms of volume but also with the desired need. An AI-powered Virtual Nursing Assistant can monitor a patient's condition and follow up after critical treatment. Additionally, Virtual Nursing Assistants can be used at various stages of treatment and in between doctor visits to provide wellness checks through voice and AI. 
Nuance is a Medical Record Navigation application that helps to automate the process of documenting clinical information. Suki, formerly called Robin AI, is another Virtual Nursing Assistant that aids physicians in managing medical documentation. In the Medical Transcription segment, Robin Healthcare acts as a virtual scribe to document clinical information based on real-time natural dialogue between a physician and patient using machine learning. Additionally, MedWhat, MedRespond, Welltok, Kognito, and idAvatars, among others, are leading Virtual Nursing Assistance available in the market. Apart from these, there are several companies actively working in the market to cater to various healthcare needs of the patients.
AI in Preliminary Diagnosis – An Intelligent Symptom Checker
It is observed that in the US, nearly 5% of outpatients receive an incorrect diagnosis, which in some cases can be fatal. To overcome the diagnostics challenges, AI and machine learning is providing great help to doctors & physicians. AI can mimic human-like cognitive functions and in some cases, especially in diagnostics, can significantly improve the physicians' judgment and can also help to make accurate decision making.
AI and Ml use advanced algorithms to detect patterns in medical records, CT scans, x-rays, and other healthcare data to provide more accurate diagnoses. Additionally, it can detect and eliminate anomalies, thus providing better outcomes of diagnoses. Apart from high accuracy, AI can reduce the overall time period between tests and treatments. Currently, AI-based software is under evaluation for the diagnosis of diseases such as skin cancer, leukemia, dementia, and some other diseases.
Dosage Error Reduction
Medical fallacies such as surgical errors, laboratory errors, medication events, documentation/computer errors, and healthcare-associated infections are some of the causes of death which can be avoided to a large extent. The wrong medication or improper dosage can also be fatal in some cases. Currently, to overcome the medical error due to incorrect dosage, some studies are using AI to predict the dosage of medicines, specifically in the case of chronic conditions in which the patient follows medication regimens for months and years. AI-powered dosing algorithms are expected to provide significant improvements in dose efficiencies by reducing the adverse drug events in some critical diseases. Currently, Dosis, a San Francisco company is offering an artificial intelligence-powered personalized dosing platform to manage chronic drug regimens.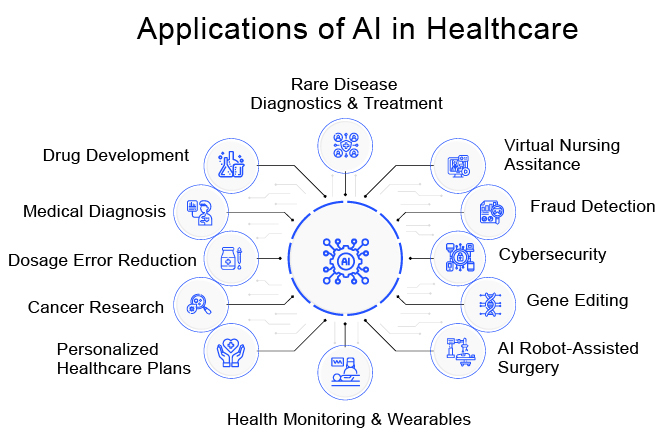 Personalized Healthcare Plans and Treatment With AI
Personalized medicine, also known as precision medicine, is one of the growing concepts in healthcare. Each person responds differently to a similar disease and symptoms. To provide optimum results, personalized medicine is intended to separate patients into different groups in terms of medical decisions, practices, interventions, and products by the physician. The precision medicine approach leverages a patient's genetic history, environmental factors, and lifestyle to suggest an optimum treatment plan.
Artificial Intelligence is capable of classifying diseases using different algorithms and can provide more accurate disease diagnosis, disease detection, prediction, treatment optimization. Recently, in January 2022, Health at Scale, a healthcare machine intelligence company has collaborated with Walmart to produce personalized provider recommendations for Walmart associates and their families using AI. With the advancement in ML, AI is expected to increase the accuracy and prediction of health outcomes for patients.
Artificial Intelligence in Oncology
Artificial intelligence (AI) is reshaping the oncology treatment landscape. Today it is in use to detect, diagnose, and classify cancer type & stage, accordingly recommending optimal treatment approaches. Overall it is making decision-making much easier based on the analysis of the tumor microenvironment. Further studies are going on to get a more clear understanding of how cancer cells become resistant to anticancer drugs.
To take advantage of AI, companies are using AI in clinical cancer research and drug development. Currently, AI-based devices are in use to improve cancer screening in breast, cervical, colorectal, and prostate cancer, among several others. As the advancement is going on, AI technology is expected to have a large impact on cancer research in the coming years.
Top pharmaceutical companies, including Roche, Pfizer, Merck, AstraZeneca, GSK, Sanofi, AbbVie, Bristol-Myers Squibb, and Johnson & Johnson have already collaborated with or acquired AI technologies.
In January 2020, Bayer partnered with a UK-based AI-driven drug discovery company to a multi-target collaboration. The two companies aim to identify and optimize novel lead structures for potential drug candidates to treat cardiovascular and oncological diseases. The AI collaboration has the potential to accelerate drug discovery and improve drug development productivity in terms of quality, cost, and by reducing the time of the drug discovery and development cycle.
In 2021, Roche introduced three artificial intelligence (AI)-based, deep learning image analysis Research Use Only (RUO) algorithms developed for breast cancer, which is the most common cancer in women globally. Chronic diseases are the leading causes of death worldwide. Therefore, organizations are increasingly leveraging AI to improve chronic disease management, drive down costs, and enhance patient health.
AI in Gene Editing
CRISPR-Cas9 is an emerging technology in the healthcare domain and aims to revolutionize the segment with immense benefit. CRISPR-Cas9 can edit the DNA sequences to correct defects in genes and treat diseases. However, accuracy and safety are the two major concerns with Gene Editing that can have dangerous consequences to an individual's genome.
Machine learning holds the potential to improve the outcome as it can analyze sequenced data at a much faster rate and that too with high accuracy. It can also predict the genetic alterations associated with the diseases and thereby reduce the risk of ineffective treatment and false diagnosis for patients with different genetic diseases. Globally, some of the genomics companies are already working to assess the potential of ML in disease risk assessment.
AI Robot-Assisted Surgery
Robotic surgery is set to take healthcare to the next level with its vast benefit and applications in healthcare. The demand and potential in the surgical segment are quite vast. Artificial Intelligence is an essential part of robots. AI-based algorithms can provide greater precision and control to surgical robots and can streamline the interaction between surgical robots and surgeons. AI collects data during the surgery, and over a period of time, it can recognize and determine the movements and patterns of the surgeon. Additionally, in some areas, AI robots can have a huge demand like hair transplant procedures. Surgical robots can extract hair follicles and implant them with more precise force and speed. Similarly, it has a potential application in the surgery of delicate organs like the brain and heart.
AI can determine patterns within surgical procedures to improve best practices and to improve surgical robots' control accuracy to submillimeter precision. AI is also being used with machine vision to analyze scans and detect cancerous cases. Laparoscopic video analysis of surgeries, like sleeve gastrectomy procedures, helps to identify missing or unexpected steps in real-time.
Rare Disease Diagnostics & Treatment
Rare diseases, also known as orphan diseases, are one of the major deadlocked segments in the healthcare domain with limited research and development in terms of clinical research. Globally, there are over 7000 Rare diseases & only 5% have a treatment in the market. These disorders represent a wide range of symptoms that are difficult to diagnose and treat.
Artificial intelligence (AI) in Rare Disease segment can immensely transform the diagnostics & treatment approaches. AI technologies can integrate & analyze structured & unstructured data from different sources such as devices, patient registries, digital platforms, and other medical records. Based on the data, AI can create multiple logical disease indicators for rare diseases that can be usable by clinicians and researchers. If implemented well, AI can immensely provide benefits to the people who have been suffering from rare diseases.
FindEHR is one of many AI applications which are being developed for rare diseases. Some other emerging AI applications for the rare disease space include Fabric GEM by Fabric Genomics, Face2Gene by FNDA, Healnet by Healx, etc.
Fabric GEM uses AI to analyze possible gene variants and quickly identify the root cause of the disease so that patients receive the right treatment sooner. Moreover, Face2Gene uses computer vision to analyze facial features and identify rare genetic disorders. Healnet uses AI drug discovery to predict which known drugs or drug combinations have the highest chance of success in treating rare diseases.
Health monitoring & wearables
As people are becoming more and more health-conscious, the demand for Health monitoring & wearables devices is also growing tremendously. Wearables monitor physical parameters, such as strain, pressure, temperature, heartbeat, and other biological variations in the body. Additionally, the AI-powered devices equipped with smart sensors can help in early diagnostics, remote patient monitoring, managing chronic conditions, and in some cases, can assist in handling emergency health issues. Along with Artificial intelligence, the incorporation of Big Data, the Internet of Things (IoT), and 5G are also anticipated to make health monitoring with wearables more efficient and flexible. Eko, Ava, Sumu Band, Livio Edge AI, are some of the key companies actively working in the AI-based wearables devices segment. Due to the high demand, more companies are likely to enter the segment with new and innovative technologies.
AI elements have already been used in cardiology for about a decade. Eko, a California-based startup that became famous for its digital stethoscopes, introduced an AI-powered platform that consists of advanced heart monitors, patient and provider software, and AI-powered reporting.
AI has also been extensively utilized in female health. Ava, a health company based in Zurich and San Francisco, introduced a solution that analyzes multiple health parameters to precisely identify the opening and closing of a woman's fertile window. A number of online wellness platforms such as Apricity, Prelude, Univfy, Progyny, Ovia Health, Kindbody, Carrot Fertility, etc. provide 24 hours support to the women along with providing services of expert consultations.
The Growing Importance of AI Fraud Detection
As per various studies, in the US, nearly 22% of all claims are flagged as fraud, waste, and abuse (FWA), which costs immensely to the insurance providers and other stakeholders in the domain. As per National Healthcare Anti-Fraud Association, payers spend up to $68 billion a year due to fraud in the United States. The Fraud can be from any of the parties involved, such as Insurance carriers, Insurance subscribers, or Service Providers.
In healthcare, data is collected across various points over a long period. Currently, fraudulent detection activities use intricate and complicated patterns. With the help of data mining and machine learning tools, the fraud detection activities can be automated systems, and that too at a much faster rate. Additionally, organizations can save millions of dollars related to waste, fraud, and abuse.
The future of AI for fraud detection and management will be beneficial in long run, however adoption rates will vary across industries, companies, and countries.
Cybersecurity With AI
AS the dependence on data is increasing, the protection of sensitive data and its prevention from ransomware attacks are also getting difficult. Globally, several sectors are struggling to manage data breaches as technology is getting advanced. Artificial Intelligence has emerged as a potential tool to provide viable solutions for data protection and companies across different industries are actively investing in AI.
If the past trends are analyzed, the healthcare industry has observed the highest number of cyber attacks as compared to other sectors. The attack is also rising at a phenomenal rate. Medical systems and patients' health data are at greater risk. Organizations working in the healthcare industry are recognizing the power of AI in streamlining the threat, ensuring compliance, and mitigate human error. AI-driven programs are capable of collecting valuable data to gain new insights related to unfamiliar patterns and suspicious activity by cybercriminals and loopholes in the system. The AI application is well capable to handle big complex data problems and is also capable to respond to data breaches faster with greater precision. However, no technology can ever be a hundred percent secure; there are always some chances that the hackers may somehow access AI as well.
Some early AI adopters such as Google, IBM/Watson, Juniper Networks, etc. have made their data secure and independent. Gmail has used machine learning techniques to filter emails since its launch 18 years ago. On the other hand, IBM has increasingly leaned on its Watson cognitive learning platform for "knowledge consolidation" tasks and threat detection based on machine learning. Cognitive computing with Watson® for Cyber Security offers an advanced type of artificial intelligence, leveraging various forms of AI, including machine-learning algorithms and deep-learning networks, that get stronger and smarter over time.
Apart from the mentioned segment, there are many other areas where AI can be implemented. Early disease detection, reducing the medication's non-adherence issues, streamlining patient experience with real-time data, and virtual reality-enabled robotics surgery, are some other potential applications of AI in healthcare. Additionally, some of the companies are exploring the possibility of AI in neurological diseases and trauma.
Artificial Intelligence in Healthcare Market and the Future Scope
The AI is in the initial stage in the healthcare segment; in the coming years, with greater adoption, it is likely to make its way in many other fields in healthcare, thereby impacting the life of the people. Currently, General Electric (GE) Company, Koninklijke Philips, Intel Corporation, Fabric Genomics, Nuance Communications, NVIDIA, Shimadzu Recursion Pharmaceuticals, Siemens Healthineers, Cloudmedx, IBM Corporation, DeepMind Technologies Limited, and Bay Labs are some of the leading companies in the segment.

Currently, the North American region is dominating the Global Artificial Intelligence in the Healthcare Market and is likely to dominate the segment due to high purchasing power, well-established healthcare infrastructure, higher prevalence of cancer, rare, genetic diseases, technological literacy, developed IT infrastructure, and higher adoption of digital technologies in the region. The developing countries are facing challenges such as the rising prevalence of chronic diseases, changing lifestyles, the growing geriatric population, among several others. To overcome these challenges and provide a viable solution, the developing economies especially in the Asia Pacific region are also looking forward to adopting AI in healthcare, which offers immense opportunities for the companies to capture the untapped and growing market. Additionally, the European nation and the Gulf countries are also investing heavily in Artificial Intelligence in Healthcare Market.
As per DelveInsight, the rise in investments from private investors & venture capitalists, the rising prevalence of cancer, & rare diseases, increasing R&D activities in the genomic & biomedical segment, rising awareness, and adoption of technology is expected to drive the growth of the healthcare AI market in the coming years. The opportunities for the MedTech & Health companies are vast in terms of market share and revenue. Similarly, the scope of mergers & acquisitions, collaborations, and partnerships across healthcare verticals are also high. The continuous support, favorable initiatives, expenditure, and funding opportunities from governments across the region to implement AI in healthcare is another major factor expected to contribute immensely to the AI market growth.