The number of people diagnosed with myelodysplastic syndrome in the US each year is unknown. However, some estimates have put this number at about 10,000, while other estimates have been much higher. Moreover, myelodysplastic syndrome is uncommon before age 50, and the risk increases as a person gets older. It is also most commonly diagnosed in people in their 70s, and the number of new cases diagnosed each year is likely increasing as the average age of the US population increases.
As per Delveinsight's analysis, the total incident population of myelodysplastic syndrome in the 7MM was around 42,000 in 2022, growing at a CAGR of about 1% during the study period (2019–2032). As per the estimates, the United States accounted for approximately 21,000 incident cases of myelodysplastic syndrome in 2022, which was the highest among the 7MM.
Although the only myelodysplastic syndrome treatment with a potentially curative effect is HSCT, less than 20% of all MDS patients are eligible for transplant and have a donor. Azacitidine is known to prolong survival in patients with HR-MDS, while ESAs and lenalidomide improve anemia in low-risk MDS and MDS del(5q), respectively. However, red cell transfusion remains the mainstay of therapy for many patients with MDS. Approximately half of the patients become transfusion-dependent within 6 months of diagnosis, and one-third of the patients in >12 months after diagnosis.

Entry of Reblozyl for Patients with Low-risk MDS
While grappling with staff layoffs and the loss of exclusivity for its blockbuster blood cancer drug Revlimid, Bristol is celebrating a victory with its emerging product, Reblozyl. Thanks to recent FDA approval, Reblozyl can now be prescribed as a primary treatment for anemia in patients with very low to intermediate-risk myelodysplastic syndromes, even if they haven't previously used an erythropoiesis-stimulating agent (ESA).
Reblozyl has secured its third U.S. approval within the anemia subgroup. Attaining first-line utilization in MDS is a crucial achievement as the company strives for a peak sales goal of USD 4 billion for this drug. This approval also extends to patients, irrespective of their ring sideroblast status. The FDA approved Reblozyl based on positive results from the pivotal phase III COMMANDS trial. In this study, Reblozyl performed better than ESAs, marking the first time any drug has achieved this.
For patients with lower-risk MDS, current standard therapies, including ESAs, have provided limited benefit in controlling anemia, with only 1 in 3 patients responding for a duration of 6-18 months," said Guillermo Garcia-Manero, M.D., lead investigator and Chief of the Section of Myelodysplastic Syndromes at The University of Texas MD Anderson Cancer Center. "According to the findings of the COMMANDS study, nearly twice as many patients treated with Reblozyl achieved transfusion independence for at least 12 weeks and concurrent hemoglobin increase compared to epoetin alfa." Today's approval is a significant step forward for patients with low-risk MDS.
Interim results from COMMANDS showed that Reblozyl was more effective in achieving red blood cell transfusion independence (RBC-TI) and increasing hemoglobin (Hb) levels compared to epoetin alfa, regardless of ring sideroblast status. These findings highlight Reblozyl's potential to treat chronic anemia in a broader patient population. In the COMMANDS study, 58.5% of Reblozyl patients (n=86) achieved RBC-TI for at least 12 weeks with a mean Hb increase of at least 1.5 g/dL within the first 24 weeks, significantly outperforming epoetin alfa patients (31.2%) (p<0.0001). Common side effects included diarrhea, fatigue, hypertension, peripheral edema, nausea, and dyspnea.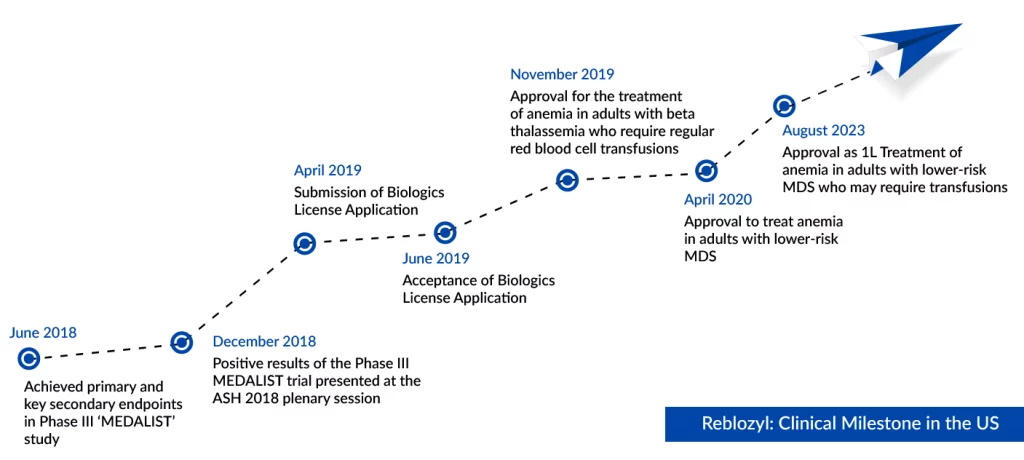 The results of the COMMANDS study were unveiled in June during the press program at the American Society of Clinical Oncology (ASCO) Annual Meeting 2023 and featured as a plenary session at the European Hematology Association (EHA) Congress. Simultaneously, these findings were published in The Lancet. From November 2021 onwards, Merck take charge of the development and worldwide commercialization of Reblozyl, as per a global agreement.
Key Therapies in Horizon for Myelodysplastic Syndrome Treatment
Key players such as Fibrogen (Roxadustat (FG-4592), AbbVie (Venclexta), Gilead Sciences (Magrolimab), Novartis (Sabatolimab), Syros Pharmaceuticals (Tamibarotene), Geron Corporation (imetelstat), KaryopharmTherapeutics/Antengene Corporation (Eltanexor), Bristol Myers Squibb (Enasidenib), Vincerx Pharma (VIP943), and others with their lead assets are involved in developing a treatment for myelodysplastic syndrome. Apart from this, several other companies are conducting trials for myelodysplastic syndrome treatment including Jazz Pharmaceuticals, Aprea Therapeutics, Sanofi, Medac, Jasper Therapeutics, BerGenBio ASA, Otsuka Pharmaceutical, Syntrix Biosystems, and others.
Roxadustat (FG-4592) by Fibrogen is an oral hypoxia-inducible factor prolyl hydroxylase (HIF-PH) inhibitor. It increases hemoglobin (Hb) by mimicking the body's natural response to low oxygen and is based on 2019 Nobel Prize-winning science. It is being developed for anemia associated with MDS. Fibrogen has collaborated with Astellas Pharma for commercialization in Japan and Europe while collaborating with AstraZeneca for the US, China, and the rest of the world. The company is conducting a Phase III (Matterhorn) trial in the US and Europe. The company presented additional analyses of roxadustat for the treatment of anemia in patients with lower-risk myelodysplastic syndromes and results from multiple roxadustat Phase III studies at ASH 2021. In November 2021, the company presented the results from the open-label (OL), dose-selection, and lead-in phase of the Matterhorn study.
Venclexta (Venetoclax) by Abbvie is a first-in-class targeted medicine designed to selectively bind and inhibit the B-cell lymphoma-2 (BCL-2) protein. Currently, the drug in combination with azacitidine is being investigated in a Phase III trial to treat adult patients with newly diagnosed higher-risk MDS. Moreover, in July 2021, the combination was granted Breakthrough Therapy Designation in higher-risk myelodysplastic syndrome.
Magrolimab by Gilead Sciences is a first-in-class investigational monoclonal antibody against CD47 and macrophage checkpoint inhibitor designed to interfere with the recognition of CD47 by the SIRPα receptor on macrophages, thus blocking the "don't eat me" signal used by cancer cells to avoid being ingested by macrophages. In September 2020, the US FDA granted Breakthrough Therapy Designation to magrolimab based on positive results of an ongoing Phase Ib study, which evaluated magrolimab in combination with azacitidine in previously untreated intermediate, high, and very high-risk MDS. The FDA has also granted Fast Track Designation to Magrolimab to treat MDS, AML, diffuse large B-cell lymphoma (DLBCL), and follicular lymphoma. Additionally, the MDS drug has been granted Orphan Drug Designation by the FDA for MDS and AML and by the EMA for AML. In 2022, the company announced that the FDA lifted the partial clinical hold placed on studies evaluating its investigational agent magrolimab combining with azacitidine. The FDA removed the partial clinical hold after a review of the comprehensive safety data from each trial.
Novartis Pharmaceutical's Sabatolimab (MBG453) is a high-affinity humanized anti-TIM-3 (Tcell immunoglobulin domain and mucin domain-3) IgG4 antibody in development for the treatment of MDS, AML, and other malignancies. The asset is in Phase III in combination with azacytidine. In May 2021, the company received Fast Track Designation to treat adult patients with MDS defined with an IPSS-R risk category of high or very high risk in combination with hypomethylating agents.
In May 2021, the company received Fast Track Designation to treat adult patients with MDS defined with an IPSS-R risk category of high or very high risk in combination with hypomethylating agents. In the Q2 2021 interim financial report, the company stated that DMC recommended continuing (sabatolimab) the STIMULUS MDS-1 trial based on the CR readout. In August 2021, EMA granted Orphan Designation to sabatolimab for myelodysplastic syndrome treatment, based on clinical data showing a high rate of responses in patients with high-risk MDS who were treated with sabatolimab in combination with hypomethylating agents (HMAs). Submission in MDS is expected to be based on the ongoing Phase III trial, as mentioned in the company's annual report the Phase II STIMULUS-MDS-1 readout is not supportive of an early submission. As per the company, it anticipates that Phase II data will be presented later this year. Moreover, the company anticipates for Phase III data readout and regulatory submission by 2024. Apart from that, the company is also evaluating MBG453 in low-risk MDS, and currently, the drug is in the Phase I clinical stage.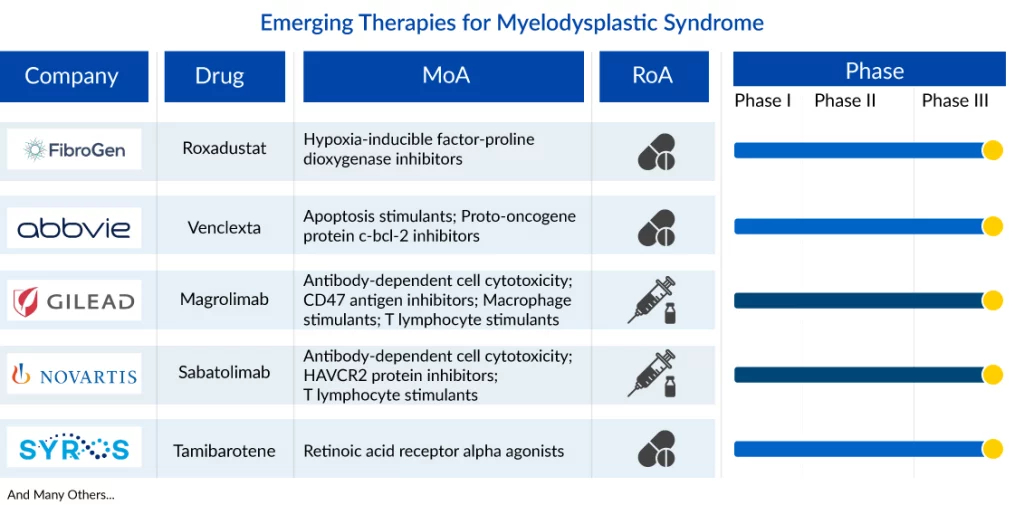 Tamibarotene (formerly SY-1425) by Syros Pharmaceuticals is an oral first-in-class selective retinoic acid receptor alpha (RARα) agonist that is being developed for genomically defined subsets of patients whose disease is characterized by the overexpression of the RARA gene. The company has initiated a Phase III trial in the newly diagnosed high-risk MDS patients in combination with azacitidine. The enrollment of the SELECT-MDS-1 Phase III trial is expected to be completed by the fourth quarter of 2023, and data is expected by 3Q 2024. In February 2022, the FDA granted an Orphan Drug Designation to tamibarotene for myelodysplastic syndrome treatment. The company also initiated a pivotal trial in Newly diagnosed HR-MDS (SELECT-MDS-1 Trial) and mid clinical study in newly diagnosed unfit AML (SELECT-AML-1 Trial).
VIP943 by Vincerx Pharma is a novel aCD123 antibody-drug conjugate (ADC), binding to the IL3Ra chain (CD123). VIP943 combines the new payload class of kinesin spindle protein inhibitors (KSPi) with a novel legumain-cleavable linker, which is specifically cleaved in the lysosome. Currently, the drug is in the preclinical stage for myelodysplastic syndrome treatment. As per the recent presentation, the IND filing in hematologic malignancies is expected in mid-2023, and the Phase I dose escalation study in CD123 positive hematological malignancies is expected before 2Q 2024.
Enasidenib by Bristol Myers Squibb is a small molecule inhibitor of the isocitrate dehydrogenase 2 (IDH2) enzyme. Enasidenib targets the mutant IDH2 variants R140Q, R172S, and R172K at approximately 40-fold lower concentrations than the wild-type enzyme in vitro. Inhibition of the mutant IDH2 enzyme by enasidenib led to decreased 2-hydroxyglutarate (2-HG) levels and induced myeloid differentiation in vitro and in vivo in mouse xenograft models of IDH2 mutated AML. In August 2017, the FDA approved IDHIFA(enasidenib) to treat adult patients with R/R AML who have a specific genetic mutation. In May 2021, the company published Phase II results in ASCO stating that ENA was well tolerated and showed promising efficacy in IDH2-mutated higher-risk MDS.
The Future Myelodysplastic Syndrome Treatment Market Looks Promising
The dynamics of the myelodysplastic syndrome treatment market are anticipated to change in the coming years owing to the improvement in the diagnosis methodologies, rising awareness of the disease, incremental healthcare spending across the world, and the expected launch of emerging therapies during the forecast period.
As per DelveInsight analysis, the myelodysplastic syndrome market size in the 7MM was estimated to be around USD 2 billion in 2022, which is expected to show positive growth during the study period (2019–2032). According to the estimates, the highest myelodysplastic syndrome treatment market size was found in the United States, and the least was in Spain across the 7MM. Moreover, Reblozyl is expected to garner 21% of the total myelodysplastic syndrome treatment market share in 2023.
Furthermore, the current myelodysplastic syndrome treatment options include curative, supportive, and symptomatic treatments that are easily and widely available in the market, along with their generics. Emerging therapies such as Syros Pharma's SY-1425 and BMS' Enasidenib are being developed as targeted therapies for RARA-positive and IDH-2 mutated patients, respectively. In addition, various studies have highlighted the role of multiple gene mutations like RUNX1, TP53, TET2, DNMT3A, ASXL1, and others in MDS. Developing therapies with targetable mutations will open a new window of opportunity for companies developing therapies for myelodysplastic syndrome treatment in the coming years.