DelveInsight estimates an increase in Retinitis Pigmentosa Market Size during the study period 2017–2030, from USD 237.27 million, as reported in 2017 in the 7MM.
The increase in the Retinitis pigmentosa market size, as estimated by DelveInsight, is a direct consequence of the expected launch of potential therapies, along with increasing awareness and development of novel treatments.
Retinitis pigmentosa market analysis: Therapeutic unmet needs
Retinitis pigmentosa is a heterogeneous, progressive disease, leading to worsening of the vision over time. Although, there is a significant variation in the age of onset, progression rate, the involvement of rod, and cone, retinal cells deterioration, however; the clinical manifestations that are kept in mind while diagnosing are night blindness, progressive loss of peripheral vision and subsequent loss of central vision.
Treatment of Retinitis pigmentosa is as big of a challenge as its diagnosis is. Management, prognosis, diagnosis of the disease has always been an uphill task. Incomplete understanding, heterogeneity, complex pathophysiology and involvement of numerous genes are the major hurdles needed to be overcome in the Retinitis pigmentosa market.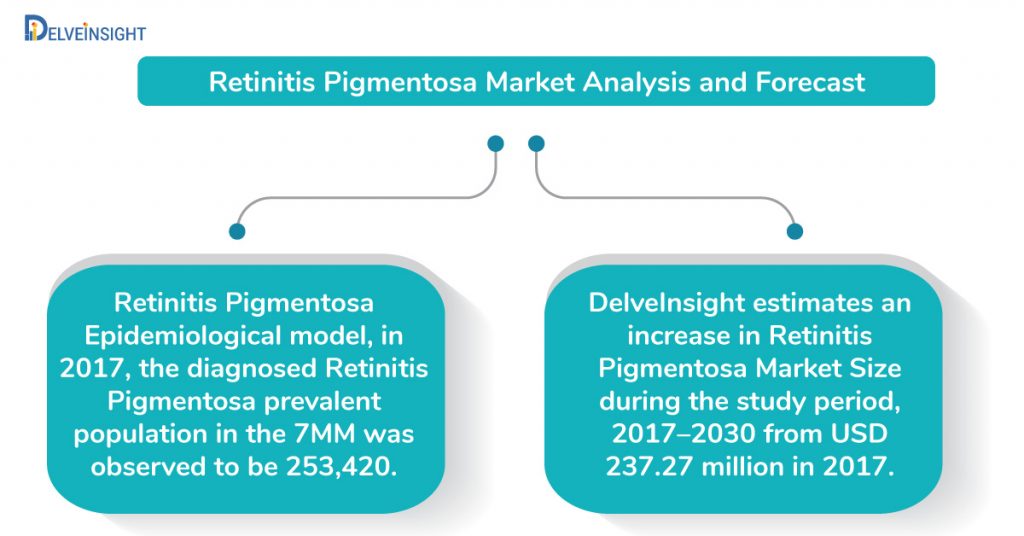 Moreover, one type of mutation can have a variable expression in different individuals. The interference is mutation due to environmental and other factors is another diagnostic challenge that remains to be addressed.
Mutation screening, in case of Retinitis pigmentosa, becomes absolutely necessary as well as proves to be beneficial in the treatment. However, the variations in ethnic-specific mutations databases are insufficient and hence forms a major unmet need in Retinitis pigmentosa market.
However, recent years have witnessed an increase in R&D in debunking the genetic causes of Retinitis pigmentosa.
Limited therapeutic options form another major unmet need prevailing in the Retinitis pigmentosa market, which is one of the factors boosting the market forward. Again, the reason for so many therapeutic unmet needs in the market could be due to so many complications associated with the diseases and occurrence of Retinitis pigmentosa in different forms and stages, and inheritance patterns – owing to the fact that Retinitis is a rare genetic disorder.
Limited options in Retinitis pigmentosa treatment market landscape
Present available options and approaches in the Retinitis pigmentosa market are limited. Hence, a number of clinical trials are underway, and a lot of novel therapies are poised to enter the Retinitis pigmentosa therapy market.
Luxturna is the only available FDA- and EMA- approved treatment option for the patients living with deteriorated vision, thus the poor quality of life. Although the drug has its own limitation in a way that it can only halt the process of the vision loss, and restore sight up to a certain extent in cases with a biallelic mutation in RPE65 gene, however; the drug put the potential of gene therapy in treating Retinitis pigmentosa in the limelight.
Administration of such as vitamin A palmitate, lutein, docosahexaenoic acid (DHA), calcium-channel blockers, docosahexaenoic acid (DHA), and others have shown their potential in preserving the function of photoreceptors. Studies revealed that Lutein could increase macular pigment, and calcium channel blockers can inhibit photoreceptor degeneration. However, their use is again constrained due to their effect specific to certain mutations.
Furthermore, for Retinitis patients, of age 25 and above, with bare light perception or no light perception in both eyes, Argus II Retinal Prosthesis is available in the Retinitis pigmentosa market as an approved therapy in the US. Other approaches present are cataract surgery, neuroprosthetic devices, and visual prosthetics.
However, in Japan, Retinitis pigmentosa market lacks effective standardized therapies, and only offers curative Retinitis pigmentosa treatments, such as Adaptinol, with Luxturna still left unapproved.
As per the assessments by DelveInsight's analysts, the market share of currently prescribed therapies in Japan was USD 23.92 million in 2017.
However, several new treatments are in the pipeline that shall shift Japan's Retinitis pigmentosa market landscape positively.

Combating the unmet needs with a robust pipeline and novel approaches
Better understanding and identification of the genetic mutations require efficient genotyping methods as well. To address this, several genes and cell therapies for the treatment and better diagnosis, are undergoing clinical evaluation, expected to shift Retinitis pigmentosa market positively.
Gene-specific or mutation-specific investigations observed the potential of gene augmentation therapy might be designed to restore normal gene expression in photoreceptors. Several types of research involving transplanting retinal progenitor cells (or non-ocular stem cells) into the eye, i.e. cell replacement therapy, are under evaluation to repopulate the retina with functional photoreceptors.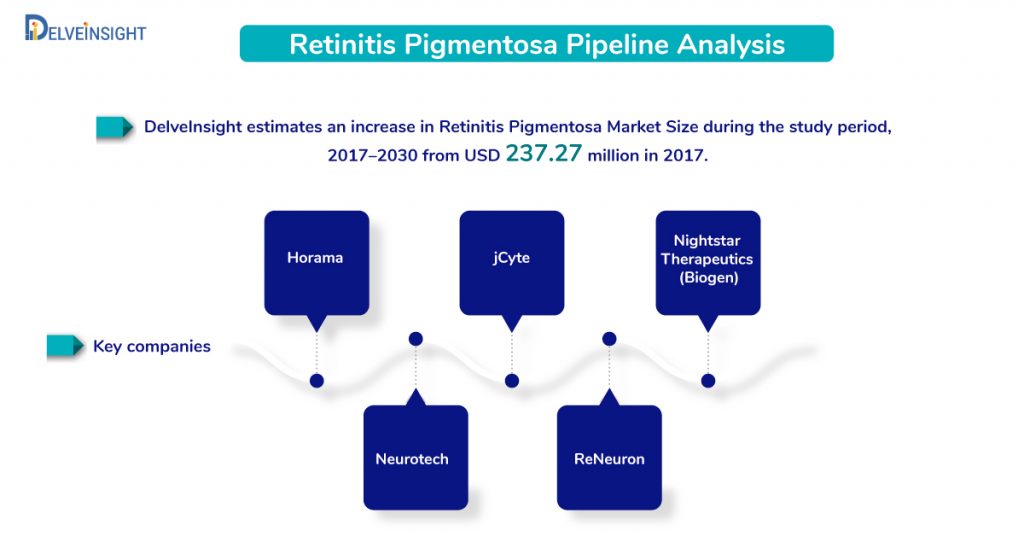 Several pharma and biotech companies including HORA-RPE65 (Horama), AAV8-RPGR (Nightstar Therapeutics), jCell (jCyte), Renexus (NT-501; Neurotech Pharmaceuticals), and hRPC (ReNeuron Limited) are expected to enter into Retinitis pigmentosa market in the coming decade.
The robust pipeline is anticipated to bring a significant shift in the Retinitis pigmentosa market in the 7MM. Moreover, the US is expected to grab the major chunk of Retinitis pigmentosa market share as compared to other members of 7MM.

| | | | | |
| --- | --- | --- | --- | --- |
| Name of the Drug | Company | MoA | Condition | Phase |
| HORA-RPE65 | Horama | Gene Therapy (normal copy of the human RPE65 gene) | Autosomal Recessive RP (Non-syndromic) RPE65 RP | III |
| jCell | jCyte | Gene therapy (AAV8-RPGR) | Non-syndromic X-linkedRetinitis Pigmentosa | II/III |
| AAV8-RPGR | Nightstar Therapeutics (Biogen) | Uses adult retinal progenitor cells to generate new retinal cells | Retinitis pigmentosa | II |
| Renexus(NT-501) | Neurotech | Secrete therapeutic doses of ciliary neurotrophic factor | Syndromic Retinitis pigmentosa | II |
| Human retinal progenitor cells (hrpc) cell | ReNeuron | Human retinal progenitor cells (hrpc) cell. | Retinitis Pigmentosa | II |
Limited therapeutic options offer doors of opportunities for pharma players to enter in the Retinitis pigmentosa market, identify challenges, bring novel, innovative therapy approaches and develop an effective therapy for patients. Often, it has been witnessed that people suffering from rare genetic disorders face numerous clinical unmet needs and a dearth of standard treatment. Approval of Argus II Retinal Prosthesis and its ability to restore and enhance the vision has arisen a flicker of hope in the eyes of patients.
Upcoming therapies and a robust pipeline in similar line shall help patients and bring effective therapeutic option I the Retinitis pigmentosa market. As per DelveInsight, several types of research underway, and results of clinical trials, present a positive and promising picture of Retinitis pigmentosa market in the 7MM for 2017-30. This will not only help in providing a better treatment option, but also an effective mechanism for prevention and reversal of inherited retinal degenerations.