In recent years, the development of cell and gene therapies has provided a new avenue for the treatment of rare disorders. This article will discuss the current and future scenarios of cell and gene therapies in rare disorders with cancer indications as an exception, in Japan. Cell therapy is a treatment in which live cells are transplanted into a patient to replace or repair damaged tissue. Gene therapy, conversely, is inserting genetic material into a patient's cells to fix or replace a malfunctioning gene. Cell therapy aims to replace damaged or diseased cells with healthy ones, while gene therapy targets the underlying genetic cause of a disease for a more targeted treatment.
Major key players that have got a green signal for their respective cell therapies in Japan are depicted in the timeline below: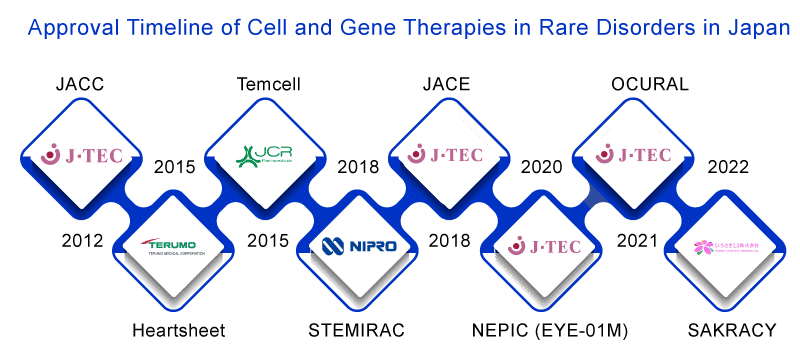 Novartis' ZOLGENSMA, the only approved gene therapy in Japan. LUXTURNA could be the next one.
Many gene therapies for rare disease treatment are approved in the US and EU; however, this is not the case in Japan. The only approved gene therapy in Japan for rare disorders is ZOLGENSMA, which is approved for treating Spinal Muscular Atrophy (SMA) in patients under 2 years, including those who are presymptomatic at diagnosis. LUXTURNA was approved in the US and EU in 2017 and 2018, respectively for patients with confirmed biallelic RPE65 mutation-associated retinal dystrophy, and has not been approved in Japan yet. Novartis is currently investigating LUXTURNA in a Phase III trial (NCT04516369; active, not recruiting) in Japan.
Gene therapies in Japan: Challenges in reimbursement or limited patient demand?
Differences in regulatory processes and requirements might cause approval lag. There are several potential reasons why there may be fewer gene therapies for rare disorders treatment available in Japan compared to other countries. One possible factor is the regulatory environment in Japan. The Pharmaceuticals and Medical Devices Agency (PMDA) regulates the approval of new drugs and medical devices in Japan, and their review process can take several years to complete. This can be a significant barrier to developing and approving new gene therapies for rare disorders treatment in Japan.
Another potential factor is the research and development landscape in Japan. While Japan has a strong research and development infrastructure, it may not be as focused on gene therapy as other countries. In particular, there may be fewer academic and industry researchers working on gene therapy in Japan, which could limit the number of new gene therapies developed and brought to market.
Finally, it is worth noting that the availability of gene therapies in any given country can also depend on factors like healthcare policy, reimbursement, and patient demand. For example, if there is limited patient demand for gene therapies in Japan, it may be less economically viable for companies to invest in developing these therapies for the Japanese market. Similarly, if the healthcare system in Japan does not provide adequate reimbursement for gene therapies, it may be less financially attractive for companies to develop and market these treatments in Japan.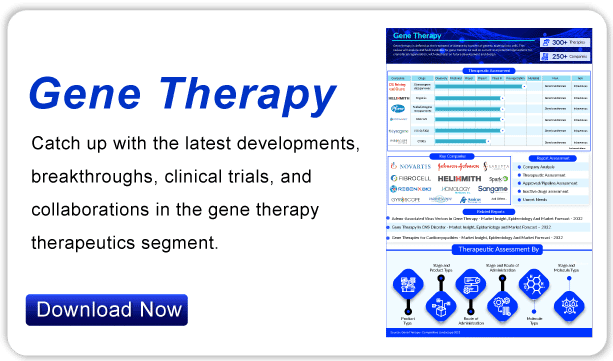 Perks of developing cell therapies in Japan
One of the main reasons for the maximum number of cell therapies in Japan is the country's regulatory environment. In 2014, Japan introduced a new law called the Regenerative Medicine Promotion Act, which aimed to accelerate the development and approval of regenerative medicine, including cell therapies. This law allowed for conditional approval of regenerative medicine products based on early-phase clinical trial data, which reduced the time and cost required for clinical development.
In addition, Japan's government has provided significant funding and support for regenerative medicine research and development, which has helped create a favorable environment for the industry's growth. This includes the establishment of the Japan Agency for Medical Research and Development (AMED), which provides funding and support for regenerative medicine research and development.
Moreover, Japan's aging population and high prevalence of certain diseases such as cancer and Parkinson's disease have also contributed to the demand for cell therapies. As a result, many companies in Japan have focused on developing and commercializing cell therapies to address these unmet medical needs. Overall, the combination of a supportive regulatory environment, government funding and support, and a large market opportunity has made Japan a leader in regenerative medicine and cell therapies. Moreover, the cost of cell therapies is lower than that of gene therapies, which allows easier reimbursement.
Glimpse of topmost cell therapies approved in Japan:
Among cell therapies in Japan, most of the cell therapies are approved for Limbal Stem Cell Deficiency.
JACE was the first cell therapy to get the regulatory nod for Epidermolysis Bullosa in 2018.
In 2020, NEPIC was approved for Limbal Stem Cell Deficiency (LSCD).
Following NEPIC's approval, OCURAL was approved in June 2021, and the latest approval was SAKRACY in January 2022 to treat LSCD.
We expect the combined revenue of JACE, NEPIC, OCURAL, and SAKRACY to reach a peak revenue in the range of USD 350-400 million by 2032 in Japan.
Strong market presence of J-TEC
Japan is a major player in regenerative medicine, and among the cell therapies for rare disorders in Japan, Japan Tissue Engineering (J-TEC) has the maximum number of therapies approved to its name.
J-TEC has been a pioneer in regenerative medicine, and its products have been approved for use in Japan since the early 2000s. J-TEC's flagship product is called J-TEC Autologous Cultured Epidermis (JACE), which is used for the treatment of severe burns and other skin injuries. The company has a strong market presence in Japan, where it has established itself as a leading provider of regenerative medicine products. However, J-TEC's market presence outside of Japan is relatively limited, and the company faces stiff competition from other players in the global regenerative medicine market.
The company has received approval from the Japanese regulatory authorities for several of its products, including autologous cell sheets for the treatment of corneal epithelial disorders and periodontal tissue regeneration. J-TEC's products are also used in clinical trials for the treatment of other conditions, such as heart failure and spinal cord injury. J-TEC has partnerships with several leading Japanese healthcare companies, including Terumo Corporation, Mitsubishi Chemical Corporation, and Fujifilm Holdings Corporation. These partnerships provide J-TEC with access to the resources and expertise needed to develop further and commercialize its products. The Japanese government has supported the development and commercialization of regenerative medicine products, creating a favorable environment for companies like J-TEC to thrive.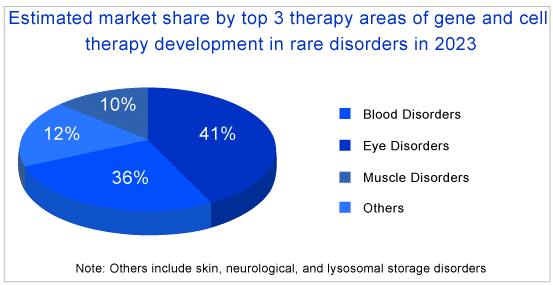 Cell therapy has emerged as a promising treatment option for a wide range of diseases and disorders, including cancer, autoimmune diseases, and genetic disorders. However, the use of cell therapies raises several ethical issues, particularly in Japan, where regulations governing cell therapies have been relatively lax compared to other countries. The use of cell therapies in Japan raises ethical issues due to the lack of long-term safety and efficacy data, the potential for commercial exploitation, and social inequality in access. Clear guidelines and regulations are needed to address these issues to ensure transparent and ethical clinical trials, prevent commercial exploitation, and promote access to cell therapies for all patients. The unproven stem cell intervention (SCI) business is a worldwide health hazard, and the World Health Organization (WHO) has called for a regenerative medicine expert advisory group to address this issue beyond the efforts of individual governments.