Schizophrenia is over a hundred years old term; and ever since it has kept the scientific communities scratching their head. Obvious psychotic symptoms, other neurodegenerative mimics, underdiagnosis, and sometimes even overdiagnosis, Schizophrenia is a complex disorder in itself, affecting approximately 20 million people worldwide. As per DelveInsight, the total Schizophrenia prevalent population in the 7MM (the US, EU5 (the UK, Germany, Spain, France, and Italy) and Japan) alone is expected to be 5,748,062 in 2020. The number is huge and these cases are further expected to increase during the forecast period, i.e., 2020–2030.
A chronic psychotic disorder, Schizophrenia meddles with the patient's thoughts, interferes with a patient's social ability, and hampers cognitive development. And a lot of research has been going on for the reception of a clearer picture of the illness. However, despite a century of research, the pathophysiology of Schizophrenia remails elusive.
Schizophrenia Market: The Present Case Scenario
At present, there is no existing cure for Schizophrenia; however, the illness is treatable and manageable with the help of a combination of therapies. Although the goals of the treatment of Schizophrenia vary with severity and phase, the short-term primary aim of Schizophrenia treatment is to manage symptoms. First and foremost, psychiatrists aim for managing psychotic symptoms and improve the quality of life (QoL) of the patients. However, the long-term goal of the treatment targets to achieve stability and prevention of relapse of the illness.
While medications are the cornerstone of the Schizophrenia treatment market, pharmacological treatment plays an important role in managing the illness as well. The treatment options for Schizophrenia include medications (antipsychotics), psychological counseling and social support, cognitive behavioral therapy, electroconvulsive therapy (ECT). The Schizophrenia market comprises antipsychotics (APs) as the first-line treatment. These can be classified as first-generation antipsychotics (FGA; or typical APs) and second-generation antipsychotics (SGA; or atypical APs). These are either administered orally in case of oral antipsychotics (OAP) or intravenously in case of long-acting injectable therapies (LAI). Although in practice, both FGA and SGA are used in the management of Schizophrenia, however, the effectiveness of the Second-generation over the first one remains debatable, and so is of the LAI over OAP.
There are several FDA approved antipsychotics available in the schizophrenia market. Some of them include Rexulti (brexpiprazole, Otsuka America Pharmaceutical/ Lundbeck), Caplyta (lumateperone/ ITI-007, Intra-Cellular Therapies), Latuda (lurasidone hydrochloride, Sunovion Pharmaceuticals/Sumitomo Dainippon Pharma), Vraylar (cariprazine, Gedeon Richter/AbbVie), Saphris (asenapine, Merck/AbbVie/Schering-Plough Corporation/Allergan), Abilify MyCite (aripiprazole tablets with the sensor, Otsuka Pharmaceutical), Caplyta (lumateperone, Intra-Cellular Therapies), Secuado (asenapine/HP-3070, Noven Pharmaceuticals/Hisamitsu Pharmaceutical), Invega Sustenna (paliperidone palmitate, Janssen Pharmaceuticals), Adasuve (loxapine, Alexza Pharmaceuticals/Teva Pharmaceuticals), Invega Trinza (Janssen Pharmaceuticals), and several others.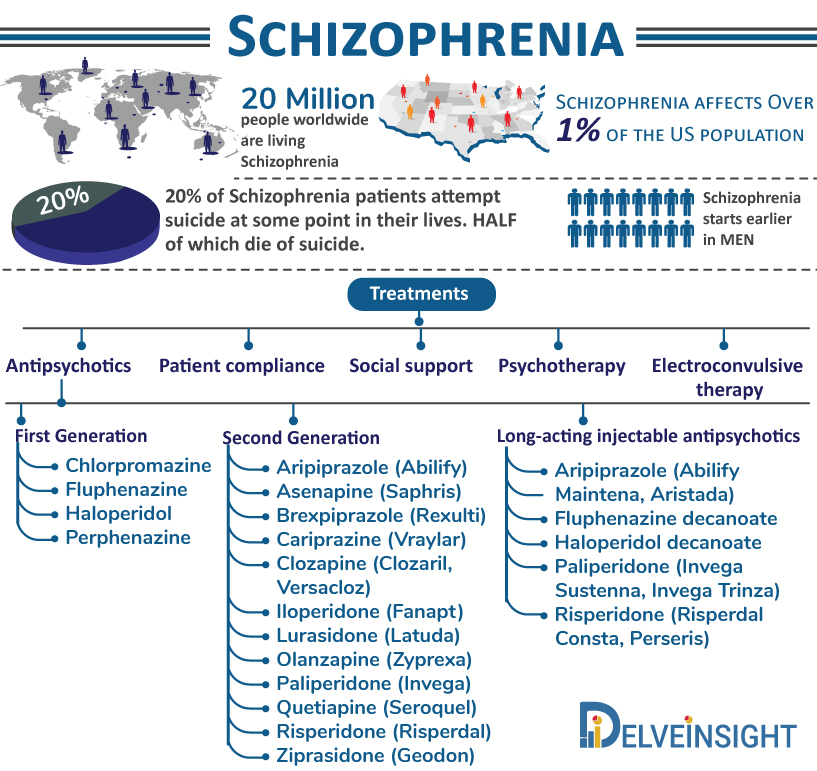 Furthermore, antipsychotic drugs are often prescribed together in combination with neuroleptics and antiepileptic for the treatment of Schizophrenia. To help patients cope with depression, which is relatively high in Schizophrenia patients, antidepressants are also prescribed. Several pieces of research have vouched for a combination of antipsychotics in combination with benzodiazepines so as to help control sleep disturbances, anxiety, or behavioral disinhibition. Anticholinergic drugs in conjunction with antipsychotics have also been identified as an important milestone in the Schizophrenia treatment market.
Bridging the Gap in the Schizophrenia Market
Decades of research are an eye-witness of the unmistakable contribution of antipsychotics in improving the quality of life and brain functioning; however, the impact of these drugs is different on different patients because antipsychotics have different affinities towards different binding sites present in the brain. Further, these treatments continue for around five years or even much longer after stabilization to avoid the recurrence of the episodes. Since, these work via modulation of dopamine, these are only effective in managing positive symptoms, and leave negative symptoms untended. Also, antipsychotics result in heterogeneous acute effects in the blood oxygen level-dependent (BOLD) signal. Besides, there is a cascade of challenges in the biological interpretation of the neuronal changes in the body, that is still under the shadows. To crown it all, today, approximately 30% of the Schizophrenia patients are resistant to the available antipsychotic drugs. Between 80-90% of the patients experience relapse due to nonadherence to maintenance therapy. This calls for an intensification of R&D in the Schizophrenia market space to better understand the MoA of the drugs, and offer quantitative biomarkers to predict the changing brain activity related to drug action. A need for therapeutic agents potential enough to address cognition impairment, overcome drug-resistance, and treat negative symptoms is strongly felt in the Schizophrenia market.
Thus, to bridge these broadening gaps in the treatment of Schizophrenia, several pharma companies in the Schizophrenia market are investigating their novel therapies.
As per DelveInsight, the Schizophrenia market is expected to increase with a CAGR of 6.89% for the study period 2017-2030.
Notable pharmaceutical fuelling the Schizophrenia market include Alkermes, Avineuro Pharmaceuticals, Boehringer Ingelheim, GW Research, Karuna Pharmaceuticals, Newron Pharmaceuticals, Acadia Pharmaceuticals, Rovi Pharmaceuticals Laboratories, Minerva Neurosciences, BioXcel Therapeutics, Acadia Pharmaceuticals, among several others. DelveInsight estimates that launch of pipeline therapies in the forecast period 2020-30 such as Doria (risperidone ISM), Roluperidone (MIN-101), Dexmedetomidine (BXCL501), SEP363856, Pimavanserin, ALKS 3831, Avisetron (AVN-211), BI 409306, GWP42003-P, KarXT (a fixed combination of xanomeline and trospium chloride), and Evenamide shall influence the growth of the Schizophrenia market size. Among all of the pipeline therapies in the Schizophrenia market, analysts at DelveInisght believe that Doria (Rovi Pharmaceuticals Laboratories), monthly intramuscular injection, is anticipated to generate the maximum revenue owing to its intramuscular route of administration, which is more effective as compared to other therapies whose RoA is oral. Further, SEP363856,  an orally active, novel trace amine-associated receptor 1 (TAAR1) agonist with serotonin 1A (5-HT1A) agonist activity, is also expected to shine brighter than other pipeline therapies undertrials in the Schizophrenia treatment market due to its novel and different mechanism of action. Similarly, Alkermes in its quest to launch a drug in the Schizophrenia market t that minimizes weight gain has been investigating its therapy AlALKS-3831 (a combination of olanzapine and samidorphan). Recently, the FDA Advisory Committee (AdCom) agreed that Alkermes' AlALKS-3831 is safe, thus paving the way for its approval.
In a nutshell, the overall market of Schizophrenia is experiencing a lot of activity with several pharma companies exploring novel therapeutic agents. The upcoming launch of pipeline therapies in the next decade is anticipated to add to the revenue of the pharma companies worldwide working in the Schizophrenia market. Further, past years have witnessed a relatively increased awareness about mental illnesses. However, there still remains a lot to be worked on in terms of long-term treatment efficiency and quality of the lives of the patients. Further, the limitation in the form of lack of emotional and social support also needs to be pondered over. Schizophrenia as indispensable is the role of medications in treating the illness, as is the abolishing long-held stigmas, disregarding the associated myths, and treating the mental illness just like any other with a greater expression of positive emotion. Conclusively, the advancements in treatments along with raised awareness together only will be able to help subdue the burden Schizophrenia poses globally.