Depression is a mental condition characterized by prolonged series of poor moods, loss of interest and enjoyment in ordinary activities, and low energy, all of which contribute to varying degrees of social and vocational dysfunction. Depression is a chronic condition that affects a person's ability to work, quality of life and, in extreme circumstances, can lead to suicide. For the last few years, depression has been the leading cause of disabilities among people. There are several types of depression. Seasonal Affective Disorder, Persistent Depressive Disorder, Atypical Depression, Bipolar Disorder, Major Depression, Postpartum Depression, Premenstrual Dysphoric Disorder, Treatment-Resistant Depression are various forms of depression.
Even though depression is treatable, only around a quarter of people obtain effective therapy due to treatment limitations such as time, extensive waiting lists, social stigma, and a shortage of educated experts to provide high-quality care. Therefore, proper diagnosis and treatment methods are the foremost necessity.
Patient burden
Depression is one of the world's most debilitating illnesses, contributing to 2.7 million disability-adjusted life-years. The prevalence rate of depression is relatively high in the US, accounting for 17.3 million adults involving 13.1% of individuals aged 18 and 25 years and 13.3% adolescents between ages 12 and 17 years. While in the UK, every 1 in 5 adults has experienced some depression symptoms in early 2021. It is seen that women and younger adults are more likely to experience depression, with about 4 in 10 (43%) women aged 16 to 29 years, compared to 26% of men of the same age group.
There are numerous types of therapy available to treat depression and other mood disorders. Psychotherapy can be an effective form of depression treatment. We can also see some significant advances in several antidepressant treatments and techniques in the upcoming years.
Furthermore, technology has changed nearly every element of our lives, but mental health and substance abuse treatment have remained mainly unaffected. Several technologies have undergone rigorous clinical evaluations in recent years and demonstrated efficacy in treating mental health and substance use disorders. These technologies, known as digital therapeutics (DTx), can fill gaps in mental health care and increase access to it.
A New Frontier: Digital Therapeutics for Depression
Digital therapeutics (DTx) are behavioral treatments that have been proven to "prevent or manage a disease or disorder." DTx is frequently utilized to execute or enhance multiple essential activities, despite their fast evolution, which often confounds efforts to define their role in healthcare accurately. Delivering health information, offering cognitive or motivational support, augmenting and strengthening treatment with medications or other medical technologies, and data collection are among them. DTx products have shown considerable advantages in patients with various complicated and challenging disorders, particularly in mental health.
Depression is the therapy field that continues to gain attraction. Mobile health (m-health) digital treatment can be the breakthrough to address existing treatment barriers in depression and mental health. These new treatment options are clinically validated and offer an entirely new perspective to the patient's experience and the potential to redefine traditional treatment. For some, the treatment will entail counseling, medication, or a blend of both. Others may find that a mobile app is a good alternative or complementary tool for addressing depression symptoms.
An ample amount of growth is predicted to come through digital therapeutics as there are a lot of new players from tech and start-up companies surfacing the market. There are plenty of digital therapeutics apps, games, and wearable devices available that can work out for depression or can be dedicated to providing mindfulness. The key digital therapeutics companies include MindDoc Health GmbH, Happify, Otsuka, Sanvello Health, Roble Ridge Software LLC, Touchkin, Cervelli, Neurolief Ltd., infinite game, Auckland UniServices Ltd., and others.
Ensemble: The First Prescription Digital Therapeutics for Depression
Happify Health, a worldwide software-enabled healthcare platform, launched Ensemble, the first and only transdiagnostic prescription digital therapeutics for treating patients suffering from Major Depressive Disorder (MDD) or Generalized Anxiety Disorder (GAD). Ensemble is an AI-powered digital mental health coach app meant to manage the symptoms of MDD or GAD through exercises based on cognitive behavioral therapy, mindfulness, and positive psychology. It is accessible through smartphones or computers and teaches patients new skills and habits to help them regulate their anxiety and depression. Clinically approved tools (Patient Health Questionnaire-9 and Generalized Anxiety Disorder-7) are used to assess mental health progress. This prescription digital therapeutic should be used in addition to treatment for depression or anxiety under the guidance of a healthcare provider.
Abilify MyCite: The First Digital Pill for Depression
The US Food and Drug Administration approved the first-ever drug-digital tracking tool hybrid tool developed by Otsuka in collaboration with Proteus Digital Health for the US depression market in November 2017. The Otsuka's digital pill, Abilify MyCite, uses sensor technology created by Proteus Digital Health with a version of Otsuka's best-selling mental health drug Abilify, which is used to treat schizophrenia, bipolar disorder, and depression. The technology operates by transmitting a message from the pill's sensor to a wearable patch. The patch sends the data to a mobile application, allowing patients to track their medicine intake. In addition to monitoring medication administration, the app will enable patients to enter their moods and other information. Furthermore, doctors and health care professionals can obtain authorization from their patients to view drug monitoring data via an online portal.
Types of Digital Tools helping to cope up with Depression
There are different types of the platform available to ease up the treatment for the patients. Thus, some of these categories include:
1. Online Platforms/Mobile Applications for Depression Care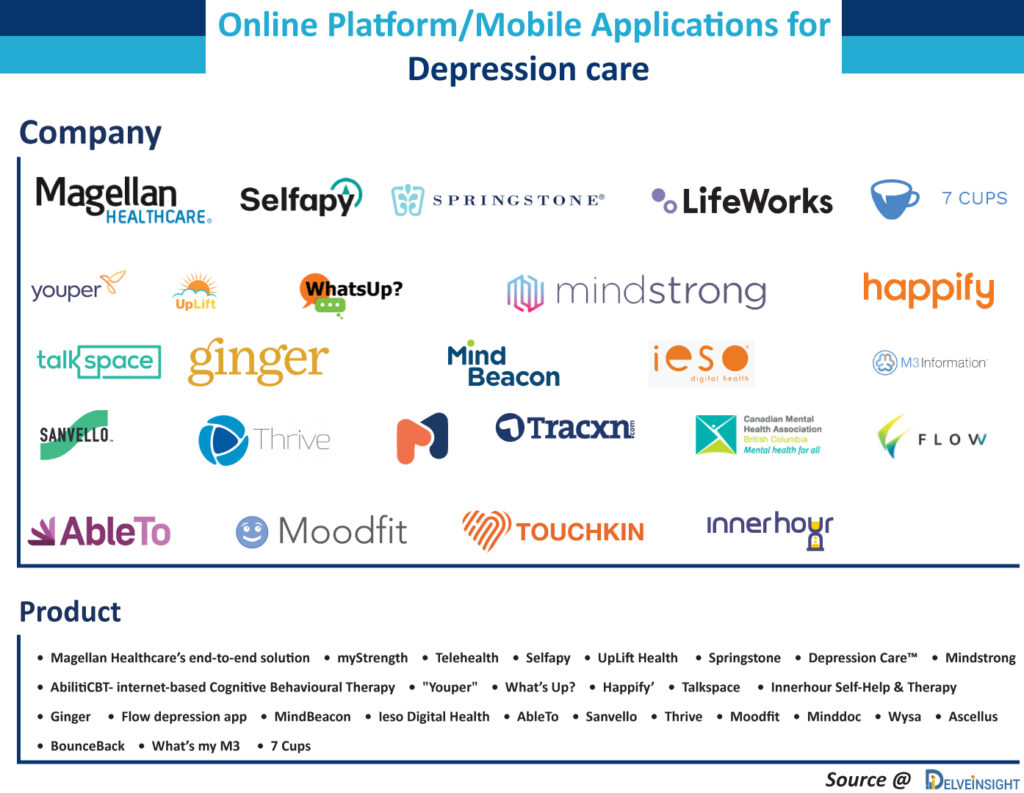 m-health treatment comprises a significant market share among all others. Several companies are competing to provide virtual therapy in the form of talk therapy in groups or individually and assess the professional therapist's progress and health reports. What is more comfortable than having a mobile application and chatting with your therapist at your own place? The major companies that are addressing depression care through online platforms and mobile applications are Magellan Health, Inc., Selfapy GmbH, MindDoc Health GmbH, Youper, Inc., Happify, Inc., Talkspace, Springstone Inc., LifeWorks Inc., TalkLife Ltd, UpLift Health Inc., InnerHour, Mindstrong health, 7 Cups Foundation, and many more.
2. Wearable devices for Depression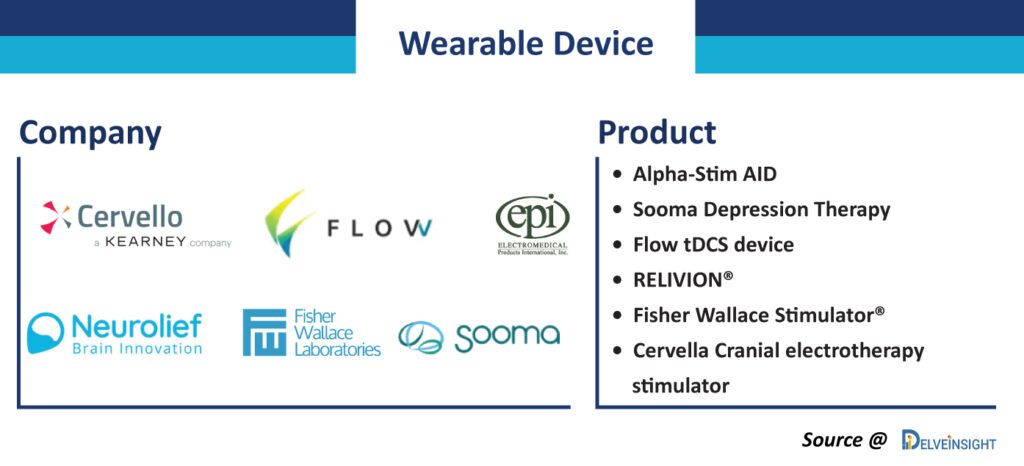 Wearable devices usually help in real-time monitoring the symptoms and delivering electrical current to stabilize mood/behavior. Smartphones and wearable devices may offer a unique data source to detect changes in the risk factors associated with depression very quickly as time passes. Some of the key companies in the wearable devices segment such as Electromedical Products International, Inc., Flowneuroscience, Neurolief Ltd., Fisher Wallace Laboratories, Cervella, Sooma Oy – Sooma Medical, etc., have launched innovative wearables that enable depressed patients to monitor their symptoms. The patient can smoothly check their current level of depression or stress using wearable devices or a smartphone connected via Bluetooth.
3. Internet-based self-guides/programs for Depression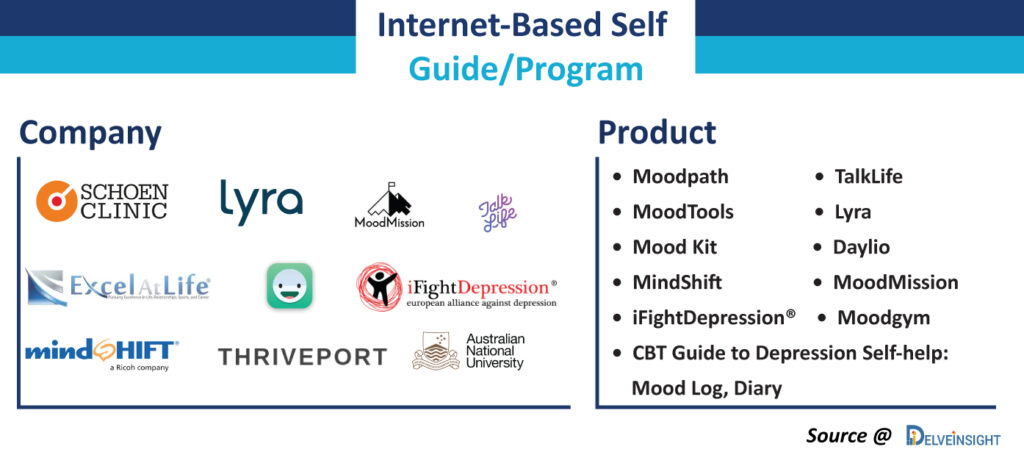 Mental health self-guide is designed to combat depression through assessments/activities, videos, personal diaries, and articles to overcome negative thoughts. Even though several psychological treatments for depressive disorders are available, they are often expensive, or the patients do not feel comfortable going through these treatments. Internet-based interventions such as self-guides and programs that require minimal or no contact with therapists have proved effective. MindDoc Health GmbH, Inquiry Health LLC, Lyra Health, Inc., Thriveport, Relaxio s.r.o., mindSHIFT Technologies Inc, MoodMission Pty Ltd, Excel AT life, iFightDepression®, Moodgym, etc., are some of the companies among many others that provide fantastic internet-based self-guides/programs which acts as patient's mental health companion.
4. Online games for Depression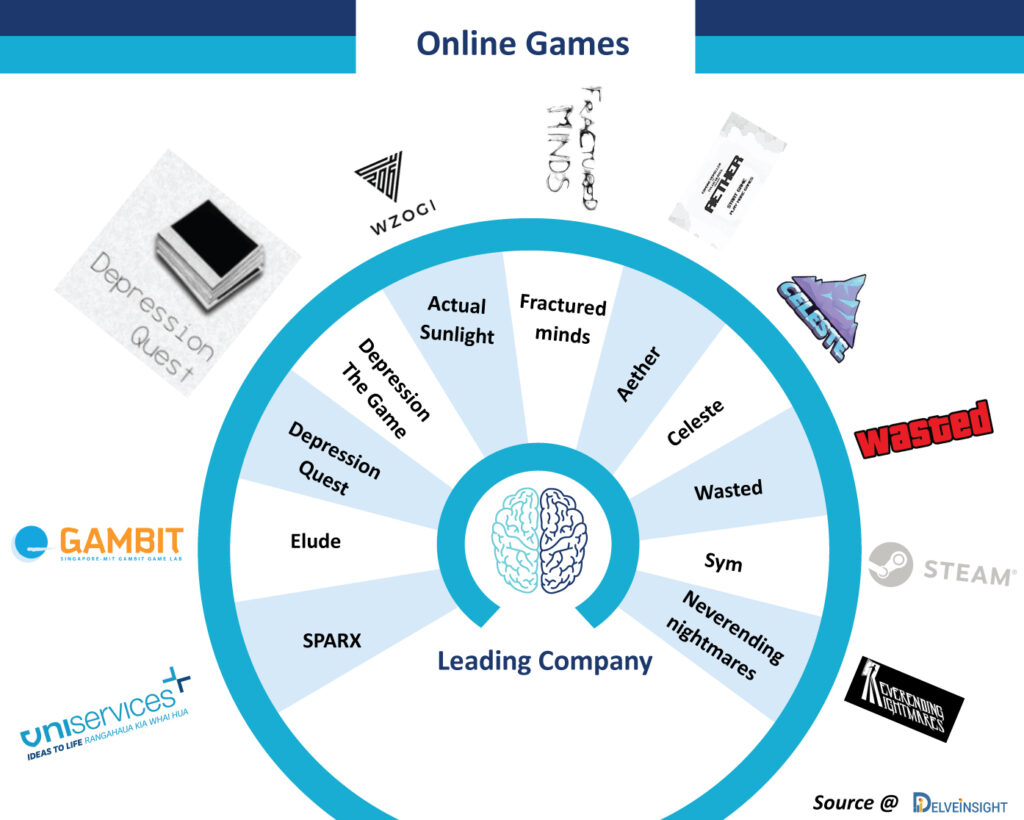 Why not use something like gaming to help people with mental illness and depression? Games are a creative approach that gives the users therapeutic benefits by regulating mood, motivating them to achieve the goal, and evoke happiness based on the cognitive behavioral therapy approach. Psychologists have successfully collaborated with game developers to improve social therapy techniques, and video games have been shown to have significant effects on mood and cognition. People can subsist with their emotional distress by playing online games. Video games with motivating themes and old-fashioned puzzles are fun activities for depression that help the patients refocus their minds and stimulate them. Casual video gaming has been shown to reduce stress and lessen the symptoms of depression. Games such as Elude, Depression Quest, Actual Sunlight, Sym, Depression The Game, Fractured minds, SPARX, Neverending nightmares, Celeste, Wasted, Aether, etc. are incredibly interactive and takes the patients into a world where they need to explore, make confident decisions and be the master of their choices. Through such games, depressed patients can relate to their mental situation and try to get through it.
Market Dynamics of Digital Therapeutics in Depression
Market Trends and Opportunities
Digital Therapy is cheaper than the current pharmacological treatment options.
The rising prevalence of depression and mental health, the need for effective and personalized treatment options, and the side effects of traditional medication emphasize the use of digital therapeutics, which becomes an opportunity for the market players.
Digital therapeutics for mental health are addressing the traditional treatment barriers.
Mobile health is accessible, convenient, and provides the personalized treatment.
The emergence of new wearable devices, which will bring novel diagnostic and therapeutic approaches, is expected to drive future trends.
The wearable devices will play a key role in medicine with the rise of personalized telemedicine.
Web-based services give the public, doctors, and researchers new ways to access help, monitor progress, and increase understanding of mental wellbeing.
Technology can provide round-the-clock monitoring or intervention support.
Way Ahead
In recent years, the rate of research in developing DTx products to address areas of unmet need in mental health has accelerated. It is expected to continue to accelerate in the years ahead. Clinically proven digital therapeutics products frequently fulfill regulatory standards for safety and efficacy, boosting patient confidence, provider uptake, and reimbursement paths. Furthermore, the rapid speed of innovation in digital technology can aid in creating medicines for a growing number of applications. Advances in mobile technology and artificial intelligence (AI) and their increasingly prominent role in our daily lives have expanded the importance of DTx in mental health. Within this promising scenario, digital therapeutics research is anticipated to promote several novel product development techniques that could pose substantial obstacles based on current patient and clinician education, clinical research, regulatory review, access/reimbursement, and other domains.