ANCA-associated vasculitis is a rare, life-threatening autoimmune disease with a relapsing nature. ANCA-Associated vasculitis comprises three autoimmune disorders, i.e. Granulomatosis with Polyangiitis (GPA), Microscopic Polyangiitis (MPA), and Eosinophilic Granulomatosis with Polyangiitis (EGPA). The global yearly incidence of ANCA-associated vasculitis ranges from 1.2 to 3.3 cases per 100,000 people, with a prevalence of 4.6-42.1 instances per 100,000 people.
As per DelveInsight's estimates, as of 2022, ~210K people were diagnosed with ANCA-associated vasculitis across the 7MM. In the 7MM, the United States, EU4, the UK, and Japan accounted for around 34%, 42%, and 24% of the total diagnosed prevalent population share in 2022.
According to the estimates, Granulomatosis with Polyangiitis is more prevalent in European countries while in Asian countries (especially Japan) Microscopic Polyangiitis is more prevalent. Granulomatosis with Polyangiitis constitutes ~55% of the diagnosed prevalent cases in the 7MM. In Granulomatosis with Polyangiitis, approximately 30% of patients have severe disease.

The burden of ANCA-associated vasculitis on affected individuals can be significant, both physically and emotionally. The disease can cause a range of symptoms, including fatigue, weight loss, joint and muscle pain, skin rashes, kidney problems, and respiratory complications. The unpredictable nature of ANCA-associated vasculitis flares and the need for long-term immunosuppressive treatment add further challenges to managing the disease. Moreover, ANCA-associated vasculitis can lead to irreversible organ damage if not promptly diagnosed and treated. The burden of ANCA-associated vasculitis extends beyond the patient, impacting their families and caregivers who play a crucial role in providing support. Ongoing research efforts aim to improve the understanding and management of ANCA-associated vasculitis, with the goal of reducing the burden it imposes on individuals and enhancing their quality of life.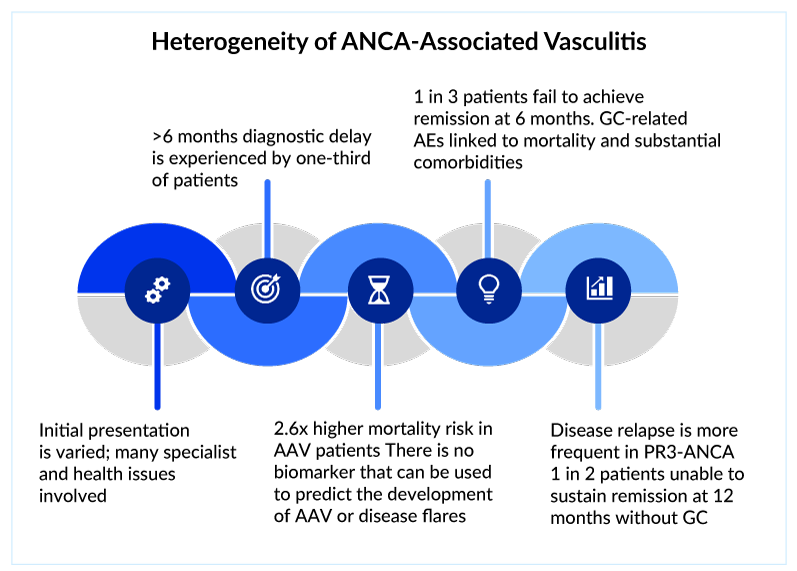 In addition, ANCA-associated vasculitis causes a significant economic burden. Renal involvement is the most common severe manifestation of Microscopic Polyangiitis. Quality of life is already significantly impaired at the time of diagnosis. The high rate of hospitalization drives the high cost, moreover, the cost is 4 times greater in relapsing Granulomatosis with Polyangiitis patients vs those who do not relapse.
The orphan chronicles: Shedding light on ANCA-associated vasculitis treatment, where are we now?
The ANCA-associated vasculitis treatment begins with remission induction, which is typically accomplished with cyclophosphamide, rituximab, and high-dose steroids. Plasma exchange may be utilized in conjunction with induction treatment in cases of life-threatening illness or significant renal involvement. Methotrexate or azathioprine is frequently used to keep the patient in remission. Although there is no agreement on the length of maintenance, it is often administered for 18-24 months to prevent recurrence. In addition, rituximab is suggested to keep GPA and MPA patients in remission.
Notably, while the majority of patients survived, illness complications and current treatment-related toxicity substantially impacted their quality of life. Glucocorticoids, a key component of the ANCA-associated vasculitis treatment regimen, have always put patients at risk of diabetes, hip fracture, and other complications in the long run. Patients who relapse/refractory to first-line induction remissions drugs such as rituximab and immunotherapies face significant challenges in obtaining effective treatment because few treatment choices are available. The presence of the pANCA antibody worsens kidney health as the disease progresses, putting patients at risk of death. Furthermore, cANCA antibodies are involved in the disease's frequent relapse.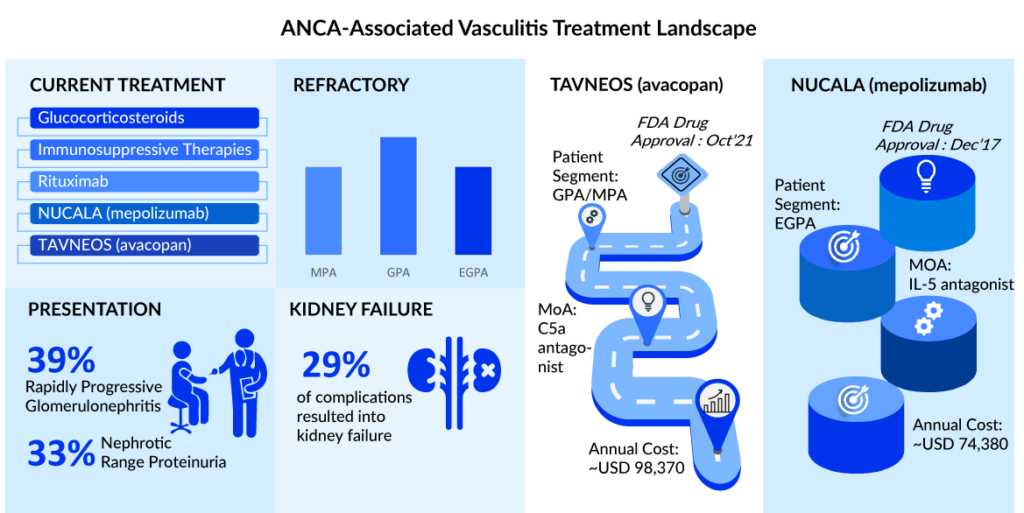 Developing novel ANCA-associated vasculitis treatment options towards an all-inclusive treatment that is devoid of related toxicities and a glucocorticoid-free regimen is required for ANCA-associated vasculitis treatment. Emerging therapies may fill such gaps in the future.
Expanding the horizons: A growing ANCA-associated vasculitis treatment market with emerging opportunities
Several companies across the globe are diligently working toward the development of novel ANCA-associated vasculitis treatment therapies with a considerable amount of success over the years. Key players, such as AstraZeneca (FASENRA), GlaxoSmithKline (depemokimab), Travere Therapeutics (sparsentan), and others, are actively developing drugs for the ANCA-associated vasculitis treatment, which are set to impact the treatment landscape significantly in the coming years.
"Future clinical trials should target subgroups of patients stratified according to:

– Identification of high-risk patients (e.g., with comorbidities)

– ANCA subtype

– Differentiation between active vs chronic disease by non-invasive biomarkers"

DelveInsight's Analyst
FASENRA (benralizumab) is a monoclonal antibody that binds directly to the IL-5 receptor on eosinophils and attracts natural killer cells, causing eosinophils to be rapidly and nearly completely depleted via apoptosis (programmed cell death). The US Food and Drug Administration has designated Fasenra as an orphan drug for the treatment of eosinophilic granulomatosis with polyangiitis (EGPA). It is AstraZeneca's first respiratory biologic, and it is licensed as an add-on maintenance treatment in severe eosinophilic asthma in the United States, the European Union, Japan, and numerous other countries, with other regulatory evaluations underway. It is now being studied in a Phase III (NCT04157348) clinical trial to evaluate the efficacy of benralizumab to mepolizumab in the treatment of EGPA.
In the EGPA patient category, the drug could be the next contender to NUCALA. The drug is expected to launch by 2024 for EGPA treatment. FASENRA is predicted to graze shares of NUCALA in the EGPA segments. Still, the chances of capturing a large part of the EGPA patient segment are slim because the historical performance in the currently approved indications is subpar.
GlaxoSmithKline is currently developing depemokimab, a humanized, affinity-matured monoclonal antibody that blocks human interleukin-5 (IL-5) binding to its receptor, in Phase III (NCT05263934) trial comparing its safety and efficacy with mepolizumab in adult patients with relapsing or refractory EGPA receiving standard of care therapy.
Sparsentan developed by Travere Therapeutics is a dual Endothelin Angiotensin Receptor Antagonist (DEARA) that selectively targets the endothelin A receptor (ETAR) and the angiotensin II subtype 1 receptor (AT1R). Travere Therapeutics is now researching it in a Phase II (NCT05630612) trial to determine its efficacy in ANCA-associated vasculitis.

Riding the waves of change through navigating the ANCA-associated vasculitis treatment market landscape
The ANCA-associated vasculitis treatment landscape in the United States is entering a new age with shifting dynamics. So far, the US FDA has approved just three drugs to treat ANCA-associated vasculitis: rituximab, NUCALA, and avacopan. The aforementioned therapies aid in both disease burden reduction and long-term remission. Current ACR (2021) guidelines recommend the use of rituximab over cyclophosphamide for remission induction in severe GPA/MPA and the use of either IV pulse GCs or high-dose oral GCs as initial therapy in active/severe EGPA.
The US ANCA-associated vasculitis treatment market is predicted to evolve and increase significantly over the next five years, with TAVNEOS dominating the GPA and MPA patient pools and NUCALA dominating the EGPA patient pool. We have also anticipated launching an emerging product into the US ANCA-associated vasculitis treatment market. TANVEOS and NUCALA are anticipated to gain market share mostly from rituximab and immunotherapy. NUCALA is predicted to peak in the United States by 2025, with generics following in 2027.

As per DelveInsight analysis, in 2022, the total ANCA-associated vasculitis market size for 7MM was ~ USD 1,400 million, and it is expected to grow at a significant ~7% CAGR by 2032. As per the estimates, ~36% of this revenue is attributed to the sales of NUCALA in the US in 2022. TAVNEOS will be the game-changer drug as it is a GC-sparing agent that minimizes the risk of side effects while maintaining disease control.
The anticipated launch of new therapies, as well as improved integration of early patient screening, medication in secondary care and other clinical settings, research on optimum implementation methods, and increased awareness, may eventually facilitate the development of successful ANCA-associated vasculitis treatment alternatives. However, there are a few hurdles to the timely identification and treatment of these individuals, such as the entry of generics due to patent expiration and rising healthcare costs because the existing treatment is a lifetime. These variables frequently create a barrier to the adoption of innovative medicines.
FAQs
1. What is ANCA-associated vasculitis?
ANCA-associated vasculitis is a group of autoimmune illnesses characterized by inflammation and damage to small blood vessels. This inflammation is primarily induced by ANCAs, which are self-reactive antibodies that attach to and activate immune cells called neutrophils. 
2. What are ANCA-associated vasculitis symptoms?
ANCA-associated vasculitis can produce a variety of symptoms due to the presence of tiny blood vessels throughout the body. Patients are classified into three major disease subtypes based on their symptoms and microscopic findings. These disease subtypes are Granulomatosis with Polyangiitis (GPA), Microscopic Polyangiitis (MPA), and Eosinophilic Granulomatosis with Polyangiitis (EGPA).
3. How is ANCA-associated vasculitis diagnosed?
The clinical diagnosis of ANCA-associated vasculitis is supported by serological and histological findings. The ANCA-associated vasculitis' relative rarity and non-specific presentation provide diagnostic problems, resulting in a considerable diagnosis delay of more than 6 months in one-third of patients. 
4. How is ANCA-associated vasculitis treated?
While there is no cure for ANCA-associated vasculitis at the moment, there are medications available to manage the condition. Current ANCA-associated vasculitis treatments try to put the disease into remission, where no symptoms arise for a period of time, and to keep it there. Various therapy may be employed depending on the severity and kind of ANCA vasculitis.