The Biosimilars market is growing at a breakneck pace. The biosimilar market provides a compelling economic value proposition. This has been a considerable element in expanding the biosimilar market, and the future of this sector appears promising. Many pharmaceutical companies from across the globe are proactively working towards the development of biosimilars. Several factors such as patent expiry of biologics drugs, low prices, increased prevalence of chronic diseases, and others are contributing towards the growth of the biosimilar market. These key factors tend to drive the biosimilar market for the next five years. On this note, let's take a look at these trends in detail.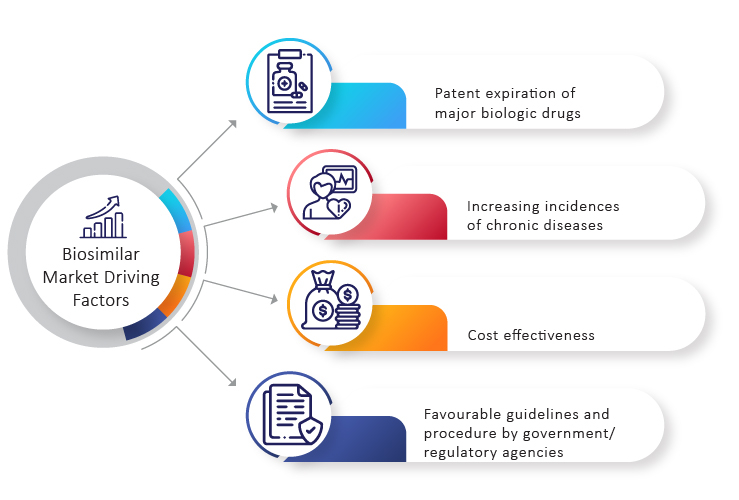 Key Trends Driving the Biosimilar Market
Patent Expiry of Popular Drugs
According to projections, nearly 17 drugs will go off patent between 2020 and 2026. As the patents for leading biologics such as Levemir, Humira, and Avastin have recently expired, there has been a lot of interest in developing biosimilars. Similarly, the patent of Lucentis (Ranibizumab) has expired in the US and will get expired in Europe in 2022. Furthermore, Eylea (Aflibercept) will lose its patent in 2023 and 2025 in the US and Europe respectively.
The key to developing biosimilars that meet patient needs is to use the most efficient systems possible so that they can reach the market as soon as possible. Six Humira biosimilars have now been approved by the FDA for release in the United States in 2023. Aside from Cyltezo, they include Amjevita, which has a settlement-enforced launch date of no earlier than January 31, 2023; Hyrimoz (adalimumab-adaz, Novartis Sandoz), which has a release date of no earlier than September 30, 2023; Hadlima (adalimumab-bwwd, Samsung Bioepis), which has a release date of no earlier than June 30, 2023; Abrilada (adalimumab-afzb, Pfizer), no earlier than Nov. 23, 2023; and Hulio (adalimumab-fkjp, Mylan), no earlier than July 31, 2023. The key to sustaining a successful biosimilar in the market is to ensure that viable systems and innovative methods are used to bring multiple biosimilars into the market for improved reach and sustainability.
Find out more about the biosimilar approval and launches
Increase in Number of Reference Molecules
Omnitrope (somatropin) by Sandoz was the first biosimilar drug approved by the European Commission in 2006, following clearance by the European Medicines Agency (EMA). Since then, the number of reference molecules added has increased dramatically. The US Food and Drug Administration (FDA) added 90 new molecules to the biosimilar category in March 2020. This step is critical since it increases the number of drugs that can be utilized as biosimilar reference products. In addition to a growth in the biosimilar category, there has been an increase in biosimilar drugs approval in the United States, indicating increasing interest in the biosimilar market.
Furthermore, Europe has the largest market share in terms of revenue because it has a well-defined regulatory framework that large pharmaceutical companies use to get their products to market. A strong healthcare system, as well as a plethora of new product launches, are two more reasons for the continuing growth of the biosimilar market. Europe is a leader in the biosimilar regulatory landscape. The European Medicines Agency established stringent rules that biosimilars manufacturers must follow in order to be evaluated and approved.
Moreover, in India, more than 100 biosimilar drugs have been approved, including insulins, monoclonal antibodies, interferons, growth hormones, etanercept, interferons, filgrastim, and streptokinase.
Therapy for Prevalent or Chronic Diseases
According to the World Health Organization (WHO), non-communicable diseases (NCDs) such as cancer, heart disease, diabetes, and chronic lung disease account for 70% of all deaths worldwide. A sizable proportion of those affected lives in low- or middle-income countries, where they are more likely to be unable to afford expensive biologics.
Developing appropriate therapy is critical in order to keep the non-communicable diseases epidemic from wreaking havoc on the health of millions and preventing the healthcare system from becoming overburdened. With the use of monoclonal antibodies as therapy for COVID-19, there has been renewed interest in biosimilars. Biosimilars for cancer are also gaining popularity. The demand for biosimilars is higher in the Indian domestic market for curative action and treatment of chronic conditions such as kidney disease, rheumatoid pain, cardiovascular disease, cancer, developmental hormone deficiency, and hematological maladies. Because of the lower cost of clinical trials, the depth of scientific expertise, and the large number of people suffering from chronic illnesses, renowned global pharmaceutical companies have partnered with experienced clinical research organizations to test the efficacy of biosimilars and generics.
India as a Significant Player in the Biosimilar Market
Biosimilars are experiencing long-term growth in developed markets such as Japan, Europe, and the United States, where patients can afford the same treatment. The main impediments in such markets are doctor acceptance in terms of safety and efficacy and stringency in regulatory compliance. However, the main obstacle to faster adoption in emerging markets is patients' inability to pay for biosimilars. Because of the expertise and resources required to manage biosimilar clinical trials, the cost of biosimilar drugs is only 10% lower than that of biologicals.
As a result, the cost of biosimilars is a significant factor, at least in emerging markets. This same cost sensitivity has been the most critical factor driving the growth of the biosimilar market in India. The lower cost of conducting clinical trials in India, the large number of USFDA-approved manufacturing plants present outside of the US, and the presence of highly skilled and knowledgeable scientists provide an ideal environment for developing biosimilars. Cost-effective clinical trials will aid in the cost-cutting of biosimilars. Furthermore, the EMA and WHO regulations serve as India's biosimilar guidelines. Many Indian players have developed and matured their product development and manufacturing capabilities, and they are working to improve their clinical trials capabilities.
While Indian biosimilar companies such as Dr. Reddy's Laboratories, Reliance Life Sciences, Bharat Biotech, Shantha Biotechnics, Lupin Pharmaceuticals, Biocon, Intas Biopharmaceuticals, Cipla, and several others have launched biosimilars in a variety of product areas, certain product types continue to be more appealing entry opportunities. A number of companies are researching monoclonal antibodies (MAB) for their potential role in cancer therapy. MABs are expected to take a sizable market share in the future biosimilars market. Similarly, Enbrel (for the treatment of inflammatory disease) and insulin (for the treatment of diabetes) may be attractive product areas to enter due to the high anticipated market potential and relatively low market penetration by Indian suppliers.

Another critical factor in establishing India as a major player is exporting to other emerging markets. Cost is an essential deciding factor in other emerging markets as well, which may be driving biosimilar exports from India to other emerging markets.
Evolving Regulations and Policies
The central governing body of each country is in charge of new biologics approvals and indications. Each country can also specify the price, use, and interchangeability of biologics and biosimilars. In Europe, where markets are mature, there has been a mixed level of biosimilar penetration. The increased acceptance is primarily due to increased awareness among doctors and pharmacists and incentives, policies, and a variety of distribution channels. However, the penetration level varies from country to country, even within Europe. When compared to the United Kingdom, Germany, and France, biosimilars are more widely used in Poland, Finland, and Denmark.

Furthermore, better financing has played an important role in driving interest in biosimilars in the United States. Medicare Advantage plans are updated to determine the most cost-effective treatment measure. Currently, biosimilars are only available through a physician's office, but this is expected to change by 2023, when certain biosimilars, such as adalimumab will be available through retail pharmacies. Such changes will also contribute to the biosimilar sector's growth.
Explore more about the United States Biosimilar Landscape
Moreover, as many biological drugs lose their patents and there is a collective need to reduce disease burden, multiple biosimilar drugs are expected to be launched. Trial management will be aided by the adoption of agile approaches and the capacity to scale up resources as needed. Regulators have also been enacting regulations to support the existing systems better. The EMA, for example, waived the need for immunogenicity trials under certain conditions in 2015, while the FDA did the same in 2019. Strategic collaborations will aid in the acceleration of biosimilar development, aided by the appropriate technological capabilities.
Furthermore, lowering the time to market through innovative and commercially viable models is the determining factor for the growth of the biosimilar market. Strategic partners will be agile organizations that can swiftly adjust to changing needs and laws while deploying data platforms and analytics. Artificial intelligence solutions can employ near-real-time data insights to take proactive remedial action to fix important clinical trial concerns at the start, allowing clinical trial complexity to be better controlled. These key inputs aid in the intelligent deployment of resources, saving time and money.
What's Ahead?
The biosimilar market has experienced rapid growth while having a significant impact on healthcare systems. But several factors such as patent litigation, anti-competitive settlements, sales and marketing, physician acceptance, and others have restrained biosimilar market growth. Leading companies across the globe are working diligently to overcome these issues. With a large number of biological drugs coming off patent, reduced healthcare costs and disease burden, and anticipated changes to the market and regulatory structure, there will be a surge in momentum. These factors will continue to drive the biosimilar market growth for the coming five years. Deep channel analytics and iterative processes will aid in the consolidation of this growing trend and the transformation of human health.
FAQs
1. What are biosimilar drugs?
Biosimilars are biological products that are exact replicas of the biopharmaceuticals that inspired them. Biosimilars are sometimes confused with the "biological generics" due to biopharmaceuticals' structural and manufacturing complexities.
2. Which is the first biosimilar approved in the EU?
Omnitrope (somatropin) by Sandoz was the first biosimilar drug approved by the European Commission in 2006, following clearance by the European Medicines Agency (EMA). Since then, the number of reference molecules added has increased dramatically. 
3. What are the factors driving the biosimilar market?
Several factors are driving the biosimilar market currently, including the expiration of patents on blockbuster pharmaceuticals, decreasing pricing, the increased prevalence of chronic diseases, and cost-cutting initiatives by governments and third-party payers.
4. Which are the companies working in the Indian biosimilar market?
Key companies such as Dr. Reddy's Laboratories, Reliance Life Sciences, Bharat Biotech, Shantha Biotechnics, Lupin Pharmaceuticals, Biocon, Intas Biopharmaceuticals, Cipla, and several others have launched biosimilars in a variety of product areas in the Indian biosimilar market.