Almost two decades ago, there were limited options for ulcerative colitis treatment. The readily available ulcerative colitis therapies were aminosalicylates and immunomodulators (azathioprine, 6-mercaptopurine, and methotrexate), with biologics (Adalimumab, Golimumab, infliximab, Ustekinumab, and Vedolizumab) reserved for patients with more refractory or severe disease. However, today we have several approved classes of ulcerative colitis medications used for the treatment, including JAK inhibitors, S1PR receptor modulators, and others.
For patients diagnosed with mild to moderate ulcerative colitis, first-line therapy begins with aminosalicylate or sequential induction with corticosteroids followed by 5-ASA maintenance therapy; whereas in the case of patients with moderate to severe ulcerative colitis, an immunosuppressant such as azathioprine or 6-mercaptopurine is prescribed as maintenance therapy following induction of corticosteroids. On the other hand, anti-TNF agents are prescribed with or without a concurrent immunomodulator in moderate to severe ulcerative colitis patients to promote and maintain mucosal healing and clinical remission.
In the current ulcerative colitis treatment market landscape, AbbVie is one of the strongest players, and Humira is a best-seller product approved for colitis and psoriasis. In the US, Humira patent exclusivity runs till January 2023, so biosimilars will not hit this market until then. The company's successful efforts to hold back the entry for Humira biosimilars are making it difficult for other pharma companies to launch their products. AbbVie has extended its immunology pipeline from a single product (Humira) to a portfolio of different drugs, such as Rinvoq and Skyrizi.
The company has high hopes for Skyrizi and the newly launched JAK inhibitor Rinvoq. It is banking on the pair to fill a revenue gap inevitable by the arrival of biosimilars of megablockbuster Humira and dig its heels in the inflammatory bowel disease space. In March 2022, Rinvoq (upadacitinib) received FDA approval for moderately to severely active ulcerative colitis treatment in adults.
Analyzing the current ulcerative colitis treatment scenario, the general consensus of physicians is leaning toward the prescription of oral inflammatory bowel disease medications, which is a highly positive sign for Rinvoq. In terms of acceptance, convenience, and adherence, oral drugs with a good safety profile are an enticing option for ulcerative colitis patients.
Analysts at Delveinsight view Rinvoq as the better option and might lead the ulcerative colitis treatment market space. As per the analysis and survey, Rinvoq could be the most preferred among physicians based on the different attributes such as safety, efficacy, clinical response, and mucosal healing. Also, Rinvoq showed better and superior results to Xeljanz.
Despite the warning associated with the JAK inhibitors class and restricted usage of Rinvoq, the majority of physicians are not hesitant to use it due to its better efficacy. Also, they believed that it would be unfair if we paint Rinvoq's future with the same brush as tofacitinib, as these risks have not been reported in inflammatory bowel disease or ulcerative colitis specifically. Rinvoq presented a clinical remission of 42% and 52% for 15 mg and 45 mg dosages, respectively, and showed that around 26% of untreated moderate and severe ulcerative colitis patients received remission in 8 weeks.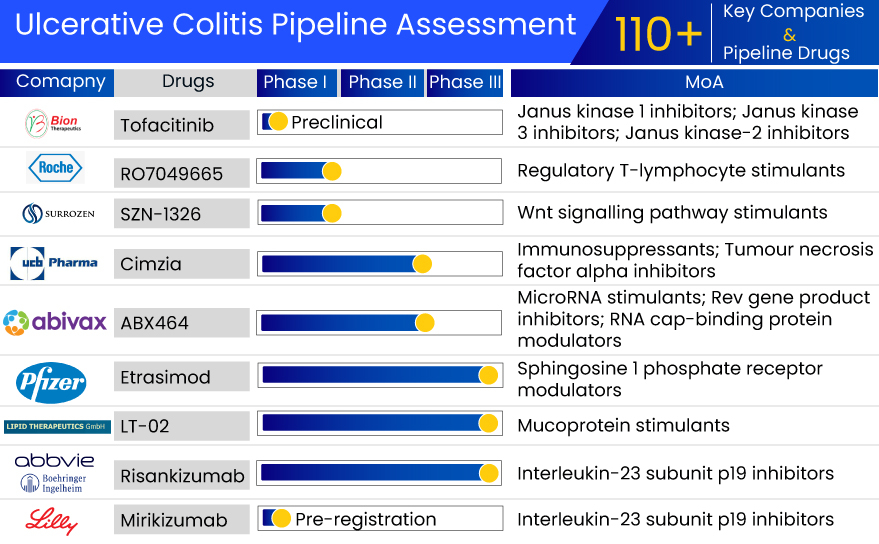 If we look at another ulcerative colitis drug in the same class, i.e., Filgotinib, it was expected to provide similar or better efficacy than Pfizer's tofacitinib but with fewer side effects. It showed significant improvement in stool frequency and rectal bleeding in patients on a 200 mg daily dose. However, FDA rejected NDA and raised concern over the 200 mg dose and drug impact on sperm parameters in male patients. The company is not planning to proceed with the indication in the US as filgotinib results are not promising. The drug was approved in Europe and Japan for ulcerative colitis treatment in 2021 and 2022, respectively.
The ulcerative colitis market and its pipeline are now crowded with multiple drugs of different and new drug classes. One new class entry is Zeposia of the S1PR receptor modulator class, which is the first-in-class drug approved in May 2021 in the US and in November 2021 in the EU for moderately to severely active ulcerative colitis treatment. It was initially approved for the treatment of multiple sclerosis. Compared to Rinvoq, Zeposia has demonstrated a clinical remission rate of 18.4%.
Many KOLs were positive about Zeposia's market uptake and were vocal about their willingness to use this agent as a first-line moderate-to-severe ulcerative colitis treatment if launched before Rinvoq and Etrasimod. However, the market for Zeposia turned out to be different. As per the studies presented at the 2022 meeting of the European Crohn's and Colitis Organization, the paradigm shifted toward the drug being used as a second-line ulcerative colitis treatment. Zeposia falls under the least attractive option among physicians. However, the company is expecting to increase volume as they are working to strengthen access and reimbursement.
Etrasimod, a second-in-class drug, is another S1PR receptor modulator under development by Arena Pharmaceuticals. Etrasimod is one of the potential emerging therapy. The ELEVATE 12 ulcerative colitis clinical trial results have shown statistically significant improvements in the primary endpoint of clinical remission. The drug has a clinical remission rate of 33%. Etrasimod showed superior efficacy to first-in-class drug Zeposia, and it is expected that Etrasimod may gain a majority of the share of the S1PR modulators class despite its second-to-market entry. Also, etrasimod does not require any titration before starting the first dose, which could be another major advantage over Zeposia. Etrasimod potential can also be linked to many other factors, such as R&D funding, which is quite extensive, and Pfizer & Arena Pharmaceuticals' acquisition due to its promise.
Another well-known IL-23 inhibitor in the ulcerative colitis pipeline is Tremfya which may face strong competition from AbbVie's IL-23 inhibitor, Skyrizi, despite promising long-term data. To ensure its commercial success, Tremfya should adopt an approach similar to Skyrizi, such as contracting payors for easy ulcerative colitis market access so that physicians do not face any hurdles in prescribing Skyrizi.
There is also growing interest in a few novel emerging therapies in the ulcerative colitis pipeline with enormous potential, such as BT-11, which is a gut-restricted LANCL2 modulator; BBT-401, a pellino-1 protein inhibitor; ABX464 potent anti-inflammatory, which promotes the production of a microRNA.
Remstemcel-L is another novel class of mesenchymal stem cell (MSC) therapy. Recently, the company announced positive results of the interim analysis of the first patient cohort in the randomized, controlled study. Remestemcel-L is the only therapy targeting the refractive pool, and around 20% of refractive patients are at high risk of progression to surgery. Patients treated with this therapy showed treatment remission or response by 3 weeks. Remestemcel-L could be a promising and potential therapy, and c S1PR modulators could gain a good ulcerative colitis market share if approved. In most therapy areas, the probability of success of stem cell therapy approval is low; however, results of Remestemcel-L look very promising, and due to high unmet need, we see it as a potential upcoming therapy for refractive pool in ulcerative colitis treatment space.
With a predicted increase in the understanding and problems of this ailment, the ulcerative colitis treatment market is expected to grow following the approval of any upcoming therapies.

FAQs
1. What is ulcerative colitis?
Ulcerative Colitis and Crohn's Disease are the two most common types of IBD. Ulcerative Colitis is only found in the colon or large intestine. In contrast, Crohn's disease can affect any part of the gastrointestinal tract, from the mouth to the anus. Approximately 10% of IBD cases have characteristics of both Crohn's disease and Ulcerative Colitis. 
2. What are the symptoms of ulcerative colitis?
Ulcerative colitis symptoms can range from mild to severe and vary from person to person. They can also alternate recovery periods where a person has good health and no symptoms with relapses or flare-ups when the ulcerative colitis symptoms are bothersome.
3. What causes ulcerative colitis?
The exact cause of ulcerative colitis is unknown. Diet and stress were previously suspected. However, scientists have discovered that these factors may aggravate but do not cause ulcerative colitis.
4. How is ulcerative colitis diagnosed?
Endoscopic procedures with tissue biopsy are the only way to diagnose ulcerative colitis definitively. Other tests, such as those used to rule out complications or other types of inflammatory bowel disease, such as Crohn's disease, can be useful.
5. What are the current options for ulcerative colitis treatment?
The treatment for ulcerative colitis may help the patient maintain control of the condition and live a full and rewarding life, but there is no proven cure for UC, and flare-ups may occur again. Aminosalicylates, corticosteroids, immunomodulators, biologic therapies, Janus kinase (JAK) inhibitors, and S1P receptor modulators can all help to reduce colon inflammation and allow tissues to heal.
6. Which are the companies working in the ulcerative colitis market?
Leading players such as Janssen Pharmaceuticals, Takeda Pharmaceuticals, Pfizer, EA Pharma, Kissei Pharma, Gilead Sciences and Galapagos NV, Celgene (Bristol-Myers Squibb), AbbVie, Arena Pharmaceuticals, Reistone Biopharma, Landos Biopharma, Bridge Biotherapeutics, Applied Molecular Transport, AbGenomics (AltruBio), Abivax, Connect Biopharma, Boehringer Ingelheim, Eli Lilly and Company, InDex Pharmaceuticals, Bristol-Myers Squibb, Protagonist Therapeutics, Mesoblast Ltd, and others are currently developing therapies for ulcerative colitis treatment.
7. How many therapies are in the ulcerative colitis clinical trials?
Promising therapies in the ulcerative colitis pipeline include Etrasimod (APD334), Tremfya (Guselkumab), SHR0302 (Ivarmacitinib), BT-11 (Omilancor), BBT-401, AMT-101, AbGn-168H (Neihulizumab), ABX464 (Obefazimod), CBP-307, Skyrizi (Risankizumab), Mirikizumab (LY-3074828), Corbitolimod, Deucravacitinib (BMS-986165), PF-06480605, PN-943, Remestemcel-L, and others.