Over the past few years, there has been a massive advancement and adoption in the digital health segment. The segment is likely to exhibit growth and onward trend in the coming years as well, owing to the huge capital investment and positive approach by the healthcare authorities Similar, some key factors, such as smartphone usage, rise in wearable devices, growth in mobile applications development, development in cloud-based data platforms, and real-world evidence examinations of these technologies, are also likely to impact digital healthcare adoption significantly. Recently, the covid-19 pandemic has also accelerated the adoption of digital health solutions globally.
Digital health is an umbrella term that encompasses mobile health (mHealth), health information technology (IT), artificial intelligence, analytics, wearable devices, telehealth and telemedicine, personalized medicine, mobile applications, and digital medicine (which includes Digital Therapeutics (DTx). These technologies are widening the healthcare service from the traditional healthcare setting like hospitals and clinics to the homes and private spaces.
Among all the digital health technologies, Digital Therapeutics, a segment that uses "software as a medical device" to treat or alleviate disease, is gaining significant attention among healthcare providers, regulatory authorities, payers, industry experts, and patients due to its high intended benefits and medical application. It is one of the concepts set to transform the overall healthcare market dynamics.
What is Digital Therapeutics?
Digital Therapeutics (DTx) is an evolving concept in the healthcare industry and a subdivision of the much broader topic, i.e., digital health. Digital Therapeutics are evidence-based and clinically evaluated software and devices representing a cluster of technologies, products, and services across healthcare and wellness industries. Sepah et al., in 2015, mentioned the term "digital therapeutics" for the first time in their peer-reviewed publication and formally defined it as "evidence-based behavioral treatments delivered online that can increase accessibility and effectiveness of healthcare." Similarly, the Digital Therapeutics Alliance (DTA) has defined DTx as "delivering evidence-based therapeutic interventions to patients that are driven by software to prevent, manage, or treat a medical disorder or disease. They are used independently or in concert with medications, devices, or other therapies to optimize patient care and health outcomes. The
The digital Therapeutics concept is gaining attention for delivering medical interventions via software. DTx integrates advanced technology with the finest procedures on design, clinical support, usability, and data security. Digital Therapeutics are clinically tested tools intended to be used to prevent, treat, and manage an array of diseases. These products help deliver optimum care for various conditions such as diabetes, mental health issues, cancer, etc. Globally, several health authorities have approved multiple Digital Therapeutics based on their efficacy and intended use, safety, and effectiveness.
What are the Different Uses and Applications of Digital Therapeutics?
In recent times there has been an increase in the use of health and wellness apps. These apps can track and monitor only a limited number of health activities such as sleep, calories, heart rate, and weight. Compared to health and wellness apps, digital therapeutics are more advanced, complicated, and evidence-based software-driven interventions that can evaluate, diagnose, or treat medical or behavioral health conditions, including some illness, injuries, or diseases or their symptoms.
Multiple DTx is already cleared or approved by the FDA, which shows the confidence and clinical validation of Digital Therapeutics. Currently, reSET and reSET-O (Pear Therapeutics), Sleepio (for insomnia and Daylight for anxiety by Big Health), CanvasDx™ (Cognoa, Inc.), d-Nav® Insulin Management Program (Hygieia, Inc.), Halo™ AF Detection System (LIVMOR Inc.), leva® Pelvic Digital Health System (Renovia, Inc.), MindMotion™GO (MindMaze), Oleena and Insulia (Voluntis), RelieVRx (AppliedVR), and Freespira (reduce panic symptoms by Freespira), are some of the FDA approved major Digital Therapeutics in the market. The Digital Therapeutics approved in the market are designed to address and treat complicated medical conditions such as Obesity, Diabetes, CVD, Gastrointestinal Disorder (GID), Respiratory Diseases, Smoking Cessation, Central Nervous System (CNS) Disease, and Others.
Among different diseases and indications, Digital Therapeutics has a unique role in Mental Health Management. Currently, there are various digital therapeutics products available in the market and undergoing clinical trials for a wide range of mental health conditions, including Attention Deficit Hyperactivity Disorder (ADHD), Post-traumatic Stress Disorder, Depression, Schizophrenia, Substance Abuse, and Anxiety.
Several clinical trials evaluating the efficiency and effectiveness of Digital Therapeutics are undergoing and are expected to hit the market in the coming years. Due to the COVID-19 and public health emergency implemented during the time, the FDA has relaxed regulatory conditions to improve access to digital health products for remote monitoring and managing psychiatric conditions. The move led to the temporary commercialization of additional DTx under development.
Are Digital Therapeutics FDA Approved?
Digital Therapeutics is a new concept, and the regulatory authorities worldwide, including the Food and Drug Administration (FDA), have cleared or approved multiple Digital Therapeutics over the past few years based on excellent trial data. However, FDA doesn't clearly define digital therapeutics.
Since 2017, around 35 to 40 digital therapeutics have been approved by the FDA. Similarly, a positive approach by the user in adopting digital therapeutics has been observed, which asserts the convenience, accuracy, safety, and confidence in using these for better health care. Some Digital Therapeutics are available in the market for use; however, it requires a doctor's prescription. The FDA digital Therapeutics approval is definitely a boost for the companies working in the market. The positive approach by the FDA has raised the ambitions of the MedTech giants and startups to work in the segment actively. Companies are focusing on positioning their strengths in the Digital Therapeutics market by targeting different indications.
Getting FDA clearance is definitely one of the biggest hurdles for companies in the domain. Similarly, getting physician uptake and reimbursement is the next big challenge. Digital therapeutics that are available "over the counter" or without a prescription is out of most healthcare plans which is a major challenge concerning their usage. Some Digital Therapeutics are not included in some of the health plan benefits and are a looming challenge even if a licensed healthcare practitioner orders them. Wide-scale adoption can be achieved only after insurers and other payers start covering Digital Therapeutics.
Major FDA Approval in the Digital Therapeutics Market
In 2021, Mahana™ Parallel Digital Cognitive Behavioral Therapy (CBT) Mobile Application by Mahana Therapeutics, Inc. received FDA 510(K) marketing clearance (K211372) as substantially equivalent to a marketed predicate device for Irritable Bowel Syndrome (IBS).
In 2021, RelieVRx (formerly EaseVRx) (AppliedVR, Inc.) received FDA clearance through the De Novo pathway as a prescription-use, in-home use immersive virtual reality system intended to provide adjunctive pain-relief treatment based on cognitive behavioral therapy skills for patients aged 18 and older with a diagnosis of chronic low back pain.
In 2020, the FDA cleared Akili Interactive's video game treatment EndeavorRxⓇ for children with ADHD. EndeavorRxⓇ is the first time that a video game for treatment was cleared by the FDA, which is delivered through a captivating video game experience. EndeavorRx is indicated to improve attention function as measured by computer-based testing in children ages 8-12 years old with primarily inattentive or combined-type ADHD who have a demonstrated attention issue.
Similarly, reSET & reSET-O are the first FDA-approved prescription digital therapeutics (PDTs) authorized in the United States to improve disease outcomes in people with substance use disorder and opioid use disorder. reSET & reSET-O are being developed by Pear Therapeutics, a market leader in developing and commercializing software-based medicines called prescription digital therapeutics (PDTs). The company has one more FDA-approved product, Somryst, for chronic insomnia. Thousands of health and wellness apps surround the healthcare market, but only a few of them are classified as Digital Therapeutics after clinical evidence. To distinguish its applications and get the user/patients' attention, Pear referred to its products as "prescription digital therapeutics," or PDTs.
Top Companies in the Digital Therapeutics Market
There is a huge opportunity in the Digital Therapeutics Market for companies regarding revenue generation and user bases. Globally, some of the top digital therapeutics companies in the market include Livongo Health, WellDoc, Proteus Digital Health, Better Therapeutics, Happify, Kaia Health, Mango Health, Click Therapeutics, Wellthy Therapeutics, Cognoa, Ayogo Health, Mindstrong Health, 2Morrow, Ginger, BehaVR, OMADA HEALTH, Welldoc, Inc., Mindable Health, Virta Health, Hinge Health, Doktor.se, Medtronic Plc., Voluntis, Inc., f-star therapeutics, g1 therapeutics, ask digital therapeutics, 2Morrow, Inc., Noom, Teladoc Health, Inc., Propeller Health, Fitbit LLC., GAIA AG, Limbix Health, viridian therapeutics, CANARY HEALTH, Pear Therapeutics, Inc., Akili Interactive Labs, HYGIEIA; DarioHealth Corp., BigHealth, and others.
Today, Companies in the Digital Therapeutics Market are working to develop technology and a new class of treatments to address chronic and acute conditions such as autism, multiple sclerosis, depression, and several others. Owing to the positive approach by the healthcare authorities and the rising demand, several new startups are expected to enter the Digital Therapeutics Market in the coming years.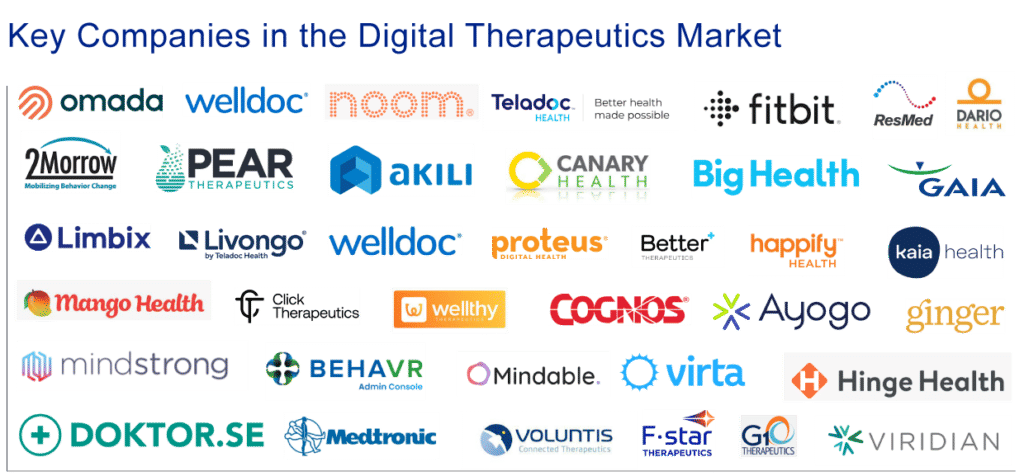 Similarly, the tech companies are collaborating with established pharmaceutical companies to develop and deliver Digital Therapeutics solutions. For example, in October 2019, Novo Nordisk signed a partnership agreement with Noom a startup company in digital therapeutics. Similarly, Curavit Clinical Research has signed a long-term partnership with ixlayer. Curavit and ixlayer's first collaboration is for Swing Therapeutics' trial of an investigational digital therapeutics (DTx) for fibromyalgia. The collaboration benefits the players with their unique expertise in the domain.
Digital Therapeutics – Future Perspective and Evolving Market Outlook
Globally, several established tech companies and startups are working in the Digital Therapeutics Market. Companies working in the segment actively adopt approaches and market strategies such as partnership & collaboration, mergers and acquisitions, and distribution agreements across verticals to get a competitive advantage. There are a few barriers to entry the entry of Digital Therapeutics solutions into the market. Reimbursement is the major factor. Insurance providers do not reimburse several digital therapeutic passes by the regulatory authorities.
As per DelveInsight, the increase in the standard of living, the increase in healthcare expenditure, the rise in the online healthcare applications and their awareness among the users, and the advancement in technology will immense drive the Digital Therapeutics Market growth in the coming years. Moreover, the rise in adoption of internet-based devices, the rise in the geriatric population, and the growth in chronic diseases will also impact the Digital Therapeutics market Despite several positive factors, some of the key aspects, such as the lack of knowledge about digital therapies, absence of proper standards, resistance to accepting new technology among the elderly due to inexperience with digital platforms will hamper Digital Therapeutics' growth in the coming years. Similarly, strict government regulations, cybersecurity risks for patients' health, and personal data breaches are other major concerns related to Digital Therapeutics. However, if the issues are addressed properly, Digital Therapeutics can significantly impact treatment outcomes and add value to the traditional healthcare delivery system. Overall, Digital Therapeutics can play a significant role in today's healthcare system with stunning transformational outcomes.