Psoriatic arthritis (PsA) is a type of chronic inflammatory arthritis that affects approximately 1 in every 10 people with psoriasis. According to the National Psoriasis Foundation, psoriasis is most common in adults aged 30 to 50. However, psoriatic arthritis can develop at any age, including children.
According to the assessment done by DelveInsight, the total prevalent patient population of psoriatic arthritis (PsA) in the 7MM countries was close to 15 million in 2021. As per the estimates, the US had the highest total prevalent patient population of psoriatic arthritis (PsA) population in 2021.
Previously, psoriatic arthritis treatment paradigms were generally borrowed from similar indications like rheumatoid arthritis and included the use of nonsteroidal anti-inflammatory drugs (NSAIDs), steroids, and synthetic disease-modifying antirheumatic drugs (DMARDs). Amongst these psoriatic arthritis medications, NSAIDs are still widely used and may even be the only therapy for patients with mild diseases. NSAIDs can effectively relieve various musculoskeletal signs and symptoms but have no efficacy on skin lesions. However, this situation changed radically with the advent of biologics, particularly TNFi (tumor necrosis factor inhibitor). Numerous biological agents are approved for the indication, including HUMIRA (adalimumab), ENBREL (etanercept), and CIMZIA (certolizumab pegol), with many more under clinical development, such as deucravacitinib by Bristol-Myers-Squibb, and Nimbus Therapeutics' NDI-034858. The TNFi market for psoriatic arthritis treatment is estimated to be over USD 4 billion in the United States alone.
The biosimilar market entering a 'Golden Age' with HUMIRA's patent expiry
The World's best-selling biologic drug, HUMIRA (AbbVie), was first approved in 2002 for rheumatoid arthritis treatment. Since then, its use has spanned around 16 indications across all age groups, holding a massive position in biologics. AbbVie's broad patent thicket, early entry, and myriad applicability impeded biosimilar entry for other players. In September 2016, the US FDA approved the first HUMIRA biosimilar (AMJEVITA) by Amgen, and since then, five more HUMIRA biosimilars have been approved, although none of them are currently available in the market. However, the company agreed to settle its aggressive legal strategy with nine HUMIRA manufacturers to allow for the launch of HUMIRA biosimilars in the US in 2023.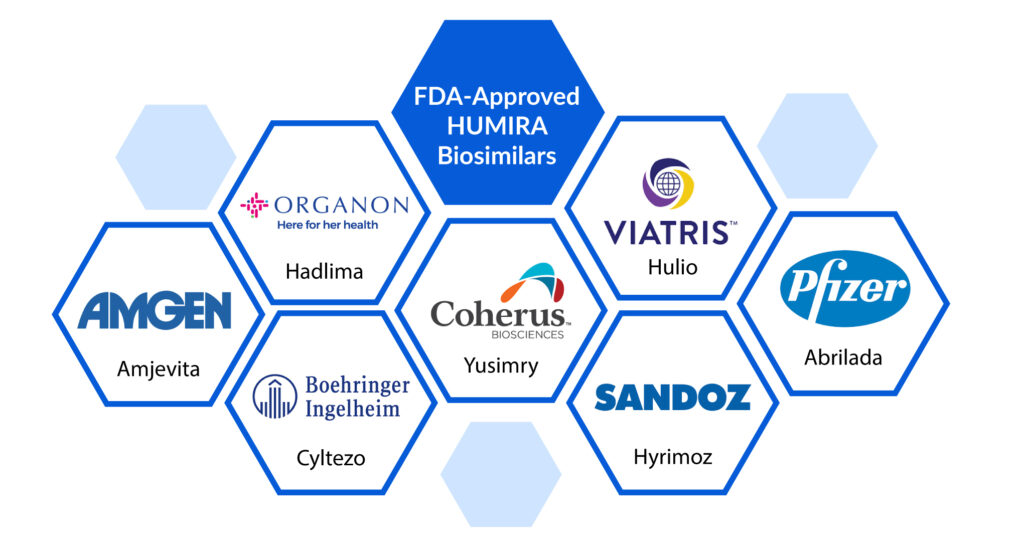 AbbVie's was one strategy to fend off biosimilar competition. Janssen followed another strategy- 'lifecycle management' with its drug REMICADE (infliximab) and protected it till the approval of STELARA (ustekinumab). Similarly, AbbVie's is protecting its recently approved psoriatic arthritis drugs, SKYRIZI and RINVOQ, with patents until it has other assets in its portfolio. It is also diversifying to other therapeutic areas. The two drugs together are expected to generate approx. USD 2 billion by 2032 in the US.
The year 2023 is critical for many pharma players as a total of six HUMIRA biosimilars are cleared to be released in the US, besides AMJEVITA. In October 2018, product-specific patent protection on HUMIRA injection ended in most EU countries – 15 years after the initial marketing authorization. Four adalimumab biosimilars, including AMGEVITA, HYRIMOZ, IMRALDI, and HULIO, were approved in the European biosimilar market in October 2018, and IDACIO was approved and marketed in Europe in May 2019. CYLTEZO is the first interchangeable biosimilar product approved by the US FDA. Apart from Boehringer Ingelheim's CYLTEZO, Celltrion Healthcare has also filed an investigational new drug application with the FDA to establish the interchangeability of the company's adalimumab biosimilar (YUFLYMA). This first high-concentration adalimumab biosimilar has received EU market authorization.
Tighter restrictions for JAK inhibitors after safety concerns
In search of a more targeted approach to treat psoriatic arthritis, JAK inhibitors have been shown to provide better results. However, the US FDA recently added a new "black box warning" on the currently approved JAK inhibitors for managing arthritis and other inflammatory conditions. This decision was based on the ORAL Surveillance study of tofacitinib (XELJANZ) versus tumor necrosis factor-alpha inhibitors in rheumatoid arthritis. The decision has brought all the other JAK inhibitors under scrutiny, as the safety data will now be pending for several years. As a result, the US label for XELJANZ (Pfizer) was revised in December 2021. XELJANZ is now advised to individuals with inadequate response or intolerance to one or more tumor necrosis factor blockers. However, European Medicines Agency's Pharmacovigilance Risk Assessment Committee (PRAC) has requested to examine the safety results for all JAK inhibitors, thus, highlighting the need to focus on risk stratification when tailoring therapy.
The upcoming landscape of the psoriatic arthritis treatment market looks promising
With so much going on in the current psoriatic arthritis treatment landscape, the upcoming therapies also hold much promise, possessing potential blockbuster contenders. Deucravacitinib, the first and only selective TYK2 inhibitor with a unique mechanism of action, represents a new class of small molecules. Furthermore, there is Sun Pharma's tildrakizumab, a humanized lgG1/k monoclonal antibody designed to selectively bind to the p19 subunit of interleukin-23 (IL-23), whose results were promising, with the therapy showing significant improvement in psoriatic arthritis symptoms.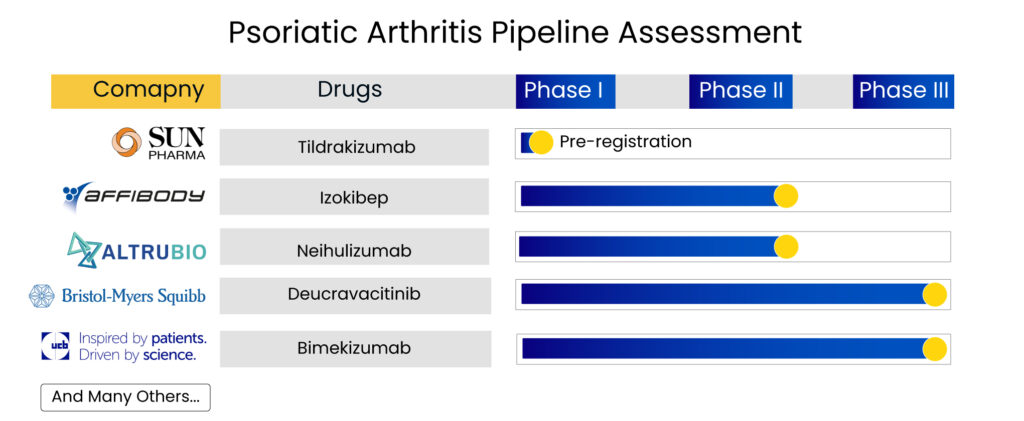 The continued clinical development and encouraging results make it a potential asset for patients who continue to struggle with the impact of psoriatic arthritis. Bimekizumab, a novel humanized lgG1/k monoclonal antibody that neutralizes both IL-17A and IL-17F, is another promising candidate, while Affibody AB has an interesting molecule up its sleeve, which is under clinical development for psoriatic arthritis treatment. Izokibep is a candidate designed to overcome the limitations of monoclonal antibodies. It is a unique antibody mimetic interleukin-17A (IL-17A) inhibitor with extraordinary potency that can reach high drug exposure levels through a single, subcutaneous injection.
Delveinsight estimates that emerging therapies, along with the marketed drugs for psoriatic arthritis, are expected to generate around USD 15 billion by 2032.
The benefits and anti-inflammatory properties of monoclonal antibodies continue to attract the attention of pharma giants in the psoriatic arthritis market space. However, stiff competition and legal suites make entry of newer approved candidates difficult. Despite having a broad range of products to choose from, risk-benefit estimation remains challenging for practitioners. And the "treat-to-target" approach will end in the "treat-to-agreement" approach, i.e., shared-decision making. With the advent of HUMIRA biosimilars in the US and a robust psoriatic arthritis pipeline, the psoriatic arthritis treatment market seems to be nearing an inflection point.

FAQs
1. What is psoriatic arthritis?
Psoriatic arthritis (PsA) is a debilitating disease requiring targeted treatment with frequent monitoring and follow-up care. Once considered a mild disease, it is now an aggressive disease with significant morbidity and poor quality of life among patients.
2. What causes psoriatic arthritis?
PsA is associated with variable and unpredictable clinical courses, ranging from mild and non-destructive to erosive and deforming arthritis. Besides, psoriatic arthritis causes and pathogenesis are not completely understood as it involves a complex interaction between genetic and environmental factors resulting in immune-mediated inflammation involving the skin and joints and may involve other organs.
3. What are the psoriatic arthritis symptoms?
Psoriatic arthritis can cause a variety of symptoms all over the body. People frequently experience two or more of these psoriatic arthritis symptoms, ranging from mild to severe. The common psoriatic arthritis symptoms include joint pain, joint stiffness, and swelling in one or two joints.
4. How is psoriatic arthritis diagnosed?
As there is no specific test to diagnose psoriatic arthritis, your doctor will make a psoriatic arthritis diagnosis based on the symptoms and a physical examination.
5. What is HUMIRA used for?
HUMIRA (adalimumab) is a drug used to treat the pain and swelling caused by certain types of arthritis (such as rheumatoid, psoriatic, juvenile idiopathic, and ankylosing spondylitis). This psoriatic arthritis medication is also used to treat some skin conditions (such as plaque-type psoriasis and hidradenitis suppurativa).
6. How many HUMIRA biosimilars are approved by the FDA?
Amjevita (Amgen), Hadlima (Organon), Cyltezo (Boehringer Ingelheim), Yusimry (Coherus), Hulio (Viatris), Hyrimoz (Sandoz), and Abrilada (Pfizer) are some of the HUMIRA biosimilars approved by the FDA.