Next-Generation Sequencing (NGS) or commonly referred to as deep sequencing or massively parallel sequencing, is an important field of sequencing technology applied to determine the RNA or DNA sequence. It aims to provide detailed information about the genetic variation in organisms, diseases, or other biological phenomena in the body. It has several advantages associated with it. Furthermore, it can accurately sequence large amounts of DNA or RNA much more cost-effectively. The applications of Next-Generation Sequencing are broad and range from diagnostics and medical genetics to drug development and forensics. The rising demand is stimulating the Next-Generation Sequencing Market size at an immense pace and leading to several new clinical, commercial, and regulatory developments. Several major companies are actively working in the market to cater to different evolving needs and gain market share.
Next-Generation Sequencing workflow comprises three main processes: sample preparation, sequencing, and data analysis. Compared to traditional sequencing technologies, it offers scalability, high throughput, and speed, allowing clinicians to perform various applications. It can provide new insights about the causes of diseases and develop treatments, and even generate personalized medicine. Similarly, it has a significant application in cancer genomics research and other disease management.
Next-Generation Sequencing (NGS) has several advantages over traditional sequencing methods. The speed and accuracy of the analysis are the major ones. The high speed ensures faster clinical reporting. Similarly, the NGS has a more established workflow with simpler data analysis and longer reads. NGS is much more reliable and accurate than the previous sequencing technologies, which can play a key role in diagnostics and medical genetics.
Types Of Next-Generation Sequencing and Market Segment Analysis
Genomic information is instrumental in identifying inherited disorders, distinguishing the mutations that lead to a disease, and tracking disease outbreaks. To better understand genomic information and provide detailed insights, Next-Generation Sequencing is segmented into various types, i.e., by product, application, and sequencing. By product type, Next-Generation Sequencing Market is categorized as instruments, reagents & consumables, and services. Similarly, as per the sequencing type, Next-Generation Sequencing is segmented as whole genome sequencing, whole exome sequencing, RNA sequencing, targeted sequencing, de-novo sequencing, and others.
Whole genome sequencing, also known as full genome sequencing, complete genome sequencing, or entire genome sequencing, is a comprehensive method of analyzing an organism's entire DNA sequence, while whole exome sequencing focuses on the coding regions of the genome. Targeted next-generation sequencing (NGS) or targeted sequencing are useful tools to provide insights about specific genomic regions of interest or mutations in a given sample. On the other hand, epigenomics evaluates epigenetic modifications on a cell's genetic material, known as the epigenome. RNA sequencing technique uses the capabilities of high-throughput sequencing methods and is utilized to identify the sequence of the bases that make up a molecule of RNA.
As per DelveInsight analysis, in the Next-Generation Sequencing by sequencing type segment, the whole genome sequencing (WGS) type is anticipated to hold a significant market share in the coming years as it provides the most comprehensive data related to any organism in a short duration of time. Moreover, whole genome sequencing is extensively used to develop precision medicines and personalized treatments.
Next-Generation Sequencing Applications
The potential and the scope of Next-Generation Sequencing are vast in the healthcare domain and are not limited to diagnosis. Besides Diagnostic, it can be applied in developing novel treatments, agriculture & animal research, and others. Moreover, it can assist in generating personalized medicine, improving crop yields, and even discovering new species. To the researchers and clinicians, the Next generation sequencing helps in getting a better overview of biological systems, pinpointing genetic mutations related to the disease, and identifying pathogenic variants. It can assist in advancing translational and clinical research. It aids in understanding the underlying mechanisms related to disease and can be more beneficial in the case of hard-to-crack rare genetic disorders.
Similarly, cancer, neonatal, identifying high-risk pathogenic variants, and infectious disease (among others) can be better analyzed at the DNA level with the help of Next-Generation Sequencing. A more reasonable and in-depth understanding assists in developing better-targeted therapies and personalized diagnostics.
With the ongoing developments, Next-generation sequencing (NGS) is expected to deliver unprecedented insights by unraveling the genome's and transcriptome intricacies in biomarker research. Moreover, it will support in gene expression studies, viral epidemiology, disease surveillance, and comprehensive genomic profiling to identify variants implicated in cancer and other diseases. Overall, Next-Generation Sequencing is an invaluable tool and holds the potential to revolutionize the healthcare field with its endless potential applications.
Next-Generation Sequencing Market Dynamics – Key Drivers and Barriers Assessment
Over the past couple of years, Next-Generation Sequencing technology has generated a huge demand due to the sudden outbreak of COVID-19 cases globally. NGS technology played a key role in determining the novel strains of the COVID-19 virus and its surveillance. Moreover, the rising burden of cancer cases worldwide has also contributed to the Next-Generation Sequencing market over the past few decades and will contribute immensely in the future as well. According to the data published by the GLOBOCAN directory (2020), approximately 19,292,000+ new cancer cases were detected globally in 2020. NGS is used to identify novel and rare cancer mutations, detect familial cancer mutation carriers, and provide a molecular rationale for appropriate targeted therapy. NGS technology-based platforms are critical in detecting cancer biomarkers, and with the rise in the number of cases, the demand is anticipated to surge further. NGS in clinical oncology practice is anticipated to move one step closer to personalized medicine.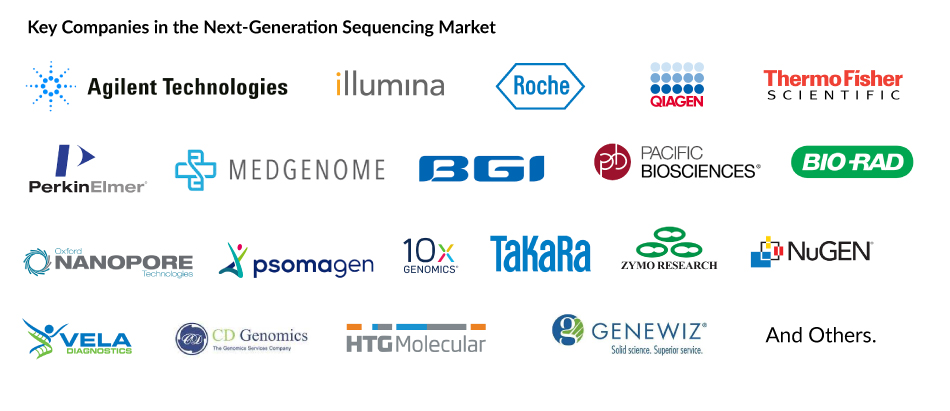 Furthermore, NGS technology-based product approvals for detecting various disorders, such as infectious diseases and genetic disorders, are expected to contribute to the market for Next Generation Sequencing in the coming years. However, despite several favorable factors, some of the key aspects, such as short read lengths in NGS technology and the high cost of the instruments & services, are anticipated to hamper the Next-Generation Sequencing market growth in the coming years.
Key Companies in the Next-Generation Sequencing Market
Globally, several key companies are actively working in the Next-Generation Sequencing market. Some of the major players include Agilent Technologies, Inc., Illumina Inc., Bio-Rad Laboratories, Inc., F. Hoffmann-La Roche Ltd, QIAGEN, Thermo Fisher Scientific, PerkinElmer Inc., MedGenome, BGI, Pacific Biosciences, GENEWIZ, Oxford Nanopore Technologies plc., Psomagen, Inc., 10x Genomics, Takara Bio Inc., Zymo Research Corporation., NuGEN Technologies, Inc. (Tecan Trading AG), Vela Diagnostics, CD Genomics., HTG Molecular Diagnostics, Inc., and others. Owing to growing demand and high prospects for greater return, several new players are anticipated to enter the Next-Generation Sequencing Market in the near future.
Next-Generation Sequencing – Regional Market Assessment and Key Growth Factors
As per the assessment, North America holds a major share of the overall Next-Generation Sequencing market and will continue to dominate the overall market in the coming years. Some of the key factors, such as the rising cases of infectious disease and the growth in new cancer cases, are expected to drive the demand for Next-Generation Sequencing technology in the United States, Canada, and other countries in the region. Favorable reimbursement policies and the rise in research and development activities to develop advanced NGS-based instruments would also lead to new product development and launch in the regional market. Moreover, the presence of key market players and leading national clinical laboratories, among others, are further fuelling the overall Next-Generation Sequencing market in the region. Additionally, strategic business activities in the region to use NGS technology to enhance diagnostic capabilities will also contribute to the NGS market in the country during the forthcoming years.
Furthermore, the Asia Pacific region has the future potential for the Next-Generation Sequencing market owing to the burgeoning cases of various infectious diseases and the growing cancer burden in the region. The presence of regional companies focused on developing and manufacturing advanced NGS-based systems would also propel the market.
Major Clinical, Commercial, and Regulatory Developmental Activities in the Next-Generation Sequencing Market
Over the past few years, several commercial, clinical, and regulatory developments have been registered in the Next-generation sequencing market. Some of the key developments in the segment include:
In December 2021, Roche launched the AVENIO Edge System to simplify and automate next-generation sequencing sample preparation, reduce human error, and advance precision medicine.
In May 2021, Illumina, Inc. and Next-Generation Genomics Co., Ltd. launched VeriSeq™ NIPT Solution v2 in Thailand, a CE-IVD, next-generation sequencing (NGS)-based approach to noninvasive prenatal testing (NIPT).
In February 2021, INOVIO and QIAGEN expanded collaboration to develop next-generation sequencing (NGS) companion diagnostics for INOVIO's VGX-3100 for advanced cervical dysplasia.
On December 03, 2020, Weill Cornell Medicine, New York-Presbyterian Hospital, and Illumina, Inc. entered into a collaboration to sequence the complete human genomes of thousands of consenting patients seeking to advance the scope of precision medicine.
On September 08, 2020, the US FDA granted pre-market approval to the Oncomine Dx Target test, developed by Thermo Fisher Scientific, as a companion diagnostic (CDx) to identify RET fusion-positive, metastatic non-small cell lung cancer (NSCLC) patients who are candidates for GAVRETO™ (pralsetinib), a targeted therapy developed by Blueprint Medicines. It is the first targeted next-generation sequencing (NGS)-based CDx for biomarkers associated with three FDA-approved NSCLC therapies.
On August 12, 2020, GeneDx, Inc., a subsidiary of BioReference Laboratories, Inc., an OPKO Health company, agreed with Pediatrix Medical Group to offer state-of-the-art, next-generation genomic sequencing to contribute to the clinical diagnosis in neonatal intensive care units ("NICUs") staffed by Pediatrix's affiliated neonatologists.
On January 27, 2020, the Centers for Medicare & Medicaid Services (CMS) announced plans to cover FDA-approved or cleared laboratory diagnostic tests using Next Generation Sequencing (NGS) for patients with germline (inherited) ovarian or breast cancer.
Next Generation Sequencing Market – Future Analysis and Prospective
Over the past two to three decades, Next Generation Sequencing has revolutionized the field of biology and enabled researchers to achieve significant milestones quickly. The Next Generation Sequencing Market is anticipated to register immense growth in the coming years further.
As per DelveInsight's assessment, the global Next-Generation Sequencing market was valued at USD 9.28 billion in 2021, growing at a CAGR of 18.96% during the forecast period from 2022 to 2027 to reach USD 26.30 billion by 2027. Some of the key factors, such as the rising burden of cancer worldwide, the growing application of NGS technology in clinical diagnosis and scientific research, and advantages such as efficient turnaround results, high speed, and accuracy exhibited by the NGS technology, among others are anticipated to contribute to the global Next-Generation Sequencing market growth in the forthcoming years.