Non-alcoholic fatty liver disease is one of the most common causes of liver disease in the United States. As per the National Institute of Diabetes and Digestive and Kidney Diseases, only a small number of NAFLD patients possess NASH. It is estimated that about 24% of U.S. adults have NAFLD, among which around 20%-25% of adults suffer from NASH. NASH is highly related to obesity; therefore, 75% of NASH patients are overweight, and 90% are obese.
As per DelveInsights analysis, amongst five stages, the highest number of patients diagnosed with NASH belongs to stage F1 and the lowest to the F4 stage.
Currently, the pipeline of NASH treatment market consists of a great deal of drugs. FXR Agonists, FGF21 Stimulants, FGF19 Analog, Glucagon-like Peptide-1 (GLP-1) Agonist, Peroxisome Proliferator-activated Receptor (PPAR) Regulators, THR-β Agonists, and some others are the most highlighted class of this indication. Ongoing research and current trials have the potential to change the market.
More than 130 key players, including pharma giants such as Novo Nordisk, Galmed Pharmaceuticals, AstraZeneca, Galectin Therapeutics, Viking Therapeutics, Eli Lilly and Company, Terns Pharmaceuticals, Sinew Pharma, Novartis Pharmaceuticals, Poxel SA, AngioLab, Pfizer, Lipocine, Inc., and others are working to bring novel therapies that overcome the roadblocks of NASH treatment pipeline.
Emerging Therapies for Nonalcoholic Steatohepatitis Treatment
Lanifibranor: Inventiva Pharma
Lanifibranor, a lead product of Inventiva Pharma, is an orally-available small molecule that induces anti-fibrotic, anti-inflammatory, and beneficial metabolic changes in the body by activating each of the three PPAR isoforms, known as PPARα, PPARδ, and PPARɣ. These isoforms play essential roles in regulating cellular differentiation, development, and tumorigenesis. The company has started recruiting for phase III clinical trials.
Saroglitazar Magnesium: Zydus Therapeutics
Saroglitazar Magnesium, developed by Zydus Therapeutics, is an investigational molecule in the US, undergoing clinical evaluation for the treatment of liver diseases like NAFLD with polycystic ovary syndrome (PCOS), nonalcoholic steatohepatitis (NASH), primary biliary cholangitis (PBC). In April 2017, Zydus Therapeutics Inc. initiated Phase IIb for NAFLD market.
Semaglutide: Novo Nordisk
Semaglutide, a lead product of Novo Nordisk NASH pipeline, also a GLP-1 analog indicated for T2D, is under evaluation for both weight management and NASH treatment and has been shown to significantly reduce alanine aminotransferase (ALT) and high sensitivity C-reactive protein (hsCRP) in a dose-dependent manner in patients with obesity or T2D in its clinical trials.
Tirzepatide: Eli Lilly and Company
Tirzepatide, sponsored by Eli Lilly and Company a once-weekly dual glucose-dependent insulinotropic polypeptide (GIP) and glucagon-like peptide-1 (GLP-1) receptor agonist that integrates the actions of both incretins into a single novel molecule. The company has started recruiting for its phase II clinical trial. Mounjaro (tirzepatide) for adults with type 2 diabetes was approved by the FDA and received a positive opinion from the European Medicines Agency's Committee for Medicinal Products for human use.
MGL-3196 (Resmetirom): Madrigal Pharmaceuticals
MGL-3196 (Resmetirom) is a liver-directed, orally active, selective thyroid hormone receptor-β agonist designed by Madrigal Pharmaceuticals, Inc to improve NASH treatment by increasing hepatic fat metabolism and reducing lipotoxicity. Essentially, this drug's primary mechanism of action suggests potentially improving the patient's lipid profile and hepatic fat. The drug started its Phase III clinical trials.
TERN-501: Terns, Inc.
TERN-501, produced by Terns, Inc., is a thyroid hormone receptor beta (THR-β) agonist with high metabolic stability, enhanced liver distribution, and greater selectivity for THR-β compared to other THR-β agonists in development for use in fixed-dose combinations for NASH treatment. It has also received Fast Track designation from the FDA for TERN-501 for the treatment of NASH in June 2021.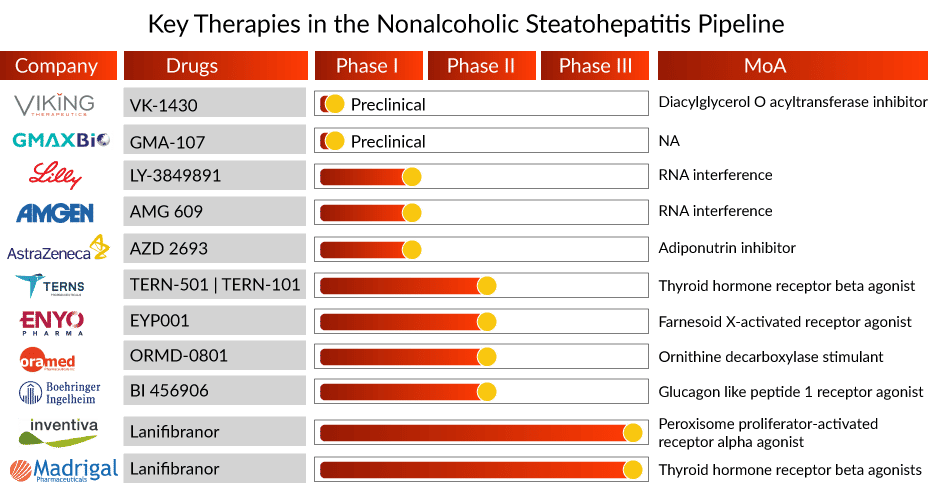 Obeticholic acid: Intercept Pharmaceuticals
Obeticholic acid (OCA) developed by Intercept Pharmaceuticals, is a modified, synthetic bile acid that acts as a farnesoid X-activated receptor (FXR) agonist. Farnesoid X-activated receptors are primarily expressed in human enterocytes and hepatocytes and naturally occurring bile acids that are most often the ligands for FXRs. It is developed primarily to treat liver and bile duct pathologies. Currently, OCA has approval from the FDA to treat primary biliary cholangitis (PBC). It is being studied in Phase III.
Vonafexor (EYP001): Enyo Pharma
Vonafexor (EYP001), developed by Enyo Pharma, is an orally bioavailable synthetic non-steroidal, non-bile acid FXR agonist small molecule that is also developed in NASH. Vonafexor is currently evaluated in a Phase IIa clinical trial in patients with advanced NASH treatment market, i.e., a fibrosis stage F2 or F3.
Pegozafermin: 89bio, Inc.
Pegozafermin engineered by 89bio, Inc. using a proprietary glycoPEGylation technology to prolong the biological activity of FGF21 while maintaining the efficacy of native FGF21. FGF21 is an endogenous metabolic hormone that regulates energy expenditure, glucose, and lipid metabolism. The company has initiated Phase II clinical trials to evaluate the efficacy, safety, and tolerability of NASH.
Efruxifermin (EFX): Akero Therapeutics, Inc.
Efruxifermin (EFX), a lead product of Akero Therapeutics, Inc, is a differentiated Fc-FGF21 fusion protein that has been engineered to mimic the balanced biological activity profile of native FGF21. EFX is currently being evaluated in two Phase IIb clinical trials in patients with biopsy-confirmed NASH: the HARMONY study in pre-cirrhotic patients with F2-F3 fibrosis and the SYMMETRY study in cirrhotic patients with compensated F4 fibrosis.
HU6: Rivus Pharmaceuticals, Inc.
HU6, sponsored by Rivus Pharmaceuticals, Inc., is a controlled metabolic accelerator (CMA) that provides a novel, measured approach to activating proton leak and mitochondrial uncoupling, a natural process in the body that regulates and dissipates energy. The drug has completed its Phase IIa trials.
Developments and Advancements in Nonalcoholic Steatohepatitis Domain
In November 2022, Sagimet Biosciences announced positive interim data from its Phase IIb clinical trial (FASCINATE-2) with denifanstat, a fatty acid synthase (FASN) inhibitor, in non-alcoholic steatohepatitis patients. Data showed statistically significant improvements across key markers of NASH pipeline 2022, reinforcing results observed in earlier studies, including statistically significant reductions in markers of liver fat, inflammation, and fibrosis. There were no treatment-related serious adverse events, with the majority of adverse events mild to moderate in nature (Grade 1 and 2). Additional interim data are expected in early 2023.
In November 2022, Inventiva announced that the United States Patent and Trademark Office granted a patent (U.S. Patent No. 11,504,380) that protects the use of lanifibranor for the treatment of cirrhotic patients at risk of progressing from compensated stage to decompensated stage. This patent will expire on November 8, 2039. This patent further expands the intellectual property protection of lanifibranor in the United States for use in patients with cirrhotic NASH.
In October 2022, Galectin Therapeutics, Inc. reported the positive outcome of its second data and safety monitoring board (DSMB) meeting for NAVIGATE, its seamless, adaptive, phase IIb/III study of belapectin in patients with liver cirrhosis caused by non-alcoholic steatohepatitis (NASH). The objective of this second independent DSMB was further to review the emerging tolerance and safety profiles of belapectin. Based on its deliberation, the DSMB concluded that NAVIGATE could continue as designed without modifications.
In September 2022, Inventiva and Chia Tai-Tianqing Pharmaceutical Group entered into a licensing and collaboration agreement to develop and commercialize lanifibranor, if approved, for the treatment of nonalcoholic steatohepatitis and potentially other metabolic diseases in mainland China, Hong Kong, Macau, and Taiwan.
In June 2022, Poxel SA announced that the U.S. Patent and Trademark Office (PTO) has issued to Poxel US Patent No. 11319313, which represents a new patent for PXL065, a novel, proprietary deuterium-stabilized R-stereoisomer of pioglitazone which is being investigated in Phase II stage of NASH clinical trials evaluation for the treatment.
In May 2022, Pfizer Inc. announced the U.S. Food and Drug Administration (FDA) had granted Fast Track designation to Pfizer's investigational combination therapy for the treatment of non-alcoholic steatohepatitis (NASH) with liver fibrosis: ervogastat (PF-06865571, a diacylglycerol O-acyltransferase 2 inhibitor, or DGAT2i) and clesacostat (PF-05221304, an acetyl-CoA carboxylase inhibitor, or ACCi).
In May 2022, Hepion Pharmaceuticals, Inc. announced that it has entered into a clinical collaboration with HepQuant, a Denver-based, privately held company with the novel, proprietary investigational technology for evaluating liver function and health in patients with chronic liver diseases. Hepion will incorporate the HepQuant 'SHUNT' test into a dedicated Phase IIb clinical trial in presumed NASH F3 subjects.
In February 2022, the US Food and Drug Administration (FDA) granted a Fast-Track Designation to Axcella Therapeutics' AXA1125 to treat non-alcoholic steatohepatitis (NASH) with liver fibrosis.
In January 2022, LISCure Biosciences announced that it had executed a research collaboration agreement with Mayo Clinic for new drug development for rare liver diseases. LISCure Biosciences Inc. has executed a research collaboration agreement with US based-Mayo Clinic for new drug development for rare liver diseases.
What's Ahead in the Nonalcoholic Steatohepatitis Treatment Market?
Nonalcoholic steatohepatitis can further worsen to cause cirrhosis, hepatocellular carcinoma, and other diseases. The majority of NASH patients do not show any symptoms. Therefore, the development of screening strategies in order to identify individuals at high risk remains a highly unmet need. Moreover, some noninvasive tests precisely predict disease proliferation and progression as part of the natural history of NASH or the decrease in response to treatment are urgently needed to decrease the reliance on repeat liver biopsies.
As there are no FDA-approved medications so far that can resolve NASH and decrease fibrosis, several market players are working to develop therapies, and the anticipated launch of these therapies will change the NASH treatment market dynamics in the coming years.

FAQs
What is NASH? 
Non-alcoholic fatty liver disease (NAFLD) is an umbrella term that encompasses the entire spectrum of fatty liver disease, from simple steatosis to more progressive steatosis with associated hepatitis, fibrosis, cirrhosis, and in some cases, hepatocellular carcinoma.
What are the most promising NASH drugs which can change the treatment outlook? 
Lanifibranor, Tirzepatide, Vonafexor are some of the most promising pipeline therapies that can change the dynamics of the treatment market.
Which is Merck's potential therapy in the NASH treatment pipeline? 
MK-6024 is a novel drug in the Merck NASH pipeline that is currently being studied in Phase II clinical stage and can change future treatment paradigms.
How is NASH diagnosed?
Liver biopsy is the only test that can prove a diagnosis of NASH and show clearly how severe the disease is. Liver biopsy can show fibrosis at earlier stages than elastography.