Obesity is a chronic health condition that leads to abnormal or excessive fat accumulation or adipose tissue in the body that presents a health risk. It is an imbalance between calories ingested and calories burned. The factors responsible for the causes of obesity include heredity, a sedentary lifestyle, excessive fat, sugar consumption (energy-dense meals), certain medications, and endocrine issues. Changes in the environment or society, as well as behavior and culture, have a direct influence.
The excess fat around the waist and trunk (abdominal, central, or android obesity) or peripherally around the body (gynoid obesity) can have severe complications. Some studies also concluded that people with higher levels of fat distributed over the body are associated with smaller volumes of important brain structures, including gray matter structures located in the center of the brain.
How is Obesity Measured?
Among the various methods, the most basic and standard procedure to measure obesity is the body mass index (BMI). BMI considers a person's weight and height to calculate the level of adiposity. Accordingly, the three classes of obesity are Overweight (not obese), Class 1 (low-risk), Class 2 (moderate-risk), and Class 3 (high-risk) obesity. BMI less than 18.5 kg/m2 is considered underweight.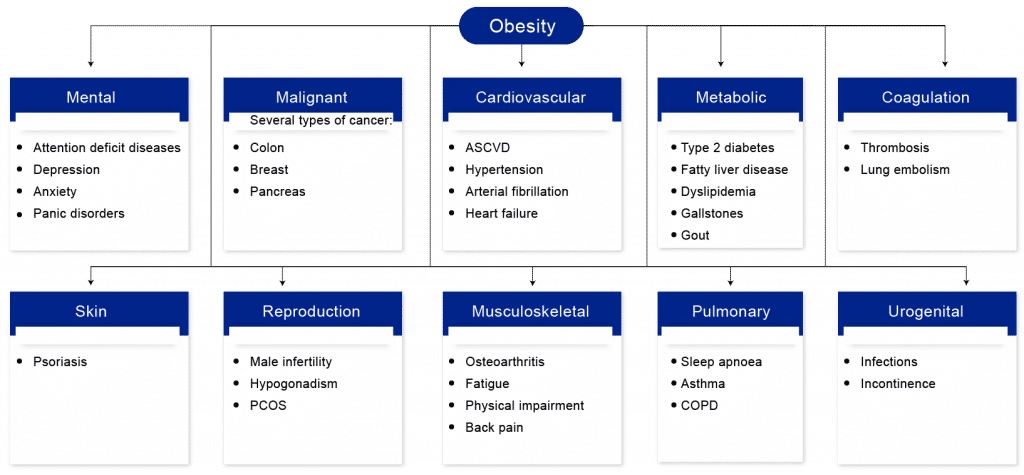 On the other hand, if the BMI is between 25 and 30 kg/m2, the person will not be obese but overweight. But if BMI is greater than 30 kg/m2, the person will be under the obese category. Some other methods like Bioelectric Impedance (BIA), Waist Circumference, Air-displacement Plethysmography, Waist-to-Hip Ratio, Skinfold Thickness, and others are also used to measure obesity.
Obesity Epidemiological Facts and Figures
The global prevalence of obesity has observed massive growth over the decade and is expected to grow in the coming years. As per data from WHO, obesity has nearly tripled since 1975. According to Delveinsight's estimates, the United States accounted for approx. 110 million cases of obesity in adults in 2021, followed by 66 million cases in EU5 and 5.5 million cases in Japanese adults.
Moreover, the COVID-19 pandemic also impacted the prevalence of obesity positively. The lockdown measures have altered lifestyle patterns, resulting in reduced physical exercise and various other changes in daily actions. Governments and health organizations must devise new methods to combat the growing frequency and raise awareness of the long-term repercussions. However, the stringent regulatory guidelines, the excessive fee for the weight reduction devices, long-time period efficacy, and the side effects related to the pharmacotherapies could be the elements to be addressed.
Obesity Treatment Scenario
Over the years, obesity has changed from being rare to a widespread condition in the developed world. The current pyramid of interventions in the management of obesity includes diet restriction, diet therapy, physical exercise, anti-obesity drugs, prebiotics, probiotics, bariatric surgery, and cognitive-behavioral strategies. This multifaceted disease has many treatment options; however, these options are not being fully implemented. Despite the upsurge in the market and expenditures on anti-obesity treatments currently available in economically stable areas, obesity is still increasing at epidemic levels.
Surprisingly, various pharmaceutical companies had launched their product in the obesity market and later got removed by the FDA due to safety-related concerns, such as giving rise to cancer-related diseases. Most of these are related to adverse cardiovascular effects seen in sibutramine, fenfluramine, dexfenfluramine, rainbow pills, and increased suicidal risk associated with rimonabant.
In the last century, the pharmacological management of obesity has included amphetamines, thyroid hormones, dinitrophenol, and various drug combinations (rainbow pills) that were withdrawn shortly after regulatory approval due to serious adverse effects. Several centrally acting sympathomimetics such as phentermine, cathine, and diethylpropion continue in short‐term use. Medicines that have been investigated in weight management include agents as diverse as mitochondrial uncouplers, sympathomimetics, serotonergic agonists, lipase inhibitors, cannabinoid receptor antagonists, and a growing family of gastrointestinal-derived peptides chemically optimized for pharmaceutical use. A sobering realization across most of these approaches is the common inability to achieve placebo-adjusted mean weight loss greater than 10% of initial body weight when chronically administered at tolerable doses.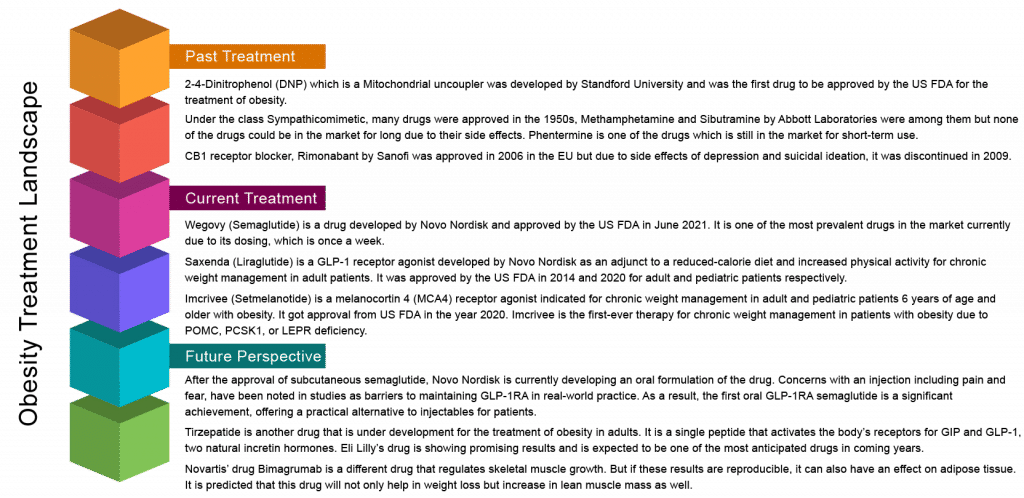 The story of anti-obesity pharmacotherapy is littered with initially promising drug candidates that were eventually withdrawn because of safety concerns and adverse events that outweigh the modest benefits of treatment. This fate could have also engulfed the new generation of drugs under investigation at the time. However, despite prominent failures of anti-obesity medications, approved drugs for obesity management have been accessible for use in addition to behavior modifications. In the United States and Europe, orlistat, naltrexone/bupropion, liraglutide, and, most recently, semaglutide are registered and promoted. In addition, in the United States, phentermine/topiramate is even available for long-term use.
These newly FDA-approved obesity drugs changed the treatment landscape for obesity. In June 2021, the FDA approved once-weekly injectable Wegovy for chronic weight management in adults with obesity or overweight and at least one weight-related condition. Semaglutide has a different structure from other GLP-1 receptor agonists; Saxenda is a once-daily injection approved by the FDA to treat obesity. It prolongs the half-life compared with a daily drug as a weekly agent. Xenical and Qsymia are the only long-standing product in the obesity market approved many years ago.
Still, patients who are prescribed anti-obesity pharmacotherapy have to face challenges with the exorbitant cost of some of the newer therapeutics, as well as the refusal of many private and public insurers to cover anti-obesity medications. Sometimes patients or their advocates may have success in lobbying their employers to opt into insurance coverage for obesity management. However, for those on Medicare or Medicaid, there is currently absolutely no coverage for anti-obesity medications. Similarly, in EU-5 countries such as France, Italy, Germany, etc., the drugs are not included on the list of reimbursable drugs; social security bodies do not cover that. In this case, the manufacturers/laboratories are free to set their prices.
There are more effective medications, procedures, and evidence-based treatments available for obesity today than 20 years ago, but health care professionals are still struggling to get treatment for more people. Obesity treatment, in general, is very challenging, partly because it is often not covered by payers. Until 2003, Medicare had an explicit policy that said you could not consider obesity a disease or a health condition. It was considered a cosmetic issue; it was explicitly excluded from any Medicare treatment.
Therefore, patients without coverage are left with the choice of paying out of pocket for a lower-cost generic anti-obesity medication; taking a medication primarily intended for treating other medical conditions such as diabetes or seizures that may also help with weight loss; or, if their BMI and health status is severe enough to satisfy insurance requirements, they may opt for bariatric surgery, a much more widely covered insurance benefit.
However, in the United Kingdom, as per the January 2022 NEWS release from NHS, people struggling to lose weight will now be offered help from their local high street pharmacy as part of the NHS's radical action to tackle rising obesity levels and type 2 diabetes. Community pharmacy teams can now refer adults living with obesity, and other conditions, to the twelve-week online NHS weight management program. Moreover, in the UK, Wegovy (semaglutide) is considered a brand new 'game-changing' drug set to make waves in the medical world as thousands of people with obesity in England will be able to access Wegovy, Semaglutide, on the NHS.
Thinking of obesity as a lifestyle choice rather than disease was more common in the health care community 20 years ago. Some of the prior attitudes toward weight management have changed in the past decade, with more policymakers, providers, and researchers now viewing obesity as one of the top public health concerns in the US. A big part of this change came on June 18, 2013, when AMA issued a new public health policy, stating its recognition of obesity as a disease with multiple pathophysiological aspects requiring a range of interventions to advance weight management treatment and prevention.
A potential way to more generously cover high-value services without raising premiums is to provide less generous coverage of commonly over-used low-value services. In the future, reducing disparities in weight management treatment will require increased reimbursement and expanded coverage for clinically indicated treatment options for patient subgroups for whom the clinical benefits are well established. It is also important to acknowledge that treating obesity leads to preventing or resolving other high-cost chronic conditions, such as diabetes, stroke, and coronary heart disease.
GLP1R agonism establishes a heightened foundation for measuring performance with other entities, and the full depth of its efficacy and the ability to chronically sustain weight loss in multiple populations, many distinct from those in which initial drug registration has occurred, remains to be determined. At the end of 2014, liraglutide became the first GLP1R agonist to be approved for the treatment of obesity. However, when semaglutide entered human trials, it caused more than twice as much weight loss as liraglutide, making it the most effective anti-obesity drug ever to gain regulatory approval.
A few key pharma companies are currently pursuing a strategy of targeting more than one brain-acting hormone system at once. The remarkable effectiveness of this strategy in animal models of obesity has contributed to renewed interest in weight loss drugs across the industry. A recent trial conducted by Eli Lilly suggests that its new diabetes drug, tirzepatide, which combines the activity of the hormones GLP-1 and gastric inhibitory polypeptide (GIP), may cause more weight loss than semaglutide. Like GLP-1, GIP stimulates insulin secretion around meals, making it an attractive target for weight management.
In particular, according to Delveinsight, Novo Nordisk's Semaglutide, Eli Lily & Company's Tirzepatide, and Novartis' Bimagrumab are estimated to have the highest patient share for anti-obesity pharmacotherapy and are likely to have more robust safety profiles than other drugs that have been trialed.
Setmelanotide is a great example of personalizing obesity therapy, albeit with the challenge of identifying a broader population that might benefit from the drug beyond the ultra-rare genetic and syndromic obesities. In contrast, semaglutide has brought us a long way in showing how to affect energy balance by affecting appetite. Tirzepatide (Phase III) and bimagrumab (Phase II) illustrate what is likely to impact clinical practice.
Tirzepatide has the potential to drive the weight loss market dramatically. It is the first investigational medicine to deliver more than 20% weight loss on average in a Phase III study, which is as much as can be achieved with successful bariatric surgery. The highest dose of tirzepatide was most effective, resulting in 24 kg of weight loss on average, equivalent to a 22.5% reduction in body weight. In comparison, participants taking the placebo lost just 2 kg on average. Semaglutide also promotes weight loss, but by about 15% on average, suggesting that the added GIP component in tirzepatide gives an extra boost.

A new study has confirmed that treatment with bimagrumab, an antibody that blocks activin type II receptors and stimulates skeletal muscle growth, is safe and effective for treating excess adiposity and metabolic disturbances in adult patients with obesity and type 2 diabetes. These exciting results suggest that there may be a novel mechanism for achieving weight loss with a profound loss of body fat and an increase in lean mass, along with other metabolic benefits.
At the end of the 48-week study, researchers found a nearly 21% decrease in body fat in the bimagrumab group compared to 0.5% in the placebo group. The results also revealed the Bimagrumab group gained 3.6% of lean mass compared with a loss of 0.8% in the placebo group. The combined loss in total body fat and gain in a lean mass led to a net 6.5% reduction in body weight in patients receiving Bimagrumab compared with 0.8% weight loss in their counterparts receiving the placebo.
Way Ahead
In conclusion, the clinical practice of obesity medicine has been a struggle for patients and providers. The advancement in weight management has reached a place where developing some powerful tools is possible. Therefore, the focus can now shift from treating the comorbidity with anti-hypertensives and lipid-lowering drugs to glycemic management drugs.
Moreover, gut hormones may be especially promising candidates for future exploration due to fewer non-specific side effects than centrally acting drugs. It is hoped that weight‐loss drugs of the present and future will provide safer and more effective tools for the long‐term management of obesity. Today, at the global level, some of the key obesity companies such as Rhythm Pharmaceuticals, Novo Nordisk, Eli Lilly and Company, Novartis, and others are involved in developing therapies for obesity. The launch of the new treatments for obesity in the coming years will significantly improve people's lives affected by obesity.

FAQs
1. What is obesity?
Obesity is a chronic health condition that leads to abnormal or excessive fat accumulation or adipose tissue in the body that presents a health risk. It is an imbalance between calories ingested and calories burned. 
2. What are the causes of obesity?
The factors responsible for the causes of obesity include heredity, a sedentary lifestyle, excessive fat, sugar consumption (energy-dense meals), certain medications, and endocrine issues. Changes in the environment or society, as well as behavior and culture, have a direct influence. 
3. What are the symptoms of obesity?
Obesity symptoms extend beyond increased body fat. It can cause skin problems, shortness of breath, difficulty sleeping, and other symptoms. Some symptoms are even known to raise a person's likelihood of developing certain diseases and disorders. These can be life-threatening or even fatal in some situations.
4. Which pharma companies are working in the obesity market?
Today, at the global level, some of the key obesity companies such as Rhythm Pharmaceuticals, Novo Nordisk, Eli Lilly and Company, Novartis, and others are involved in developing therapies for obesity.