Lung cancer remains the leading cause of cancer-related death in the United States. The American Cancer Society estimates 238,340 people will be diagnosed with lung cancer in 2023, with non-small cell lung cancer (NSCLC) accounting for the majority of cases (roughly 80% to 85%).The treatment paradigm of antibody-drug conjugates (ADCs) in lung cancer is discussed in this article. Lung cancer is a highly competitive segment, with blockbusters like KEYTRUDA and TAGRISSO claiming as one of its primary indications. Based on the DESTINY-Lung02 study, ENHERTU (trastuzumab deruxtecan) is becoming the standard of care in second-line HER2-mutant NSCLC, with an ORR of 57.7%. In this setting, the REVEL trial combination of chemotherapy with or without a VEGF (ramucirumab) is an alternative. There are numerous potential ADCs under investigation to treat lung cancer, including two that have received FDA Breakthrough Therapy Designation (BTD): patritumab deruxtecan and telisotuzumab vedotin. The medical field anticipates the emergence of more targeted and potent ADCs as viable treatment options for lung cancer patients shortly.
The ENHERTU Effect: A Closer Look at the Dynamic Duo Daiichi Sankyo and AstraZeneca Taking on HER2-mutant NSCLC
ENHERTU by Daiichi Sankyo (to be marketed by AstraZeneca in China) focused on major and competitive indications, including breast and lung cancer. In August 2022, ENHERTU (fam-trastuzumab deruxtecan-nxki) received accelerated approval from the US FDA for patients with HER2-mutant NSCLC who had previously undergone systemic therapy. This marked a significant milestone as ENHERTU became the first drug tailored specifically for HER2-mutant NSCLC.
Daiichi Sankyo and AstraZeneca are actively investigating the effectiveness and safety of ENHERTU compared to standard chemotherapy in their DESTINY clinical trials for lung cancer. The partners are also working toward advancing ENHERTU into 1L treatment through studies such as DESTINY-Lung 04. DESTINY-Lung04 is the first head-to-head trial in NSCLC evaluating ENHERTU as first-line treatment compared to the standard of care (platinum-pemetrexed doublet chemotherapy in combination with pembrolizumab) in patients with unresectable, locally advanced or metastatic non-squamous NSCLC harboring a HER2 exon 19 or 20 mutations.
Dato-DXd vs. TRODELVY: The Battle of ADC Targeting TROP2
Daiichi Sankyo and AstraZeneca are jointly investigating their ADC targeting TROP2, known as Datopotamab deruxtecan (Dato-DXd/DS-1062), in 1L treatment for non-driver mutation patients with advanced lung cancer. They are conducting the TROPION-Lung08 trial to potentially replace the Keynote-024 regimen and the TROPION-Lung07 trial to challenge the Keynote-189 regimen – the most important indication for Merck's KEYTRUDA. Additionally, they are assessing Dato-DXd in 2L and 3L patients through the TROPION-Lung01 trial.
The expectation is that Dato-DXd could initially gain FDA approval for its most advanced indication as a 2/3L treatment for all types of NSCLC. Recent findings show that Dato-DXd demonstrated a statistically significant improvement in Progression-Free Survival (PFS) compared to the standard-of-care docetaxel. This result was observed in patients with locally advanced or metastatic NSCLC who had received at least one prior line of therapy. The Phase III TROPION-Lung01 trial (NCT04656652) achieved its primary endpoint. AstraZeneca is also researching a potential diagnostic test that could help identify patients who are most likely to benefit from treatment with datopotamab deruxtecan.
It is worth noting that Gilead is also working on its own TROP2-targeting ADC called TRODELVY for NSCLC. However, their progress is behind that of DS-1062, as Phase III data from the EVOKE-1 study for TRODELVY in 2L/3L immune checkpoint inhibitor refractory NSCLC is not expected until 2024, in contrast to DS-1062's TROPION-Lung01 data, which has already been presented in July 2023. Given DS-1062's advantage in terms of a head start and superior efficacy in early-stage studies, it is anticipated to become the first TROP2-targeting ADC in the NSCLC. However, at least in the first-line setting, DS-1062 might face substantial competition from other treatment approaches, particularly Roche's TIGIT. One potential weakness of DS-1062 compared to TRODELVY could be its tolerability profile, particularly regarding issues like Interstitial Lung Disease and lung scarring. Nonetheless, it is expected that DS-1062 would have a lower rate of such events compared to ENHERTU due to its lower DAR. On the other hand, TRODELVY has challenges, including high rates of Grade 3 Neutropenia (low white blood cells) and diarrhea, leading to a black box warning. In the end, the choice of therapy is likely to be determined by efficacy, and based on available data, DS-1062 appears to have a competitive edge, especially in the context of lung cancer treatment.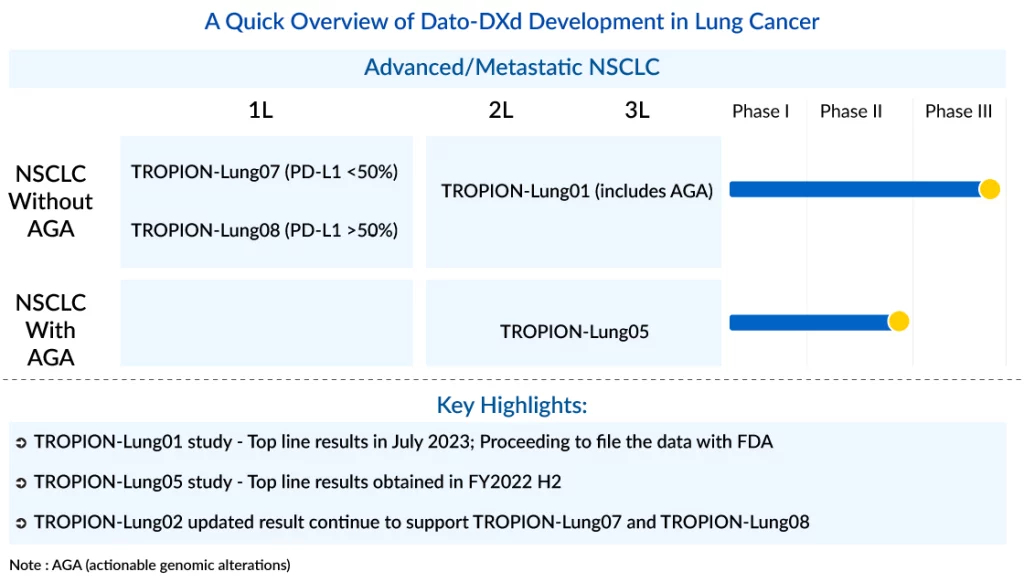 Daiichi Sankyo's Solo Pursuit of Innovation With HER3-targeting ADC – Patritumab Deruxtecan
Daiichi Sankyo is determined to fully capitalize on the potential of their potentially pioneering HER3-targeting ADC, named patritumab deruxtecan (HER3-Dxd/U3-1402). It is worth noting that Dato-DXd is being developed by Daiichi Sankyo in partnership with AstraZeneca but Daiichi has HER3-DXd all to itself and plans to keep it that way. The company's goal is to expedite its launch through internal development as much as possible. HER3-Dxd employs the same linker and chemotherapy payload as ENHERTU and Dato-DXd. This consistency and a DAR similar to ENHERTU at 7–8 offer the advantage of leveraging potential efficacy insights from those compounds, thereby minimizing developmental risks. Nevertheless, it also brings to the forefront the potential risk of signals related to Interstitial Lung Disease (ILD) safety. Within the landscape of lung cancer treatment, Daiichi Sankyo and AstraZeneca are strategizing to encompass both 1L and 2L+ NSCLC (in the metastatic setting only), focusing predominantly on Dato-DXd regimens, with additional support from ENHERTU and HER3-DXd for patients presenting actionable genetic abnormalities.
Sanofi's Quest to Tackle Overexpressed CEACAM5 in Lung Cancer
Roughly 25% of people with advanced non-squamous NSCLC have high CEACAM5 levels. Sanofi is leading the CEACAM5 research to better understand its potential in patients with NSCLC, where new, advanced therapeutic options are needed. Tusamitamab ravtansine, selectively targets CEACAM5, showing promise in preclinical studies, and making waves in the NSCLC space. Clinical trials, like CARMEN-LC03, CARMEN-LC04, and CARMEN-LC05, are actively evaluating its efficacy and safety. Originating from ImmunoGen, tusamitamab ravtansine belongs to Sanofi. Despite having just one ADC in development, Sanofi's ADC has the potential to be a game changer. Sanofi anticipates submission in 2024, and it might be available to patients shortly thereafter as a new therapy option. While not a chemotherapy replacement, tusamitamab ravtansine could offer another option for lung cancer treatment.
Teliso-V: Redefining Hope for NSCLC Patients With c-Met Overexpression Through Unprecedented Response Rates
Between 30% and 50% of NSCLC patients exhibit high c-Met levels. Activation of c-Met is a key factor driving MET amplification or exon 14 skipping mutations in NSCLC. Telisotuzumab vedotin (Teliso-V or ABBV-399) targets c-Met overexpression, showing promise in early trials against c-Met-positive NSCLC. With response rates above 50%, Teliso-V, expected to gain approval by 2024, could become a crucial treatment option in 2L+ NSCLC, already holding a BTD.
Future Challenges and Considerations
Progress in the fields of chemistry, pharmacology, and immunology has led to the advancement of ADCs, which exhibit significant clinical effectiveness in specific subsets of lung cancer patients. ADCs are being investigated for targets like TROP-2, HER2, HER3, MET, and CEACAM5, both as standalone treatments and in combination with other therapies. Although ADCs are gaining ground in clinical practice, understanding resistance mechanisms is crucial for future development, although such data remains limited due to the early stage of ADC research in lung cancer.
To enhance ADCs' therapeutic range, researchers are developing site-specific ADCs, bispecific ADCs, Conditionally Active Biologics (CAB), and prodrug-type ADCs. These approaches improve the delivery of cytotoxic agents.
In NSCLC, more treatment options are needed for post-immunotherapy combinations and after acquired resistance develops in molecularly targeted therapy subtypes. ADCs are emerging as a rapidly evolving treatment category in this scenario, demonstrating encouraging early outcomes across multiple targets in the advanced setting. Consequently, the continued success of ADCs in clinical practice seems inevitable, heralding a new era of transformation in lung cancer treatment.