ENHERTU is an antibody-drug conjugate composed of an anti-HER2 antibody and a cytotoxic topoisomerase I inhibitor. Three components make up this ADC: 
A topoisomerase inhibitor that is covalently linked to,

Humanized anti-HER2 IgG1 monoclonal antibody (mAb) via,

Tetrapeptide-based cleavable linker
Recombinant DNA technology is used to create the antibody in Chinese hamster ovary cells, and chemical synthesis is used to create the topoisomerase inhibitor and linker. Each antibody molecule is joined to approximately 8 molecules of deruxtecan.
The prescribed dose of ENHERTU is 5.4 mg/kg, administered via intravenous infusion every 3 weeks (21-day cycle) until either disease progression or the occurrence of unacceptable toxicity.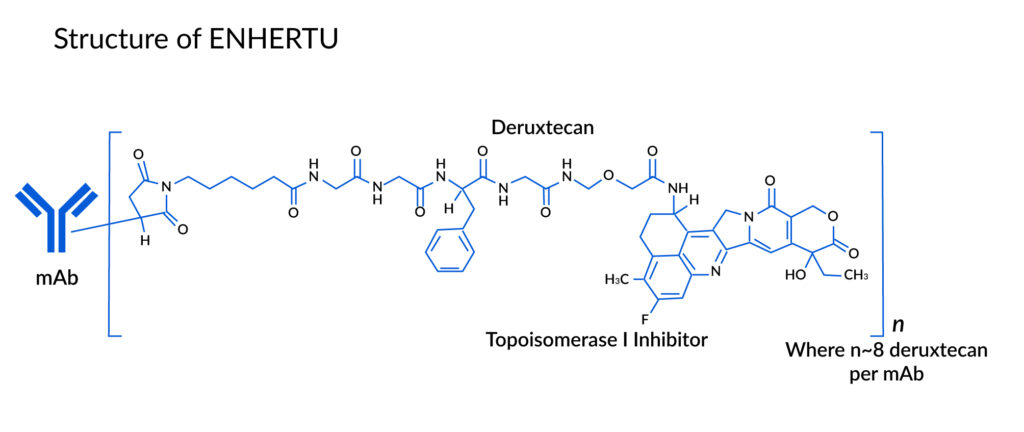 How is it different from other chemotherapy drugs?
A tyrosine kinase receptor growth-promoting protein – HER2, is located on the surface of some cancer cells and is linked to aggressive disease. It is overexpressed in about 1 in 5 breast tumors.
Tumor cancer cells are often examined using either immunohistochemistry (IHC) or fluorescence in situ hybridization to determine whether they are HER2-positive (FISH).
There are still many needs for HER2-expressing metastatic breast cancer presently. There is currently no accepted standard of care for HER2-positive cancers after trastuzumab, pertuzumab, and T-DM1 therapy, and many tumors progress to the point where no currently approved HER2-targeting drug continues to control the disease. Furthermore, no anti-HER2 therapy is indicated for HER2 low-expressing malignancies.
These unmet needs allow for the novel ENHERTU to enter and boost the market. ENHERTU was developed to operate differently from conventional chemotherapies as a sort of targeted therapy known as an antibody-drug conjugate (ADC).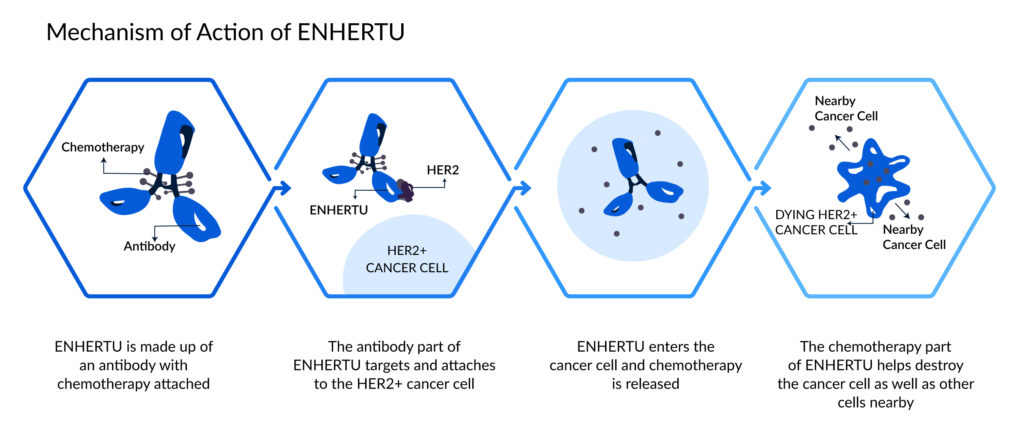 ENHERTU Side Effects
Interstitial Lung Disease (ILD) and pneumonitis, which may be fatal, have been documented in some cases. It is essential to closely monitor for any signs and symptoms such as cough, difficulty breathing, fever, or any other respiratory problems that may arise. Terminate treatment permanently for all patients experiencing Grade 2 or higher ILD/pneumonitis.
Patients should be informed of this risk and the necessity to report any symptoms promptly. Pregnant individuals should be aware that exposure to fam-trastuzumab deruxtecan-nxki can result in harm to the embryo-fetus. Patients must understand these risks and the importance of using effective contraception.
Clinical Success/ Milestones of ENHERTU
Clinical Results
The clinical and durable responses seen among the patients after DESTINY-Breast01 Phase II illustrated the potential of ENHERTU to establish a new standard of care. The drug achieved a tumor response rate of 60.9% in a pivotal Phase II HER2 positive metastatic breast cancer trial.
The pivotal phase II, the single-arm, open-label, international, multicenter, two-part trial, was called DESTINY-Breast01. It assessed the safety and effectiveness of DS-8201 in patients with HER2-positive metastatic and unresectable breast cancer who have previously received ado-trastuzumab emtansine treatment.
In September 2018, 253 patients from more than 100 sites in North America, Europe, Japan, and other Asian nations completed enrollment in the DESTINY-Breast01 study.
Furthermore, according to preliminary findings from the Phase I ENHERTU trial, patients with HER2 low-expressing metastatic breast cancer had a lot of pretreatment-expressed overall response rate of 31.6 percent. Additionally, in 2019, the U.S. Food and Drug Administration (FDA) accepted for review the Biologics License Application (BLA) for [fam-] trastuzumab deruxtecan (DS-8201) and granted Priority Review.
The companies released encouraging topline findings in 2020 from the pivotal phase II DESTINY-Gastric01 study of DS-8201, a HER2-directed antibody-drug conjugate (ADC), in patients with HER2-positive, metastatic, unresectable gastric or gastroesophageal junction cancer who had progressed after receiving two or more treatment regimens, including trastuzumab and chemotherapy. The safety profile for DS-8201 seen in DESTINY-Gastric01 was in line with findings from earlier clinical studies.
In a clinical trial for Gastric Cancer, the clinician could choose between two regularly used chemotherapies to utilize in the clinical investigation (irinotecan or paclitaxel). After 12.5 months, 63 of 126 patients receiving treatment with ENHERTU were still alive, compared to 23 of 62 patients receiving chemotherapy.
Among the people in the trial
A confirmed overall response rate of 72.7 percent in 11 patients with extensively pretreated HER2 mutant non-small cell lung cancer was seen in an updated subgroup analysis from an ongoing phase I study of trastuzumab deruxtecan (DS-8201) (NSCLC).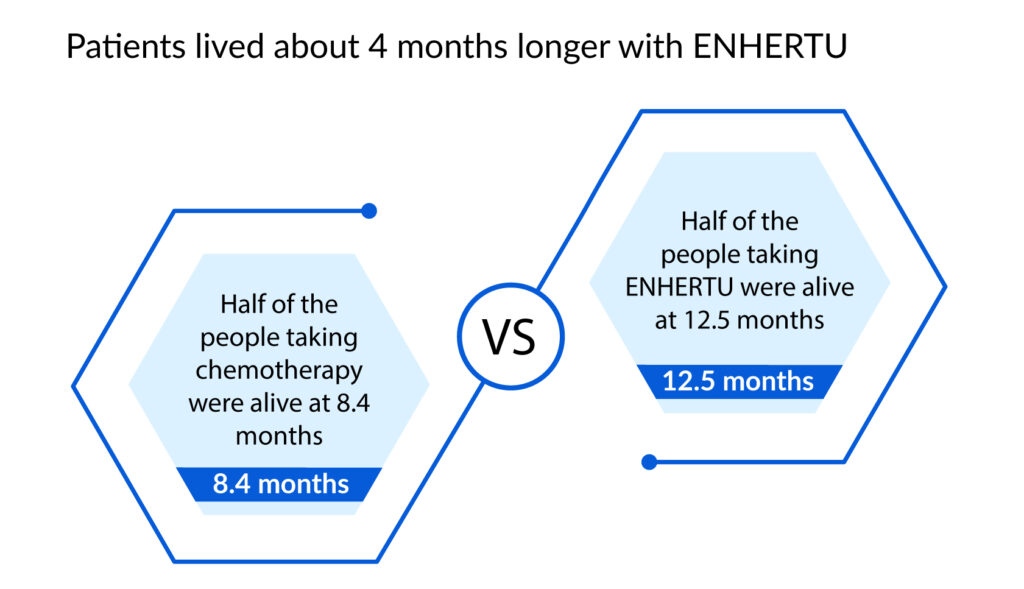 Given the unmet medical need for patients with metastatic NSCLC with HER2 mutations who have advanced on many prior treatments, the preliminary outcomes seen with trastuzumab deruxtecan were encouraging. The outcomes also present that patients with NSCLC should continue to evaluate therapies that target the HER2 receptor.
Following these topline positive results from the clinical trials, the ENHERTU drug was given different designations and approvals in several countries.
ENHERTU Designations
In 2016, the company reported that the FDA had given its investigational HER2-targeting antibody-drug conjugate DS-8201 Fast Track designation for the treatment of HER2-positive, unresectable, and metastatic breast cancer in patients who have progressed after receiving prior HER2-targeted therapies, such as ado-trastuzumab emtansine.
The designation facilitates early and regular engagement with the FDA and is meant to hasten the approval of new medications and patient access to cutting-edge therapeutic choices.
Moreover, in 2017, ENHERTU was granted Breakthrough Therapy designation by the FDA for the treatment of patients with HER2-positive, locally advanced or metastatic breast cancer who have had trastuzumab and pertuzumab but have seen disease progression after receiving ado-trastuzumab emtansine (T-DM1).
It was based on the results of the Phase I study that assessed safety, tolerability, and preliminary efficacy of ENHERTU. The designation of "breakthrough therapy" intended to speed up the research and review of ENHERTU that significantly improve or surpass presently available therapies to provide patients with serious diseases with access to innovative treatments as soon as feasible.
ENHERTU Approvals
ENHERTU was first authorized by the FDA in 2019 for adult patients with metastatic or unresectable HER2-positive breast cancer who have had two or more prior anti-HER2-based regimens. The therapy was only accessible at the end of the treatment process because it was only approved for individuals who had already undergone two or more treatment regimens.
But recently, in 2022, ENHERTU was given additional FDA approval. A prior anti-HER2-based regimen, either in the metastatic setting or in the neoadjuvant or adjuvant setting, and the development of disease recurrence during or within six months of finishing therapy are now approved indications for the treatment of adult patients with unresectable or metastatic HER2-positive breast cancer who have received the ENHERTU medication.
In August 2022, ENHERTU was authorized for the treatment of patients with unresectable or metastatic NSCLC whose tumors have activating HER2 mutations, according to a joint statement from Daiichi Sankyo and AstraZeneca. According to the fast approval pathway, the FDA approved the product based on the objective response rate of 57.7% and the length of response shown in clinical studies.
With this, the FDA has now approved ENHERTU for use in treating three different types of tumors. While in 2021, it was approved for gastric cancer and became the first HER2-directed medication in the past 10 years approved by the FDA to treat gastric cancer.
Commercialization and Sales of ENHERTU
In March 2019, Daiichi Sankyo's entered into a global development and commercialization agreement with AstraZeneca for Daiichi Sankyo's lead antibody-drug conjugate (ADC), trastuzumab deruxtecan (DS-8201).
This combined Daiichi Sankyo's scientific and technological excellence with AstraZeneca's global experience and resources in oncology to accelerate and expand the potential of the drug as monotherapy and combination therapy across a spectrum of HER2-expressing cancers.
Under the agreement, the companies will share equally development and commercialization costs as well as profits from trastuzumab deruxtecan worldwide, except for Japan, with a deal value of up to $6.9bn.
Sales were expected to be achieved by Daiichi Sankyo in the United States, a few European nations, and a few other regions where the company has affiliates. All additional international markets, including China, Australia, Canada, and Russia, were anticipated to cover sales for AstraZeneca.
HER2-positive or metastatic breast cancer after two or more prior anti-HER2-based treatments; approved in more than 40 countries. Following a previous trastuzumab-based therapy, approved in various countries for locally advanced or metastatic HER2-positive gastric or gastroesophageal junction adenocarcinoma helped AstraZeneca achieve a total $214m in the revenue of ENHERTU and the product sales was raised to 123% in 2021. While the collaboration revenue of ENHERTU– share of gross profits was $193 million in 2021 and accounted for $94 million in 2020.
Conclusion
Trastuzumab deruxtecan or ENHERTU is one of a class of treatments called antibody-drug conjugates (ADCs), which attach monoclonal antibodies to tumor cells with a "linker" to have a more focused and strong effect on cancer. It was created collaboratively by Daiichi Sankyo and AstraZeneca. With its specific target mechanism, the medication was granted several designations for its expedited approval in different countries for cancer management.
Additionally, ENHERTU has now received approval for three distinct tumor types, which highlights the drug's substantial potential for use in a variety of HER2-targetable tumors. Apart from these, the ENHERTU drug is under development which includes Phase II development for HER2 expressing advanced colorectal cancer, metastatic non-squamous HER2 overexpressing or HER2 mutated NSCLC, and, Phase I development in combination with nivolumab for HER2 expressing metastatic breast and bladder cancer. The ENHERTU drug is generating sales at large numbers and is expected to soon help in the management of other cancer types.