The American Society of Hematology (ASH) Annual Meeting this year presented abstracts showcasing new data from across its bispecific antibodies clinical pipeline, demonstrating the companies' commitment to redefining care for patients with DLBCL.
Recently, off-the-shelf bispecific antibodies have grown in popularity; these antibodies target CD20 and a second receptor that targets CD3, which is found on vector T cells. Bispecific antibodies, as opposed to traditional monoclonal antibodies, which are monospecific, bind two epitopes simultaneously, either on the same antigen or on two different antigens. Although clinical development of these products has focused on a wide range of hematological and solid tumors, they have shown to be particularly effective in treating B-NHL patients and may be the next significant step in the treatment of this condition.
Spotlight on the Potential Bispecific Antibodies in the Pipeline
Several CD20xCD3 bispecific antibodies — epcoritamab, glofitamab, mosunetuzumab, plamotamab, and odronextamab —are under active study and have demonstrated promising activity in DLBCL.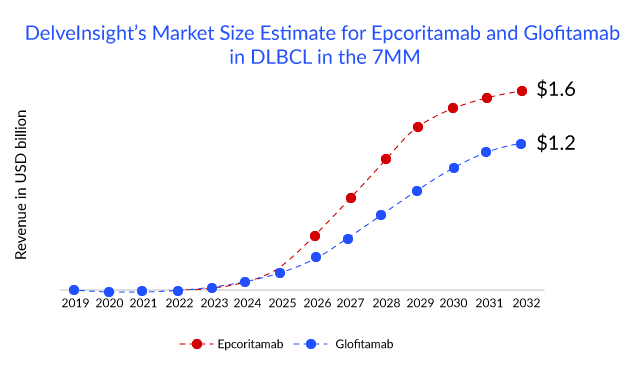 Of all the T-cell recruiting CD20xCD3 bispecific antibodies. Epcoritamab, a bispecific antibody candidate from AbbVie and Genmab, appears to be the drug to beat in terms of efficacy and is also in the lead with regulators for DLBCL: the drug has a PDUFA date of May 21, 2023, for 3L R/R DLBCL. Apart from 3L R/R DLBCL, the drug is also being evaluated in combinations with other agents in earlier line of therapies, including first-line, first-R/R transplant-eligible, and first-R/R transplant-ineligible. However, Roche's glofitamab is not too far behind in the race. Roche has filed for approval of glofitamab in April 2022 in the EU for 3L R/R DLBCL and an application to the FDA in the United States is planned for the end of 2022. The company anticipates submission to health authorities for glofitamab + chemotherapy in 2L DLBCL by 2024 and glofitamab + chemotherapy in 1L circulating tumor (ct) DNA+ high-risk DLBCL by 2025 and beyond. While epcoritamab's first-mover advantage would give it an edge in the bispecific antibodies space, glofitamab's fixed-duration treatment could be a major selling point. A fixed-duration therapy offers patients longer treatment intervals, which could potentially lower the likelihood of long-term side effects and enhance the overall patient experience.
Key Abstracts of Bispecific Antibodies Presented at ASH 2022

Drug

Company

Trial ID

Phase

Patient Segment

ORR

CR

Odronextamab

Regeneron Pharmaceuticals

NCT03888105

(ELM-2)

II

R/R DLBCL

49% (naïve to prior CAR-T)

31%

(naïve to prior CAR-T)

48% (received prior CAR-T)

32% (received prior CAR-T)

Epcoritamab + R-DHAX/C

Genmab and AbbVie

NCT04663347

(EPCORE NHL-2)

I/II

R/R DLBCL

95%

67%

Glofitamab + R-CHOP

Roche

NCT03467373

(NP40126)

Ib

Previously Untreated DLBCL

93.5%

76.1%

Mosunetuzumab +

polatuzumab

vedotin

Roche and Biogen

NCT03671018

(GO40516)

Ib/II

R/R DLBCL

72%

56%

Mosunetuzumab

±

polatuzumab

vedotin

Roche and Biogen

NCT03677154

I/II

Previously Untreated DLBCL

56%

43%

Plamotamab

Johnson & Johnson and Xencor

NCT02924402

I

R/R DLBCL

52%

25%
Another contender is Johnson & Johnson and Xencor's plamotamab, which demonstrated an ORR of 52% in DLBCL at the ASH 2022 conference placing this drug behind epcoritamab but in line with glofitamab. Plamotamab involves an approach similar to that of glofitamab, displaying a tunable binding affinity that allows for the optimization of potency and safety. Xencor is conducting a Phase II study of plamotamab in combination with tafasitamab and lenalidomide in patients with R/R DLBCL.
Roche has another CD20xCD3 bispecific antibody, LUNSUMIO (mosunetuzumab), being developed along with Biogen. Currently, Roche is investigating LUNSUMIO plus POLIVY in Phase III (SUNMO) trial in 2L DLBCL, with most trial locations outside the 7MM except for Japan. With an expected submission in the US by 2025 and beyond 2024 in Japan. LUNSUMIO is also a fixed-duration treatment that can be administered in the outpatient setting, which could allow people the possibility of experiencing a lasting remission with a treatment-free period.
In December 2020, the FDA placed a partial hold on Regeneron's bispecific antibody odronextamab due to concerns about cytokine release syndrome in the Phase I ELM-1 study. To lessen this side effect, a longer step-up dosing regimen was implemented and the hold was lifted in May 2021. Notably, the Phase II ELM-2 regimen has been modified in the trial to further reduce this risk. Pivotal odronextamab Phase II data in patients with R/R DLBCL made a debut at ASH 2022. Moreover, the company anticipates US regulatory submission in FL and DLBCL by 2H2023.
Challenges and Future Directions
Challenges include optimizing dosing, mitigating risks and side effects, and defining the optimal treatment sequence and/or combinations with other drugs. Should bispecific antibodies be administered before or after CAR-T cells? Can bispecific antibodies be used in combination with chemotherapy in the frontline setting? How to most effectively incorporate this new class of drugs into the treatment palette is not yet known. Clinical trials are investigating this issue.The field of bispecific antibodies is clearly in its infancy and promises to leverage the well-established power of the human immune system to improve outcomes for patients with DLBCL. Ongoing studies will help clarify the role of these agents alone and in combination for patients in the first and subsequent lines of therapy. For R/R DLBCL, bispecific antibodies present an effective over-the-counter treatment option that may outperform prior therapies. However, bispecific antibodies' long-term efficacy and tolerability, ideal therapeutic combinations, and ideal therapeutic timing are all still unknown. These bispecific antibodies will probably be approved first in the third line and above setting as they enter the treatment landscape. With time and progress, this might shift towards earlier with additional research and longer-term follow-up data, though.