Abbvie-Genmab's EPKINLY, the first CD20XCD3 Bispecific Antibody gets US approval for Relapsed/Refractory DLBCL treatment. Roche's Glofitamab is expected to garner benefits in Europe first. Let's have a glimpse of evolving DLBCL treatment landscape in Relapsed/Refractory setting and if bi-specific as a class can be a threat to CAR-Ts, which already have a strong presence in this setting.
On May 19, 2023, the US FDA approved EPKINLY (epcoritamab-bysp), as the first and only T-cell engaging bispecific antibody for the treatment of adult patients with R/R DLBCL, not otherwise specified (NOS), including DLBCL arising from indolent lymphoma, and high-grade B–cell lymphoma (HGBL), after two or more lines of systemic therapies.
The FDA has granted accelerated approval to EPKINLY based on its significant effects on response rate and the lasting nature of the response in DLBCL patients. The approval was supported by results from the LBCL group of the Phase II pivotal EPCORE NHL-1 (NCT03625037) trial, an open-label, multicenter study. These findings demonstrated that subcutaneous epcoritamab resulted in profound and long-lasting responses in these patients. The ORR was found to be 61%, with 38% of patients achieving complete responses. Among those who responded to treatment, the median follow-up period was 9.8 months, and the estimated median duration of response (DOR) was 15.6 months.
The approval of epcoritamab now offers patients who require further treatment the chance to receive it, particularly if they have not responded or have relapsed after receiving two or more systemic therapies.
Epcoritamab primed to lead in the CD20xCD3 drug class
One of the notable advantages of epcoritamab is its suitability for administration in community settings, as it does not require specialized registered centers like chimeric antigen receptor (CAR) T-cell therapy does. Consequently, more physicians can now have access to this drug, potentially leading to its inclusion in the treatment plans for a larger number of patients.
EPKINLY holds an additional advantage with its subcutaneous formulation, offering a more convenient administration method compared to glofitamab's intravenous infusion. This convenience factor becomes even more significant when considering future combinations and treatment approaches.
Roche's glofitamab is not too far behind in the DLBCL treatment race
Glofitamab, the closest competitor to EPKINLY for DLBCL treatment, is expected to undergo an FDA decision by July 1, 2023. In April 2023, CHMP recommended EU approval of Roche's fixed-duration glofitamab for people with R/R DLBCL under the brand name COLUMVI. During its Phase I/II trial, glofitamab demonstrated a response rate of 51.6% among patients who had received an average of three previous treatment regimens. Additionally, 39.4% of patients achieved a complete response. Comparatively, EPKINLY exhibited a more favorable safety profile compared to glofitamab.
However, Glofitamab's fixed-duration treatment could be a major selling point. A fixed-duration therapy offers patients longer treatment intervals, potentially lowering the likelihood of long-term side effects and enhancing the overall patient experience.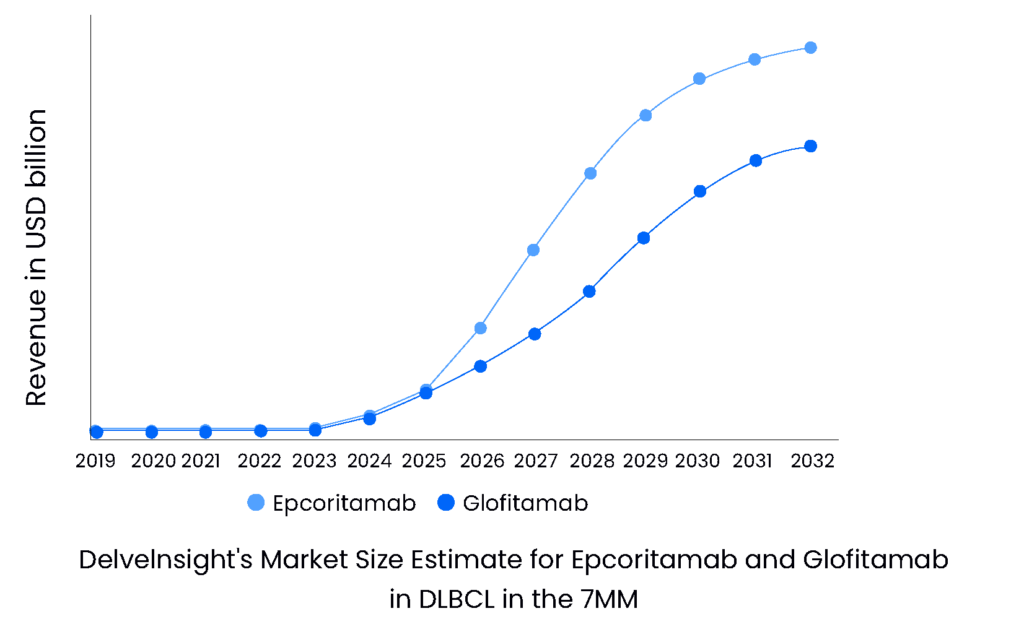 Other emerging bispecific antibodies for people with DLBCL
Several other CD20xCD3 bispecific antibodies are under active study and have demonstrated promising activity in DLBCL include — mosunetuzumab, plamotamab, and odronextamab.
One such contender is Johnson & Johnson and Xencor's plamotamab, which demonstrated an ORR of 52% in DLBCL at the ASH 2022 conference placing this drug behind epcoritamab but in line with glofitamab. Plamotamab involves an approach similar to that of glofitamab, displaying a tunable binding affinity that allows for the optimization of potency and safety. Xencor is conducting a Phase II study of plamotamab in combination with tafasitamab and lenalidomide in patients with R/R DLBCL.
Roche has developed another CD20xCD3 bispecific antibody, LUNSUMIO (mosunetuzumab), along with Biogen. Currently, Roche is investigating LUNSUMIO plus POLIVY in Phase III (SUNMO) trial in 2L DLBCL, with most trial locations outside the 7MM except for Japan. With an expected submission in the US by 2025 and beyond 2024 in Japan. LUNSUMIO is also a fixed-duration treatment that can be administered in the outpatient setting, which could allow people the possibility of experiencing a lasting remission with a treatment-free period.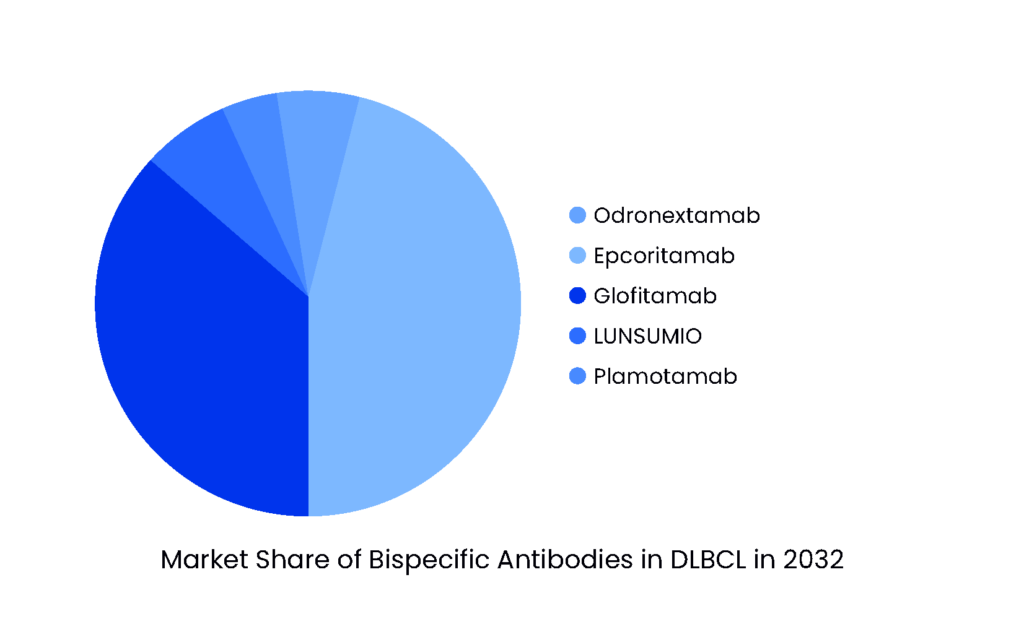 In December 2020, the FDA placed a partial hold on Regeneron's bispecific antibody odronextamab due to concerns about cytokine release syndrome in the Phase I ELM-1 study. To lessen this side effect, a longer step-up dosing regimen was implemented and the hold was lifted in May 2021. Notably, the Phase II ELM-2 regimen has been modified in the trial to further reduce this risk. Pivotal odronextamab Phase II data in patients with R/R DLBCL made a debut at ASH 2022. Moreover, the company anticipates US regulatory submission in FL and DLBCL by 2H2023.
Challenges and future directions in DLBCL treatment
Challenges include optimizing dosing, mitigating risks and side effects, and defining the optimal treatment sequence and/or combinations with other drugs. Should bispecific antibodies be administered before or after CAR-T cells? Can bispecific antibodies be used in combination with chemotherapy in the frontline setting? How to most effectively incorporate this new class of drugs into the treatment palette is not yet known. Clinical trials are investigating this issue.
The field of bispecific antibodies is clearly in its infancy and promises to leverage the well-established power of the human immune system to improve outcomes for patients with DLBCL. Ongoing studies will help clarify the role of these agents alone and in combination for patients in the first and subsequent lines of therapy. For R/R DLBCL treatment, bispecific antibodies present an effective over-the-counter treatment option that may outperform prior therapies. However, bispecific antibodies' long-term efficacy and tolerability, ideal therapeutic combinations, and ideal therapeutic timing are all still unknown. These bispecific antibodies will probably be approved first in the third line and above setting as they enter the DLBCL treatment landscape. With time and progress, this might shift towards earlier with additional research and longer-term follow-up data, though.
FAQs
1. What is diffuse large B-cell lymphoma?
Diffuse Large B-cell Lymphoma (DLBCL) is the most prevalent type of non-Hodgkin's lymphoma that can develop in lymph nodes or outside the lymphatic system (for example, in the gastrointestinal tract, testes, thyroid, skin, breast, bone, or brain). 
2. What are the DLBCL symptoms?
DLBCL symptoms include painless, fast swelling in the neck, underarms, or groin produced by swollen lymph nodes. The swelling may be uncomfortable for some people. Night sweats, fever, and unexpected weight loss are some other DLBCL symptoms. Patients may experience weariness, appetite loss, shortness of breath, or discomfort.
3. How is DLBCL diagnosed?
A tissue sample is required for a definite DLBCL diagnosis. Because DLBCL is a blood cancer, it is critical to seek any symptoms of lymphoma throughout the body. This is commonly accomplished with a positron emission tomography (PET) scan. A morphological DLBCL diagnosis should be validated in all patients by immunophenotypic investigations, either immunohistochemistry (IHC) or flow cytometry, or a combination of both techniques.
4. What are the current DLBCL treatment options?
DLBCL treatment is often initiated quickly after diagnosis with the goal of achieving a long-term remission or cure. Most treatments still rely on a combination of chemotherapy and a monoclonal antibody targeting CD20. R-CHOP (rituximab, cyclophosphamide, doxorubicin, vincristine, and prednisone) is the most often used combination chemotherapy regimen for DLBCL. It is normally administered in 21-day cycles. Etoposide (VePesid, Toposar, Etopophos) is sometimes combined with the R-CHOP regimen, resulting in the R-EPOCH medication combination. Radiation therapy is sometimes used in DLBCL treatment.