Obesity is the second most common cause of preventable death, associated with the risk of developing inflammatory components, directly and indirectly, related to cardiovascular disease, diabetes mellitus, respiratory problems, psychological issues, hypertension, obstructive sleep apnea, cancer, and hyperlipidemia. It imposes a significant public health epidemic that has progressively worsened over the past semi-centennial. An increase in obesity has been observed in children and adults of both genders and is prevalent in both developed and developing countries.
According to DelveInsight's analyst, the diagnosed prevalence of obesity is rising. As per the estimates, the United States accounted for ~112 million and ~5.2 million cases for adults (<19 years) and children (5–19 years), respectively, in 2022. Among the 7MM, Japan accounts for the lowest number of total treated cases of obesity.
Management of Metastatic Obesity
A modern approach to obesity acknowledges the multifactorial determinants of weight gain and the health benefits of weight loss. Foundational to any weight loss effort are lifestyle change, diet, and increased physical activity. The approach should be a high-quality diet to which patients will adhere, accompanied by an exercise prescription describing the frequency, intensity, type, and time with a minimum of 150 min moderate weekly activity. Obesity medications approved in the USA or European Union are orlistat, naltrexone/bupropion, and liraglutide; in the USA, lorcaserin and phentermine/topiramate are also available. Surgical obesity management (gastric banding, sleeve gastrectomy, and Roux-en-Y gastric bypass) can produce remarkable health improvement and reduce mortality for patients with severe obesity.
Emerging Therapies for Obesity Treatment
The early-stage obesity pipeline has exploded with agents targeting multiple facets of the disease. In addition, there are new and innovative molecule types in the obesity pipeline, including monoclonal antibodies, antibody-drug conjugates, nanoparticle-drug conjugates, peptides, radiopharmaceuticals, recombinant proteins, and gene therapies, among others.
The drugs for obesity treatment are generally administered subcutaneously or orally. A few different strategies have also been utilized to administer a drug either intravenously or parenterally. Moreover, the significant rise in the obesity prevalence rate has led to a large patient population suffering from debilitating and chronic conditions that severely affect patient's daily functioning and have severe implications on their mortality. This has led several prominent and emerging companies to engage in Research and Development initiatives to develop anti-obesity drugs.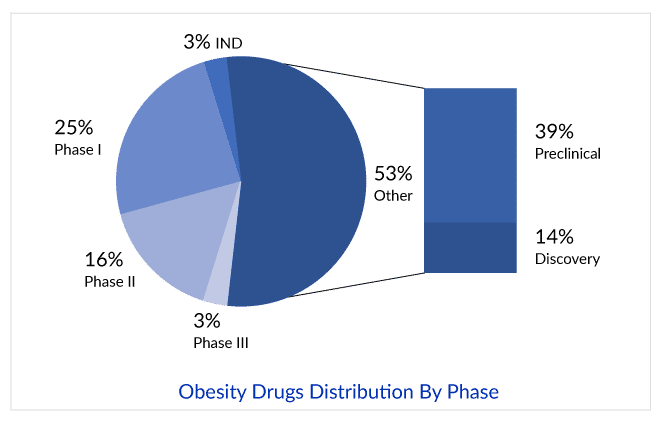 Over 100+ key players, including the pharma giants such as 9 meters, Agentix, Amgen, AstraZeneca, Carmot Therapeutics, Inc., Cellivery Therapeutics Inc, Dong-A ST, Eli Lilly and Company, Innovent Biologics, Jiangsu Hansoh Pharmaceutical, Novo Nordisk, Otsuka Pharmaceutical Factory Inc, Pfizer, Reata Pharmaceuticals, Regeneron Pharmaceuticals, Tonix Pharmaceuticals, and others evaluating their lead assets in different obesity clinical trials to improve the obesity treatment landscape.
Some of the drugs for obesity treatment in the early and late stages of development include Semaglutide oral (Novo Nordisk), Tirzepatide (Eli Lilly and Company), CT-868 (Carmot Therapeutics), RZL-012 (Raziel Therapeutics), EMP16 (Empros Pharma), and others. Tirzepatide is a once-weekly GIP receptor and GLP-1 receptor agonist that combines the actions of both incretins into a single novel molecule. GIP is a hormone that may help GLP-1 receptor agonists work better. GIP reduces food intake while increasing energy expenditure in preclinical models, resulting in weight loss. When combined with GLP-1 receptor agonism, it may have a greater impact on metabolic dysregulation markers such as body weight, glucose, and lipids. Tirzepatide is currently in Phase III development for adults with obesity or overweight who have weight-related comorbidity, and the FDA is also reviewing it as a treatment for adults with type 2 diabetes. It's also considered a possible treatment for non-alcoholic steatohepatitis (NASH) and heart failure with preserved ejection fraction (HFpEF).
CT-868, developed by Carmot Therapeutics, is a dual GLP-1 and GIP receptor modulator with a distinct pharmacological profile optimized for improved GLP-1 receptor tolerability. GLP-1 and GIP work together to improve body weight loss and glucose control. To maximize efficacy and tolerability, CT-868 is administered once daily. CT-868, a peptide-small molecule hybrid compound capable of mimicking the native GLP-1 hormone, was discovered using chemotypeevolution technology. The product is currently in Phase II development for obesity treatment.
In the United States, the European Union, and Japan, oral semaglutide is approved as an adjunct to diet and exercise to improve glycemic control in adults with type 2 diabetes under the brand name RYBELSUS. It is an analog of the naturally occurring hormone GLP-1 in the form of an oral GLP-1 RA. The company is currently developing a candidate for obesity treatment. The candidate is being evaluated in a Phase III trial to determine the drug's safety and efficacy in subjects who are overweight or obese. The study is expected to be finished by March 2023.
Recent Developments in Obesity Treatment Domain
In December 2022, Amgen announced new Phase I data from AMG 133. This first-in-human study evaluated the safety, tolerability, pharmacokinetic and pharmacodynamic effects of AMG 133 in people with obesity and without diabetes. The MAD cohorts showed mean percent changes in body weight (BW), ranging from -7.2% at the lowest dose (140mg Q4W) to -14.5% at the highest dose (420mg Q4W) by day 85. A substantial degree of weight loss was maintained beyond the treatment period, which will be shared as part of the oral presentation. Most treatment-emergent adverse events (TEAEs) were mild and transient. Most of the TEAEs were GI-related, with the most common being nausea and vomiting, and most events resolved within 48 hours.
In December 2022, Poolbeg Pharma, a clinical-stage infectious disease company, acquired the exclusive license from InsuCaps to use its proprietary microencapsulation and nanoencapsulation oral delivery technologies in metabolic syndrome-related diseases, including obesity, pre-diabetes, and diabetes.
In November 2022, Rhythm Pharmaceuticals, Inc. announced that Great Britain's Medicines & Healthcare products Regulatory Agency (MHRA) had expanded the marketing authorization for IMCIVREE® (setmelanotide) to include the obesity treatment and control of hunger associated with genetically confirmed Bardet-Biedl syndrome (BBS) in adult and pediatric patients six years of age and older.
In November 2022, Reviva Pharmaceuticals Holdings, Inc. announced the issuance of a patent covering the composition of matter for RP1208 in Canada, adding to its existing protection in key global markets. The Canadian patent covers the compositions of novel phenylcycloalkylmethylamine derivatives and the use of the compositions for treating obesity, related co-morbid conditions, depression, and related co-morbid conditions.
In October 2022, Eli Lilly and Company announced that the U.S. Food and Drug Administration (FDA) had granted Fast Track designation for the investigation of tirzepatide for treating adults with obesity or overweight with weight-related comorbidities.
In October 2022, Aphaia Pharma, a clinical-stage biopharmaceutical company harnessing precision-targeted drug delivery technology for the treatment and prevention of metabolic diseases, announced that it enrolled the first patient as part of a Phase II study evaluating the safety and efficacy of its lead drug candidate, APH-012, to induce weight loss in individuals with obesity. The study was approved by the US Food and Drug Administration (FDA) and by the German Federal Institute for Drugs and Medical Devices (BfArM) and will be conducted in the USA and Germany.
In September 2022, Rivus Pharmaceuticals Inc. announced the completion of a USD 132 million Series B financing led by RA Capital Management with participation from Bain Capital Life Sciences, BB Biotech AG, and existing investors Longitude Capital, Medicxi, and RxCapital. This financing will further support the clinical advancement of lead candidate HU6, a first-in-class Controlled Metabolic Accelerator (CMA) designed to treat cardio-metabolic disease by addressing obesity, a primary driver of disease.
In June 2022, LG Chem's new drug for treating genetic obesity received additional ODD (Orphan Drug Designation) from the US FDA. LG Chem announced on the 16th that the FDA recently granted ODD to 'LB54640' for the treatment of 'POMC (Proopiomelanocortin) deficiency.'
In April 2022, Saniona announced that it paused the Phase IIb clinical trials testing Tesomet for people with Prader–Willi Syndrome and hypothalamic obesity. The decision "is not related to the safety or efficacy of Tesomet and is entirely due to funding limitations. The company also announced a reprioritization and restructuring effort to immediately reduce operating expenses while maximizing cash resources.
What's Ahead in the Obesity Treatment Market
To summarize, the clinical practice of obesity medicine has been difficult for both patients and providers. Weight management has progressed to the point where the development of some powerful tools is feasible. As a result, the emphasis can now shift from treating comorbidity with antihypertensives and lipid-lowering drugs to glycemic control drugs. Furthermore, gut hormones may be particularly promising candidates for future research because they have fewer non-specific side effects than centrally-acting drugs. It is hoped that current and future obesity drugs will provide safer and more effective tools for the long-term management of obesity. Currently, several obesity companies, such as Rhythm Pharmaceuticals, Novo Nordisk, Eli Lilly and Company, Novartis, and others, across the globe are developing obesity therapies. The introduction of new obesity treatments in the coming years will significantly improve the lives of people affected by obesity.
FAQs
1. What is Obesity? 
Obesity is a chronic health condition that leads to abnormal or excessive fat accumulation or adipose tissue in the body that presents a health risk. It is an imbalance between calories ingested and calories burned. 
2. What are obesity symptoms? 
Obesity symptoms extend beyond increased body fat. It can cause skin problems, shortness of breath, difficulty sleeping, and other symptoms. Some symptoms are even known to raise a person's likelihood of developing certain diseases and disorders. These can be life-threatening or even fatal in some situations.
3. What are the causes of obesity?
The factors responsible for the causes of obesity include heredity, a sedentary lifestyle, excessive fat, sugar consumption (energy-dense meals), certain medications, and endocrine issues. Changes in the environment or society, behavior, and culture have a direct influence. 
4. What are current obesity treatment options? 
Obesity treatment aims to reduce body weight and fat percentage to prevent the onset of obesity-related health problems and improve the patient's overall health. Nutritional therapy includes calorie restriction, meal replacement, and healthy diet plan options tailored to the individual's needs; exercise and physical activities such as aerobic exercise training, high interval intensity training, cardiovascular training, resistance exercise training, and others; intensive behavioral therapy; therapeutic lifestyle options; weight loss pharmacotherapy, and surgical interventions such as an intragastric balloon.
5. What are the approved FDA-approved obesity drugs available in the market?
Drugs available in the current obesity treatment market include Bupropion-naltrexone, Liraglutide, Qsymia, Orlistat, Lorcaserin, and many others.