Over the past few years, the prevalence of the chronic disease has grown significantly. The rising prevalence is leading to a severe social and economical burden on the individuals and their families. Chronic diseases are long-lasting conditions with endless side effects associated with them. Despite the rise in morbidity and mortality, the global response to the problem remains insufficient. Especially in the developing world, due to the shortage of financial support and the capacity to invest in prevention, treatment, and research, there is a steep rise in chronic disease-related morbidity. Similarly, the situation is not up to the mark in developed countries.
Growing Burden of Chronic Disease
In the US more than 630,000 people die every year from heart disease and it is followed closely by cancer as the second leading cause of death, with around 600,000 deaths annually. The American College of Cardiology estimated that 22.4 percent of all male deaths and 20.7 percent of all female deaths in 2015 were attributable to poor dietary factors. Apart from heart disease and cancer, obesity is another major chronic disease. The obesity-associated diseases are also growing at an immense rate, not just in the US, but in almost every part of the world.
The aging population, busy life schedule, and rise in tobacco & alcohol consumption are the major factors contributing to the accelerated growth in long-term health problems or chronic diseases. Additionally, the rapid urbanization, physical inactivity, unhealthy eating, and sedentary lifestyle is pushing millions of people into the trap of chronic disease such as obesity, diabetes, arthritis, tooth decay, and cancer, among others.
Many people with chronic conditions do not have a single, predominant condition, but rather they experience multimorbidity that is two or more chronic conditions at the same time. For example, in the US, it is observed that 6 out of 10 adults have a chronic disease and while 4 in 10 adults have two or more Chronic Diseases during a specific time.
Several therapeutic approaches are available in the market to tackle these chronic diseases. The therapeutic procedures are followed by heavy investment and time. To overcome the growing prevalence of chronic disease, several options in the form of mobile apps, digital assistance, equipment, and devices are available that can easily track the symptom, diagnose the disease, and provide preventative solutions. Among different options, mobile apps have emerged as a leading option for chronic disease symptom tracking and screening, diagnosis, and prevention. Similarly, there is a significant shift in societal behavior towards mobile healthcare applications and the demand is growing with each passing day. Tech companies are also actively working in the domain and coming up with innovative mobile app solutions that can perform diverse functions.
Among various types of apps, the mobile app for mental health is one of the fastest-growing segments. As the mental health problem is growing, the mental health apps demand is also picking up pace. Similarly, the chronic illness tracker is the major use of mobile apps.
With the Wide Range of Mobile Apps, Here are Some of the Top Mobile Health Apps for Chronic Diseases Management include –
Medisafe
Medisafe is one of the leading mobile health apps for medication management. Medisafe provides personalized real-time reminders for each of the medications and vital drug interaction warnings. It is an easy-to-use app and comes with the feature to communicate with the Doctor. Overall, with its wide-ranging application, it truly empowers patients with chronic diseases or other diseases to seamlessly manage their treatment journey. The app has a user base of over 6 million and contains 30,000+ severe drug interaction warnings.
Sleep Cycle (Sleep Recorder)
Being unable to fall asleep and stay asleep is one of the major problems in today's time. Sleep problems are quite common for adults with ADHD. To tackle sleep disorders, apps are available that can help to slow a racing brain, stay asleep, and wake up on time.
Sleep Cycle is an app that can track the sleep cycle and analyze the sleep of the user. It comes with an intelligent alarm clock that actively tracks sleep from bedtime to morning and provides a detailed analysis including sleep patterns and total sleep time which makes waking up at the optimal moment.
Blood Pressure
The Blood Pressure app by MedClin is a useful app that measures and monitors the blood pressure ​systolic, diastolic, and pulse with interactive charts and graphs. It provides blood pressure reports in PDF format that the user can easily share with the doctor. It has an advantage over other apps that it can check the blood pressure zone as per different levels such as Stage 1 and 2 Hypertension, Prehypertension, Normal, and Hypotension). Additionally, it collects vital information that can help to measure and track your progress over a period of time.
Curable
Curable is one of the leading apps in the pain management segment and uses a biopsychosocial approach. It provides evidence-based chronic pain lessons and uses a combination of pain science education and research-backed techniques. The curable app comes with a virtual pain coach named Clara, who after analyzing the user's queries presents 5-20-minute exercises, like guided meditations and visualizations, and lessons, that help the user to better manage his/her health.
Bearable
Bearable is a one-stop solution to track a variety of emotions, mental health, and the severity of the symptoms such as pain, fatigue, and acute and chronic illness. It also provides valuable insights into the user's mood, sleep, exercise, diet, and medication. It is a highly customizable app and delivers a unique solution to each user.
PainScale – Free Chronic Pain Tracker Diary
The PainScale is one of the most popular medical mobile app for pain tracking that manage and scale pain and its symptoms. It delivers personalized pain management education to the users and is trusted by over 100,000 chronic pain patients globally. PainScale has over 800 organized articles, health tips, exercises, and information on pain meditation that helps patients to discover information about treatment options that may work for their condition.
Flaredown
Flaredown is a simple symptom tracking app and a community for chronic illness. It tracks all the illnesses or conditions, symptoms, treatments, and other factors in one place. The user needs to register their health condition daily and utilize the data for building weekly reports and sending a visual health history to the doctor. Additionally, it advises the user on the best affordable treatment.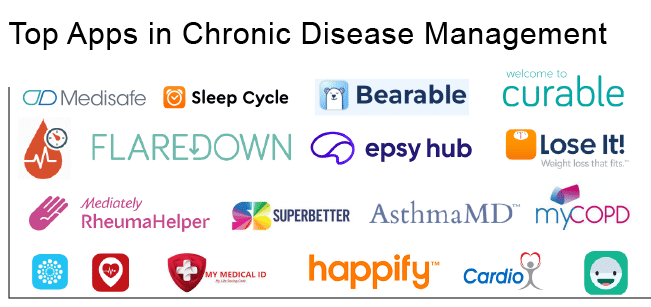 Epsy Health
Epsy Health is an app designed to manage seizures, triggers, and medication. It is one of the leading apps for seizure tracking and aims to provide a better life to the people affected with epilepsy. The app helps to get reminders, log daily routine medications, and also track every other experience about the user's condition. Currently, the app is being used by over 120k people.
FitNow
Obesity or being overweight is one of the leading chronic diseases in today's time. In order to manage Obesity, several apps are available on the market today. Among them, FitNow is one of the leading apps that track weight loss. The app is designed to track your carb, macro, and calorie intake. To further smoothen the fitness journey it can sync with other smart wearable devices like Fitbit trackers, Misfit trackers, Garmin trackers, Withings scales, Google Fit, Healthkit, and more.
SuperBetter
SuperBetter is a Chronic Disease Management (CDM) App that helps in improving mental health. If a person is feeling sad, fighting internal demons, or needs some encouragement, this app provides simple exercises that they may do anytime they need. Each activity is matched with a goal that they want to achieve and assists the person in taking modest steps toward accomplishing it. It also actively recognizes the individual's accomplishments.
My NSCLC Manager
My NSCLC Manager, designed for people with Non-Small Cell Lung Cancer (NSCLC), contains a digital notebook for recording and saving crucial information between medical appointments, as well as the option to track daily symptoms and side effects such as tiredness, mood, and pain level. Charts allow the user to quickly examine their test results and daily symptoms, and a calendar tool allows them to keep track of treatment cycles and set reminders for themself. The individual can also access instructional resources and exchange information with their doctor ahead of time.
AsthmaMD
AsthmaMD allows users to keep a journal of their asthma activity, medicines, and triggers. The information is shown in a color graph that users may share with their clinicians. Furthermore, by agreeing to securely submit encrypted and anonymized data – such as severity, time, date, and location – to a Google-managed database, patients may assist researchers in studying trends in asthma attacks.
MyCOPD
myCOPD is the most comprehensive, user-friendly, and intuitive COPD app available for any device. myCOPD, designed and developed by COPD experts and externally peer-reviewed by prominent NHS physicians, gives patients and their clinical teams unprecedented autonomy. The app provides complete online pulmonary rehabilitation programs from the convenience of your own home to receive the best COPD therapy available.
Propeller
Propeller is an FDA-approved technology that helps individuals understand and regulate their asthma symptoms. A small sensor attached to their inhaler transmits data to the Propeller smartphone app. The app collects data such as where and when the inhaler is used automatically. It also sends out reminders and gives a daily forecast of humidity, temperature, and air quality.
PulsePoint Respond
This app connects the user with CPR-trained community members who are ready to respond to a cardiac (or other) emergency minutes before responding units arrive. The app utilizes the user GPS to alert individuals in the local area who can intervene fast and save lives before EMS arrives. The app directs responders and directs them to the nearest automated external defibrillator. Aside from the "CPR needed" signal, the app may alert the user to other surrounding situations and events, with benefits such as keeping them and their family safe and avoiding morning commute gridlock.
My Medical ID
The My Medical ID Chronic Disease Management app is an excellent fundamental medical app to have on the smartphone. It allows the person to save all of their pertinent medical information, such as diseases, prescriptions, insurance information, and so on. The user may also set up medical reminders or join their community to interact with others.
Happify
Happify is a self-guided CDM app that encourages the person to connect with their thoughts and feelings by utilizing cognitive behavioral therapy (CBT) skills and positive psychology. Happify's journals, activities, and learning "Tracks" are simple to administer and comprehend for those new to these techniques. It helps the individual through a guided evaluation to better understand their talents and how to use them.
Cardiio
Cardiio is a heart fitness app with pulse-reader technology that allows user to measure their heart rate via their fingers. The smartphone's camera light reads the pulse using the camera on the back of the phone. The Cardiio app provides useful information about the resting heart rate, heart rate performance over time, and endurance. Furthermore, the app includes an interval training circuit that the user may do with their doctor's permission to increase their statistics and aerobic abilities.
Daylio
Daylio can assist the individual in identifying the mood patterns sooner so that they can make the necessary modifications. The person may utilize images within the PIN-protected app to document their daily activities and moods, then watch the app generate figures and patterns to help them better understand their mood. Moreover, the reminders help to stay on track with the monitoring and journaling activity.
Key Benefit of App in the Chronic Diseases Management
Over the past few years, mobile applications have emerged as a phenomenal solution to tackle the growing burden of Chronic Diseases. Self-monitoring or personal health tracking is one of the major usages of mobile apps. Additionally, digital education and providing feedback are other typical uses.
Faster access to providers and care is one of the major advantages of mobile apps. With the smartphone in hand, the user can easily send secure messages, plan appointments, and connect to providers for 24/7 assistance. It saves valuable time and money, reduces hospital readmissions, and ensures optimum health outcomes. Similarly, medication adherence is one of the major components of the treatment journey, especially, in the case of Chronic Diseases for which the user needs to take medication at a regular interval. In the case of chronic diseases, the mobile apps can send regular reminders to the user about the automated medication and refill reminders, and other vital information.
With the busy life schedule, it becomes difficult to get in regular contact with the physician. However, with mobile apps, remote patient monitoring is quite convenient. The user can efficiently send the biological data to the doctors for health monitoring. In the case of diseases such as blood pressure, obesity, and asthma, mobile apps can bring revolutionary changes.
As estimated, with a projected increase in the prevalence of chronic diseases, the demand for the chronic illness app in the healthcare industry is likely to grow and expand in the coming years. The widespread usage and advancement in technology "the doctor and the patient" is expected to reduce significantly with the usage of apps and other digital health tools.
Major Drawbacks of Chronic Diseases Apps
One issue that digital health applications have is that they are difficult to offer directly to patients, making them an unlikely source of paying clients. Given that people are not used to paying for chronic disease treatment other than conventional co-pays for doctor visits and prescription medications, the costs of gaining individual patients as clients are likely to be relatively expensive. Moreover, people do not regard chronic disease treatment as a leisure activity. In reality, Chronic Disease Management apps frequently impose a set of habits (like exercise and nutritional restrictions) that many people would prefer to avoid. Thus, potential users perceive Chronic Disease Management apps that monitor health issues and provide medical advice as something that the health care system — insurers or providers — should pay for. With very few patients ready to pay for digital technologies, health care businesses are the most likely source of income for app developers.
Furthermore, many people are concerned about their privacy and data security and as a result, they are not trusting these CDM apps which is also a major barrier to the CDM apps market growth. In addition, the accuracy of the CDM apps is also among the major issues faced by the app developers. The inaccurate data displayed by these apps remains a major concern for the patients and hinders the growth of the Chronic Disease Management apps market.
Future Perspective
As per the estimates, In the United State, nearly 90% of the annual healthcare expenditures are utilized in the management of chronic and mental health conditions. Despite this, over half of Americans with chronic diseases have two or more, thus it is critical that CDM products accommodate numerous ailments and connect seamlessly with a provider's workflow and electronic medical record system. For patients, the chronic illness apps may need to be customized so that the frequency of protocol reminders does not become overwhelming or frustrating. An app developer's product has the ability to improve with increased client use. Such advancement is critical: Development is a continuing process, as it is with any software product. Early versions frequently encourage users to suggest ways to improve the app's present functionalities or add new features to increase its value. Such enhancements have the potential to broaden the app's impact in a variety of ways.
Furthermore, Chronic Disease Management app developers must collaborate with organizations that perceive the value proposition of paying for an app and can attract individual physicians and patients to utilize it in order to foster larger uptake and use of their products. Although many CDM applications provide the capabilities required to effectively manage chronic illness, they must nevertheless overcome significant institutional impediments to their continued usage. Developers of Chronic Disease Management apps will boost their chances of success in practice by recognizing the necessity of controlling various processes – acceptance, diffusion, usage, and improvement.