Follicular Lymphoma is the second most widespread non-Hodgkin lymphoma subtype, accounting for roughly 20% of all NHL cases. It is a slow-growing (low-grade) NHL that develops from B cells. It is called follicular lymphoma because the abnormal B cells usually develop in clumps called 'follicles' inside lymph nodes. Till date, it is not very evident as to what actually causes follicular and other non-Hodgkin's lymphomas. Unlike some cancers, they are not passed down in families. In some cases, radiation or cancer-causing chemicals, or certain infections, may be a cause. But other times there is no known cause. It can develop at any age, but it is more common in people over 60. Follicular Lymphoma symptoms include painless swelling of the lymph nodes in your neck, groin, stomach, or armpit, shortness of breath, fatigue, night sweats, weight loss, fever and it is also seen that several times no symptoms are observed in Follicular Lymphoma patients.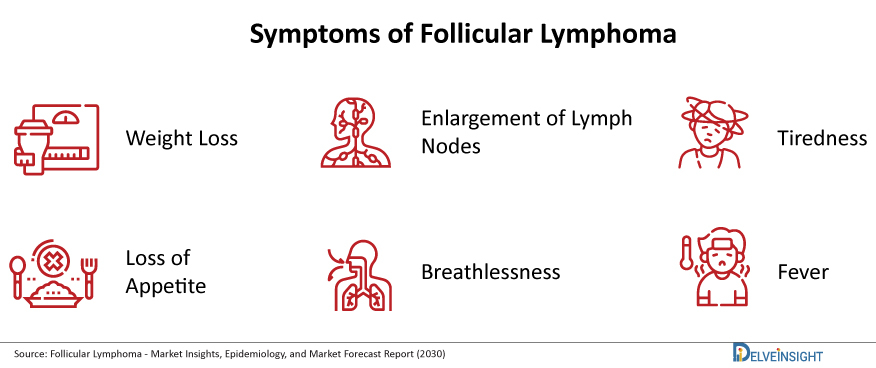 There is no permanent cure for Follicular Lymphoma, and it is considered to be more of chronic disease. There is a possibility of patients surviving several years with this form of lymphoma. The clinical course of Follicular Lymphoma can be quite variable, ranging from a very indolent course spanning decades to a clinically highly aggressive course with a brief duration of response after treatment and disease recurrence within 1–2 years of initial treatment. Nearly 10–30% of patients with Follicular Lymphoma are diagnosed with either stage I or II diseases. Follicular Lymphoma histology involves a procedure called a biopsy, which is usually done under a local anaesthetic using a 'needle core biopsy', to remove a 'core' of tissue from a lymph node. It is also important to know about the area of the body affected by lymphoma known as Follicular Lymphoma staging. Staging usually involves having a CT scan and often also a PET scan.

Doctors have developed the Follicular Lymphoma International Prognostic Index (FLIPI) to help provide a Follicular Lymphoma prognosis for this specific type of cancer. The risk is calculated based on the patient's "prognostic factors," which includes things like age, the stage of cancer, and how many lymph nodes are affected. This system helps categorize follicular lymphoma into three categories – low risk, intermediate-risk, and high risk.
According to Delveinsight analysis, among the 7MM, the United States accounted for the highest number of incident cases of Follicular Lymphoma in 2020 (14,730 cases) which will increase by 2030. The incident population of Follicular Lymphoma in the 7MM countries combined was estimated to be 35,737 cases in 2020.
As per DelveInsight, the Follicular Lymphoma market size in the 7MM was USD 1,451 million in 2020, which is anticipated to increase during the forecast period.
A better understanding of disease biology over the year, along with an increasing arsenal of therapies, has resulted in significant improvements in Follicular Lymphoma treatment. The treatment therapies have opened up new avenues for patients with relapsed or refractory disease. This is critical since individuals with Follicular Lymphoma often live for longer periods and typically require multiple lines of treatment. Frontline regimens often entail chemoimmunotherapy combinations, although nonchemotherapy techniques used in the relapsed or refractory environment have recently been launched in this scenario and may provide a less toxic option for select patients.

At present, pharma and biotech companies including Incyte Corporation, Bristol Myers Squibb, Nordic Nanovector, ADC Therapeutics, MorphoSys, Nordic Nanovector, Regeneron Pharmaceuticals, Novartis, MEI Pharma, BeiGene, Xynomic Pharma, TG Therapeutics, Roche, Takeda, and several others are exploring in the Follicular Lymphoma market space.
There is no such thing as a solution that fits everyone. Multiple alternatives for patients with Follicular Lymphoma in second-line and subsequent therapy are mentioned in the National Comprehensive Cancer Network (NCCN) guidelines, including lenalidomide with rituximab, lenalidomide plus obinutuzumab, or tazemetostat (the EZH2 inhibitor). R-CVP [rituximab, cyclophosphamide, vincristine, prednisone], bendamustine plus rituximab or obinotuzumab, or R-CHOP [rituximab, cyclophosphamide, doxorubicin, vincristine, prednisone] are some of the chemotherapy treatments indicated in the guidelines.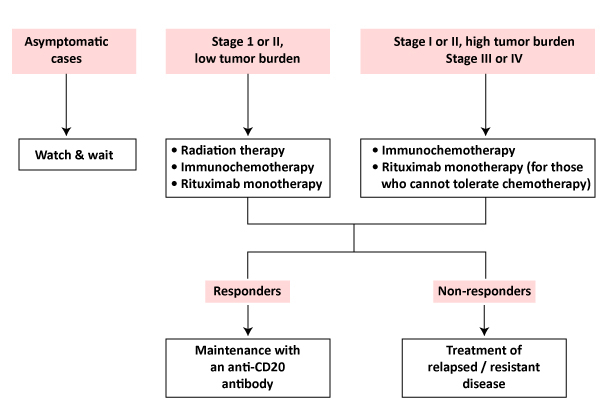 According to the NCCN recommendations, rituximab with bendamustine is a category 1A recommendation. In patients with previously untreated stage III or IV indolent NHL, a hit-to-hit trial showed that rituximab-bendamustine had a better Progression Free Survival (PFS) and fewer adverse events than R-CHOP.
In addition, a hit-to-hit trial found that obinutuzumab plus chemotherapy had a better Follicular Lymphoma survival rate (PFS) than rituximab plus chemotherapy in the population of patients with the disease. Lenalidomide plus rituximab (R2) is a common choice for second-line therapy.
Some of the new Follicular Lymphoma treatment therapies being tested include:
New antibody therapies, including antibodies that bind to two different targets (one on lymphoma cells and one on T cells, which helps the T cells find and destroy the lymphoma cells). These are called 'bispecific' antibodies.
Antibody-drug conjugates (antibodies joined to chemotherapy drugs). The antibody sticks to a protein on the surface of lymphoma cells and carries the chemotherapy drug directly to it.
Checkpoint inhibitors, which stop lymphoma cells from blocking the pathways and the immune system uses to recognise and destroy cancer cells.
Cell signal blockers, which block signals that B cells send to help them divide or stay alive. Cell signal blockers include targeted drugs such as BTK inhibitors, PI3K inhibitors and BCL-2 inhibitors, named after the particular proteins they block.
CAR T-cell therapy, which involves genetically modifying your own T cells so they can recognise and kill lymphoma cells.
Drugs that block proteins linked to particular genetic changes in lymphoma cells.
Relapsed or Refractory Follicular Lymphoma
Treatment for Follicular Lymphoma is usually effective. However, Follicular Lymphoma usually comes back (relapses) and needs more treatment at some point. Most people with this disease need several courses of treatment during their illness. The length of remission after successful treatment can vary widely, so it can be difficult to predict how long it might be before you need more treatment. Some people stay in remission for several years but others need more treatment sooner. Occasionally, lymphoma doesn't respond well to your first treatment. This is called 'refractory' lymphoma. Refractory lymphoma is usually treated in a similar way to relapsed lymphoma.
Patients with relapsed or refractory Follicular Lymphoma have new hope owing to recently approved therapies. Tazemetostat is the first FDA-approved oral EZH2 inhibitor, with accelerated approval in June 2020 for patients with R/R FL who have had two or more previous systemic treatments or who have no adequate other therapy alternatives. In about 20% of FL cases, EZH2 is mutated. EZH2 is mutated in roughly 20% of FL cases. This mutant version of EZH2 is known to be inhibited by tazemetostat. Tazemetostat is unique because it can inhibit both the wild-type and mutant forms of EZH2, which are both abundant in the germinal centre. Those with a mutant EZH2 gene, on the other hand, have a greater response rate. Chimeric antigen receptor (CAR) T-cell therapy has just emerged as an interesting new treatment option for this patient group. Yescarta, a CAR-T cell therapy developed by Gilead subsidiary Kite, has received accelerated approval from the US FDA for indolent Follicular Lymphoma, making it the first CAR-T cell therapy approved in this indication. The key CART therapies currently in development for the treatment of patients with relapsed or refractory FL are Kymirah (Novartis) and Breyanzi (Bristol Myers Squibb). There may be a subset of follicular patients who benefit the most from this treatment.
Evolving Future for Follicular Lymphoma
The armamentarium of therapeutic possibilities is constantly evolving, with various novel medicines seeking to attack distinct biological vulnerabilities of Follicular Lymphoma. The newest bispecific antibodies (Mosunetuzumab and Odronextamab) seem to be a promising asset, with lower toxicity and easier patient administration. In addition, newer-generation phosphatidylinositol 3 kinase (PI3K) inhibitors are being developed to minimize the toxicity of the current drugs. Incyte's Parsaclisib is a new PI3K inhibitor of the next generation. In Phase II clinical trial, it is currently being developed for FL.
| Pipeline Therapies | Key Companies |
| --- | --- |
| Parsaclisib | Incyte Corporation |
| Breyanzi/JCAR017 | Bristol Myers |
| Monjuvi/Tafasitamab | Incyte Corporation/MorphoSys |
| Imbruvica/Ibrutinib | AbbVie/Janssen Research & Development |
| Mosunetuzumab | Roche |
| Odronextamab/ REGN1979 | Regeneron Pharmaceuticals |
| Kymriah | Novartis |
| Zandelisib | MEI Pharma |
| Zanubrutinib | BeiGene |
| Abexinostat | Xynomic Pharma |
| Nivolumab/Opdivo | Bristol Myers Squibb |
| Atezolizumab/Tecentriq | Hoffmann-La Roche |
| Ninlaro/Ixazomib | Takeda |
Follicular Lymphoma Pipeline Therapies and Key Companies in the Domain
Zandelisib (ME-401) is also a once-daily, oral, selective PI3Kδ inhibitor under clinical development for the treatment of B-cell malignancies. ME-401 shows high selectivity for the PI3Kδ isoform and differs from other PI3Kδ inhibitors in terms of pharmacological characteristics. Other therapies for the treatment of Follicular Lymphoma, such as Abexinostat (Xynomic Pharmaceuticals), Betalutin (Nordic Nanovector), and Loncastuximab Tesirine (ADC Therapeutics), have the potential to cause a major positive shift in the Follicular Lymphoma market size in the following years.
Major Pharma Giants and Evolving Pipeline Therapies in the Follicular Lymphoma Treatment Domain
Scientists are also testing many different targeted treatments in clinical trials for Follicular Lymphoma, including some treatments that are already approved for other types of lymphoma. Many of these new targeted drugs work by helping your own immune system gets rid of the lymphoma. They might offer the possibility of more chemotherapy-free treatments in the future.
Frequently Asked Questions
Can transformed Follicular Lymphoma be cured?
Indolent lymphomas are generally not curable with standard therapy, but they are treatable. These are usually considered chronic diseases that may be successfully managed and may never become life-threatening in some patients.
Is Follicular Lymphoma terminal?
Follicular lymphoma is usually not considered to be curable, but more of a chronic disease. Patients can live for many years with this form of lymphoma.
Will I die from Follicular Lymphoma?
Although follicular lymphoma remains the most common cause of death after 10 years, death from other causes is more likely in low-risk subgroups, such as those with prolonged initial event-free survival (EFS) or patients whose disease never transforms to a more aggressive state.
Can you live a long life with Follicular Lymphoma?
The five-year survival rate for follicular lymphoma is between 80 and 90 percent, which means at least 80 to 90 percent of patients diagnosed with follicular lymphoma can live for at least five years after the diagnosis. Half of the patients diagnosed with this type of cancer can live for approximately 10 to 12 years.