On 27 October 2023, Coherus BioSciences and Shanghai Junshi Biosciences received FDA approval for Loqtorzi (toripalimab), marking a significant milestone as the first-ever sanctioned treatment for nasopharyngeal carcinoma. The medication has gained approval for use alongside cisplatin and gemcitabine as an initial treatment for individuals diagnosed with metastatic or locally advanced nasopharyngeal carcinoma. The introduction of Loqtorzi is poised to become the new benchmark in patient care when employed in conjunction with chemotherapy.
With this recent approval, Junshi has triumphed over BeiGene as the first to obtain FDA approval for a China-produced PD-1 drug. BeiGene's tislelizumab is experiencing a comparable delay in regulatory procedures due to COVID-related travel restrictions in China. During the extended FDA review, Novartis recently withdrew from its collaboration with BeiGene on PD-1. The Chinese market for PD-1/L1 therapies, now comprising over a dozen approved products, has intensified significantly. Junshi's Tuoyi sales reached 668 million yuan ($91 million) across various indications in the initial nine months of 2023.
Both Junshi and Coherus aim to combine toripalimab with other compounds. In the recent statement by Coherus, Lanfear emphasized the company's interest in exploring toripalimab in conjunction with their IL-27-targeted casdozokitug and CCR8 inhibitor CHS-114. There's been considerable interest from potential partners regarding Loqtorzi at Coherus, leading to discussions for potential collaborations. Coherus is actively exploring partnerships in the realm of T-cell bispecifics and antibody-drug conjugates, with an aim to finalize some of these discussions by mid-2024.
Approval for this indication came almost five years after toripalimab, the first domestically developed anti-PD-1 drug in China, received regulatory clearance. It was initially approved for treating previously treated melanoma. The collaborators encountered a regulatory journey in their path to securing this approval. In 2022, the FDA initially declined toripalimab, citing the need for a revision in the quality control procedures and on-site inspections, which were impeded by pandemic-related travel restrictions in China. With ongoing challenges related to travel in China, the FDA failed to meet its scheduled action date in late 2022. Junshi BioSciences originally developed the drug, while Coherus BioSciences acquired U.S. and Canadian rights in early 2021, making an upfront payment of $150 million. In the United States, the antibody will be marketed under the name Loqtorzi, and it is expected to be launched in the first quarter of 2024.
"LOQTORZI's initial approval marks a significant milestone for Coherus, positioning the company as an innovative force in oncology. As an advanced PD-1 inhibitor, it serves as the cornerstone of our immuno-oncology strategy, showcasing remarkable outcomes in NPC, indicating extended survival rates for cancer patients," stated Denny Lanfear, Chairman and Chief Executive Officer of Coherus. "Our focus now shifts to the broadening landscape, with plans to explore LOQTORZI's potential across various tumor types. This includes combination studies with immune-oncology agents targeting the tumor microenvironment, like our IL27-targeted antibody, casdozokitug, and our CCR8 inhibitor CHS-114. These ventures hold promise to significantly enhance the survival rates of a larger cohort of cancer patients."
Nasopharyngeal cancer is relatively rare within the United States, yet its prevalence is notably higher in specific regions across North Africa, the Middle East, and Asia. While the risk of developing nasopharyngeal cancer gradually rises over a person's lifetime, it's important to note that it can manifest at any age, including in children. As per findings from the latest DelveInsight's Nasopharyngeal Cancer Market Report, males are most commonly affected in the case of nasopharyngeal cancer.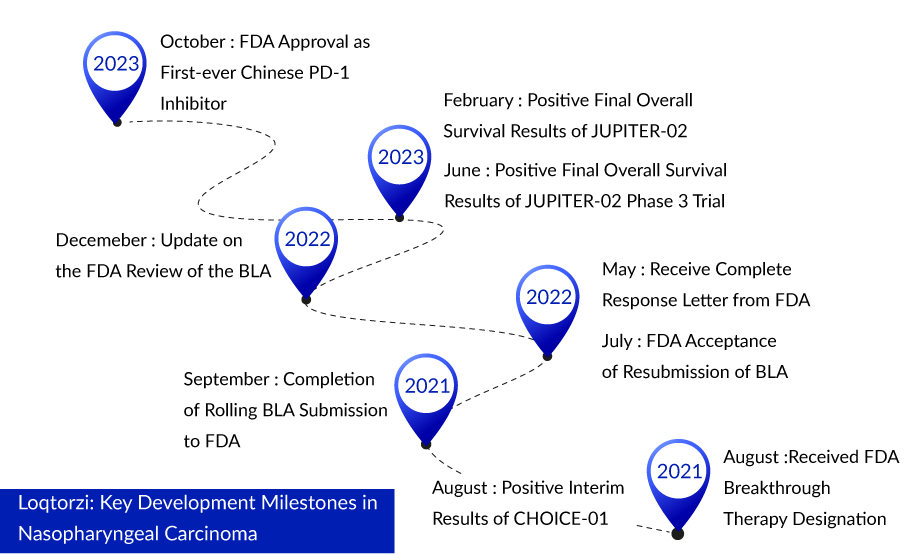 "Today's FDA approval of LOQTORZI marks a significant advancement for individuals grappling with NPC, a condition that currently lacks comprehensive treatment choices, necessitating innovative therapies to combat this fast-progressing and life-threatening cancer," stated Dr. Jong Chul Park, M.D., Assistant Professor at Harvard Medical School and an attending physician at the Center for Head and Neck Cancers at Massachusetts General Hospital Cancer Center. "LOQTORZI introduces a new dimension in treatment, displaying substantial enhancements in PFS and OS, positioning it to promptly establish itself as the leading standard of care when employed alongside chemotherapy."
Loqtorzi is a specialized monoclonal antibody designed to inhibit PD-1 ligands PD-L1 and PD-L2 at a distinctive site on the PD-1 receptor, prompting the immune system to activate and eliminate the tumor. Its effectiveness in providing long-lasting anti-tumor effects has been observed in individuals with recurrent or metastatic nasopharyngeal carcinoma who had not experienced prior benefits from chemotherapy. Furthermore, the safety profile of Loqtorzi aligns with the characteristics typical of PD-1 inhibitor medications.
Coherus substantiated its FDA application using findings from the Phase III JUPITER-02 study. This trial stands as the most extensive randomized, double-blind, placebo-controlled, global, multi-center clinical investigation assessing a checkpoint inhibitor combined with chemotherapy for the initial treatment of recurring or metastatic nasopharyngeal carcinoma.
Individuals who underwent a combined treatment of Loqtorzi and chemotherapy experienced notable advancements in their health outcomes. The addition of Loqtorzi to chemotherapy notably increased progression-free survival (PFS), reducing the risk of disease progression or mortality by 48% in comparison to patients solely receiving chemotherapy. Moreover, Loqtorzi demonstrated statistically significant and clinically impactful enhancements in overall survival (OS), showcasing a 37% decrease in the risk of mortality in contrast to those treated with chemotherapy alone.
The approval was additionally supported by findings from the POLARIS-02 Phase II trial, where Loqtorzi exhibited long-lasting anti-tumor efficacy in patients with recurrent or metastatic nasopharyngeal carcinoma who had previously experienced chemotherapy failure. According to the announcement, this mid-stage study revealed an objective response rate of 20.5%, a disease control rate of 40.0%, and a median overall survival (OS) of 17.4 months, all while maintaining a favorable safety profile.
In China, domestically produced PD-1 inhibitors are priced more competitively compared to Western alternatives like Merck & Co.'s Keytruda and Bristol Myers Squibb's Opdivo. Junshi introduced toripalimab as Tuoyi in China in 2019, offering it at roughly one-third the local price of Keytruda, which itself was priced at half the U.S. list price of the Merck drug. Through several price adjustments, the annual cost of Keytruda in patient assistance programs dropped to about 70,000 yuan (around $9,600), while domestic PD-1s are available for as low as approximately 40,000 yuan under the national reimbursement scheme. The pricing landscape in China created optimism among experts that the domestically produced PD-1s would be competitively priced upon their arrival in the U.S. Prior to Loqtorzi, there were six PD-1 inhibitors accessible in the U.S. market, all of which carried annual list prices exceeding $150,000.
Last year, Eli Lilly sought to address this scenario. In an rare strategy and an apparent final attempt to influence the FDA prior to an imminent rejection, Lilly made an unconventional move by proposing a 40% discount on Tyvyt, a drug it was collaborating on with Innovent Biologics, in comparison to existing PD-1 inhibitors. However, the FDA subsequently rejected the approval of Tyvyt due to concerns regarding its phase III data, which were gathered solely in China using a comparator that was deemed inadequate and not reflective of the current treatment standards in the United States.