Oncology has become a growing area of interest for pharmaceutical companies over the years. With a significant increase in R&D and healthcare spending worldwide, companies ranging from large pharmaceutical conglomerates to smaller biotech organizations are frantically attempting to capitalize on lucrative market opportunities. As a result, pipeline activities for the most common cancers – breast, lung, prostate, and colorectal cancer – have been accelerated. Aside from solid tumors, hematological malignancies have seen an increase in clinical activity.
Traditional cancer treatment options such as surgery, radiation therapy, and chemotherapy remain the mainstays. In addition, treatment options such as immunotherapy and, more recently, targeted therapies have emerged. Even though these treatments are effective, they do not produce long-term efficacy in late-stage or metastatic cancers. Furthermore, these options have various side effects or safety concerns; for example, a cytotoxic agent fails to distinguish between normal and cancerous cells. Despite this, the emergence of immunotherapy in recent years has transformed cancer treatment.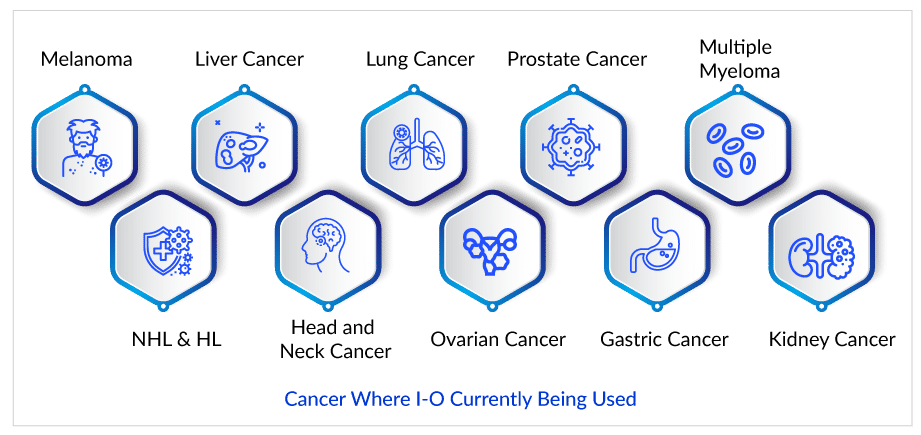 The Era of Cancer Treatment Expansion
Despite being one of the most thoroughly researched fields, it is quite complicated and unpredictable. Nonetheless, since the US Food and Drug Administration (US FDA) approved Yervoy (Ipilimumab), the first checkpoint inhibitor, to treat melanoma in 2011, the cancer treatment paradigm has shifted dramatically. As a result, multiple checkpoint inhibitors have been approved for the treatment of various cancer types and have become the standard of care. The US FDA approved Opdivo (nivolumab) and Keytruda (pembrolizumab) to treat melanoma in 2014. Opdivo and Keytruda were later approved for use in non-small cell lung cancer (NSCLC), renal cell carcinoma (RCC), head and neck squamous cell carcinoma (HNSCC), urothelial carcinoma, and microsatellite instability-high colorectal cancer, among other indications. Tecentriq (atezolizumab), Bavencio (avelumab), Imfinzi (durvalumab), and Libtayo (cemiplimab) are also approved to treat various types of cancer.
Extensive genomic studies have aided in the identification of molecular biomarkers and directed the beginning of targeted therapies as a significant additional option, which has fueled the evolution of cancer treatment. Immunotherapy can potentially enable long-term immunity against cancer cells while also increasing survival expectations. Over the last few years, new I-O targets have been added to the pipeline regularly. Top targets of pharmaceutical companies include CD19, PD-1, PD-L1, CTLA-4, HER2, HPV, IDO1, NY-ESO-1, MUC1, CSF1R, WT1, BCMA, and STAT3. Among these, I-O targets, CTLA-4, PD-1, PD-L1, CSF1R, HER2, and CD19, have already established themselves as market leaders.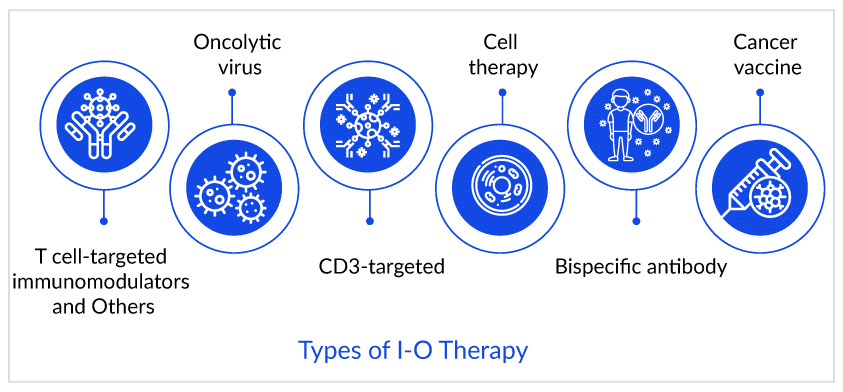 Current Cancer Treatment Options are Not Sufficient
I-O drugs, particularly immune checkpoint inhibitors, have been used in various settings for lung cancer. Patients with NSCLC have exceptional tumor molecular profiles but poor survival outcomes. Targeted therapy based on defined biomarkers is driving personalized treatment options, particularly treatments targeting programmed death 1 (PD-1) or its ligand PD-L1. Opdivo is the first FDA-approved treatment for advanced NSCLC in patients whose cancers have progressed on standard therapy in the United States.
However, Keytruda was the first therapy to receive regulatory approval in front-line settings for NSCLC. Aside from that, other immunotherapies for NSCLC have been approved as a secondary option for patients whose cancers have not responded to chemotherapy. Keytruda has been approved for first-line (PD-L1 positive 50% only) and second-line (PDL1>1%) treatment of advanced NSCLC. Furthermore, in non-squamous histology, it has been approved as a first-line therapeutic option in combination with pemetrexed/platinum.
In NSCLC, approximately 25-30% of patients experience long-term benefits, while the majority of patients exhibit primary or acquired resistance. However, the question of the next best option remains if the patient (without driver mutation) progresses after I-O treatment or is found to be a non-responder. In such cases, platinum-based chemotherapy with or without other therapies is currently the answer. These therapies are primarily reserved for patients who have progressed after receiving PD-L1 inhibitors in the first-line setting and those who receive it in the second-line setting if they did not receive it in the first-line setting. Opdivo is commonly used in second and later-line settings. It is important to note that while the best option for patients with primary resistance has yet to be determined, the use of the above options appears reasonable. However, due to safety and efficacy concerns, specialists would hesitate to recommend these therapeutic options.
In contrast, while there are some concerns about I-O agents, it is widely acknowledged that they are far superior and safer than traditional chemotherapeutic agents. As a result, there is still a need for reliable markers for selecting the right patient. In addition, I-O agents outperform conventional options in terms of survival.
Promising Therapies for I-O Resistant Cancers in Pipeline
Companies such as Mirati Therapeutics, Bristol-Myers Squibb, BeyondSpring Therapeutics, Daiichi Sankyo, AstraZeneca, Symphogen A/S, Nektar, Vaccinex, Taiga Biotechnologies, F-star Delta Limited, and many others are evaluating their lead candidates for I-O resistant cancers in different stages of development. Currently, a randomized phase III study of Sitravatinib in combination with Nivolumab vs. Docetaxel in patients with advanced non-squamous NSCLC who have disease progression on or after platinum-based chemotherapy and checkpoint inhibitor therapy (2nd or 3rd line checkpoint refractory) is underway by Mirati Therapeutics.
Plinabulin, a BeyondSpring Pharma product, is a first-in-class, unique small molecule. It is currently being developed as a triple combination of PD-1/PD-L1 plus chemo or radiation therapy. This candidate is being investigated for 2nd/3rd line NSCLC (Plinabulin + docetaxel) in the DUBLIN-3 clinical study. Patients in this trial progressed during or after treatment with one or two treatment regimens. Chemotherapy, targeted therapy, biological therapy, or immunotherapy can be used to treat advanced (Stage IIIB) or metastatic disease (Stage IV). Prior PD-1/PD-L1 inhibitor immunotherapy is not required. Plinabulin in combination with nivolumab, is also being studied for NSCLC (2nd/3rd line). Additionally, it is being studied for SCLC and other cancer indications.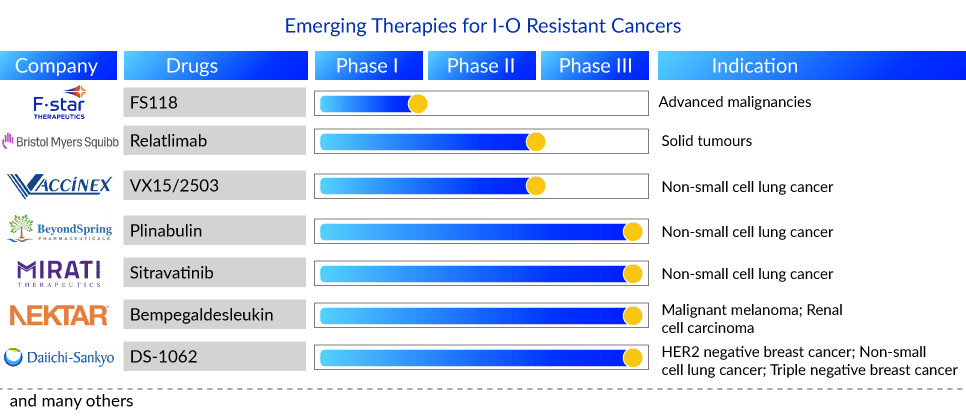 Bristol-Myers Squibb is conducting a phase II study to assess the safety, tolerability, and efficacy of an anti-LAG-3 monoclonal antibody (BMS-986016, also known as relatlimab) administered alone and in combination with an anti-PD-1 monoclonal antibody (Opdivo) in advanced solid tumors. In addition, F-star Delta Limited is evaluating its LAG-3/PD-1 bispecific antibody (FS118) in advanced malignancies that have progressed on or after prior PD-1/PDL1 containing therapy in phase I.
Moreover, Bempegaldesleukin, a product of Nektar Therapeutics in combination with Opdivo—is being investigated in a phase III study for melanoma, RCC, and in phase I/II for NSCLC and breast cancer. Furthermore, Vaccinex [monoclonal antibody targeting SEMA4D (semaphorin 4D)] is conducting a Phase Ib/II study to assess the safety, tolerability, and efficacy of VX15/2503 in combination with avelumab in subjects with advanced (stage IIIB/IV) NSCLC who have either progressed on first or second-line systemic anticancer therapy.
Daiichi Sankyo has announced a clinical trial collaboration with a Merck & Co. subsidiary to evaluate their TROP2 (trophoblast cell surface antigen 2) directed DXd antibody-drug conjugate (ADC), DS-1062, with Keytruda in patients with previously-treated advanced or metastatic NSCLC without actionable genomic alterations, and who have previously treated with platinum-based chemotherapy with at least one regimen of PD-1/ PD-L1-directed immunotherapy, either in combination or sequentially. Aside from that, Daiichi Sankyo and AstraZeneca announced a global collaboration in July 2020 to develop and commercialize DS-1062, except in Japan. This product is also being studied in patients with unresectable/advanced or metastatic triple-negative breast cancer.
Future of I-O Resistance
There will be increasing obstacles to expanding the indications of I-O agents and disabling treatment resistance. Currently, research is being conducted to investigate the resistance to providing better treatment options to patients. If one wants to combat I-O resistance, the first thing to change is unsupported assumptions and perceptions that if a drug works better in one cancer type, it will inevitably work better in another. NSCLC and SCLC are two good examples (Small Cell Lung Cancer). Keytruda and Opdivo are performing well in NSCLC, but they are having difficulty finding a niche in the SCLC treatment landscape. The same is true for hematological malignancies; checkpoint inhibitors are a smash hit in solid tumors but are being held back in ongoing clinical trials due to adverse safety issues in hem-malignancies (Example: Keytruda, nivolumab, and others).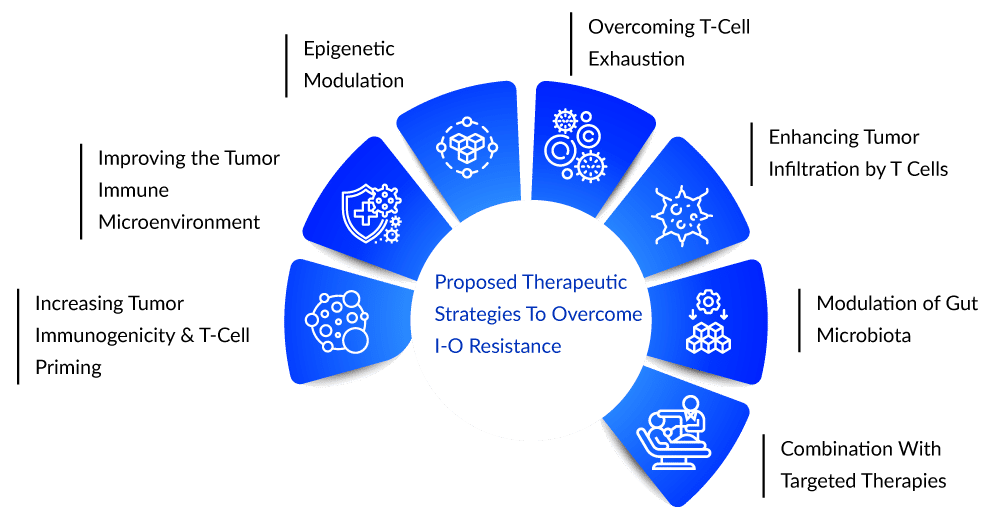 Pipeline candidates are being discussed in terms of overcoming primary and secondary resistance to currently available I-O agents, activating effector cells, and targeting immunosuppressive mechanisms in the tumor microenvironment. Numerous targets have shown promise as resistance biomarkers and as combination therapy targets, and it has also been demonstrated that primary resistance can be overcome by targeting related pathways. Combination trials targeting indoleamine 2,3-dioxygenase (IDO) and T-cell immunoglobulin mucin-3 (TIM-3) are being considered to address this issue. Aside from that, Lymphocyte Activation Gene-3 (LAG3) and V-domain Ig suppressor of T cell activation (VISTA) are being tested to overcome cancer immunotherapy resistance.
Any of these approaches could help restore the immune response to cancer, as there is currently no universal corrective solution to immunotherapy. Perhaps in the future, determining which immunotherapy to use and when to use it will be determined by personalizing the underlying cause in an individual. However, more research and patience are required because that time has not yet arrived. If any therapy is successfully approved for this patient segment, the product will have a first-to-market advantage because it is unique within the space of approved indications in terms of the type of cancer and line of therapy.Assuming that competition in cancer research is increasing, multiple companies may adapt or change their approach by targeting and testing new drugs in multiple settings to include a diverse subset of the patient pool, including the I-O refractory pool. With the passage of time, key players are undoubtedly fueling new oncology inventions more than ever before. To summarize, there is no simple path to success in oncology. However, companies are constantly looking for and paving their way to a profitable position, even in resistant patient subgroups.