Immunotherapy also called biologic therapy, is a type of cancer treatment that boosts the body's natural defenses to fight cancer. Cancer immunotherapy (CI) is recently advancing at a rapid pace and can be considered as the "fifth pillar" of cancer treatment, joining the ranks of radiation, cytotoxic chemotherapy, surgery, and targeted therapy. Cancer immunotherapy has sparked interest in involving antibodies to inhibitory immune checkpoint molecules. Lymphocyte Activation Gene 3 (LAG 3) is highly expressed in various types of tumor-infiltrating lymphocytes (TILs) and participates in the immune escape mechanism of tumors. Therefore, LAG 3 Immunotherapy can be used as an indicator of tumor prognosis and a target of tumor therapy. LAG 3 stands for Lymphocyte Activation Gene 3 or CD223, a gene encoding for a protein, which is involved in the regulation of the immune system.
LAG 3 is a cell-surface molecule expressed on effector T cells and regulatory T cells (Tregs) and functions to control T-cell response, activation, and growth. Preclinical studies indicate that inhibition of LAG 3 may restore the effector function of exhausted T cells and potentially promote an anti-tumor response. Early research demonstrates that targeting LAG 3 in combination with other potentially complementary immune checkpoints may be a key strategy to more effectively potentiate anti-tumor immune activity. Protein structure and function of LAG 3 Immunotherapy.
The process of T cell inactivation and death are present both in cancer and chronic infection. As a co-inhibitory receptor of PD- 1, LAG 3 is highly expressed in chronic virus infection and various tumors. The high expression of LAG 3 is also associated with autoimmune diseases, tumors, and chronic toxic infectious diseases. The rapid development of immuno-oncology (I-O) therapies such as LAG 3 Immunotherapy for multiple tumor types has transformed the cancer treatment landscape and brightened the long-term outlook for many patients with advanced cancer.
Biological Characteristics of LAG 3 Immunotherapy
Immunosuppressive receptor molecules play an important role in the maintenance of immune homeostasis. When T lymphocytes are activated to a certain extent, immunosuppressive molecules, such as LAG 3, CTLA-4, and PD-1 are expressed to maintain the immune response in a stable state. LAG 3 Immunotherapy works by LAG 3 molecule blocking the signal transduction pathway of T cell activation; however, the intracellular segment of the LAG 3 molecule produces immunosuppressive signals, which have been found to regulate CD4+T cell activity. LAG 3 Immunotherapy regulates the immune response of T cells in three ways:
Firstly, it directly inhibits the proliferation and activation of T cells via negative regulation of T cells.
Secondly, it can promote the inhibitory function of Tregs, and the T cell response can then be indirectly inhibited.
Thirdly, it can prevent T cell activation by regulating the function of APCs.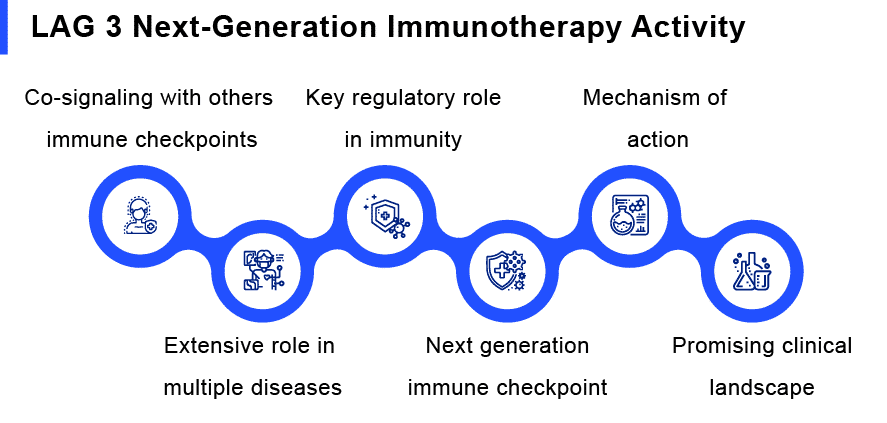 LAG 3 Blockade in Cancer
LAG 3 Immunotherapy aids in regulating the proliferation, cytokine production, and/or cytolytic functions of T cells through its cytoplasmic domain. Although most of the molecular mechanisms remain poorly understood, it is known that LAG 3 recognition of stable peptide- MHC-II complexes is critical for activity. Consequently, LAG 3 expression signals that ongoing responses are active at the inflammatory site (i.e. the TME). The rationale for targeting LAG 3 is based on the presence of a pre-existing immune response.
LAG 3 Immunotherapy Market
Cancer immunotherapy and tumor microenvironment have been at the forefront of research over the past decades. Targeting immune checkpoints, especially programmed death 1 (PD-1)/programmed death-ligand 1 (PD- L1) has made a breakthrough in treating advanced malignancies. However, the low response rate brings a daunting challenge, changing the focus to dig deeply into the tumor microenvironment for alternative therapeutic targets. Strikingly, the inhibitory immune checkpoint for LAG 3 Immunotherapy holds considerable potential.

According to Delveinsight's analysis, the market is expected to show positive growth due to the launch of potential upcoming therapies in the target LAG 3 Immunotherapy in the coming years and as per DelveInsight's analysts, the LAG 3 Immunotherapy market size in the 7MM countries is anticipated to increase and rise up to approximately 6 Billion USD with a significant CAGR by 2035. Moreover, the US will occupy the maximum market share in the overall LAG 3 Immunotherapy market size in 2035.
The increase in LAG 3 Immunotherapy market size is a direct consequence of the increasing incident population of LAG 3 Next-generation Immunotherapies patients in the 7MM, along with the expected entry of premium-priced target-based drugs, which will put a significant impact on the LAG 3 Immunotherapy market size.
Currently, numerous trials are undergoing different indications for target LAG 3 Immunotherapy. The major indications that are anticipated to show a better outcome by the launch of novel drugs include Breast Cancer, NSCLC, Gastric Cancer, Gastroesophageal Junction Cancer, Melanoma, Colorectal Cancer, Head and Neck Cancer, Multiple Myeloma.
Novel & Emerging Next-Generation LAG 3 Immunotherapy
The emerging trend in the Next-generation LAG 3 Immunotherapies with continuous headway movement along with new emerging technologies for the development of targeted therapies is anticipated to give rise to better therapeutic alternatives. Key oncology players, such as MacroGenics, Zai Lab, Novartis, Bristol-Myers Squibb, Ono Pharmaceuticals, Immutep, Regeneron, Xencor, F-star Therapeutics, Merck Sharp & Dohme, Crescendo Biologics, MICROBIO Group, Symphogen, Avacta, Abeome Corporation, etc. are involved in developing novel target LAG 3 Immunotherapies in treatment of various oncology indications. The expected launch of emerging therapies, such as MGD013, LAG525, Relatlimab, MK-4280, Eftilagimod Alpha, REGN3767, XmAb22841, and other treatments, would lead to a significant increase in the LAG 3 Immunotherapy market size in the coming years.

There are many pipeline LAG 3 Immunotherapies in different phases of development under clinical trials, which include –
MGD013: MacroGenics
MGD013 which is currently being developed by MacroGenics is an IgG4κ bispecific DART molecule that binds to PD-1 and LAG 3 concomitantly or independently and disrupts non-redundant inhibitory pathways to restore shattered T-cell function further. The drug is the first in a series of product candidates that distinguish in the multiple immune regulatory targets. The LAG 3 Immunotherapy is currently being evaluated in a Mid-phase study, First-in-human, Open-label, in which the dose and schedule have been established and dose-expansion has been initiated in up to nine tumor types. The study is anticipated to be completed by July 2022.
LAG525: Novartis
LAG525/IMP701 which is under development by Novartis is an investigational immunotherapy being developed to potentially treat a range of solid tumors. The drug is a humanized form of IMP701 and is currently being evaluated in five Phase I and Phase II clinical trials in combination with Novartis' PD-1 inhibitor spartalizumab for the treatment of various cancers. The company has also announced the regulatory submission of the drug in 2023. A randomized, open-label study evaluating the efficacy and safety of novel Spartalizumab (PDR001).
Relatlimab (BMS-986016): Bristol-Myers Squibb
Relatlimab (previously known as BMS-986016) is cancer immunotherapy being developed by Bristol-Myers Squibb (BMS). The treatment has already shown benefits in melanoma patients and is also being tested in other cancers. The drug is in Phase II/III clinical-stage developmental trial in patients with multiple malignancies. LAG 3 Immunotherapy uses the body's own immune system to fight cancer, instead of directly attacking cancer cells. Recently in March 2021, the company announced RELATIVITY-047, a trial evaluating anti-LAG 3 antibodies Relatlimab and Opdivo (nivolumab) in patients with previously untreated metastatic or unresectable melanoma, meeting the primary endpoint of progression-free survival.
Eftilagimod Alpha (IMP321): Immutep
Eftilagimod alpha (IMP321) is being developed by Immutep in the Phase II developmental stage. It is a soluble dimeric recombinant form of LAG 3 Immunotherapy and is a first-in-class antigen-presenting cell activator under clinical development. By stimulating dendritic cells through MHC class II molecules, IMP321 was proven to induce sustained immune responses. Combining active immunotherapy with a standard cytotoxic chemotherapy regimen represents a promising novel strategy that might lead to therapeutic improvements in metastatic breast cancer.
MK-4280: Merck
MK-4280 is co-developed by Immutep and Merck in Phase II developmental stage. It is a humanized, immunoglobulin G4 (IgG4) monoclonal antibody (MAb) directed against the inhibitory receptor lymphocyte activation gene-3 protein (LAG 3), with potential immune checkpoint inhibitory and antineoplastic activities. Upon administration, the anti-LAG 3 monoclonal antibody MK-4280 binds to LAG 3 expressed on tumor-infiltrating lymphocytes (TILs) and blocks its binding with major histocompatibility complex (MHC) class II molecules expressed on tumor cells. This activates antigen-specific T lymphocytes and enhances cytotoxic T-cell-mediated tumor cell lysis, which leads to a reduction in tumor growth. LAG 3, a member of the immunoglobulin superfamily (IgSF), is expressed on various immune cells, and negatively regulates both proliferation and activation of T cells. Its expression on TILs is associated with tumor-mediated immune suppression.
REGN3767: Regeneron
REGN3767 is an immune checkpoint being developed by Regeneron in Phase I for the treatment of both solid tumors and blood cancers. This drug is based on Regeneron's proprietary VelocImmune technology which yields optimized fully human antibodies. The immune system destroys infected or abnormal cells, including cancer cells, by activating specific T-cells.
FS118: F-star Therapeutics
FS118 is a Phase II developmental product by F-star Therapeutics. It is a potential product candidate for the treatment of resistant and refractory cancer. It consists of a tetravalent and bispecific antibody developed to overcome tumor evasion mechanisms promoted by two highly immunosuppressive molecules: LAG-3 (Lymphocyte-Activation Gene 3) and PD-L1 (Programmed Death-Ligand 1). In a Phase I study in patients with advanced cancer and resistance to checkpoint therapy, FS118 administration showed good tolerability and encouraging signs of clinical activity in heavily pre-treated patients who had acquired resistance to prior checkpoint therapy. In January 2021, F-star was granted a composition of matter patent for FS118.
XmAb22841: Xencor
Xencor, which is developing XmAb22841, is in Phase I developmental stage. It is a bispecific antibody that usually targets immune checkpoint receptors CTLA-4 and LAG-3, and it is designed to promote tumor-selective T-cell activation. This drug is based on Xencor's XmAb technology. Xencors' XmAb bispecific Fc domain serves as the scaffold for these two antigen-binding domains and confers long circulating half-life, stability, and ease of manufacture. In January 2021, Xencor and MD Anderson entered a strategic collaboration to develop the drug for the potential treatment of patients with cancer.
INCAGN2385: Incyte Biosciences/Agenus
INCAGN2385, in Phase I/II stage, is being developed by Incyte Biosciences/Agenus. It is a LAG-3 inhibitor that was discovered within Incytes' antibody discovery alliance with Agenus. LAG-3 is a cell surface receptor that negatively regulates antigen-specific T-cell responses. The LAG-3 pathway has been identified as a potential barrier to productive tumor-specific T-cell immunity generated by PD-1/PDL-1 blockade.
To Get Rich Insights on the Market of LAG 3 Targeted Therapies, Visit our Infographics @ LAG 3 Next-Generation Immunotherapy Market
Unmet Needs in LAG 3 Immunotherapy Treatment Landscape
There are several unmet needs still present in the LAG 3 Immunotherapy treatment landscape, which includes some of the following –
The major challenge in the LAG 3 Immunotherapy market is the need to develop agents that are unfailingly effective in the majority of patients and tumor types.
LAG 3 Immunotherapy development is costly, which even tends to affect the R&D activities of the companies because of lack of funding, so definitely there's a need to develop therapies that are affordable.
One of the major limitations of cancer immunotherapy is the availability of tumor-specific antigens (TSAs) which are also known as "neoantigens" are mainly expressed by tumor cells.
The factor that is used to evaluate cancer immunotherapies should be distinct from those used to assess response to chemotherapy and other cytotoxic agents.

Way Ahead
Although the complete biological processes of LAG 3 Immunotherapy are yet to be fully discovered, many clinical trials are under evaluation in early-stage followed by preclinical and discovery stages. The middle-to-late stage also encompasses many clinical trials that are under evaluation. Moreover, the emerging trends in Next-generation LAG-3 Immunotherapies and the addition of new emerging technologies for the development of targeted LAG-3 immunotherapy are anticipated to revolutionize cancer treatment in the coming years.
FAQs
What does LAG-3 mean?
Lymphocyte-activation gene 3 (LAG-3) is an immune checkpoint. receptor protein found on the cell surface of effector T cells and. regulatory T cells (Tregs).
How does LAG-3 work?
LAG-3 on Treg cells inhibits DC proliferation and maturation through the engagement with MHC-II, which is mediated by an ITAM suppressive signaling pathway.
What are some of the key LAG-3 Next-Generation Immunotherapy pioneers proactively involved in developing cancer treatment therapies?
Key oncology players, such as MacroGenics, Zai Lab, Novartis, Bristol-Myers Squibb, Ono Pharmaceuticals, Immutep, Regeneron, Xencor, F-star Therapeutics, Merck Sharp & Dohme, Crescendo Biologics, MICROBIO Group, Symphogen, Avacta, Abeome Corporation, etc. are involved in developing novel target LAG 3 Immunotherapies in treatment of various oncology indications.