Antibody-drug conjugates (ADCs) are becoming more prominent in the cancer treatment market. Antibody-drug conjugates are one of the most rapidly increasing anticancer treatments. This approach uses a mAb attached to a cytotoxic payload via a chemical linker that is directed towards a target antigen expressed on the cancer cell surface, limiting systemic exposure and thereby toxicity. The most commonly targeted antigens in ADCs are ERBB2, CD19, CD33, CD22, and MSLN (mesothelin).
Furthermore, over 50 distinct recognized antigens have been employed as targets in ADC. Previous research has shown that several tumor antigens are also expressed at low levels in normal cells. The concept of ADCs is to deliver a highly effective payload to its target utilizing the best carrier possible. ADCs are administered intravenously into the circulation to avoid mAb breakdown by stomach acid and proteolytic enzymes.
Tumor Markers and Antibodies in ADCs
An antigen with a slightly higher expression pattern in tumor cells than in healthy cells is sufficient to elicit ADC activity. However, the amount of cell surface tumor indicators, like in other targeted drug delivery systems, can be a critical predictor of ADC performance. ADC targets do not always interfere with cell development. When compared to inhibition by preventing cell growth, ADCs tumor-suppressive activity is mostly mediated through tumor marker potency for ADC internalization. However, target biological roles implicated in the cell division pathway (e.g., CD30 and CD70 tumor necrosis factor signaling) can be regarded as advantageous for ADC efficacy.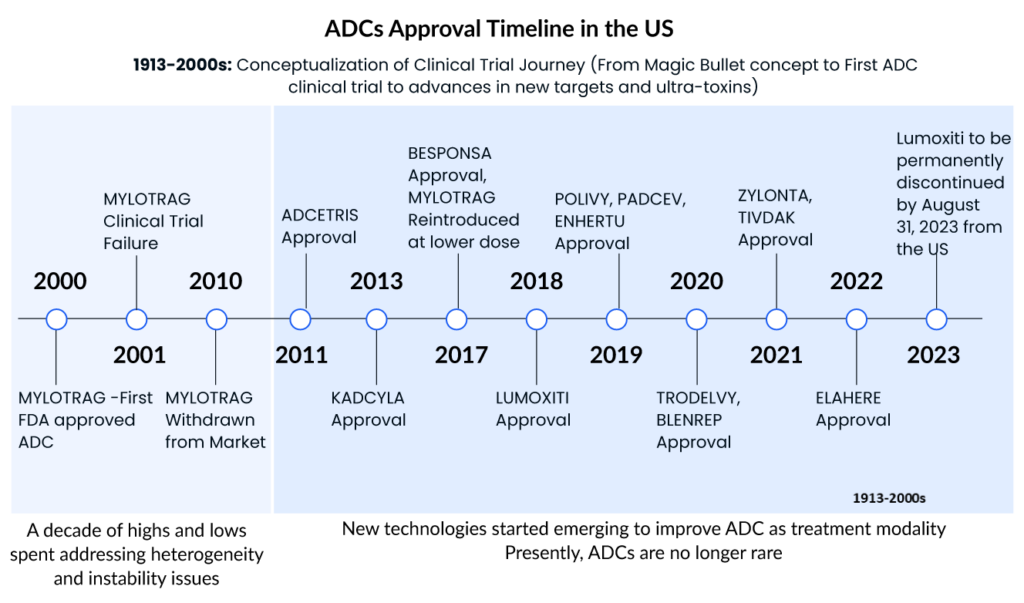 The antibody component in ADCs serves as both a carrier and a targeting agent. The major properties of the Ab component in ADCs are high specificity of targeting and low immunogenicity. These prevent antibody cross-responses to other antigens, avoiding both toxicity and ADC removal/elimination before it reaches the tumor. Another crucial feature in ADC design is the Ab's strong affinity for effective absorption into target cells.
Current Marketed ADCs in Oncology Market
More than 10 ADCs are currently on the oncology market for hematological and solid tumor malignancies, with 8 receiving regulatory clearance since 2019. The recently revealed financial statements for FY2022 show that several ADC drugs, including ADCETRIS by Seagen/Takeda, KADCYLA and Polivy by Roche, TRODELVY by Gilead, and ENHERTU by Daiichi Sankyo/AstraZeneca, have been granted approval for new indications and accelerated to seize the oncology market.
Gemtuzumab ozogamicin (MYLOTARG, Pfizer), the first ADC for oncology, was approved for relapsed CD33+ acute myeloid leukemia (AML) in 2000. The drug was withdrawn in 2010 due to toxicity and lack of efficacy in a Phase III trial, but the FDA approved a lower, fractionated dose in 2017. This drug is also approved in Japan and Europe. Apart from this, several other ADCs also received FDA approval and become the blockbuster ADCs with generating the highest sales. Some of the top ADCs in the oncology market are
Adcetris
Seagen's Adcetris (brentuximab vedotin), which has a CD30-specific mAb conjugated to monomethyl auristatin E (MMAE), was approved by the FDA in 2011, making it the second ADC to enter the cancer market. It is approved in the United States, Europe, and Japan for Hodgkin lymphoma and systemic anaplastic large cell lymphoma (sALCL). Seagen is currently developing ADCETRIS as a monotherapy and in combination with other agents in ongoing trials, including many possible registration-enabling investigations, such as the Phase III ECHELON-3 clinical trial in relapsed or refractory diffuse large B-cell lymphoma.
Kadcyla
Genentech/Roche's Kadcyla (ado-trastuzumab emtansine) revolutionized the field of ADCs in 2013 by becoming the first ADC licensed for the treatment of solid tumors. It is approved as an adjuvant (after surgery) treatment for patients with HER2+ early breast cancer who have previously undergone trastuzumab (Herceptin®) and a taxane, either alone or in combination. This approval was a watershed moment in ADC development because treating solid tumors with such therapy has hitherto been a daunting obstacle. To begin with, prior to Kadcyla, ADC therapy of solid tumors fell short because of many biological obstacles in the tumor microenvironment that hindered drug penetration. Second, unlike in hematologic cancers, the concept of lineage-specific antigen expression does not apply to solid tumors, because the antigens expressed are mostly "tumour associated" rather than "tumour specific."
As the first ADC in solid tumors, KADCYLA ranked first, with sales showing good growth potential. The drug has been on the market for a relatively long time and holds an overwhelming share of the current ADC market.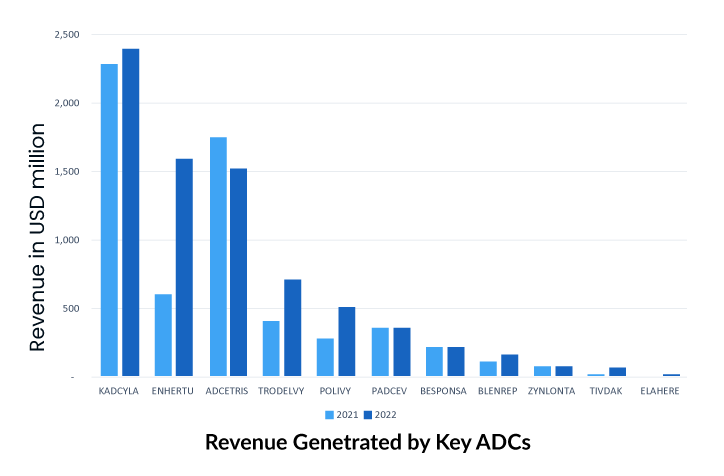 Enhertu
Daichi Sankyo/AstraZeneca's Enhertu (fam-trastuzumab deruxtecan-nxki) was granted accelerated FDA clearance in December 2019 for the treatment of adult patients with unresectable or metastatic HER2+ breast cancer who have had two or more prior anti-HER2 based regimens. In addition, the FDA granted this ADC breakthrough therapy designation in 2020 for the treatment of patients with metastatic, HER2-mutated non-small cell lung cancer (NSCLC) following platinum-based therapy, as well as priority review for the treatment of HER2+ metastatic gastric or gastroesophageal junction adenocarcinoma.
In addition, Enhertu was approved in the United States in 2021 for a second oncology indication therapy of adult patients with locally advanced or metastatic HER2+ gastric or gastroesophageal junction adenocarcinoma who had previously received a trastuzumab-based regimen.
Trodelvy
To underscore the industry's enthusiasm for ADC technology, Gilead Sciences paid $21 billion in October 2020 to acquire Immunomedics and its recently authorized ADC, Trodelvy (sacituzumab govitecan-hziy). Trodelvy was granted accelerated FDA approval in April 2020 for the treatment of patients with locally advanced or metastatic triple-negative breast cancer (mTNBC) who have had at least two prior therapies for the metastatic disease. Trodelvy generated $64 million and $137 million in sales in the fourth quarter and full year of 2020 (including the period prior to the completion of Gilead's acquisition of Immunomedics), demonstrating its commercial success. The FDA awarded regular clearance for this indication in April 2021, and in the same year, Trodelvy was granted accelerated approval for a second indication treatment of locally advanced or metastatic urothelial carcinoma after platinum-containing chemotherapy and either a PD-1 or PD-L1 inhibitor.
Novel and Emerging ADCs in the Oncology Pipeline
With over 200 ADCs by leading companies including Byondis, ImmunoGen, Daiichi Sankyo, Seagen, Merck, ADC Therapeutics, CytomX, AbbVie, and others, under pre-clinical/clinical development, the world appears to be entering a new era of targeted cancer therapy, despite some mixed appraisals within academia. Given the considerable increase in Big Pharma interest in the ADC domain, the ADC market will continue to grow, and there is still hope for the development and marketing approval of ADCs with blockbuster potential.
Breast and lung cancer are the top two cancers with the most patients to target, with breast cancer having the highest prevalence. The lung cancer therapeutic area, on the other hand, is more active, with many mid to late-stage ADCs. Daiichi and AstraZeneca intend to enhance ENHERTU's application area in order to increase its market scale—this clearly demonstrates the growing interest of big pharma giants and small biotech companies in focusing on ADCs, opening the door for a new era of targeted cancer treatment. Key players with the highest ADC clinical development include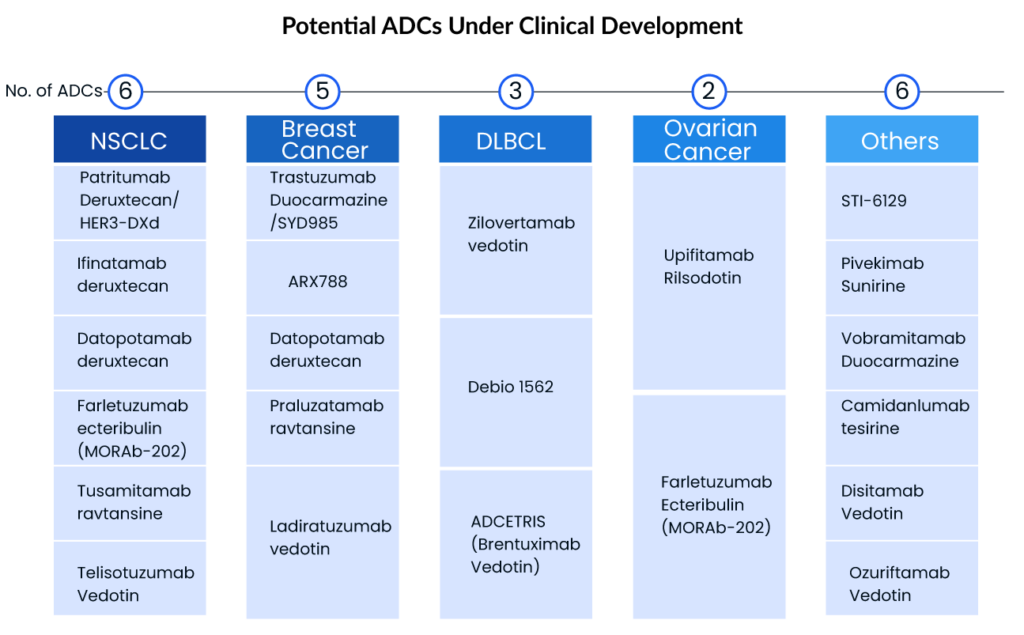 Seagen
Seagen is a pioneer in ADC research and the use of this technology in cancer treatment. Ladiratuzumab vedotin (LV), an ADC targeting LIV-1 that is currently being evaluated in Phase I and Phase II clinical trials as monotherapy and in combination with other agents for patients with metastatic breast cancer and select solid tumors with high LIV-1 expression, is one of the product candidates based on antibody-drug conjugate technology. Seagen and Merck signed into a license and partnership agreement, or the LV Agreement, in September 2020, under which the businesses will collaboratively develop and share future costs and profits for LV globally.
Another ADC candidate in the company's pipeline is disitamab vedotin, a new HER2-targeted ADC that has demonstrated anti-tumor activity in numerous solid tumor types across a spectrum of HER2 levels, including urothelial, gastric, and breast cancer. Seagen and RemeGen signed into an exclusive license deal in September 2021 to develop and commercialize disitamabvedotin in all countries outside of RemeGen's Asian territory, excluding Japan and Singapore. Seagen is running a Phase II trial of disitamab vedotin as monotherapy in previously treated HER2-expressing metastatic urothelial carcinoma patients.
Seagen's ADC early Phase candidates, SGN-ALPV and SGN-B7H4V, which use the company's unique vedotindrug linker technology, are also being studied in solid tumors. Preclinical findings from SGN-ALPV and SGN-B7H4V will be presented at the American Association for Cancer Research (AACR) Annual Meeting 2022.
Daiichi Sankyo
Daiichi Sankyo is developing three ADCs, including Patritumab deruxtecan, Datopotamab deruxtecan (HER3-DXd/U3-1402), and ENHERTU, which is already approved for breast and stomach cancer. AstraZeneca and Daiichi Sankyo are working together to develop deruxtecan, a TROP2-directed DXd. A Phase III clinical trial for the first-line therapy of TNBC (trial name: TROPION-Breast02) was launched in June 2022. The drug is being developed for a variety of indications, including non-small cell lung cancer, TNBC, and breast cancer.
Another ADC in development is Patritumab deruxtecan. Patritumab deruxtecan was developed using Daiichi Sankyo's patented DXd ADC technology and consists of a human anti-HER3 antibody linked to topoisomerase I inhibitor payload, an exatecan derivative, via a stable tetrapeptide-based cleavable linker. Patritumab deruxtecan is now being studied in a multi-cancer development program as a monotherapy and in combination with other anticancer treatments. The development program includes HERTHENA-Lung01, a pivotal Phase II study in patients with locally advanced or metastatic EGFR-mutated NSCLC previously treated with a TKI and platinum-based chemotherapy; a Phase I/II study in HER3 expressing metastatic breast cancer; a Phase I study in combination with osimertinib in locally advanced/metastatic EGFR-mutated NSCLC; and, a Phase I study in previously treated patients with metastatic or unresectable NSCLC.
ADC Therapeutics
ADC Therapeutics has several PBD-based ADCs in clinical trials as well as other preclinical ADCs in development. Camidanlumab tesirine has shown considerable clinical activity in individuals with Hodgkin lymphoma who have been highly pretreated. Camidanlumab tesirine, which targets CD25/regulatory T cells, is also showing promise in the treatment of solid tumors. Camidanlumab tesirine is being studied in a number of clinical trials. A crucial Phase II clinical trial in patients with relapsed or refractory (R/R) Hodgkin lymphoma; a Phase Ia/Ib clinical trial in patients with R/R Hodgkin lymphoma and Non-Hodgkin lymphoma; and a Phase Ib clinical trial in solid tumors are among the studies being conducted.
Another ADC product is ADCT-602, composed of a monoclonal antibody that binds to CD22 and is conjugated to a PBD-dimer toxin. ADCT-602 is being tested in patients with relapsed or refractory B-cell ALL in Phase I/II clinical trial. The University of Texas MD Anderson Cancer Centre is leading the trial. Mipasetamab uzoptirine (ADCT-601), ADCT-901, ADCT-701, and ADCT-212 are further early-stage ADC prospects in the company's pipeline.
AbbVie
Telisotuzumab vedotin (ABBV-399) is an ADC that targets cMet and is being studied for the treatment of non-small cell lung cancer. AbbVie is currently investigating the ADC in a Phase III research called TeliMET NSCLC-01 (M18-868). In January 2022, AbbVie announced that the US FDA granted Breakthrough Therapy Designation (BTD) to investigational telisotuzumab vedotin (Teliso-V) for the treatment of patients with advanced/metastatic epidermal growth factor receptor (EGFR) wild-type, nonsquamous non-small cell lung cancer (NSCLC) with high levels of c-Met overexpression whose disease has progressed on or after platinum-based therapy. Aside from that, AbbVie is developing ABBV154 to treat polymyalgia rheumatica (PMR) and Crohn's disease, ABBV-011 to treat small cell lung cancer, and ABBV-155 to treat advanced hematologic malignancies and solid tumors.
Key Developments in the ADCs Domain
In April 2023, Mythic Therapeutics, announced preclinical data highlighting the potential of MYTX-011, its investigational cMET-targeting ADC, for treating a broader range of cMET+ cancers than other cMET-targeting ADCs in development. These data were presented as a poster at the American Association for Cancer Research Annual Meeting. MYTX-011 demonstrated higher internalization in cMET+ tumor cells and broader, more potent efficacy, including a greater than 3-fold increase in efficacy in mouse models of NSCLC, as compared to other cMET-targeting ADCs.
In April 2023, Araris Biotech AG, announced the company delivered two poster presentations at this year's American Association for Cancer Research (AACR) 2023 Annual Meeting, being held April 14-19, 2023 at the Orange County Convention Center in Orlando, Florida. The presentations highlighted late-breaking preclinical data on anti-Nectin-4 and anti-HER2 ADCs generated using the company's proprietary linker technology. Both ADCs demonstrated improved anti-tumor activity compared to respective FDA-approved ADCs in head-to-head in-vivo studies.
In March 2023, Sanofi and Seagen Inc. announced an exclusive collaboration agreement to design, develop, and commercialize antibody-drug conjugates (ADCs) for up to three cancer targets. The collaboration will utilize Sanofi's proprietary monoclonal antibody (mAb) technology and Seagen's proprietary ADC technology. ADCs are antibodies engineered to deliver potent anti-cancer drugs to tumor cells expressing a specific protein and Sanofi currently has one ADC in development.
In December 2022, Merck and Kelun-Biotech announced that the companies have entered into an exclusive license and collaboration agreement to develop seven investigational preclinical antibody-drug conjugates (ADC) for the treatment of cancer. Under the agreement, Kelun-Biotech has granted Merck exclusive global licenses to research, develop, manufacture, and commercialize multiple investigational preclinical ADC therapies and exclusive options to obtain additional licenses for ADC candidates. Kelun-Biotech retains the right to research, develop, manufacture, and commercialize certain licensed and option ADCs for mainland China, Hong Kong, and Macau.
In December 2022, Biosion USA, Inc. announced an exploratory research collaboration to create antibody-drug conjugates (ADCs) for the treatment of cancer with ImmunoGen, Inc., a leader in developing next-generation ADCs. In the joint research effort, Biosion leveraged its proprietary SynTracer® high-throughput (HT) endocytosis platform to generate highly selective antibodies to targets allocated by each company and ImmunoGen will provide their proprietary linker-payload technology to create novel ADCs.
On November 14, 2022, the FDA granted accelerated approval to mirvetuximab soravtansine-gynx (brand name ELAHERE)for adult patients with folate receptor alpha positive, platinum-resistant epithelial ovarian, fallopian tube, or primary peritoneal cancer, who have received one to three prior systemic treatment regimens.
Promising Future of ADCs
After decades of study and troubleshooting, significant technological breakthroughs and a better mechanistic understanding of ADC activity have resulted in the FDA approval of 11 ADCs, each of which provides substantial therapeutic benefit to cancer patients. With ~200 ADCs in pre-clinical/clinical research, the world appears to be entering a new era of targeted cancer therapy, despite some mixed opinions in academia. Although drug development remains a high-risk endeavor, those who have invested in ADC technology are finally reaping the benefits of their continued faith in this unique sector of biologics. We anticipate further ADC approvals in the near future, whether in the form of new ADCs or label expansions of those already approved. As ADCs have progressed through clinical trials, it has become obvious that the rules that apply to traditional chemotherapy or antibody-based therapies on their own do not always apply to ADCs.
The promise of ADCs as a therapeutic method is significant, even beyond cancer. ADCs are already being studied for non-oncological indications such as autoimmune and cardiovascular disorders, diabetes, and antimicrobial infections. Given the recent enthusiasm for the role of artificial intelligence (AI) in drug discovery and development in adjacent fields, fueled in large part by advances in machine learning and ultimately the competitive force in the race to the next blockbuster drug, it is expected that drug companies will use these computer-based platforms to develop next-generation ADCs in the coming years.