Parkinson's disease (PD) is the second most prevalent neurogenerative disorder, with a growing global prevalence due to population aging. Despite increased awareness and significant research advancement, Parkinson's disease treatment options include dopamine replacement therapy, symptomatic therapies that have significantly improved quality of life and Parkinson's disease life expectancy, but no Parkinson's disease therapies that halt or reverse disease progression, which remains a significant unmet goal in Parkinson's disease research.
But novel treatment approaches are developing as the understanding of Parkinson's disease pathophysiology grows. These include therapies intended at controlling Parkinson's disease symptoms without the harmful side effects encountered with presently available therapies, as well as those aiming at delaying pathology, lowering neuronal death, and slowing disease progression.
In addition, looking at the current situation, the Parkinson's disease pipeline is robust. Leading pharmaceutical companies such as AbbVie, BioVie, ABL Bio, Sanofi, Athira Pharma, Vaxxinity, Pharma Two B, Cerevel Therapeutics, Amneal Pharmaceuticals, and others are evaluating their leads assets for Parkinson's disease treatment. Let's have a look at each candidate in detail and find which Parkinson's disease therapy can dominate Parkinson's disease therapeutics market in the future.
IPX-203: Amneal Pharmaceuticals
IPX-203 is a novel oral formulation of CD/LD extended-release capsules for Parkinson's disease patients with motor irregularities. IPX-203 is a unique formulation that includes immediate-release and extended-release granules and mucoadhesive polymers to offer quick absorption and enhance levodopa absorption. This formulation differs from RYTARY (carbidopa/levodopa) extended-release capsules, Amneal's extended-release CD/LD treatment for Parkinson's disease that the FDA authorized in 2015.
Amneal Pharmaceuticals, Inc., on August 2021, announced the favorable topline results from the pivotal Phase 3 RISE-PD clinical study, which examined the innovative formulation, IPX-203, in patients with Parkinson's disease who had motor fluctuations. The experiment accomplished its primary goal, exhibiting superior "Good On" time from baseline in hours per day with IPX-203 CD/LD extended-release capsules compared to immediate-release CD/LD at the end of the 13-week double-blind treatment period.
The study was carried out in 108 clinical sites in the United States and Europe, including Czechia, France, Germany, Italy, Poland, Spain, and the United Kingdom. The trial included 506 people with Parkinson's disease aged 40 and over. The FDA assessed the trial design, which was carried out in accordance with a Special Protocol Assessment. Amneal intends to file a New Drug Application for IPX-203 with the FDA in mid-2022, based on these topline results and additional supporting data.
P2B001: Pharma Two B
P2B001 is a novel, extended-release combination of low-dose pramipexole and rasagiline that has the potential to become a first-line, once-daily no-titration therapy for persons with early Parkinson's disease.
The company, on December 2021, announced that its Phase III double-blind, active-controlled study of P2B001 in early Parkinson's disease fulfilled its primary and significant secondary goals. The trial enrolled 544 persons with early Parkinson's disease, aged 35 to 80, across 70 locations in the United States, Europe, and Canada, all within three years of diagnosis and without utilizing disease treatments. Patients were allocated to one of four daily treatment groups at random: P2B001 as a fixed-dosage capsule, a pramipexole ER capsule (0.6 mg), a rasagiline ER capsule (0.75 mg), or marketing pramipexole ER capsules titrated to a patient's optimum dose (1.5 to 4.5 mg).
P2B001 outperformed each of its constituent components in the Phase III trial, as evaluated by the change in total Unified Parkinson's Disease Rating Scale (UPDRS Part II and III; primary endpoint) from baseline to week 12. In 2022, the company intends to submit a request to the FDA for approval of P2B001 as a Parkinson's disease therapy.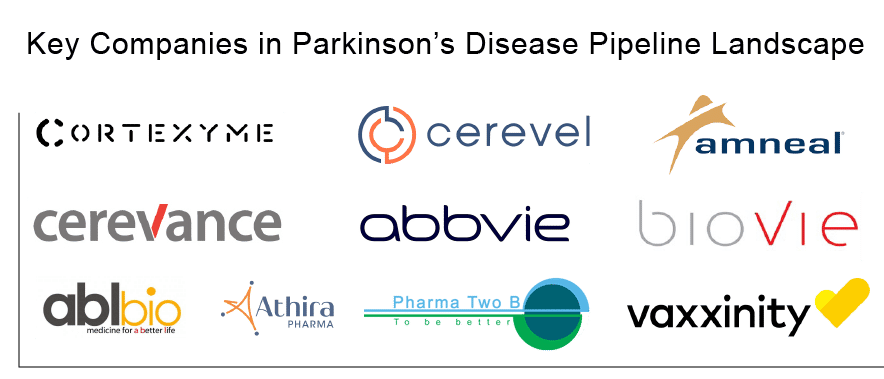 ABBV-951: AbbVie
ABBV-951 (foslevodopa/foscarbidopa) is a continuous subcutaneous infusion solution of levodopa and carbidopa prodrugs being studied advanced Parkinson's disease treatment in individuals whose motor symptoms are not managed by oral medicines.
On October 2021, AbbVie announced that in a phase 3 trial M15-736, the subcutaneous infusion of Parkinson's disease candidate ABBV-951 was more successful than usual oral medication, opening the path for regulatory filings. The trial enrolled over 130 adult individuals with advanced Parkinson's disease from 80 different locations throughout the world. The results revealed that a continuous subcutaneous infusion of ABBV-951 delivered 24 hours a day was statistically superior to oral LD/PD in decreasing motor fluctuations in Parkinson's disease patients. The primary aim was to increase 'on' time from baseline without experiencing any problematic dyskinesia after 12 weeks.
At week 12, the increase in 'on' time for ABBV-951 was 2.72 hours compared to 0.97 hours for oral LD/CD. Furthermore, improvements in 'on' time were observed during the first week and continued throughout the 12-week treatment period.
If authorized, ABBV-951 might be an option to oral medication, which has a tendency to lose efficacy over time, as well as sustained delivery alternatives like AbbVie's own Duopa, a carbidopa/levodopa gel administered via a stomach tube and pump that needs a surgical operation.
Tavapadon: Cerevel Therapeutics
Tavapadon is a once-daily partial agonist that targets dopamine D1 and D5 receptor subtypes specifically. The agent selectively stimulates the direct motor pathway, possibly resulting in motor benefit while limiting the adverse effects (AEs) associated with medications that nonselectively increase dopamine.
In April 2021, Cerevel announced a non-dilutive financing arrangement worth up to USD 125 million with NovaQuest and Bain Capital to cover the whole Phase 3 development program, also known as TEMPO trials for tavapadon in Parkinson's disease. Cerevel will provide milestone and royalty payments under the terms of the agreement if U.S. regulatory approval is granted. NovaQuest and Bain Capital will be entitled to an approval milestone, sales milestones based on cumulative US net sales, and combined royalty payments ranging from the mid-single digits to the low-double digits depending on yearly US net sales. Cerevel will maintain significant upside potential for tavapadon in the United States, as well as exclusive international commercial rights.Cerevel is currently treating patients with early and late-stage Parkinson's disease in all three of its tavapadon Phase 3 studies, TEMPO-1, TEMPO-2, and TEMPO-3, as well as the open-label extension phase, TEMPO-4. The four TEMPO studies comprise the whole Phase 3 program for tavapadon and will serve as the foundation for the NDA filing for broad usage in Parkinson's disease patients. The Phase 3 program's preliminary data readouts are scheduled to be available in the first half of 2023.
Pipeline Therapies for Parkinson's disease
NE3107: BioVie
NE3107 is a small, oral treatment with anti-inflammatory and insulin-sensitizing properties that is meant to pass the blood-brain barrier (the highly selective, permeable membrane that protects the brain and spinal cord from the external environment).
These effects are thought to be caused by NE3107's capacity to suppress ERK, a protein implicated in neuroinflammation and insulin resistance, both of which are prominent hallmarks of neurodegenerative disorders such as Parkinson's.
In a preclinical trial, NE3107 was shown to reduce nervous system inflammation and insulin resistance, delaying neurodegeneration and increasing nerve function. In a Parkinson's disease primate model, NE3107 combined with levodopa improved motor control more than either medication alone. Furthermore, the combination decreased the severity of levodopa-induced dyskinesia, or spontaneous involuntary movements, without reducing the medication's effectiveness.
In addition, the medication demonstrated neuroprotective efficacy, maintaining almost twice as many dopamine-producing neurons as the nerve cells harmed in Parkinson's disease when compared to a placebo.
Recently BioVie announced that the first patient had been treated in a Phase 2 clinical trial known as NM201, evaluating the efficacy of their experimental therapy on Parkinson's disease motor symptoms. The FDA authorized the trial in October of last year.
Participants in the trial will be given either 20 mg of NE3107 or a placebo twice a day for 28 days. During safety evaluations, patient health and the possibility of pharmaceutical combinations altering levodopa's pharmacokinetics and activity will be considered. The Phase 2 trial is projected to produce results by the end of 2022.
ATH-1017: Athira Pharma
ATH-1017, developed by Athira Pharma, is a small molecule that boosts the activity of HGF and its receptor, MET. Under the influence of neurodegeneration, the function of this neuroreceptor system may be compromised. Because the mechanism of action focuses on network recovery and synaptic signal transmission in the brain, ATH-1017 is designed to address the broader dementia population, including Parkinson's disease dementia and Dementia with Lewy bodies. This has the potential to improve clinical outcomes for patients suffering from a variety of neurodegenerative conditions.
On 28 January 2022, the first patient was dosed in Athira Pharma's Phase 2 clinical study assessing ATH-1017 as a therapy for Parkinson's disease Dementia (PDD) and dementia with Lewy bodies (DLB), two types of more severe cognitive impairment in Parkinson's disease.
Patients between the ages of 40 and 85 are still being recruited for the SHAPE study, which is taking place in five different locations throughout the United States. SHAPE is a randomized, double-blind, placebo-controlled Phase 2 study for persons who have been diagnosed with PDD or dementia with Lewy bodies. Over the course of 26 weeks or 6 months, 75 patients will be randomly assigned to receive either a high or low dosage of ATH-1017 administered as a daily under-the-skin injection or a placebo.
The primary purpose of the trial is to evaluate ATH-1017's overall treatment impact as measured by changes in the Global Statistical Test, a formula that combines a cognitive evaluation with a test of functional working memory processing speed. In addition, changes in everyday activities and motor function will be assessed.
For more insights, explore our latest blog on Parkinson's disease market
UB-312: Vaxxinity
Vaxxinity's UB-312 is a vaccine that enables the body to produce its own antibodies against harmful alpha-synuclein. These antibodies can then be used to target the aberrant aggregates that arise in Parkinson's disease patients.
In January 2022, the first patient with Parkinson's disease was dosed with Vaxxinity's investigational vaccination therapy after treatment, safety, and tolerance were demonstrated in healthy volunteers in a clinical study. This marks the start of Part B of the Phase 1 study, which is recruiting up to 20 participants with early to mild to moderate Parkinson's disease at its location in the Netherlands. The study aims to investigate UB-312's safety and immunogenicity (ability to elicit an immunological response) in Parkinson's patients.
Part A of the study looked at UB-312 in healthy persons aged 40 and above. UB-312 was shown to be safe at several dosages, with few side effects. UB-312 also promoted the development of anti-alpha-synuclein antibodies that could reach the brain.
Vaxxinity is also evaluating UB-312 for various synucleinopathies. The European Medicines Agency has designated UB-312 as an orphan drug for Multiple System Atrophy (MSA), another synucleinopathy. It is also being tested for Lewy Body Dementia, a kind of dementia associated to Parkinson's. Moreover, this vaccine technique is also being studied for disorders like Alzheimer's disease, migraine, and COVID-19.
ABL301: ABL Bio/Sanofi
ABL301 is a preclinical stage bispecific antibody that targets alpha-synuclein and the insulin-like growth factor 1 receptor (IGF1R) with enhanced blood-brain barrier penetration.
Recently ABL Bio Inc. announced a collaboration and global licensing agreement with Sanofi to develop and market ABL301. ABL301 will be developed and commercialized exclusively by Sanofi across the world. Meanwhile, ABL will be in charge of ABL301's preclinical research and Phase 1 clinical study. Following that, Sanofi will be in charge of ABL301's continued clinical research, regulatory approval, and global commercialization.
What's Ahead?
Stem cell treatments, gene therapies, growth factors, and other medicines are now being tested in clinical trials for Parkinson's disease treatment. In addition, large biomarker discovery initiatives are also being carried out in order to uncover disease signatures that will enhance patient selection and outcome measures in Parkinson's disease clinical trials. The introduction of new medications may be bad news for already licensed drugs since Parkinson's disease pipeline drugs that target other components of pathology, such as genetic mutations and Lewy bodies, and are neuroprotective, are expected to capture a sizable market share of Parkinson's disease treatment market.
Meanwhile, the Parkinson's disease treatment market is forced to rely on therapies that effectively manage symptoms. Furthermore, developments in other neurosurgical strategies such as more nuanced deep brain stimulation approaches mean that the landscape of the Parkinson's disease treatment market is likely to evolve significantly in the coming years.
FAQs
1. What is Parkinson's disease?
Parkinson's disease is a neurodegenerative disorder that affects predominately dopamine-producing ("dopaminergic") neurons in a specific area of the brain called substantia nigra. It is the second most prevalent neurogenerative disorder, with a growing global prevalence due to population aging.
2. Which therapies are in pipeline for Parkinson's disease?
Several therapies such as NE3107, ATH-1017, UB-312, IPX-203, P2B001, ABBV-951, Tavapadon, ABL301, and others are in the pipeline for Parkinson's disease.
3. Which companies are developing therapies for Parkinson's disease?
Leading pharmaceutical companies such as AbbVie, BioVie, ABL Bio, Sanofi, Athira Pharma, Vaxxinity, Pharma Two B, Cerevel Therapeutics, Amneal Pharmaceuticals, and others are evaluating their leads assets for Parkinson's disease treatment.