Lung cancer is the leading cause of cancer death in both men and women around the world. It is expected that 127K people will die from this disease in the United States in 2023 (67K men and 60K women). NSCLC is the most common type of lung cancer, accounting for over 85% of all cases. As per DelveInsight analysis, the United States had 228K incident cases of lung cancer in 2020, of which 194K were NSCLC cancer patients. According to estimates, the United States has the highest incidence of EGFR-NSCLC, accounting for around 34% of the overall population with EGFR-mutated NSCLC in the 7MM in 2020.
Metastatic NSCLC refers to advanced stages of cancer that have spread to other regions of the body. There is no cure for cancer once it has spread. Treatment is frequently aimed at extending a person's life and increasing their quality of life. As per the DelveInsight assessment in the mNSCLC market report, in biomarker-specific cases, the most number of the cases are from PD-L1 followed by KRAS, and EGFR. On the other hand, NTRK accounted for the least number of cases whereas, BRAF and MET accounted for approximately 5% and 4% cases, respectively.
As NSCLC accounts for the majority of lung cancer cases, the sheer magnitude of its patient population underscores the urgent need for effective and targeted interventions. With millions of individuals grappling with NSCLC worldwide, the disease not only poses a substantial health burden but also necessitates a multifaceted approach to diagnosis, treatment, and supportive care.
Despite advances in cancer research and therapy, there are notable treatment gaps in NSCLC that present challenges to achieving optimal patient outcomes. These gaps may arise due to factors such as late-stage diagnoses, limited accessibility to advanced treatments, resistance to existing therapies, and the heterogeneity of the disease itself. Additionally, a subset of patients may experience side effects or have comorbidities that limit the applicability of certain treatments. Addressing these gaps requires a comprehensive understanding of the molecular and genetic underpinnings of NSCLC, as well as the development of innovative therapeutic approaches.
The evolving landscape of NSCLC presents significant market opportunities for pharmaceutical companies and other stakeholders. Advances in precision medicine, immunotherapy, and targeted therapies have opened new avenues for treatment, offering more personalized and effective options. The rise of biomarker-driven therapies and immunotherapeutic agents has reshaped the treatment paradigm, creating opportunities for the development of novel drugs and combination therapies. Additionally, the integration of artificial intelligence and big data analytics in oncology research has the potential to revolutionize treatment strategies, enabling more accurate diagnostics and personalized treatment plans.
More than 50+ companies including the leading pharma and biotech giants such as Pfizer, Daiichi Sankyo, AstraZeneca, Gilead Sciences, AbbVie, Sanofi, Novartis, GlaxoSmithKline, and others are currently developing several metastatic non-small cell lung cancer treatments. All these companies are evaluating their lead assets in different stages of clinical development. The anticipated launch of these NSCLC drugs will drive the market forward in the coming years.
DelveInsight analysts expect the mNSCLC market to grow positively at a CAGR of 9.4% during the study period (2019–2032). As the NSCLC clinical pipeline is robust, many breakthroughs are expected to happen, and as a result of this, the mNSCLC market is expected to see massive growth in the coming years.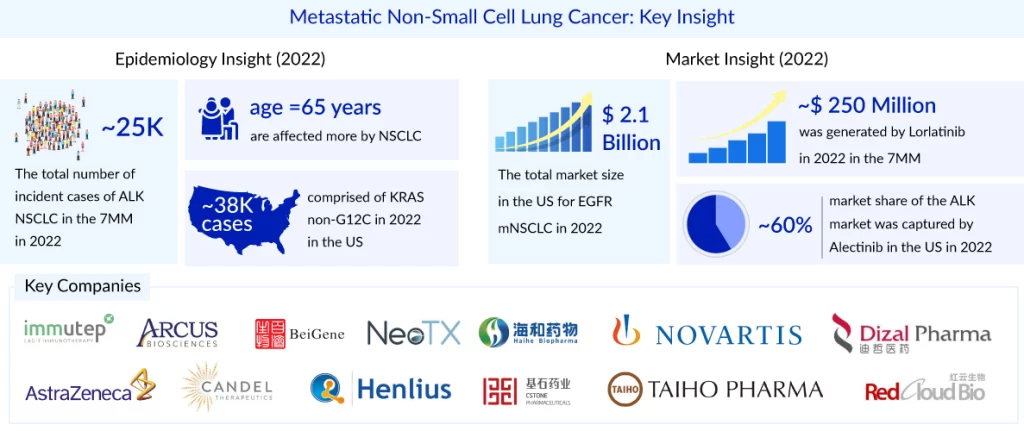 Recently, the DelveInsight team has analyzed several abstracts related to NSCLC that were presented during the ASCO 2023 annual conference. Various outcomes and findings from clinical trials were presented by the leading pharmaceutical companies at the ASCO 2023 Annual Meeting which represents mainly the significant progress made each year in the fight against cancer. The team analyzed the launch of the results and assessed the impact on the overall NSCLC treatment domain. Apart from ASCO 2023, the team also covered other conferences and analyzed the results. A glimpse of the results from clinical trials from these conferences is mentioned below:
American Society of Clinical Oncology (ASCO) 2023 Key Updates
Dizal Pharmaceuticals' Sunvozertinib, an NSCLC therapy shines in a groundbreaking WU-KONG6 trial, unveiling remarkable antitumor effectiveness and exceptional safety in previously treated NSCLC with EGFR Exon20 insertions.
Updated TROPION-Lung02 results revealed Daiichi Sankyo and AstraZeneca's datopotamab deruxtecan continued success in triggering promising and persistent responses across diverse NSCLC cancer patients. Developed using Daiichi Sankyo's DXd ADC technology, NSCLC therapy, datopotamab deruxtecan (Dato-DXd) is an investigational ADC targeting TROP2. It holds a prominent position in AstraZeneca's ADC scientific platform and is among the top three ADCs in Daiichi Sankyo's oncology pipeline.
AstraZeneca's rilvegostomig, a TIGIT and PD-1 bispecific, offers hope for advanced PD-L1+ NSCLC after prior treatment resistance.
Kelun Pharma's TROP2-targeting ADC, SKB264 exhibited manageable safety and promising antitumor activity in advanced or metastatic NSCLC, with enhanced response in the EGFR mutant subtype.
Amgen's Sotorasib provides a consistent benefit over docetaxel in the majority of key prespecified molecularly defined subsets pretreated KRAS G12C–mutated NSCLC patients enrolled in the Phase III CodeBreaK 200 trial.
Combining pembrolizumab with pemetrexed and platinum-based chemotherapy showed a slight numerical improvement in progression-free survival and overall survival compared to chemotherapy plus placebo. However, this improvement did not reach statistical significance in patients with TKI-resistant, EGFR-mutated, metastatic nonsquamous non-small cell lung cancer.
In the Phase III ADAURA trial, adjuvant treatment with AstraZeneca's osimertinib demonstrated a significant improvement in overall survival compared to placebo for patients with resected, EGFR-mutated, stage IB to IIIA non-small cell lung cancer.
The IASLC World Conference on Lung Cancer (WCLC) 2023 Key Updates
Bristol Myers Squibb demonstrated the results of the TRIDENT-1 Phase I/II trial of repotrectinib for patients with ROS1-positive NSCLC.
Daiichi Sankyo presented the HERTHENA-Lung01 Phase II trial of patritumab deruxtecan for EGFR-mutated NSCLC patients.
ArriVent Biopharma presented FAVOUR Phase Ib results of furmonertinib for patients with NSCLC EGFR exon 20 insertion mutation.
Mirati Therapeutics presented data from Phase I/Ib cohort and Phase II Cohort A of the KRYSTAL-1 study evaluating adagrasib in patients with NSCLC harboring a KRASG12C mutation.
Amgen announced data from the CodeBreaK 101 clinical trial Phase Ib study evaluating LUMAKRAS with carboplatin and pemetrexed in patients with KRAS G12C-mutated advanced NSCLC.
Janssen Pharmaceuticals announced follow-up results from the Phase Ib/II CHRYSALIS-2 study of RYBREVANT, with lazertinib, an EGFR TKI, plus platinum-based chemotherapy in patients with relapsed/refractory NSCLC and EGFR mutations.
Clinical and Registrational Updates in 2023
In September 2023, Nuvalent initiated the Phase II portion of the ARROS-1 clinical trial of NVL-520 for patients with ROS1-positive NSCLC and other solid tumors.
In August 2023, the FDA granted regular approval to GAVRETO (pralsetinib) by Blueprint Medicines for adult patients with metastatic RET fusion-positive NSCLC.
In May 2023, the US FDA accepted the New Drug Application by Bristol Myers Squibb for repotrectinib to treat patients with ROS1-positive locally advanced or metastatic NSCLC based on results from the Phase I/II TRIDENT-1 trial.
According to AstraZeneca, the first estimated filing acceptance for the FLAURA2 trial of TAGRISSO plus pemetrexed plus carboplatin for patients with Metastatic NSCLC with EGFR mutation is in the second half of 2023.
In 2023, new molecular entity (NME) submissions for Tiragolumab plus Atezolizumab were made for NSCLC by Roche, which is planned to occur in the US and EU.
Regeneron Pharmaceuticals will initiate a Phase II study of fianlimab in combination with libtayo in perioperative NSCLC in the second half of 2023.
In December 2022, EQRx announced the acceptance of the Marketing Authorization Application for review by the EMA for Aumolertinib in EGFR-mutated NSCLC.
As per AbbVie, the regulatory submission of telisotuzumab vedotin for NSCLC is anticipated by 2024.
Novartis expects to schedule the NDA submission of JDQ443 as monotherapy by 2024 and as combination therapy by and beyond 2026 for NSCLC patients harboring a KRAS G12C mutation.
The anticipated growth of the NSCLC treatment market is driven by premium-priced targeted agents with superior clinical profiles and an expanded range of therapies in the first line, while the development of treatments targeting specific mutations is expected to dominate the upcoming NSCLC treatment market. The potential for premium pricing of emerging therapies, demonstrating an edge over current treatments, adds to the momentum. Fast uptake of potential emerging NSCLC drugs, characterized by improved clinical profiles and specificity towards mutations in NSCLC, along with therapies designed to overcome resistance, is expected.
However, lung cancer imposes a major disease burden on the world. Worldwide, lung cancer remains the most common cancer diagnosed and the greatest cause of cancer-related death. Because of its extraordinary disease burden and the international variability in trends for population growth, aging, and smoking behavior, the global epidemiology of lung cancer requires continual monitoring. Talking about the global scenario of lung cancer this type of cancer ranks as the most frequent cancer in males and females worldwide, besides breast cancer and prostate cancer respectively. The incidence of cigarette smoking is by far the most important risk factor for lung cancer. Risk increases with both the quantity and duration of smoking. Exposure to radon gas, which is released from soil and can accumulate in indoor air, is thought to be the second leading cause of lung cancer in the United States. In addition, the expected entry of generic or biosimilar for blockbuster NSCLC drugs like KEYTRUDA, OPDIVO, and TARCEVA will erode the NSCLC market sales.
Nevertheless, the research on different NSCLC immune/molecular biomarkers such as PD-L1, EGFR, KRAS, ALK, BRAF, MET, ROS-1, HER2, RET fusion, and NTRK1/2/3 Gene fusion is ongoing. Several therapies targeting these biomarkers are in different stages of clinical development. The anticipated launch of these non-small cell lung cancer treatments will give a ray of hope to all cancer patients around the world.
Additionally, the integration of artificial intelligence and big data analytics in oncology research has the potential to revolutionize treatment strategies, enabling more accurate diagnostics and personalized treatment plans. Furthermore, the expansion of healthcare infrastructure in emerging markets, increased awareness, and the growing emphasis on early detection contribute to the NSCLC market's potential for growth. Collaboration between academia, industry, and regulatory bodies is essential to capitalize on these opportunities and bring forth innovative solutions that address the unmet needs of NSCLC patients.
In conclusion, the NSCLC prevalence, existing treatment gaps, and emerging market opportunities underscore the importance of a holistic and collaborative approach to tackling this complex disease. As research and technology continue to advance, there is hope for a future where NSCLC is not only better understood but also effectively managed, offering improved outcomes for patients around the globe.