Gene therapy is an experimental technique that introduces functional genes into a patient's body to counteract or replace defective ones, thereby curing disease without using pharmaceuticals, radiotherapy, or surgery. Genetic defects that are difficult to treat with drugs or antibodies can be treated with therapy with genes
Depending on the type of cells treated, there are two types of gene therapy: Somatic gene therapy and Germline gene therapy
Somatic gene therapy: A section of DNA is transferred to any cell in the body that does not produce sperm or eggs. Gene therapy will not have any effect on the patient's children.
Germline gene therapy: A section of DNA is transferred to cells that produce eggs or sperm. Gene therapy's effects will be passed down to the patient's children and future generations.
AAV Vectors in Gene Therapy
The adeno-associated viral (AAV) vector is the safest and most effective vehicle among the several viral vectors used to deliver the genes of interest. Following a single injection of the vector, it can sustain long-term gene and protein expression.
AAV vectors are the most widely used viral vectors for gene delivery to treat various human diseases. Recent advances in developing clinically desirable AAV capsids, optimizing genome designs, and harnessing revolutionary biotechnologies have all contributed significantly to the field's growth. Although the clinical success of rAAV gene therapy is encouraging, the limitations and challenges of this gene delivery platform, such as concerns about rAAV manufacturing and immunological barriers to delivery, must also be acknowledged. These issues are being addressed by a growing field that includes multidisciplinary expertise.
Gene Therapy Regulations
Gene therapy products are biological products regulated by the FDA's Center for Biologics Evaluation and Investigation (CBER). Before beginning human clinical trials, an investigational new drug application (IND) must be submitted. Marketing a gene therapy product necessitates submission and approval of a biologics license application (BLA).
Preclinical and clinical successes in AAV-mediated gene replacement, gene silencing, and gene editing have been reported. AAV has gained popularity as an ideal therapeutic vector, with a few AAV-based therapeutics receiving regulatory approval in Europe and the United States. Nowadays, recombinant AAVs (rAAV) are used in gene therapy delivery in vivo. The groundbreaking research and outcomes of gene therapy led to the approval of Glybera, the first approved gene therapy by the European Medicines Agency (EMA), in 2012 to treat lipoprotein lipase deficiency.
The FDA-approved gene therapy, Luxturna, received its regulatory approval after a few years. The approval of these gene therapies was a watershed moment for researchers working to develop successful gene therapy protocols for inherited human disorders.
Gene Therapy Techniques
There are several approaches to gene therapy. Among them are: Gene Augmentation Therapy and Gene Inhibition Therapy
Gene Augmentation Therapy
Gene augmentation therapy is used to treat diseases caused by a mutation in a gene that prevents it from producing a functional product, such as a protein. This is only successful if the disease's effects are reversible or have not caused permanent damage to the body. This can be used to treat loss-of-function disorders like cystic fibrosis, for example, by introducing a functional copy of the gene to correct the disease.
Gene Inhibition Therapy
Gene inhibition therapy is suitable for the treatment of infectious diseases, cancer, and inherited diseases caused by abnormal gene activity. This therapy aims to inhibit the activity of a gene that promotes the growth of disease-related cells. For example, cancer is sometimes caused by the over-activation of an oncogene. So, by inhibiting the activity of that oncogene, it is possible to prevent further cell growth and stop cancer.
Gene Therapy Landscape Across Different Therapeutic Areas
Gene therapy is a promising treatment option for various diseases, and the general gene therapy strategy is simple. Gene therapy is the solution to many rare diseases and the light at the end of the tunnel for patients with complex genetic disorders. In addition, it is also used to treat cancer and viral infections. Gene therapy for cancer is on the verge of becoming a routine cancer treatment, potentially elevating this methodology to first-line therapy for neoplastic diseases.

Moreover, there are currently several technology platforms available for the discovery and development of various types of gene therapy. Indeed, advances in bioanalytical methods (such as genome sequencing) and genome editing and manipulation technologies (such as molecular switches) have enabled the creation of novel therapy development tools and platforms. Indeed, technology licensing is a lucrative source of income for industry stakeholders, particularly those with proprietary gene editing platforms. Given the growing demand for interventions that target the underlying (genetic) causes of diseases, the gene therapy pipeline is expected to continue to grow steadily.
Over 250+ gene therapy companies are currently evaluating more than 300 gene therapies in various stages of development, and their anticipated acceptance in the gene therapy market would significantly increase market revenue.
Leading gene therapy companies such as Novartis, Johnson & Johnson, Fibrocell Technologies, Pfizer, HELIXMITH Co., Ltd., Sarepta Therapeutics, Solid Biosciences Inc., Lexeo Therapeutics, Spark Therapeutics, Xalud Therapeutics, uniQure, Ultragenyx Pharmaceutical, Nanoscope Therapeutics, Homology Medicines, Freeline therapeutics, Amicus Therapeutics, REGENXBIO, Gyroscope Therapeutics, CSL, Sangamo Therapeutics, LYSOGENE, Asklepios BioPharmaceutical, Alcyone Therapeutics, Taysha Gene Therapies, Gensight Biologic, Vivet Therapeutics, BridgeBio, BioMarin Pharmaceutical, Neurophth Therapeutics, Abeona Therapeutics, Coave Therapeutics, Actus Therapeutics, Forge Biologics, Passage Bio, Aspa Therapeutics, Adrenas Therapeutics, ESTEVE, 4D Molecular Therapeutics, Bayer, LogicBio Therapeutics, Eli Lilly and Company, Adverum Biotechnologies, Libella Gene Therapeutics, Rocket Pharmaceuticals, Decibel therapeutics, DiNAQOR, Affinia Therapeutics, Lacerta Therapeutics, Atamyo Therapeutics, Apic Bio, Orchard Therapeutics, Nervosave Therapeutics, Maze Therapeutics, SOLA Biosciences, Benitec Biopharma, Hanugen Therapeutics, Exegenesis Bio, CANbridge Life Sciences Ltd, StrideBio, ENZERNA BIOSCIENCES INC., AAVogen, Capsigen, Code Biotherapeutics, Amarna Therapeutics, Poseida Therapeutics, Inc., bluebird bio, Genethon, Voyager Therapeutics, Jaguar Gene Therapy, LLC, Oxford Biomedica, Ocugen, Genprex, Beam Therapeutics, Neurogene Inc., Treeway, Oyster Point Pharma, Elicera Therapeutics AB, Generation Bio Co., Atsena Therapeutics, Precision Biosciences, Precigen, SELECTA BIOSCIENCES, Encoded Therapeutics, Graphite Bio, Nuevocor, M6P Therapeutics, SwanBio Therapeutics, AviadoBio, Myrtelle, Kriya Therapeutics, Inc., Senti Biosciences, Castle Creek Biosciences, Inc., Treadwell Therapeutics, Opus Genetics, Renovacor, and others are evaluating novel gene therapies candidate to improve the treatment landscape.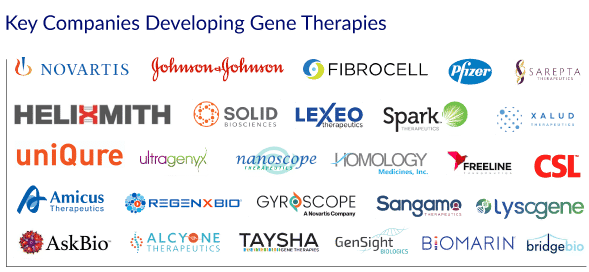 The promising outcomes from ongoing gene therapy clinical trials initiatives will likely attract additional funding to support therapy product development initiatives in this domain. As a result, we believe that the global gene therapy market will experience significant growth in the near future.
Challenges in Gene Therapy
AAV gene therapy requires improved bioavailability and cell selectivity. Another major issue with current gene transfer therapies is that the number of gene copies transferred to a cell is uncontrollable, resulting in unphysiological up or downregulation of the target gene, which can be neurotoxic in the long run.
Furthermore, it is unknown which cell types are infected by AAV and which cell types benefit from gene transfer, especially since the endogenous version of the delivered gene is not normally expressed in these cells. Moreover, current gene transfer therapies employ aggressive constitutive promoters rather than tightly regulated endogenous promoters. To ensure long-term safety, future gene transfer therapies should allow for inducible regulation of the transferred gene in the event of relevant adverse effects.
In addition, disorders in which several genes are involved in the underlying pathophysiology can present a significant challenge to developing gene therapy strategies. For example, several genes, including SOD1, C9ORF72, TARDBP, and FUS, have been linked to the onset of amyotrophic lateral sclerosis (ALS), though more than half of the cases are of unknown etiology.
One way to address concerns about the current generation of gene therapy is to use a different delivery method. This is the approach taken by Generation Bio, which uses lipid nanoparticles – the same method used to deliver COVID mRNA vaccines. Despite having no projects in the clinic, the group's vision initially gained traction, and the company conducted a USD 230 million IPO in 2020. However, things have not been going well since. In December, the company's stock plummeted after it revealed that promising mouse data from its hemophilia A project had not been translated to primates.
So far, gene editing has mostly been used to treat rare diseases, but Verve Therapeutics hopes to change that. The group focuses solely on in vivo base editing therapies for cardiovascular disease. Given the inherent risk of gene editing, this may appear difficult to sell. However, Verve believes it can compete with currently marketed anti-PCSK9 approaches by improving compliance and, as a result, lowering the morbidity and mortality associated with very high cholesterol levels. The share price of the preclinical-stage group is well below its peak, but it is still worth around USD 1 billion, indicating that at least some investors are convinced.
Their main challenges are limited delivery due to nonspecific binding, decreased in vivo stability, limited efficacy due to lysosomal degradation, and limited ability to access nuclear compartments for DNA cargo. Serum compounds can also disrupt their structure and promote aggregation, resulting in immunogenic responses and toxicity.
What's Cooking in the Domain of Gene Therapy Development?
On 09 November 2022, Eikonoklastes Therapeutics, a preclinical biotech company developing first-in-class, AAV9-based gene therapy for treating sporadic and familial amyotrophic lateral sclerosis (ALS), announced that the ET-101 program had been granted Orphan Drug Designation (ODD) by the FDA.
On 08 November 2022, BioMarin announced that the FDA had requested results from its ongoing Phase III GENEr8-1 study's upcoming 3-year data analysis. The additional information could be considered a significant change to the Biologics License Application that the company resubmitted in September. If this is the case, BioMarin representatives predict a three-month delay. An FDA advisory committee is expected to review the data ahead of the PDUFA deadline.
On 07 November 2022, Cyagen announced a strategic partnership with Neurophth Therapeutics, Inc. to co-develop next-generation AAV gene therapy vectors for specific types of ophthalmic genetic disorders.
On 03 November 2022, Santhera Pharmaceuticals and ReveraGen BioPharma's completed rolling submission of a New Drug Application (NDA) for the priority review of vamorolone in the treatment of Duchenne muscular dystrophy (DMD) has been received by the FDA.
In October 2022, Astellas and Taysha Gene Therapies announced the strategic investment to support the development of Taysha's AAV-based gene therapy programs.
In October 2022, French companies formed a strategic alliance to cover cell and gene therapy (C&GT) GMP manufacturing.
In October 2022, AVROBIO announced the patient dosing completion in the first gene therapy clinical trial for cystinosis treatment.
In October 2022, Xcell Biosciences Inc. (Xcellbio) and aCGT Vector announced a collaboration to improve manufacturing and analytic procedures used to develop personalized cell and gene therapies for cancer patients.
In August 2022, the FDA approved Zynteglo (betibeglogene autotemcel), the first cell-based gene therapy for treating adult and pediatric patients with beta-thalassemia who require regular red blood cell transfusions.
In June 2022, Aruvant Sciences announced that Michael W. Kent, MD, pediatric blood and marrow transplant physician at Atrium Health/Levine Children's Hospital, will be presenting new data on ARU-1801, one-time gene therapy for individuals with severe sickle cell disease (SCD), at the European Hematology Association (EHA) 2022 Hybrid Congress.
In March 2022, REGENXBIO announced that the FDA granted Rare Pediatric Disease Designation for RGX-202, which may entitle REGENXBIO to receive a priority review voucher which can be redeemed to obtain priority review for any subsequent marketing application and may be sold or transferred should a new BLA for RGX-202 be approved.
In January 2022, REGENXBIO Inc. announced the clearance of its Investigational New Drug application by the FDA to evaluate RGX-202, potential one-time gene therapy for the treatment of Duchenne muscular dystrophy in a first-in-human clinical trial. RGX-202 is designed to deliver a transgene for a novel microdystrophin that includes the functional elements of the C-Terminal (CT) domain found in naturally occurring dystrophin. RGX-202 uses REGENXBIO's proprietary NAV® AAV8 vector.
What Lies Ahead in Gene Therapy Market Space?
Gene therapies have revolutionized the last half-century from science fiction to the first commercialized products. New delivery strategies are constantly being developed or refined to achieve the most efficient and safest approach, allowing a single injection of gene therapy vector to provide a lifelong cure for severe IMDs. This novel therapy option will compete with other available therapies, either alone or in combination if necessary. Many unanswered questions remain, particularly regarding developing an adequate economic model to enable affordable gene therapy products for healthcare systems and the long-term efficacy and safety of these novel therapies.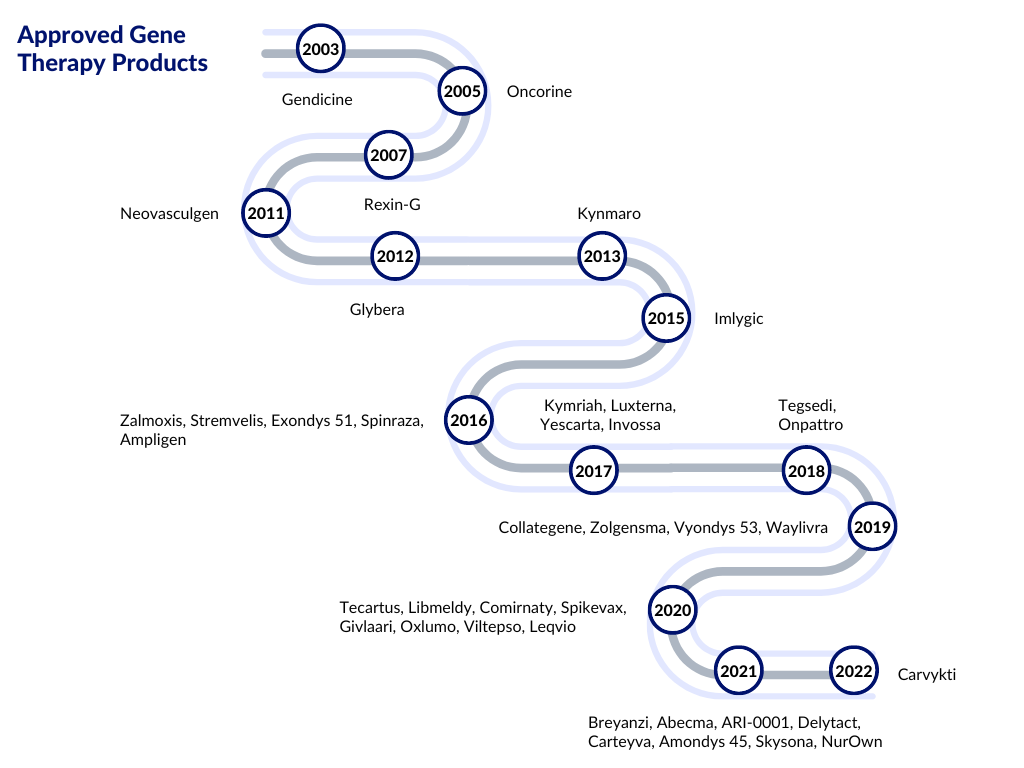 Currently, researchers are developing novel genotype-specific molecular therapies to become patient-specific and personalized gene therapy approaches to more efficiently correct the phenotype of genetic diseases. Furthermore, unlike previous viral delivery strategies, rAAV lacks viral genes, so there will be no active viral gene expression to amplify the immune response. Immune responses induced by AAV administration have been reported to compromise the outcomes of AAV-mediated gene therapy in some experimental settings.
Thus, several factors, including the route of administration, dose, serotype, host species, transgene and expression cassettes, and pre-existing immunity to AAV, may influence the occurrence of immune responses against AAV proteins. These studies and basic biology research have revealed many aspects of this vector that can be applied to future efforts.