Colorectal cancer is a disease in which malignant (cancer) cells form in the tissues of the colon or the rectum. Colorectal Cancer is the third most lethal and fourth most commonly diagnosed cancer in the world. In 2020, nearly 2 million new cases were expected, with approximately 1 million deaths across the globe. Obesity, sedentary lifestyle, red meat consumption, alcohol, and tobacco use are thought to be driving factors in the rise of CRC. However, the COVID-19 pandemic and the 2020 lockdown had an impact on CRC screening. A mandatory shift in priorities to contain and mitigate COVID sharply reduced clinical visits and the capacity to provide non-urgent primary care and endoscopic services. As a result, the number of CRC screenings decreased significantly, resulting in early CRC diagnosis, a worse prognosis, and an increase in mortality.
According to DelveInsight's Metastatic Colorectal Cancer Epidemiology Forecast Report, the total incident cases of Metastatic Colorectal Cancer were more than 200,000 in the 7MM in 2020, with the US accounting for the maximum number of cases.
Metastatic Colorectal Cancer symptoms depend on where cancer has spread and the size of the metastatic tumour load, for instance, jaundice or abdominal swelling, when cancer has spread to the liver, shortness of breath when cancer has spread to the lung, bone pain, and fractures when cancer has spread to the bone, dizziness, headache, or seizures when cancer has spread to the brain. Metastatic colorectal cancer diagnosis is done using imaging tests to see if and where cancer has spread. A biopsy may be performed on a distant tumour to check if it is a metastatic tumour or a different type of primary cancer. Imaging tests used to diagnose metastatic colorectal cancer include computerized tomography (CT) scan, ultrasound, magnetic resonance imaging (MRI), X-ray, positron emission tomography (PET) scan.
There is still no permanent cure found for Metastatic Colorectal Cancer and it is still considered an incurable disease. But there are Metastatic Colorectal Cancer treatment therapies present which include a wide range of drugs, surgery, radiation therapy, immunotherapy, and chemotherapy, which can be used to slow the spread of the disease and often temporarily shrink a cancerous tumour.
Current Metastatic Colorectal Cancer Treatment Market
The first, second, and third-line Metastatic Colorectal Cancer treatment regimen involves the use of multi-agent chemotherapy (i.e. Folfox, Folfiri, Capeox), anti-angiogenesis therapy with or without chemotherapy, epidermal growth factor receptor (EGFR) inhibitors with or without chemotherapy, and others with or without chemotherapy.
Anti-angiogenesis therapy focuses on stopping angiogenesis, which is the process of making new blood vessels. It includes Metastatic Colorectal Cancer treatment therapy like bevacizumab (Avastin), regorafenib (Stivarga), Ziv-aflibercept (Zaltrap), and ramucirumab (Cyramza). Either of these drugs can be combined with Folfiri chemotherapy as a second-line Metastatic Colorectal Cancer treatment.
Metastatic Colorectal Cancer drugs that block EGFR may also be effective for stopping or slowing the growth of cancer. Most commonly used EGFR inhibitors for treating Metastatic Colorectal Cancer include Cetuximab (Erbitux) and Panitumumab (Vectibix).
Along with these therapies, Keytruda, Opdivo, with or without Yervoy, and Braftovi, in combination with Erbitux, are recent approvals observed in the Metastatic Colorectal Cancer market. In April 2020, FDA approved the Metastatic Colorectal Cancer treatment medication Braftovi (Encorafenib) in combination with Cetuximab which is being produced by Array BioPharma (acquired by Pfizer) in the US, whereas Ono Pharmaceutical has exclusive rights to commercialize Braftovi in Japan.

In June 2020, the US FDA approved Keytruda, as monotherapy for the first-line treatment of Metastatic Colorectal Cancer making it a very recent approval. In addition to them, FDA had granted accelerated approval to Jemperli (dostarlimab) in August 2021 for Metastatic Colorectal Cancer treatment in adults, making it a very recent FDA approval.
Furthermore, surgery for a permanent cure can be attempted in patients without metastatic disease. In most cases, surgery is not possible, and chemotherapy is advised. Palliative therapy is also provided to relieve pain and other symptoms by specialized trained professionals, doctors, or nurses to support the patients and the family to fight against the disease.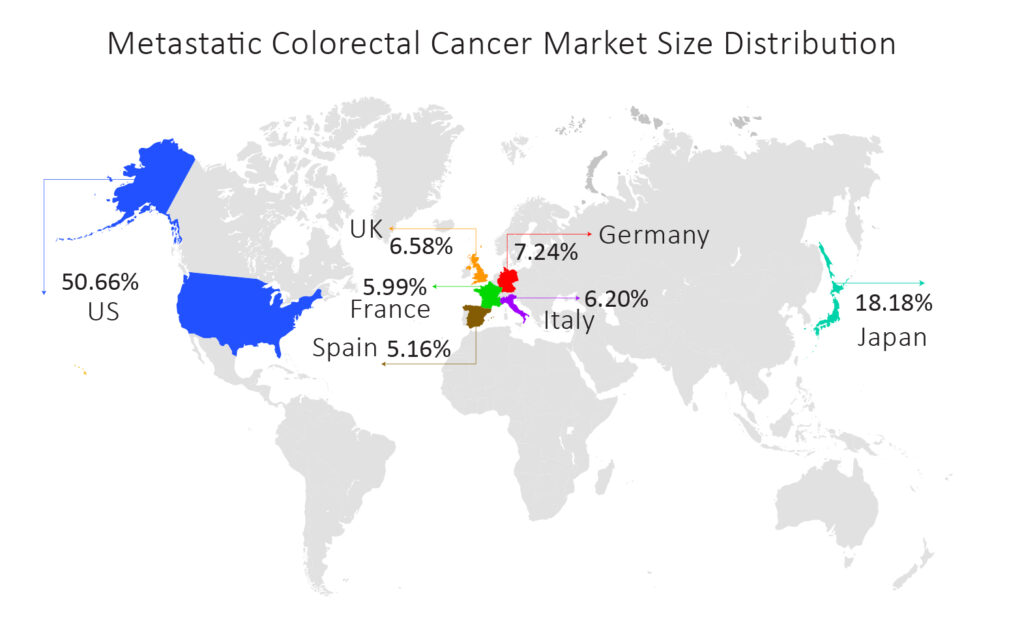 As per DelveInsight's Metastatic Colorectal Cancer Market Report, the mCRC market size is expected to increase by 2030 at a CAGR of 2.9% in the 7MM.
New Treatments for Metastatic Colorectal Cancer
Apart from the already existing Metastatic Colorectal Cancer companies such as Pfizer, Sanofi, Taiho Pharma, Ono Pharma, along with others, there are several emerging key players, which are expected to change the dynamics of the Metastatic Colorectal Cancer market in the coming years owing to the positive outcomes of the emerging pipeline candidates in their developmental stage, which includes Hutchison Medipharma, Isofol Medical, Sumitomo Dainippon Pharma, G1 Therapeutics, Merck, AB Science, Pfizer, Daiichi Sankyo, AstraZeneca, Eisai, Mirati Therapeutics, Cardiff Oncology along with several others that are under clinical development.

The novel therapies in the Metastatic Colorectal Cancer pipeline by a few of the key players are described below:
Adagrasib (MRTX849), developed by Mirati Therapeutics, is an investigational, orally available small molecule that is designed to potently and selectively inhibit a form of KRAS which harbours a substitution mutation (G12C). Adagrasib, an optimized KRAS G12C inhibitor, is designed to stop some of the most complex and aggressive cancers in their tracks. It is a potent, highly selective, oral therapy that is currently being investigated in combination with Cetuximab in a Phase III KRYSTAL-10 trial (NCT04793958) clinical trial for 2L KRAS G12C mutated advanced Metastatic Colorectal Cancer treatment. It is expected to be completed by July 2024.
MK-4280A is being investigated by Merck which is a humanized, immunoglobulin G4 (IgG4) monoclonal antibody (MAb) directed against the inhibitory receptor lymphocyte activation gene-3 protein (LAG3), with potential immune checkpoint inhibitory and antineoplastic activities. It is a co-formulation of favezelimab (MK-4280) and pembrolizumab (MK-3475) and is currently under Phase III trial (NCT05064059) for previously treated Metastatic PD-L1 positive Colorectal Cancer patients. It is estimated to be completed by November 11, 2024.
Lynparza (olaparib) is jointly developed and commercialized by AstraZeneca and Merck. It is a first-in-class PARP inhibitor and the first targeted treatment to potentially exploit DNA damage response (DDR) pathway deficiencies, such as BRCA mutations, to preferentially kill cancer cells. Merck is currently conducting a Phase III trial (NCT04456699) of olaparib alone or in combination with bevacizumab for Metastatic Colorectal Cancer treatment in 1L maintenance. It is estimated to be completed by January 22, 2027.
Fruquintinib, developed by Hutchinson Medipharma is a highly selective and potent oral inhibitor of vascular endothelial growth factor receptor (VEGFR) 1/2/3. The drug is designed to improve kinase selectivity to minimize off-target toxicities, improve tolerability, and provide more consistent target coverage. It is currently in a Phase III clinical trial for patients population with refractory Metastatic Colorectal Cancer. It is expected to be completed by July 2022.
Corsela (Trilaciclib) is a small-molecule, short-acting, inhibitor of cyclin-dependent kinases (CDK) 4 and 6 developed by G1 Therapeutics for its myeloprotection and potential antitumor efficacy and safety benefits in combination with cancer chemotherapy. The company has recently initiated a pivotal clinical trial, evaluating trilaciclib, on myelopreservation and anti-tumour efficacy when administered prior to FOLFOXIRI/bevacizumab in patients with pMMR/MSS Metastatic Colorectal Cancer who have not received systemic therapy for metastatic disease (1L). It is in Phase III PRESERVE 1 clinical trial and is expected to be completed by November 30, 2024.
Onvansertib (also known as NMS-1286937 and PCM-075), developed by Cardiff Oncology, is a first-in-class, third-generation, oral, and highly-selective adenosine triphosphate (ATP) competitive inhibitor of the serine/threonine polo-like-kinase 1 (PLK1) enzyme, which is over-expressed in multiple cancers including leukaemia's, lymphomas, and solid tumors. Currently, onvansertib in combination with bevacizumab (VEGF inhibitor) and chemotherapy is being investigated in a Phase I/II trial (NCT03829410), for the 2L treatment of Metastatic Colorectal Cancer patients with a KRAS Mutation. It is estimated to be completed by May 2022.
Trastuzumab deruxtecan is a HER2 directed antibody-drug conjugate (ADC) and is the lead ADC in the oncology portfolio of Daiichi Sankyo and the most advanced program in AstraZeneca's ADC Scientific platform. The drug is currently in two Phase II clinical trials and is being evaluated for the treatment of patients with HER2-expressing Metastatic Colorectal Cancer. The study is estimated to be completed by December 30, 2029, with primary results around July 24, 2025.

Future Directions For Metastatic Colorectal Cancer Treatment
The current standard of Metastatic Colorectal Cancer treatment is either negative predictive markers in response to EGFR-targeted therapies (KRAS, NRAS mutations), anti-BRAF targeted therapies (BRAF mutation) or positive predictive markers for immune checkpoint inhibitors (microsatellite instability). Nowadays, due to a better understanding of Metastatic Colorectal Cancer molecular biology, drug resistance patterns, optimal treatment combinations and escape pathways can help create new and effective therapies with greater potency that can elicit better responses for Metastatic Colorectal Cancer patients. Multiple studies are in progress with many promising strategies to improve the health outcomes in Metastatic Colorectal Cancer patients.