The universality of mobile technology has proven to be extremely beneficial, specifically in recent years. The potential of improving medical care delivery, and the potential for instantaneous and two-way transfer of information has turned out to be a revolutionary step. The following article indicates the importance of mobile health (mHealth) technology in Hemophilia management. This disease requires good record-keeping as well as the contribution of patients' data to national registries and databases in order to interrogate this data for academic and commercial purposes. In addition to that, Patient-focused Hemophilia apps are used to directly improve the care of the individual patient. These are designed with respect to individuals' personal data in order to empower patients to live healthier lifestyles, offering a mechanism for peer support, and reinforcing the care provided by health care professionals to promote adherence to an individualized management plan.
In the last few years, the world has experienced increased connectivity with approximately 3.2 billion mobile users worldwide. So, incorporating mobile technology as a system for delivering health care and promoting health, especially in Hemophilia management, can emerge as a great enthusiastic treatment measure. The increased potential of mobile health (mHealth) for Hemophilia is very impressive. It is beneficial in a way that it provides easy and reliable self-diagnosis of acute Hemophilia symptoms, and also enables those with long-term medical conditions to engage more fully in their own care. This could potentially lead to rapid diagnosis and timely treatment of Hemophilia acute conditions, additionally reducing unnecessary visits to hospitals, clinics, and emergency departments. Also, a substantial impact on health care costs and profound improvement in consumer convenience can be observed.
Mobile Health in Hemophilia
Hemophilia is an inherited rare bleeding disorder where blood doesn't clot in a regular way because the person affected doesn't make enough blood-clotting proteins (clotting factors). Without these factors, patients cannot stop bleeding when they are injured. Hemophilia symptoms depend on the level of clotting factors. If the clotting-factor level is mildly reduced, it might bleed only after surgery or trauma. If the deficiency is severe, one can bleed easily for seemingly no reason. Small cuts are not much dangerous but internal bleeding is very harmful in Hemophilia patients. The main concern is internal bleeding in elbows, knees, ankles, and other joints. Internal bleeding can damage the organs and tissues and can also be potentially life-threatening. Hemophilia is further classified on the basis of clotting factors like Hemophilia Ais caused by factor VIII, Hemophilia B is caused by factor IX. These deficiencies arise as the result of mutations in the respective clotting factor genes.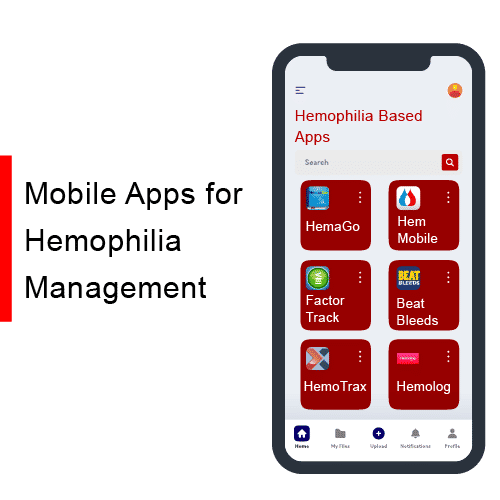 Hemophilia occurrence is comparatively equal in all racial groups with an estimated frequency of approximately one in 10,000 births. Without proper Hemophilia treatment, there is a significant risk of continuous bleeding leading to severe complications such as intracranial bleeding causing permanent cerebral damage and death. Hemophilia treatment by factor replacement therapy can possibly aid in preventing severe bleeding, improve quality of life, and normalize the life expectancy of Hemophilia patients. In more developed countries, Hemophilia patients are able to self-administer their infusions at home with help of mobile technology. Self-infusions have resulted in reduced joint damage, bleed prevention, fewer hospitalizations, and risk minimization when patients engage in high-risk activities.
Overall, mobile technology has provided patients greater autonomy, independence, and flexibility of care for Hemophilia management. The current availability of mobile technology offers the potential to enhance Hemophilia management in given ways.
Patients suffering from Hemophilia can provide disease-specific information in a vast range of formats such as photos, video, and texts.
Mobile technology aid in providing alerts in order to remind Hemophilia patients to take the treatment.
Mobiles capture user-entered data for payer purposes and stock control and potentially provide instant healthcare guidance, treatment advice in Hemophilia management.
Data can be compared with a population or on a patient-specific level in order to provide better treatment outcomes which in turn encourage positive health-related behavior.
Mobile technology helps in enhancing communication links between health care professionals and Hemophilia management by providing links to the approved Hemophilia-specific social networks.
The Switch to Mobile Use for Hemophilia Management
Since the very early days of home-based Hemophilia care to the current usage of mobile technology, it has been observed that the Hemophilia community has warmly welcomed electronic and software-based approaches for treatment. Earlier attempts involved hand-held computers as a replacement pf paper and pencil for data collection, due to it being more rapid. Nowadays, the mobile phone is a necessity for survival accessory, the growing adoption of mobile phones/ cell phones has been recognized by healthcare professionals as a means of accessing patients, promoting positive health messages in Hemophilia management.
Record keeping is a very important aspect of home-based Hemophilia care, for which mobile technology is an essential tool. In addition to that, adherence to treatment regimens, and timely infusion practice are also necessary when it comes to Hemophilia management and they can be easily accessed and monitored by mobile applications.
Hemophilia-Based Mobile Applications
Currently, many big Medtech companies which are engaged in Hemophilia treatment are developing Hemophilia-based mobile applications such as Novo Nordisk Inc., Pfizer, Inc., Bayer AG, Baxter, and CSL Behring, among several others.

Most of these manufacturers are developing Hemophilia apps with high production values that record factor usage regardless of Hemophilia type or the type of medication used, reasons for an infusion, details about bleeding events and pain scores, and the personal impact of the bleeding episode. Most Hemophilia apps provide an opportunity for patients to email their infusion and bleed history to the health care team. For instance, in Bayer's app, the company's range of educational tools and online resources are available for the user, whereas, in Novo Nordisk's app, multiple profiles are offered so that more than one family member can use the tool, which can be able to help in Hemophilia management and their families to track multiple medications and provide reminders for treatment or clinic appointments.
These apps are developed by a commercial and marketing intent, where companies claim that they are unable to access patient-specific information, but in most cases, the company is able to see anonymized data. So, data security is an important consideration with Hemophilia-based health care applications.
Benefits of Mobile Technology in Hemophilia Treatment
The mobile applications which deal with Hemophilia care and treatment are database-driven, which enables the information to be managed and transmitted in real-time. Additionally, text or email alerts are used for prompt reaction required as the result of data that exceeds pre-defined thresholds. The data is backed up by a secure online portal which enables health care professionals to view the data as added by the Hemophilia-based applications mobile users. Hemophilia apps are available on a wide range of operating system platforms such as Windows 8, iOS, and Android which can be used in different smartphones and tablet devices.
The mobile app-based system aids professional health care personnel to identify and track cases where Hemophilia patients are overtreating, undertreating, not treating themselves properly. Or they are administering medications at an inappropriate time, or wrongly taking the treatment (not as per directed). These apps can also schedule nurses' home visits and report on a range of patient checks and treatment through mobile devices, giving a complete view of nurse activity along with patient information, and saving time for record completion.
The ability to access data in real-time can be extremely beneficial allowing nurses to respond to patients with high-risk bleeds. The app-based healthcare delivery system for Hemophilia care is widely accepted by patients of all ages. The use of mobile technology in Hemophilia management and treatment has aided in –
Improving timeliness for the administration of medication
Improved treatment compliance
Ease in data entry and transfer
Promotion of patient empowerment
Reduced medication wastage
Reduced healthcare costs
Improved patient safety
Have You Read: The Evolved Gene Therapy for Hemophilia
The Unexplored Potential of Mobile-Based Hemophilia Management
Using as well as collecting relevant data on factor usage and bleeds is of huge importance to health care payers and clinicians as well. Also, there can be many benefits to patients where the feedback loop is closed and data is used for providing responsive care in acute situations. Moreover, it is observed that there is a high potential for combining Hemophilia-specific mobile phone-based Hemophilia apps along with hemophilia-specific social networks to provide peer and community support to Hemophilia patients.
Social networking as well as mobile phones are centralized features of most people's lives and may offer health benefits to those with rare long-term health conditions such as Hemophilia. Social networks have the potential to provide an infrastructure that is currently lacking, allowing people with Hemophilia to overcome geographical and cultural barriers to information sharing.
Future of Mobile Technology in Hemophilia Management
Good record-keeping is considered to be the utmost important component of Hemophilia management as per health care professionals. This can easily be done by introducing Hemophilia-based mobile applications focusing on response to an individual's personal data empowering patients to live healthier lifestyles. Furthermore, mobile applications could help in building the Hemophilia community beyond the traditional patient advocacy group, which is very important for this rare disease.

FAQs
What limitations does a person with Hemophilia have?
The limitations experienced by a person with Hemophilia include chronic pain, crippling disability, and hematomas (another complication of hemophilia, generally do not arise spontaneously).
How do you stop bleeding from Hemophilia?
By applying pressure to the bleeding area, the bleeding can be stopped. An ice pop or piece of ice on the area can also be used.
Why do Hemophiliacs need blood transfusions?
Hemophiliacs may at times need blood transfusions in order to treat excessive blood loss.
How is Hemophilia treated with gene therapy?
Gene therapy offers potential Hemophilia treatment by establishing continuous endogenous expression of factor VIII or factor IX (FIX) following the transfer of a functional gene to replace the hemophilic patient's own defective gene.