Osteosarcoma and Ewing sarcoma are two of the most common malignancies of bone tissues present in children. Osteosarcoma treatment usually involves surgery and chemotherapy and Ewing sarcoma treatment typically begins with chemotherapy only. Dr. James Ewing who described the tumor in the 1920's distinguished the tumor from Osteosarcoma on the basis that it was responsive to radiotherapy. Ewing sarcoma is a radiosensitive tumor, so historically radiotherapy is been primarily used as a treatment for Ewing sarcoma. Osteosarcoma tumors aren't easily killed by radiations, so radiotherapy usually doesn't play many roles in Osteosarcoma treatment. Osteosarcoma, the more common of the two types, usually is present in bones around the knee, whereas Ewing sarcoma may affect bones of the pelvis, thigh, upper arm, or ribs. Osteosarcoma, also called osteogenic sarcoma, is a kind of bone cancer. Most Osteosarcoma tumors develop in the bones around the knee, either in the lower part of the thigh bone (distal femur) or the upper part of the shinbone (proximal tibia). Osteosarcoma is the most common type of bone cancer and accounts for about 3% of cancers that happen in children. Osteosarcoma's cause is not known. In some cases, osteosarcoma runs in families. At least one gene has been linked to an increased risk. On the other hand, Ewing sarcoma is a rare type of cancer that occurs in bones or in the soft tissue around the bones. It may be found in the bones of the legs, arms, feet, hands, chest, pelvis, spine, or skull and occurs primarily in children and young adults, often appearing during the teen years. Ewing sarcoma affects males more often than females.
Osteosarcoma symptoms include some the aspects such as bone pain or tenderness, a warm lump of a tumor, swelling, redness, increased pain with lifting, limping (if it affects the leg) limited movement (if it affects a joint). Osteosarcoma tumors can be categorized as low-grade, intermediate-grade, or high-grade. Pain is the most common Osteosarcoma symptom, the pain may come and go at first but, gradually, it becomes constant. Osteosarcoma diagnosis is based on medical history and physical examination; imaging tests like X-rays, CT scans, MRIs, bone scans, and PET scans; and biopsy. Osteosarcoma treatment usually involves chemotherapy, surgery, and sometimes, radiation therapy. Osteosarcoma diagnosis can be done on the basis of various clinical evaluation tests such as X-ray, Computerized tomography (CT), Magnetic resonance imaging (MRI), Positron emission tomography (PET), and a bone scan. A bone scan is a way to find out whether or not Osteosarcoma may have spread to other bones beyond the place it started. But the most effective test is a biopsy, as the biopsy is the removal of a small amount of tissue for examination under a microscope. Other tests can suggest that a tumor is present, but only a biopsy can make a definitive diagnosis.
Ewing sarcoma symptoms involve pain, swelling, or tenderness near the affected area, bone pain, unexplained tiredness, fever, loss of weight, pathology. Ewing sarcoma is a small round blue cell tumor with regular-sized primitive appearing cells. It is closely related to the soft tissue tumors pPNET, Askin tumor, and neuroepithelioma, which collectively are referred to as the Ewing sarcoma family of tumors (ESFT). Ewing sarcoma cells can also metastasize (spread) to other areas of the body, including the bone marrow, lungs, kidneys, heart, adrenal glands, and other soft tissues. Ewing sarcoma's cause is not known exactly. Chromosomal (cytogenetic) studies have found that Ewing sarcoma cells are often characterized by an abnormal change in their genetic makeup known as a reciprocal translocation. Ewing sarcoma diagnosis is based upon several clinical evaluation tests like the identification of characteristic symptoms and physical findings, a detailed patient history, and a variety of specialized tests like a biopsy, MRI, CT scan, PET scan, Bone scan, blood test, and/ or X-ray.
Ewing sarcoma staging is diagnosed by the physician to identify if cancer has spread. Ewing sarcoma characterization can be done as localized, metastatic, or recurrent. Ewing sarcoma treatment includes chemotherapy, surgery, radiation therapy, and/or amputation of the affected area. These treatments are often used in some combination with each other. Immunotherapy and targeted therapy for Ewing sarcoma are under clinical evaluation trials for the potential treatment of Ewing sarcoma.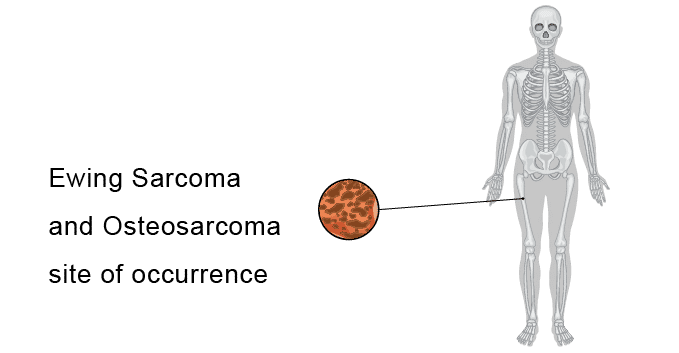 Ewing sarcoma and Osteosarcoma Epidemiology
Ewing sarcoma mostly occurs in teenagers and young adults. As per Delveinsight's analysis, almost 200–250 children and youngsters in the US are diagnosed with Ewing tumors each year. Two-thirds will be long-term survivors.
Also, Delveinsight estimates that the incident cases of Ewing sarcoma recorded in the United States are proportionally decent. Among the 7MM, Europe had a higher number of cases as it is more frequent in the European decedents. The highest to the lowest incidence of Ewing sarcoma was divided among EU5 countries. In addition to that, Delveinsight analyzed that the lowest Ewing sarcoma incident population of Ewing sarcoma was recorded in Japan.
Now, Osteosarcoma is linked with several other health conditions, but the cause of most Osteosarcoma is not clear at this time. Inherited gene mutations do not cause most Osteosarcomas, but instead are the result of gene changes acquired during the person's lifetime.
As per DelveInsight analysts, the total incident population of Osteosarcoma in the 7MM was 2,228 in 2020. The estimates show that the highest incident cases of Osteosarcoma were found to be in the United States with 1,174 cases in 2020. Out of the total incident population of 1,174 Osteosarcoma cases in the US, 620 and 554 cases were contributed by males and females, respectively.
Among the EU5, as per assessment by Delveinsight, Germany had the highest incident population of Osteosarcoma, followed by France and then the UK. Whereas in Japan, in the year 2020, there were 199 Osteosarcoma cases found, out of which males and females contributed to 105 and 94 cases, respectively.
Have You Read About The Pitfalls of Current Osteosarcoma Treatment Approaches?
Ewing sarcoma Treatment Landscape
The successful Ewing sarcoma treatment requires systemic chemotherapy in conjunction with surgery and/or radiation therapy for local tumor control. In general, patients receive chemotherapy before instituting local-control measures. In patients who undergo surgery, surgical margins and histologic response are considered in planning postoperative therapy. Patients with metastatic Ewing sarcoma often have a good initial response to preoperative chemotherapy, but in most cases, the disease is only partially controlled or recurs. Patients with lung as the only metastatic Ewing sarcoma site have a better prognosis than patients with metastases to bone and/or bone marrow. Adequate local control for Ewing sarcoma metastatic sites, particularly bone metastases is an important issue.
Currently Marketed Ewing sarcoma Therapies
Multidrug chemotherapy for Ewing sarcoma includes vincristine, doxorubicin, ifosfamide, and etoposide. Most protocols also use cyclophosphamide and some incorporate dactinomycin.
Protocols in the United States employ alternate courses of chemotherapy that constitute vincristine, cyclophosphamide, and doxorubicin with courses of ifosfamide/etoposide, while European protocols generally combine vincristine, doxorubicin, and an alkylating agent with or without etoposide in a single treatment cycle. The duration of primary chemotherapy ranges from 6 months to approximately one year. Surgery is the most commonly used form of local control. Radiation therapy is an effective alternative modality for local control in cases where the functional or cosmetic morbidity of surgery is deemed too high by experienced surgical oncologists. For patients with a high risk of relapse with conventional Ewing sarcoma treatments, certain investigators have utilized high-dose chemotherapy with hematopoietic stem cell transplant (HSCT) as a consolidation treatment for Ewing sarcoma.
The overall improvement in the outcome of Ewing sarcoma has been made through the tremendous efforts of researchers, clinicians all over the world, better liaison between all the stakeholders of the treating team, and collaborative international research in a huge number of cases. The main challenge now remains in preventing recurrence, preventing drug resistance, reducing therapy-related long-term toxicities, and improving outcomes in those with metastatic and relapsed/recurrent disease. No potential biomarker has been identified so far to predict the therapeutic efficacy of chemotherapeutic agents and predicts recurrences. To counter these unmet needs in the therapeutic area of Ewing sarcoma, many pharma giants such as Nanoovalent Pharmaceuticals, Oncomatryx, Valent Technologies, Cellectar Biosciences, Eisai Inc., Shanghai Pharmaceuticals Holding, Exelixis, Gradalis, and others are proactively working in order to improve the Ewing sarcoma's therapeutic pipeline.
Ewing sarcoma Emerging Drugs and Pipeline Therapies
The emerging therapeutic options in the Ewing sarcoma market landscape focus on novel targeted therapy as well as immunotherapy. The dynamics of the Ewing sarcoma treatment market are expected to change due to the improvement in the diagnosis, incremental healthcare expenditure across the world, and the expected launch of emerging therapies. Companies all over the globe are persistently working towards the development of novel Ewing sarcoma treatment therapies.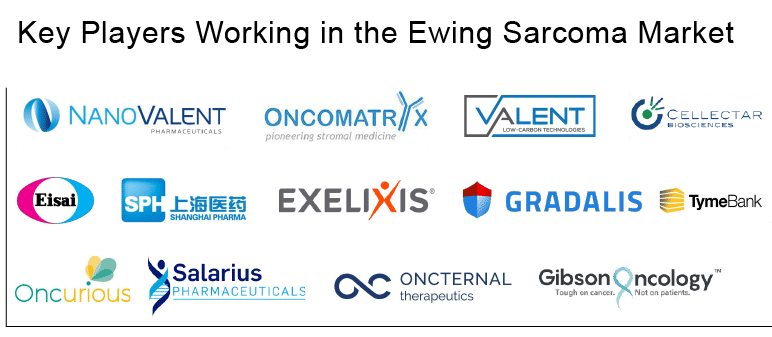 Vigil is a fully personalized cellular immunotherapy being investigated by Gradalis for Ewing sarcoma treatment and treatment of advanced cancers as well. It majorly focuses on the refractory or recurrent Ewing sarcoma. Vigil combines genetic engineering with immuno-oncology to stimulate an immune response against cancer cells. Phase I study of Vigil revealed clinical benefit with a median Ewing sarcoma survival of two years. It is currently under Phase III clinical trial and the estimated completion month of this study is July 2022.
Eribulin mesylate is currently being studied by Eisai. It is the first in the halichondrin class of microtubule dynamics inhibitors. It is currently under Phase II trial for Ewing sarcoma treatment. In pre-clinical studies, Eribulin showed broad-spectrum cytotoxicity and had low IC50 values when tested using a large panel of cancer cell lines.
SM-88 is an investigational drug being studied by Tyme, and it is a novel, oral, investigational agent evaluated as maintenance therapy in combination with methoxsalen, phenytoin. SM-88 is an exclusive dysfunctional tyrosine derivative and is the backbone of SM-88 used with MPS (Methoxsalen 10mg, Phenytoin 50mg, and Sirolimus 0.5mg; all administered daily). It is currently under Phase II clinical trial for Ewing sarcoma and the estimated completion month of this study is May 2022.
CLR 131 is an investigational pipeline drug of Cellectar Biosciences. It is a small-molecule, targeted Phospholipid Drug Conjugate (PDC) designed to deliver cytotoxic radiation directly and selectively to cancer cells. The FDA granted orphan drug designation to CLR 131 for Ewing sarcoma treatment. It is currently under Phase I clinical studies.
Seclidemstat is an experimental novel therapy being investigated by Salarius Pharmaceuticals. It is a small molecule designed to inhibit lysine-specific demethylase 1 (LSD1 or KDM1A), an enzyme regulating gene expression. Seclidemstat has demonstrated potent therapeutic activity in preclinical models of Ewing sarcoma. It is currently under Phase I clinical trial and the expected completion month of this study is September 2023.
Other Ewing sarcoma treatment therapies which are under clinical evaluation include NV-101 from Nanovalent Pharmaceuticals and OMTX-703 from Oncomatryx under preclinical trials. Whereas, LMP-400 from Gibson Oncology and TK-216 from Oncternal Therapeutics is under Phase I of clinical studies. In addition to that, Cabozantinib from Exelixis is under Phase II clinical trials.
Osteosarcoma Treatment Landscape
The commonly available modalities for Osteosarcoma treatment include chemotherapy, surgery, and radiation therapy. Early effects of tumor therapy included moist desquamation, edema, ulceration, and skin necrosis. Whereas, late effects include alopecia, bone resorption, bone necrosis, tumor induction, bone fibrosis, and pathologic fracture. The most widely used chemotherapeutic drugs include cisplatin, doxorubicin, ifosfamide, and high-dose methotrexate with leucovorin calcium rescue (HDMTX), or a combination of these. The function of second-line chemotherapy for recurrent Osteosarcoma is much less well defined and there is no accepted standard regimen. Second-line relapsed/refractory or metastatic Osteosarcoma preferred therapies include ifosfamide (high dose) and etoposide, regorafenib, sorafenib, sorafenib Radium 223 chloride, and everolimus. Other preferred Osteosarcoma treatment regimens include cyclophosphamide and topotecan, docetaxel and gemcitabine, and gemcitabine alone. There are a few FDA-approved products for Osteosarcoma treatment including Fusilev and Khapzory, both folate analogs used for the rescue after high-dose methotrexate therapy.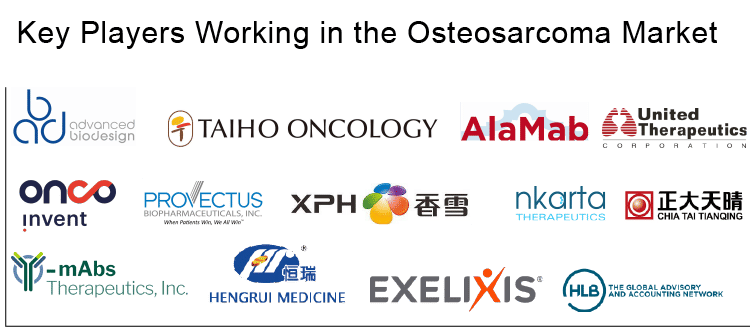 The Osteosarcoma market through the years faced various unmet needs like the need for biomarkers to improve diagnosis, the need for drugs in the front-line management, and the development of novel molecules to reduce toxicities of current treatment and improve Osteosarcoma survival rate. To combat these unmet needs many pharmaceuticals are currently working to develop new potential Osteosarcoma treatment pipeline therapies which include names such as Advanced BioDesign, Taiho Pharmaceutical, Oncoinvent, Provectus Biopharmaceuticals, Nkarta Therapeutics, United Therapeutics, Guangzhou Xiangxue Pharmaceuticals, AlaMab Therapeutics, Y-mAbs Therapeutics, Jiangsu Hengrui Medicine, Exelixis, HLB, Chia Tai Tianqing Pharmaceutical Group, and many others.
Know more about the major pharma companies, recent collaborations, agreements, and new research advancing the Osteosarcoma market landscape, through our newsletter.
Osteosarcoma Emerging Drugs and Pipeline Therapies
Companies across the globe are diligently working toward the development of novel Osteosarcoma treatment therapies with a considerable amount of success over the years. Many key Osteosarcoma pharma companies are developing potential treatment therapies, some of which are mentioned below.
Lenvatinib (trade name Lenvima) is developed by Eisai Co. and acts as a multiple kinase inhibitor against the VEGFR1, VEGFR2, and VEGFR3 kinases. It is an anti-cancer drug for the treatment of certain kinds of thyroid cancer and for other cancers as well. Currently, the company is investigating this molecule in the Phase II stage of development for Osteosarcoma treatment.
Regorafenib (sold under the brand name Stivarga), is an oral multi-kinase inhibitor developed by Bayer which targets angiogenic, stromal, and oncogenic receptor tyrosine kinase (RTK). Currently, the company is evaluating this molecule in the Phase II stage of development for Osteosarcoma treatment.
Cabozantinib (sold under the brand-name Cabometyx and Cometriq), is developed by Exelixis. It is a medication used to treat medullary thyroid cancer and second-line treatment for renal cell carcinoma, among others. Currently, the company is investigating this molecule in the Phase II stage of development for the treatment of patients with advanced Ewing sarcoma and Osteosarcoma treatment.
Pazopanib Hydrochloride is the hydrochloride salt of a small molecule inhibitor of multiple protein tyrosine kinases with potential antineoplastic activity. Currently, GlaxoSmithKline is investigating this molecule in the Phase II stage of development for Osteosarcoma treatment.
Bempegaldesleukin (NKTR-214) is a CD122-preferential IL-2 pathway agonist designed to stimulate the patient's own immune system to fight cancer. Currently, Nektar Therapeutics is investigating this molecule in various diseases like Melanoma, Renal Cell Carcinoma, Muscle-invasive Bladder Cancer, Urothelial Cancer, Squamous Cell Carcinoma of the Head and Neck, and Osteosarcoma. For Osteosarcoma treatment, this molecule is in the Phase II stage of development.

Naxitamab, a monoclonal antibody that targets GD2, was developed by investigators from Memorial Sloan Kettering Cancer Center (MSK) and is exclusively licensed by MSK to Y-mAbs Therapeutics. The company is currently evaluating Naxitamab in Phase II clinical trial for the treatment of recurrent Osteosarcoma.
Nab-rapamycin or Nab-sirolimus (ABI-009) is a nanoparticle, albumin-bound mammalian target of rapamycin (mTOR) kinase inhibitor. Aadi Bioscience is currently evaluating Nab-rapamycin with nivolumab in Phase I/II clinical trial for the treatment of advanced undifferentiated Pleomorphic Sarcoma, Liposarcoma, Chondrosarcoma, Osteosarcoma, and Ewing sarcoma.
Pepinemab is a humanized monoclonal IgG4 antibody that binds and blocks the signaling activity of SEMA4D. Vaccinex is currently evaluating Pepinemab in Phase II clinical trial for Osteosarcoma treatment.
Aliqopa (marketed name copanlisib, BAY80-6946) is an intravenously bioavailable, small-molecule inhibitor of phosphatidylinositol-3-kinase (PI3K) with predominant activity against the PI3K-α and PI3K-δ isoforms. Bayer is currently evaluating it in Phase I/II clinical trial for the treatment of Osteosarcoma, Neuroblastoma, Rhabdomyosarcoma, and Ewing sarcoma. The US FDA approved Aliqopa for the treatment of relapsed Follicular Lymphoma.
What Lies In The Future of Osteosarcoma and Ewing sarcoma Treatment Landscape
Widespread research and development activities of pharmaceutical companies, along with the rising incidence of Osteosarcoma will further boost the Osteosarcoma treatment market growth. The increase in Osteosarcoma market size is a direct consequence of the increasing incident population of Osteosarcoma patients in the 7MM. An increase in the patient pool, expected entry of emerging therapies such as Lenvatinib, Regorafenib Cabozantinib S-malate, etc. will also boost the Osteosarcoma market in the coming years.
On the other hand, in the Ewing sarcoma treatment landscape, the future hope lies in finding useful biomarkers, a better understanding of disease biology and chemotherapy resistance of Ewing sarcoma cells, and proper designing will help the Ewing sarcoma treatment market reach new heights. Also, execution of targeted therapies currently undergoing several clinical trials, better use of high throughput method to detect novel driver mutations/pathways and potential targets shall fuel the growth of the Ewing sarcoma treatment market. Through DelveInsight's analysis, it can be observed that a high rate of treatment is seen in total cases of Ewing sarcoma patients as a result of an increased investigation of new treatments in an effort to improve outcomes for the patients.

FAQs
Does sarcoma run in families?
Many family members who have had sarcoma or other cancers at a young age can go for genetic testing to see if they are at greater risk for developing a sarcoma. People like them might have inherited a gene that is defective if anyone in the family had one of these diseases. This disease can run in families.
Can Ewing sarcoma be cured?
About 70 percent of children with Ewing sarcoma can be cured. Teens aged between 15 to 19 have a lower survival rate. For children diagnosed after their disease has spread, the survival rate is less than 30 percent.
What are the most significant Osteosarcoma symptoms?
The most common symptoms of osteosarcoma include bone pain, tenderness, tumor, swelling, redness, increased pain and limping, etc.