As our medical demands rise, so does the technology that distributes our medications. With innovative phone apps, alarms, smart packaging, and smart pills, there is no excuse to miss a dosage or forget to take your medication. With the evolution of wireless devices and microscopic cameras, the terms "embeddable" and "wearables" are becoming more widespread, allowing users to identify diseases and health concerns or problems sooner and more easily. The wireless health technology frontier is beginning with smart pill technologies, sometimes known as "ingestibles," which might transform the way we use our medicines to aid us in ways other than merely providing therapy.
SmartPills are part of a rising number of technological innovations in medical diagnostics, and they can provide unambiguous answers concerning GI tract problems in the least intrusive manner for the patient. A pill is termed "smart" if it has technological components. These components can include microchips, cameras, or sensors that interact wirelessly with wearable software or mobile applications, computers in pharmacies or doctor's offices, and smart devices. Smart pill size may vary depending upon the useage, however, it is generally of the dimension of the capsule that is nearly around 26mm x 13mm, and is slightly larger than a multivitamin.
How Does the Pill Work?
A SmartPill (also known as a capsule endoscopy) is a small disposable capsule that is swallowed by the patient. The FDA has approved it for the identification of diseases associated with delayed stomach emptying as well as the evaluation of idiopathic chronic constipation. It delivers data to a data receiver worn by the patient as it travels through the GI tract. This data includes gastric PH levels, pressure patterns, gastric emptying time, colonic transit time, temperature, and other information. It can aid in the diagnosis of gastrointestinal motility problems such as persistent constipation, nausea, acid reflux, gastroparesis, and others. It may also be capable of detecting celiac disease and colon cancer.
The technology implanted is determined by the purpose of each smart pill. Dissolvable chips and sensors in medicine are one application of this technology. This hardware was created by tech companies (such as Proteus) using copper and magnesium, which are metal-based minerals that are harmless and easily absorbed by the body. When the sensor is swallowed, electrolytes in the body trigger a signal, which is sent to a battery-powered, adhesive Band-Aid-like patch worn on the abdomen. The patch delivers a signal to a smartphone or software on a computer, which then sends the data to a pharmacy or doctor's office. The sensor's data may be used to determine the correct dose or adherence, as well as to time prescriptions and pinpoint when the patient is most in need of medication.
Another method is to embed microscopic cameras in pills that can take photographs of the digestive tract. The camera wirelessly distributes pictures in the same way as the sensors do through a belt worn by the patient. The images from the camera pill are received by the belt and sent to a computer or tablet.
Benefits and Applications of Smart Pills
These technologies can help with patient needs, pharmacies, and physician diagnoses in a variety of ways. First, the pills containing dissolvable sensors may be utilized to treat a wide range of diseases in a wide range of individuals. For example, elderly or handicapped individuals may require a significant number of different drugs throughout the day or week. It can be difficult for some people to remember to take their prescriptions on time, to take the correct pill on the correct day, or to take their medication at all. When smartphone applications and other alarm technologies become too complicated, smart pill technology can help patients follow their prescription recommendations.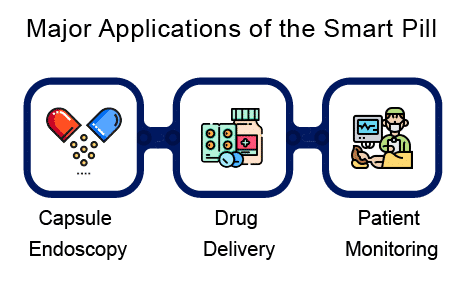 Second, the camera smart pill is consumed and then passes through the gastrointestinal system, which is beneficial for individuals who require a diagnostic that cannot be obtained by ultrasonography or colonoscopy. The digestive tract is quite extensive and intricate, and these cameras can capture photographs that show complete transparency of any issues. This technique is especially beneficial for people who are unable to have a colonoscopy owing to disease, anatomical problems, and/or previous operations. These cameras also offer greater access than previous detection methods, making it simpler to discover potentially serious life-threatening diseases (cancerous tumors or polyps).
Lastly, smart pills with non-dissolvable microchips/sensors are excellent not just for performance improvement but also for diagnosing any other sort of cardiac or gastrointestinal issue. During training, these pills measure temperature data, indicating when the core temperature is increased (either too much or too little). These pills have a quicker transit time, allowing findings to be read rapidly and applied to athletic performance. This sort of technological advancement might include pH and oxygen sensors that can identify problems in the bloodstream, lungs, or heart, as well as in the digestive system.
Smart Pills in the Gastrointestinal Disease Diagnosis and Treatment
Smart pills hold the potential to transform gastrointestinal disease diagnosis and treatment and could replace conventional diagnostic techniques such as endoscopy/colonoscopy. Smart pills have several applications, however, in gastrointestinal disorders, they can be employed for advanced diagnostic procedures and treatments. The smart pill can be deployed to measure important information related to GI symptoms and can wirelessly transmit data. It can also provide valuable pictures of the GI tract and can also estimate the amount of time it takes to move food through the entire GI tract. These insights can assist gastroenterologists in evaluating the function of the gastrointestinal system. Data collected by SmartPill can be used to analyze whether the symptoms are related to conditions such as chronic constipation, gastroparesis, or malabsorption.
Similarly, several key companies are working in the direction of utilizing the smart pill along with artificial intelligence to diagnose gastrointestinal cancers and bleeding issues faster and with more precision than existing diagnostic methods. Smart pill designed for the diagnosis purpose uses miniature wireless biosensors designed to detect and analyze biomarkers that demonstrate the presence of disease. Additionally, a smart pill can transmit data externally. It can determine hemoglobin concentrations, blood oxygen saturation, and the location of cancer in real-time, which can be highly beneficial for the physician to start treatment at an early stage.
In the colonoscopy segment, Medtronic had received the Food and Drug Administration (FDA)-clearance for the smart pill called PillCam COLON. The PillCam COLON 2 system provides direct visualization of the colon with a noninvasive capsule endoscopy procedure, supporting early detection of polyps. PillCam COLON can reduce the bleeding or sedation risks or inflammatory bowel disease.
Challenges Concerning Smart Pill Usage
The smart pill uses sensors and minuscule cameras for wireless tracking of various vital body stats, detecting diseases and health concerns or problems. Right now, smart pill usage is in the early stage. Healthcare professionals working in the smart pill segment need to be trained to interpret data accurately.
Similarly, extensive patient education is also required. Smart pills can provide data related to a patient's internal health or can target certain conditions. The use of sensors raises several ethical concerns regarding the patient's psychosis and some unintended treatment challenges or issues in the body. Additionally, the usage of the smart pill may make the user uncomfortable and make him think his privacy is invaded and monitored regularly.
Sometimes the unintended interactions or malfunction may make the patient uncomfortable and lead to severe distrust. For the usage of the smart pill, there needs to be clear guidance regarding the informed consent for the use from the patient's side.
Key Companies in the Small Pills Market
Pharmaceutical companies have previously created digital "smart" pills with computer chips. The first digital cancer pill, introduced in January 2019, has a chip in capsules containing capecitabine, a cancer medication that patients must take many times each day. Currently, just a few pharma companies have FDA approval, but as additional improvements and applications are developed, we will see more health companies making these smart pills.

Some of the key companies devoted to progressing the smart pills market size with innovative smart pills development include Medtronic Plc., Olympus Medical Technology, CapsoVision, Inc., Novartis AG, Proteus Pharmaceuticals, Philips Healthcare, Microchips, Bio-Images Drug Delivery (BDD) Limited, Given Imaging, Vitality, Check-Cap, PENTAX Medical, BodyCap, Jinshan Science & Technology (Group) Co., RF Co., Ltd., CapsoVision Inc., General Electric Company, IntroMedic Co. Ltd., Boston Scientific Corporation, Bio–Images Research Ltd., Medimetrics S.A., DE C.V, Karl Storz Gmbh & Co. KG., Fujifilm Holdings Corporation, Cerner Corporation, and others. Once these technologies are approved and popular, their costs will fall, and their availability and utility to patients will expand in the future.
Smart Pills and the Future Growth Prospects
As the technology evolves and becomes more advanced, the smart pill is also expected to undergo miniaturization of electronic components with wide usage and applications in the coming years. However, the Smart Pills currently have a quite high cost as it requires intense funding, R&D activities, manufacturing expenses, and workforce. Despite these challenges, several key MedTech giants, tech companies, and startups are vigorously working in the domain to bring the low-cost smart pills to the healthcare market to fulfill the demand and capture the market.
Startups and other tech giants working in the domain are actively embracing product innovation techniques and strategies to fulfill the evolving needs of the end-user, such as patients, hospitals, and clinical research institutes. Companies are leaving no stone unturned to expand their presence across different indications and therapeutic areas and focus on strengthening the growth structure throughout different geographies. Over the past few years, there have been several partnerships, collaborations, and licensing agreements in the domain. As the awareness and demand for Smart Pills grow in the coming years, the segment is expected to advance at an immense rate.
As per DelveInsight, Smart Pills Market dynamics are expected to evolve enormously in the coming years. The growing demand for minimally invasive surgical procedures, increase in the geriatric population, rise in gastrointestinal disorders, growth in chronic diseases, the rising popularity of smart pills among the patients, and rapid technological advancements in drug delivery are predicted to stimulate the Smart Pills Market growth. Additionally, the upsurge in strategic collaborations, mergers, acquisitions, joint ventures, & partnerships among different players across verticals is also expected to drive the market. Despite several favorable lucrative opportunities, there are a few hurdles in the Smart Pills segment. The high cost associated with the ingestible sensors and rigid government regulatory approval of new products is anticipated to impede the market's growth. It will be interesting to see how the companies with so much investment over the years will overcome these challenges in the coming time. Additionally, to what extent the smart pill will improve the overall health outcome, and will they ultimately become mainstream devices/medication.