In a bittersweet decision for Biogen and Sage Therapeutics, the FDA approved the fast-acting drug zuranolone as the first tablet for postpartum depression on 04 August —but rejected the drug for major depressive disorder treatment. Zurzuvae is a neuroactive steroid that acts as a GABA-A receptor-positive allosteric modulator. Lower GABA levels in the body have been related to depression. Zuranolone, to be marketed as Zurzuvae in postpartum depression, is just the second medication for this indication and the first pill that may be used at home. The companies expect Zurzuvae to be commercially available for patients in the fourth quarter of this year, after its designation as a restricted substance by the US Drug Enforcement Administration. Prior to Zurzuvae, the only FDA-approved treatment for postpartum depression was Sage's Zulresso (brexanolone), but because it must be given intravenously in a hospital, it was out of reach for many women.
According to the Centres for Disease Control and Prevention, mental health disorders are the biggest cause of maternal mortality, with PPD being one of the most common complications during and after pregnancy. It is believed that around 1 in every 8 women in the United States suffers from PPD symptoms. Without proper screening, over half of all PPD cases may go untreated. According to studies, only 15.8% of women with postpartum depression symptoms obtain treatment. As per DelveInsight estimates, in 2022, the total diagnosed prevalent cases of maternal PPD in the 7MM were ~ 1.3 million and these cases are anticipated to increase during the forecast period (2023–2032).

The approval of ZURZUVAE to treat women with PPD is based on the NEST clinical development program, which included two trials in adult women with PPD (ROBIN and SKYLARK trials). Both studies fulfilled their primary goal, a substantial mean reduction from baseline in the 17-item Hamilton Rating Scale for Depression (HAMD-17) total score, a typical measure of depression severity, by Day 15 when compared to placebo. All critical secondary objectives in the SKYLARK Study testing ZURZUVAE 50 mg were met, with significant reductions in depression symptoms apparent as early as Day 3 and lasting until Day 45. ZURZUVAE was generally well-tolerated, with a consistent safety profile throughout both investigations.
The approval of ZURZUVAE to treat postpartum depression is a significant milestone for the hundreds of thousands of women who suffer from this underdiagnosed and undertreated condition," said Biogen President and Chief Executive Officer Christopher A. Viehbacher. "We are grateful for the help of patients, patient advocates, and researchers in reaching this milestone." We believe that ZURZUVAE will be an essential treatment option for PPD, and we will carefully evaluate the FDA's feedback on the use of zuranolone in MDD to determine the next steps.
"With ZURZUVAE, we now have an oral treatment option that can provide rapid improvements in depressive symptoms in as little as three days for women with PPD," said Dr. Kristina Deligiannidis, a principal investigator in the ZURZUVAE clinical development program and Professor at The Feinstein Institutes for Medical Research in Manhasset, New York. "As a perinatal psychiatrist, I see the devastation PPD has on mothers, particularly on the critical mother-infant bond and long-term child development." When it becomes available, I believe ZURZUVAE will be a valuable choice for people in need."
In the CORAL study in MDD, zuranolone—given in combination with a standard-of-care antidepressant—showed a statistically significant reduction in depression symptoms after three days of treatment, an effect that lasted two weeks, Sage and Biogen announced in February 2022. Zurzuvae was tolerated well once more. Despite the good results, the FDA issued a Complete Response Letter (CRL) for zuranolone in the treatment of adults with major depressive disorder (MDD). The CRL said that the application did not present sufficient evidence of efficacy to support the approval of zuranolone for the treatment of MDD and that further research will be required. Biogen and Sage are studying the feedback and deciding what measures to take next.
Zurzuvae's approval in PPD is Biogen's third this year. The company is undergoing a makeover under Viehbacher, who joined the office in January from Michel Vounatsos, whose tenure was overshadowed by the contentious FDA approval of Alzheimer's drug Aduhelm. Viehbacher's tenure began well, with the January 6 approval of Biogen's second Alzheimer's disease treatment, Leqembi (developed in collaboration with Eisai), which received conventional approval in July. The company's Qalsody was then approved by the FDA in April as the fourth medication for amyotrophic lateral sclerosis and the first for a hereditary type of the disease.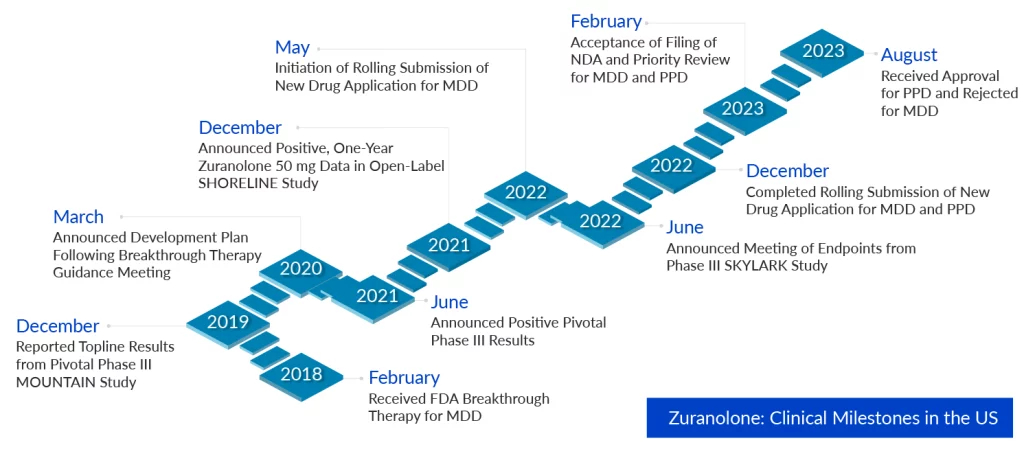 Depression is a major business for the biopharma sector, with DelveInsight projecting a postpartum depression market size to grow from ~USD 260 million in 2022 at a significant CAGR by 2032. According to the DelveInsight Major Depressive Disorder Market report, an estimated 48 million people would have at least one major depressive episode in the 7MM in 2021, and this is further expected to rise. As a result of this, the major depressive disorder market size will rise from ~USD 5.6 billion in 2021 at a considerable CAGR by 2032.
In addition, several other drug candidates by key players, such as Lipocine, Brii Biosciences, and others are under late- and mid-phase clinical development and have the potential to give tough competition to Biogen and Sage' Zuranolone. BRII-296, another GABAA receptor, is a novel, single-injection therapeutic candidate in development for the treatment and prevention of PPD. The company is actively working to expand the clinical indications for BRII-296 in 2023 and plans to initiate additional Phase II studies in the US by the end of 2023.
LPCN 1154 is an oral neuro-steroid product candidate for treating PPD in adults. The active moiety in LPCN 1154 is an endogenous PAM of the y-aminobutyric acid (GABAA) receptor. It is expected to be an at-home treatment with easier access than the current standard-of-care invasive option requiring hospitalization with significant limitations. Moreover, LPCN 1154 is expected to provide the required level of privacy for a mother, avoiding bonding/breastfeeding interruptions due to the required hospitalizations for the current option.
Despite a tremendous rise in antidepressant prescriptions, still, there is minimal knowledge regarding the trends in the prescription of these drugs by psychiatrists and non-psychiatric specialists. One aspect of ZULRESSO that has affected its after-launch market capturing is its administration pattern, which is a 60h prolonged intravenous infusion. Since the procedure is very challenging as the mothers have to stay away from their children for this prolonged duration, very less mothers are opting for this postpartum depression treatment.
In the coming times, results can be expected for the drug candidates that are still undergoing clinical evaluations for the treatment of postpartum depression. Based on these results, some further comparative analysis can be conducted to analyze the most promising candidate out of the potential drug candidates for the treatment of PPD.