Diabetes, also known as diabetes mellitus, is one of the most serious and widespread public health concerns as it causes spikes in a patient's blood sugar levels to dangerously high levels. It is the most common type of endocrine disorder. The metabolic disorder can be classified into three main types, namely, Prediabetes, Type 1 Diabetes, Type 2 Diabetes, and Gestational Diabetes. Amongst all three, the most common is type 2 diabetes, usually affecting adults when an individual's body becomes resistant to insulin or produces insufficient insulin. Type 1 Diabetes, sometimes referred to as Juvenile Diabetes or Insulin-dependent Diabetes, is a chronic disease in which the pancreas generates little or no insulin on its own.
Blood Glucose Levels
| Blood glucose levels (mg/dL) | Blood glucose levels (mmol/L) | Interpretation |
| --- | --- | --- |
| < 53 | < 3 | Severe Hypoglycemia |
| < 70 | < 3.9 | Hypoglycemia |
| < 125 | < 7 | Normal |
| < 200 | < 10 | High (require actions) |
| >200 – 500+ | >10 – 27.7+ | Metabolic consequences (require actions) |
What Causes Diabetes and Diabetes Diagnosis
As per DelveInsight analysis, there has been a continuous increase in Diabetes prevalence over the years, which has been attributed to changing lifestyles in cities and rural regions, globalization, bad eating habits, particularly among teens and adults, an increase in the obese and geriatric population, and a lack of daily physical activities.

Diabetes diagnosis criteria include blood tests that depict the blood glucose or blood sugar levels. Physicians may also use tests such as the fasting plasma glucose (FPG) test, the A1C test or random plasma glucose (RPG) test to diagnose Diabetes.
In order to diagnose gestational diabetes, the glucose challenge test, the oral glucose tolerance test, or both might be prescribed for pregnant women.
Levels of Blood Glucose level for Diagnosis
| | A1C (%) | Fasting Plasma glucose (mg/dL) | Oral glucose tolerance test (mg/dL) |
| --- | --- | --- | --- |
| Diabetes | 6.5 or above | 126 or above | 200 or above |
| Pre-Diabetes | 5.7 to 6.4 | 100 to 125 | 140 to 199 |
| Normal | About 5 | 99 or below | 139 or below |
Epidemiology of Diabetes
According to the World Health Organization, the number of individuals affected with Diabetes has increased drastically from 108 million in 1980 to 422 million in 2014. The prevalence of Diabetes has been progressively increasing for the past three decades, reflecting an increase in the prevalence of obesity and overweight people. The prevalence of Diabetes is growing most rapidly in low- and middle-income countries.
Furthermore, Diabetes is a leading cause of death worldwide; in 2019, around 1.5 million fatalities were directly caused by Diabetes, and between 2000 and 2016, there was a 5% increase in Diabetes-related premature mortality (Diabetes, 2021).
World-age Standardised Prevalence (%) of Diabetes Among Ages 20–79 years in IDF Regions (Population in million)
| | | | |
| --- | --- | --- | --- |
| | 2019 | 2030 | 2045 |
| World | 463 | 578.4 | 700.2 |
| Middle East and North Africa | 54.8 | 76 | 107.6 |
| Western Pacific | 162.6 | 196.5 | 212.2 |
| South-East Asia | 87.6 | 115.1 | 152.8 |
| North America and the Caribbean | 47.6 | 56 | 63.2 |
| South and Central America | 31.6 | 40.2 | 49.1 |
| Europe | 59.3 | 66 | 68.1 |
| Africa | 19.4 | 28.6 | 47.1 |
AFR: Africa; EUR: Europe; MENA: Middle East and North Africa; NAC: North America and Caribbean; SACA: South and Central America; SEA: South-East Asia; WP: Western Pacific
According to the Centers for Disease Control and Prevention 2021, almost 34 million people in the United States have Diabetes, with 90-95% of them having type 2 diabetes (Type 2 diabetes | CDC, 2021). Similarly, in the UK, the number of patients diagnosed with Diabetes is around 3.5 million. It means 6% of people, which represents 1 in every 16 people in the UK, are suffering from Diabetes.
Around 88 million American adults suffer from prediabetes, and more than 84% of them are unaware of their situation. An estimated 87.6 million adults aged 20-79 years were living with Diabetes in the South-East Asia region in 2019, representing a regional prevalence of 8.8% and is expected to increase to 153 million by 2045. It is estimated that around 60% of diabetics in the world live in Asia. China ranked first (116.4 million in 2019), followed by India (77 million in 2019) and Pakistan (19.4 million in 2019) as the Asian countries having the highest number of diabetic patients.
In Japan, the prevalence of Diabetes has been increasing drastically, reaching 7.39 million patients (5.6%) in 2019.

What is the Treatment for Diabetes?
Diabetes has been a long-term health problem since the dawn of time, and with no permanent cure in sight, patients with the disease must rely on a variety of medical equipment as well as lifestyle changes to manage their symptoms. The use of Diabetes technology helps patients to manage their blood glucose levels, avoid Diabetes complications, lessen the burden of living with Diabetes, and improve their quality of life.
The treatment option for diabetic patients includes insulin (mainly for Type 1 patients), oral medicines (mainly for Type 2 patients), and lifestyle modifications consisting of a healthy diet and exercise. A robust Diabetes pipeline with more than 200+ companies are working proactively in developing therapeutic drugs as well as medical devices for Diabetes in a hope of changing the current treatment scenario.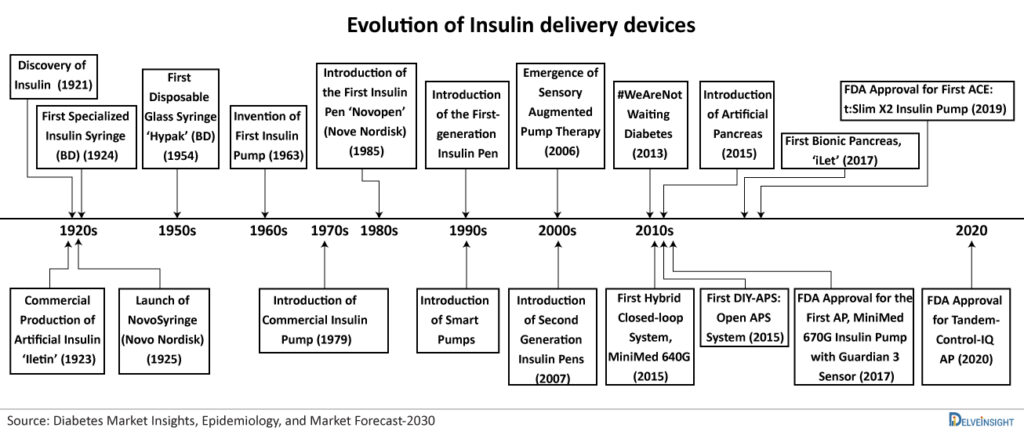 In 2021, the discovery of insulin will mark 100 years, as the origin of Diabetes therapy dates back to the 1920s with the discovery of insulin and its applications. The insulin injection started with the syringe and moved to insulin pens, insulin pumps, and sensor-augmented pumps.
Initially, big and heavy reusable syringes with plungers, barrels, and long large-bore needles were used for insulin delivery. These syringes and needles were essential to be sterilised by boiling for reuse. In 1924, Becton Dickinson manufactured the first specialized syringe for insulin injection. In 1925, Novo Nordisk launched "Novo Syringe". By the mid-1960s BD manufactured the first one-piece insulin syringe with an integral needle. Since then, the industry has seen many advancements in insulin delivery devices.
Additionally, milestones in insulin therapy such as the development of slow-acting preparations, recombinant insulin, rapid-acting insulin analogs, and long-acting basal analogs have complimented the progress in Diabetes technology.
| | Type of Insulin | | |
| --- | --- | --- | --- |
| Insulin type | How fast it starts to work (onset) | When it peaks | How long it lasts (duration) |
| Rapid-acting | About 15 minutes after injection | 1 hour | 2 to 4 hours |
| Short-acting, also called regular | Within 30 minutes after injection | 2 to 3 hours | 3 to 6 hours |
| Intermediate-acting | 2 to 4 hours after injection | 4 to 12 hours | 12 to 18 hours |
| Long-acting | Several hours after injection | Does not peak | 24 hours; some last longer |
Use of Medical Devices for Diabetes
Being a chronic metabolic disease with no known cure, Diabetes management is a major challenge that requires continuous monitoring of blood glucose levels. Although there are several medication and treatment choices available in the market that can assist the patient in living a healthy life, still a high number of patients do not receive timely treatment as they go undiagnosed. Apart from medication, the rapid growth and development of technologies in recent years have shaped a new technological treatment for diabetics. It's remarkable how new Diabetes technology has innovated management methods over the years, from the earliest discovery of insulin as a treatment for Diabetes to the invention of handheld glucometers. Many players in the medical device and healthcare industries are working together to create an ecosystem through technology that allows Diabetes self management to patients and receive input from doctors remotely, saving both money and time.
With the increased public awareness of health issues associated with Diabetes and the evolution of advanced technology based gadgets, these new diabetes devices have become popular among patients. Diabetes is characterized by excessively low blood sugar levels for which many diabetic patients must take daily blood sugar readings, sometimes multiple times each day, to keep track of their blood sugar levels. In many critical cases, blood sugar readings may often need to be tested around 10 times every day. The testing can be exhausting, especially when blood must be drawn via pinpricks. Therefore, the diabetes case management as well as the diagnosis of the process can be eased out with the overall technological development of diagnosis and management.
Diabetes diagnosis and treatment have shown phenomenal progress in recent years, assuring a great quality of life for patients. Advances in Diabetes technology can help primary care professionals to provide customized care tailored to each patient's specific needs. Medical devices are crucial in assisting people in managing diabetes. They also give doctors and other health professionals the information they need to keep track of their patients' development. Technology is constantly improving, allowing patients and physicians to track medical issues in new and advanced ways, starting with the syringe for injecting insulin, graduating to insulin pens, insulin pumps, sensor-augmented pumps, hybrid closed-loop systems, and cloud-based data systems has transformed patient care. There are many automated insulin deliveries (AID) approved by the FDA, such as the Medtronic MiniMed 670G and Control-IQ from Tandem Diabetes Care, working in the betterment of the patients.
In 2020, the FDA approved a new-generation, interoperable, control-IQ artificial pancreas system (tandem diabetes).
At the beginning of 2021, Tidepool submitted the 510(k) of Tidepool Loop to the Food and Drug Administration (FDA). When approved, it will be the first app approved by the FDA to work as a part of an automated insulin delivery/dosing (AID) system or artificial pancreas.
Adapting Technological Advancements
A very usual question arises with the advancements observed in Diabetes technology – which technology would be best in managing a patient's diabetes? Traditionally, Diabetes technology has been separated into two categories:
Insulin delivery (through a pen or pump)
Continuous glucose monitor (CGM)
Continuous efforts by manufacturers and scientific advancements led to the introduction of insulin syringes that are in current use. The advent of Diabetes therapy, starting with the syringe for injecting insulin, graduating to insulin pens, insulin pumps, sensor-augmented pumps, hybrid closed-loop systems, and cloud-based data systems, has transformed Diabetes patient care.
Diabetes technology has lately advanced to include hybrid devices that can work together by monitoring glucose and thereby, delivering insulin, some of which are automated, as well as software-based that acts as a medical device and assists with Diabetes self management. In the last few years, connected continuous glucose sensing technologies, sensors placed into the skin, digital skin patches, and plenty of other developments have hit the market to make Diabetes treatment as simple as possible.
Finger prick tests were previously hailed as a game-changer in Diabetes care, but now they're far from ideal. Aside from the discomfort of lancing a finger numerous times a day, the prick can only provide a snapshot of glucose levels at that particular moment. As a result of the repeated test, they produce thick calluses on the finger prick. The availability of continuous glucose monitoring has eliminated the necessity for routine finger sticks. The sensor can detect glucose levels in real-time by placing them on the back of the upper arm. These new modern self-measuring devices are simple to use and can aid in decision-making programs to improvise clinical outcomes.
Some of the top innovations in Diabetes devices specifically designed to aid patients include:
Continuous glucose monitors
Blood glucose monitor
Insulin Pumps
Insulin Pens
The do-it-yourself sugar device for diabetes uses computer algorithms to connect continuous glucose monitors to insulin pumps, creating a cycle of blood sugar measurement and insulin infusion. This is designed to lower the amount of effort a patient has to put in to manage their disease. The combination of insulin pumps with continuous glucose monitoring systems appears to be the best near-term approach for insulin-dependent diabetics to obtain optimal metabolic control. The use of Insulin pumps technology may be used as a viable alternative to the multiple daily injections for patients with Diabetes. An insulin pump uses a cannula to provide exact amounts of rapid-acting insulin 24 hours a day to fit your body's needs. Thus, a combination of insulin pumps with a continuous glucose monitor allows pumps to modify insulin levels based on the CGM readings.
With the advancement in the medical device industry, many companies are working proactively to develop and commercialize medical devices for Diabetes management. The method for the delivery of insulin has continuously evolved which is usually given to type 2 diabetic patients using a syringe or –presently, much more commonly – an injection pen. Connected (or "smart") pens have the potential to bring even more benefits in terms of monitoring, calculating insulin dosage, and compliance.
The standard route of insulin delivery is subcutaneous insulin administration via hypodermic injection or pump-mediated infusion. It may be associated with pain, needle phobia, and decreased adherence, as well as the risk of infection. Therefore, transdermal insulin delivery has been extensively explored as a substitute to subcutaneous approaches for Diabetes Management in recent years.
Transdermal systems designed to prevent insulin degradation and offer controlled, sustained insulin release may be desirable for patients and lead to increased adherence and glycemic outcomes.

Key Players Operating in Diabetes Management
Diabetes is a growing health concern that shows no indications of abating within the next few years. Many tech giants have focused on delivering revolutionised diabetic management space with innovative hardware (e.g. glucose monitoring and pumping) and software (e.g. digital monitoring of blood sugar levels and predictive analytics). New diabetic digital tools and care technologies are being created to handle the complexity of care in a more comprehensive approach, making it feasible to manage such chronic diseases more seamlessly and remotely. Diabetes digital medicine advancements (through connected devices and algorithms) have the potential to give more precise information and simplify Diabetes Management, resulting in better outcomes.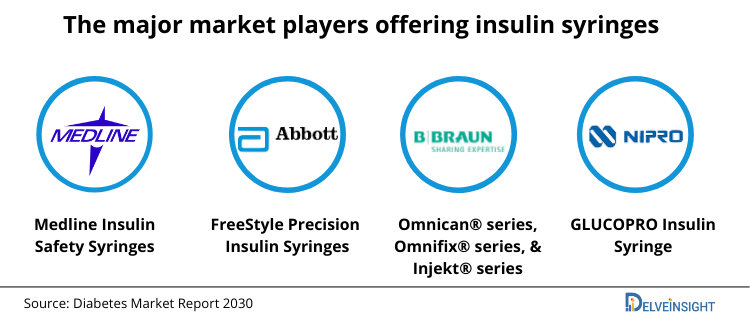 The major market players offering insulin syringes are Medline Industries, Inc. (Medline Insulin Safety Syringes), Abbott Laboratories (FreeStyle Precision Insulin Syringes), and B. Braun Melsungen AG (Omnican® series, Omnifix® series, and Injekt® series), and NIPRO (GLUCOPRO Insulin Syringe), among others.
There are various commercially available first-generation insulin pens such as NovoPen family (Novo Nordisk), AllStar (Sanofi), and prefilled pens, such as FlexPen, FlexTouch (Novo Nordisk), Humalog Pen, Kwikpen (Eli Lilly), and SoloSTAR (Sanofi).
The popular insulin pump models commercially available in the market are MiniMed (Medtronic), OmniPod (Insulet), t:Slim (Tandem), DANA R (SOOIL), Cellnovo, Accu-Chek Solo Micropump (Roche), and mylife YpsoPump (Ypsomed).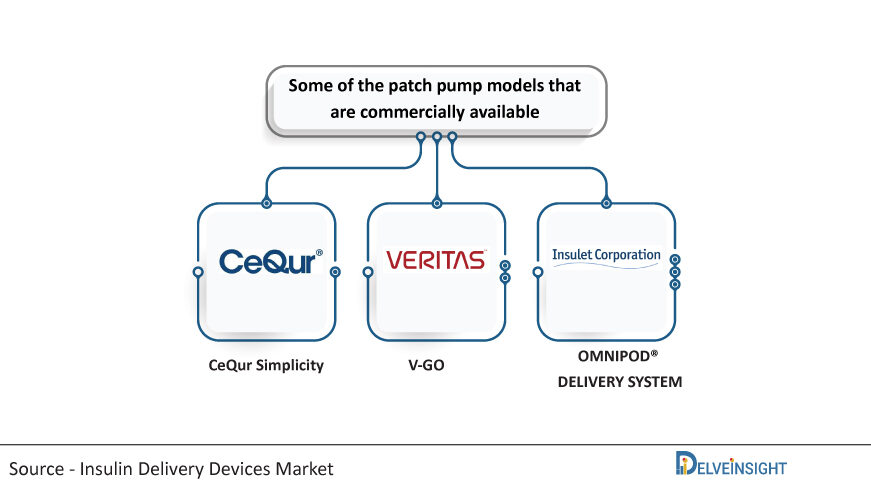 Some of the patch pump models that are commercially available are CeQur Simplicity (CeQur), V-GO (Valeritus), OMNIPOD® DELIVERY SYSTEM (Insulet Corporation), among others
Over the years, fast-changing technologies have been shown to provide an easy way of use and simplify diabetic care for patients. The major players of this therapeutic area are introducing user-friendly and easy-to-handle devices in the market that require less clinician intervention.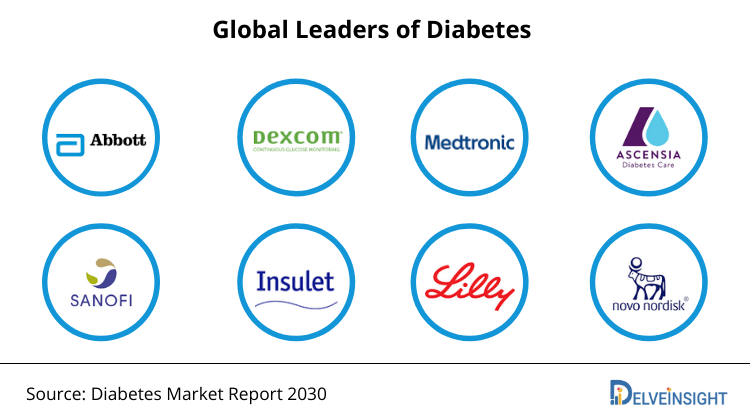 Diabetic technology in the healthcare environment is booming globally, with many companies operating in this space. Abbott, Dexcom Inc., Medtronic, Ascensia, Tandem Diabetes Care, Insulet, Eli Lilly and Company, Novo Nordisk, and Sanofi are just a few of the global leaders in the Diabetes market.
Dexcom Inc. based in California, US, has established itself as a leader in Diabetes care technologies. It provides innovative diabetes home monitoring devices such as the pathbreaking – continuous glucose monitoring (CGM) systems that enable people to take control of their Diabetes. The company develops, manufactures, and distributes continuous glucose monitoring systems for Diabetes Management. The main and most widely used product includes the DexCom G6 CGM system, which received US Food and Drug Administration approval in 2018 for children 2 years and older managing both type 1 and type 2 Diabetes. In May 2021, Eli Lilly entered into agreements with four companies DexCom, Inc., Glooko Inc., myDiabby Healthcare and Roche – to advance connected solutions and streamline care for diabetic patients living outside of the United States. These companies offer unique Diabetes Management platforms which will be compatible with Lilly's Tempo Pen™ (approved in several global markets) and Tempo Smart Button™ (currently in late-stage development).
On August 07, 2018, the US Food and Drug Administration approved FreeStyle Libre 14 day, Abbott's revolutionary continuous glucose monitoring system. It became the longest-lasting self-applied personal glucose sensor available on the market and is estimated to change the lives of more than 3 million people across more than 50 countries. According to the late-breaking data published by Abbott in 2021, the data exhibited meaningful outcomes for people managing Diabetes using the FreeStyle Libre system, which included factors like reductions in HbA1C levels, acute Diabetes events, and all-cause hospitalisations. The cost analysis showed that the Medicaid budget could be saved up to USD 23 million in one year if there is an increase in the population of FreeStyle Libre users by 10% because of the reduction in complications.
Medtronic offers different insulin pump systems and smart insulin pens combined with continuous glucose monitoring systems for real-time Diabetes management. MiniMed (TM) 630G system was approved by the US Food and Drug Administration in August 2016 for patients aged 16 and above. The GuardianTM Sensor 3 uses the most modern SmartGuard technology and Continuous Glucose Monitoring (CGM) to help dispense insulin every five minutes based on sensor glucose results. Medtronic Diabetes is successful in providing an integrated solution that includes insulin pumps as well as Continuous Glucose Monitoring.
In May 2021, Medtronic plc received the Conformité Européenne Mark approval for their InPen smart insulin pen for expanded functionality as multiple daily injections (MDI).
Tandem Diabetes care's t:slim X2 insulin pump is the smallest durable pump approved by the US Food and Drug Administration in February 2019. The t:slim X2 insulin pump is used to provide continuous subcutaneous insulin to a patient with type 1 diabetes to help them regulate their blood glucose levels. The device is unique compared to other devices because it is 38% smaller than other pumps while still holding a surprising quantity of insulin (up to 300 units). The t:slim X2 insulin pump can be used either independently or in conjunction with the Dexcom G6 continuous glucose monitoring (CGM) device along with the Control-IQ or Basal-IQ automated insulin delivery technologies.
Control-IQ, the artificial pancreas system manufactured by Tandem Diabetes Care, was approved by the FDA as a diabetes glucose testing device in 2020. It tracks blood glucose levels with a continuous glucose monitor (Dexcom G6 CGM) and automatically delivers the hormone insulin as needed.
Apart from this, there are many technology behemoths like Ascensia, Insulet, and many others that are counting on diabetic technology to bring it to the masses. Currently, many devices have also received US Food and Drug Administration approval for patients' use in their daily life.
Many more companies are emerging in the diabetic industry, and they are playing an important role in growing the appeal of wearable devices for diabetes. In the table below, a few of the start-ups with their products are listed.
Diabetic Devices and Companies
| Device | Company | Description |
| --- | --- | --- |
| | | |
| OmniPod | | Insulet Corporation, based in Massachusetts, is an innovative medical device firm dedicated to making life easier for diabetics. Omnipod is a wearable, waterproof, and tubeless insulin pump that uses exclusive pod therapy technology to give continuous insulin delivery for three days without the need for numerous injections. |
| NovoPen Echo® | | Novo Nordisk offers NovoPen Echo® Plus, an insulin pen that is innovative and smart, capturing insulin dose details for each injection automatically. It is a lightweight and reusable pen used for insulin treatment by patients for Diabetes Management. |
| Contour™ Next | | Ascensia Diabetes Care is a global company committed solely to improving the health and lifestyles of diabetics. They provide the world-famous Contour® blood glucose monitoring devices. The Contour™ Next device provides high accuracy and easy-to-use blood glucose monitoring systems. |
| AllStar® | | Sanofi is a worldwide life sciences company dedicated to enhancing healthcare access and supporting the people we serve across the healthcare continuum. AllStar® is an insulin injection pen that can be used over and over again. The pen uses changeable cartridges, making it a convenient solution for people who need to inject insulin regularly. |
| DBLG1 | | Diabeloop has created a self-learning algorithm for type 1 diabetes treatment that incorporates therapeutic artificial intelligence. DBLG1 is a self-learning algorithm that automates and customises the treatment. The DBLG1 System is a medical device that links three components: a Dexcom G6 CGM, an insulin pump, and a Diabeloop-enabled locked-down handset. |
| Accu-Chek | | Roche Diabetes Care is a global leader in Diabetes care systems and services, having pioneered the creation of blood glucose monitoring systems. Accu-chek is an instant blood glucose monitoring system that offers a strong portfolio of Accu-chek meters, test strips, and lancing devices with smart, easy-to-use features that help lessen the problems of Diabetes Management daily. |
According to DelveInsight's Insulin Delivery Devices Market, the global Insulin Delivery Devices Market was valued at USD 14.23 billion in 2020, growing at a CAGR of 9.23% during the forecast period (2021 to 2026), and is anticipated to reach USD 24.13 billion by 2026. The rise in demand for Insulin Delivery Devices is predominantly attributed to the rising prevalence of Diabetes among the geriatric population, favorable reimbursement scenarios, rising awareness about proper Diabetes Management and insulin delivery devices, and technological advancement in the product line, among others.
The report estimated that around 50% of Type 2 diabetes patients in the US would shift on the continuous glucose monitor to measure their blood sugar levels in the next three years. Remote monitoring devices for diabetics is the new trend due to which the insulin pump adoption among Type 2 diabetes patients in the US will be doubled from the current usage and is expected to reach around 35%. The use of continuous glucose monitors and insulin pumps has been progressively increasing in recent years, aiding the Diabetes device makers when the COVID-19 pandemic slowed sales across MedTech markets in 2020. Though, Diabetes tech still faces access issues that could hinder future adoption. The patients with Type 2 diabetes, mainly those who may not have to manage their health as intensely as those with Type 1, found the technology to be expensive. Although, it is expected to get better after the recent coverage change by the Centers for Medicare and Medicaid.
Advantages of Diabetes Technology
In the past few years, Diabetes technology has changed the face of treatment at an incredible pace. Over time, innovations can make Diabetes Management easier and more effective, but they require a patient's commitment and understanding. Diabetes technology can help people feel more empowered and take better care of themselves. Diabetes technology provides the potential for empowerment in the areas of safety, support, self-efficacy, and comfort. The advantages of incorporating Diabetes technology into standard treatment have enabled greater decision-making and personalization. Following are the advantages of different technology devices in the management of Diabetes:
Advantage of Diabetic Technology Devices
Device
Advantage
Insulin Delivery Device
Insulin Pump
Decreases hypoglycemia
Keeping track of active insulin
Reduces the number of jabs needed
Similar to the physiologic delivery of insulin
Insulin Pen
Flexible and more accurateEasier to carry
Improved patient satisfaction and adherenceUser-friendliness
Long-term cost-effectiveness

Monitoring Systems
Continuous glucose monitoring
Eliminate the need for fingersticks measurement Increased glucose control
Monitoring in real-time
Decreases glucose variability in patients undergoing either multiple daily injection therapy or continuous insulin infusion therapy.
Challenges Related to Diabetes Technology
Challenges of Diabetic Technology Devices
| Monitoring Systems | Insulin Delivery System |
| --- | --- |
| Expensive in comparison to finger prick systems | Expensive |
| There is a requirement to replace the sensor regularly | Chances of skin infection or allergic reaction from the sensor |
| Due to error, it may detect detecting hypoglycemia (low blood sugar) | Difficulty in changing infusion sets than single injections |
| Need to be calibrated with finger sticks on a regular basis | Associated technical and safety issues with cannula and infusion set which can detach and cause leakage |
| Complications because of insertion of sensor on-site | Lack of universal insurance coverage |
As the diabetic industry grows in response to increased demand for the devices, some companies produce devices with fewer functions than high-quality devices. Access to Diabetes technology is still a challenge that could hamper its use in the future. Patients have complained that the technology is too expensive, particularly for Type 2 diabetes patients who may not need to control their health as closely as Type 1 diabetics.
Consumers are less likely to buy the device with the high cost and fewer features. They prefer more comfortable devices for long-term usage with user-friendly material of the device which does not cause any skin infection or allergic reaction to the user.
Future of Diabetes Technology
New Diabetes medicines, monitoring, and breakthrough healthcare-enabling technology represent a once-in-a-generation potential to enhance the lives of people with Diabetes. Connected health for Diabetes will be powered by ubiquitous mobile devices with modular and interoperable software, as well as emerging technology such as machine learning. By enabling new models of treatment that boost velocity-to-control with more aggressive and frequent interventions that hasten the accomplishment of glycemic objectives, connected care will replace more expensive and inconvenient face-to-face clinic sessions. These new care models must be efficient, ethical, practical, and financially viable.
Future of Diabetes Technology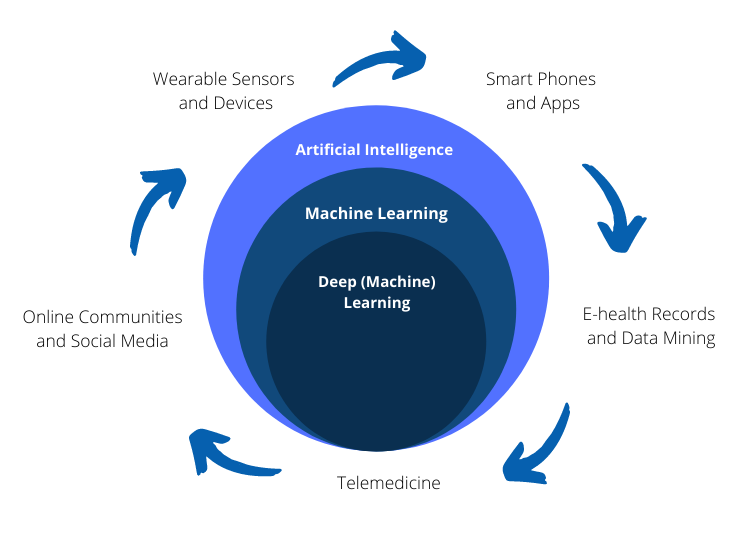 Despite its enormous impact, there is still no cure for Diabetes of any kind. Although most medications help patients manage their symptoms to some level, diabetics still face a slew of long-term health issues. The biotech industry has recognised this opportunity and is working to develop novel diabetic treatments with the ultimate goal of finding a cure. Many big tech giants are working progressively to develop devices and manage mobile apps to empower and improve self-care in patients.
Digital health technology, particularly digital health apps, for those with or at risk of Diabetes, has advanced quickly and is already a standard part of Diabetes care and self-management in specific groups. Understanding the food, physical exercise, and blood sugar levels interact is crucial for controlling Diabetes, whether you have type 1, type 2, or gestational Diabetes. Therefore, carb counts, insulin doses, A1C, glucose, glycemic index, blood pressure, weight are important points that need to be monitored. Phone apps, on the other hand, can make tracking and learning easier. AI is a viable and attractive option for efficient data handling and developing tools and devices for Diabetes care.
It can be considered that the ultimate dream is to develop an artificial pancreas, a fully implantable insulin delivery device, which will reduce human interference and improve the quality of life in Diabetes patients. Many companies are working in the segment, such as Beta Bionics, Bigfoot Biomedical, Diabeloop, Dexcom, EoFlow, Insulet Corp., and others. The launch of products by these companies is expected to bring changes in the market and can be considered as the big next step in the evolution of Diabetes Management.