Diabetes is the 8th largest cause of death in the United States (although its prevalence may be underreported). Diabetes affects more than 37 million people in the United States, and 1 in every 5 are unaware of their condition. Over 96 million US adults—more than one-third—have prediabetes, and more than 8 out of 10 are unaware of their condition. Diabetes is classified into three types: type 1 (T1), type 2 (T2), and gestational diabetes, with monogenic diabetes and cystic fibrosis-related diabetes being the least frequent. Type 2 diabetes accounts for 90% to 95% of all diagnosed instances of diabetes, while type 1 diabetes accounts for 5-10%. Similarly, in the United Kingdom, type 2 diabetes accounts for approximately 90% of all diabetes cases.
Simple lifestyle changes like a nutritious diet, frequent physical activity, maintaining normal body weight, and avoiding tobacco can help prevent or delay the onset of type 2 diabetes. Type 2 diabetes is most common in people over the age of 45. The number of adults diagnosed with diabetes has more than doubled in the last 20 years as the American population has aged and gotten increasingly overweight or obese. Moreover, medical costs, as well as lost work and wages, for people with diabetes total USD 327 billion per year. Diabetes patients face twice the medical costs of non-diabetics.
Current Diabetes Treatment Space
Diabetes has no cure; however, it can be managed and controlled. The goals of diabetes management are to keep blood sugar levels as close to normal as possible by balancing food intake and physical activity, to keep blood cholesterol and triglyceride levels as close to normal as possible, to control blood pressure, and to avoid the development of health-related complications. Insulin must be administered to treat type 1 diabetes since the body cannot produce it. There are various varieties of insulin on the market, each with a varied rate of onset and duration of action. The insulin type to use is determined by its start, peak, and duration.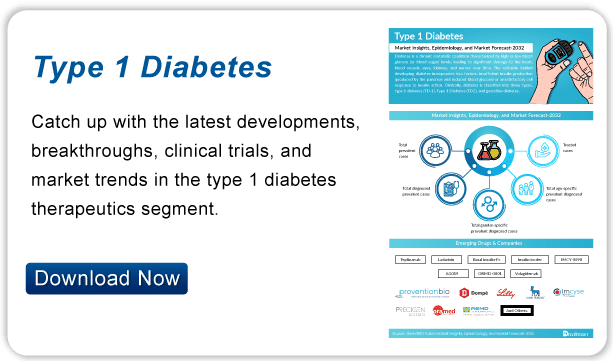 Basal insulins, such as Novo Nordisk's Levemir and Tresiba and Eli Lilly's Humulin N, last longer and provide consistent insulin throughout the day and night. While, mealtime, rapid, or bolus insulins have a shorter duration but provide insulin to handle blood sugar spikes after a meal, such as Sanofi's Afrezza and Novo Nordisk's NovoLog, etc. These insulin shots can be administered in a variety of ways. A needle, syringe, insulin pen, or insulin pump are the most common. However, in rare cases, taking insulin alone may not be sufficient to control blood sugar levels. The patient must then take another diabetes medication. Surgery to replace pancreatic cells is another possibility. Zynquista (sotagliflozin), an oral treatment developed by Sanofi and Lexicon, has been approved in the European Union to enhance glycemic control in persons with type 1 diabetes.
There are numerous medications available to treat type 2 diabetes. Each works uniquely. Glucophage (metformin), a biguanide, is a drug that is often used as the first medication for diabetes treatment. It is a pill that is taken by mouth and is available in regular and slow-release forms. It works by assisting the liver in turning protein or fat into sugar.
DPP-4 inhibitor drugs Tradjenta (linagliptin) by Boehringer Ingelheim, Onglyza (saxagliptin) by AstraZeneca, and Januvia (sitagliptin) by Merck Sharp & Dohme Corp are examples of incretin-based diabetes medications. These diabetes medications are based on the action of incretin hormones, which assist in controlling how the pancreas works. GLP-1 incretins stimulate the pancreas to create more insulin after a meal, assisting the body in using glucose. However, the effect of GLP-1 is only temporary because an enzyme called DPP-4 quickly degrades GLP-1 in the blood. DPP-4 inhibitors prevent the DPP-4 enzyme from working. This prolongs the duration of GLP-1 and raises the amount of GLP-1 in the circulation. GLP-1 increases mean less glucose buildup in the blood.
GLP-1 receptor agonist medications, commonly known as incretin mimetics, are an incretin-based therapy used for type 2 diabetes treatment. These are based on the action of incretin hormones, which help control how the pancreas works. These diabetes medications replicate the activity of GLP-1 produced by the body. GLP-1 effects are only temporary; however, GLP-1 receptor agonist drugs might continue for hours or days. It includes Amylin and Eli Lilly's Byetta (exenatide), Novo Nordisk's Victoza (liraglutide), Eli Lilly's Trulicity (dulaglutide), Novo Nordisk's Rybelsus (semaglutide), and Eli Lilly's Mounjaro (tirzepatide), among others.
Other types of diabetes drugs used to treat type 2 diabetes include Sodium-Glucose cotransporter-2 inhibitors- AstraZeneca's Farxiga (dapagliflozin), Janssen's Invokana (canagliflozin), etc. Insulin secretagogues- include Sanofi's Amaryl (sulfonylureas) and Novo Nordisk's Prandin (meglitinides). Thiazolidinediones- Takeda's Actos (pioglitazone), GSK's Avandia (rosiglitazone).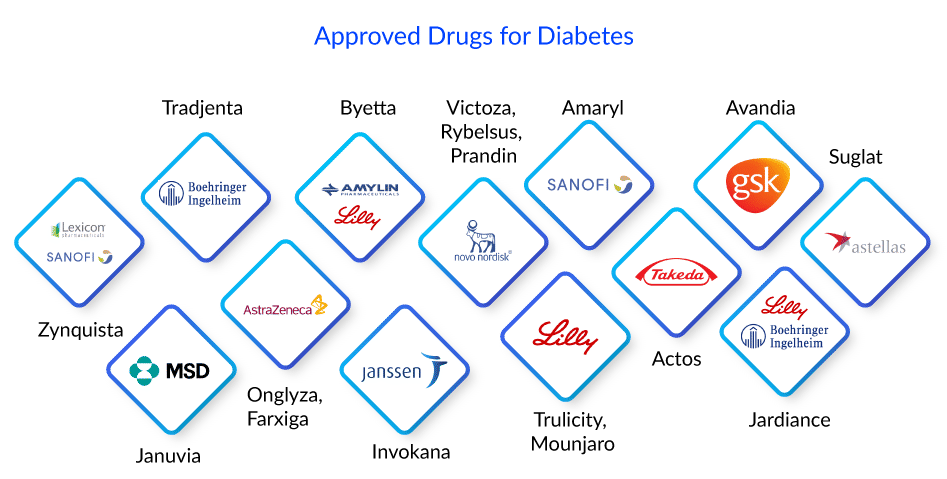 Despite the availability of numerous drugs and breakthroughs in diabetes treatment, patients eventually require insulin shots or surgery to maintain glucose control. There is an unmet demand for long-term effective novel therapeutic options.
Will the Entry of Cell Therapies Change the Diabetes Treatment Market?
Recently in March 2023, Vertex Pharmaceuticals announced that the FDA had approved the Investigational New Drug Application (IND) for VX-264, a stem cell-derived, fully differentiated pancreatic islet cell therapy encapsulated in a Vertex-developed immunoprotective device with the potential to treat type 1 diabetes. The VX-264 program does not require the use of immunosuppression, which may increase the pool of persons with T1D who potentially benefit from this investigational medication.
VX-264 is an investigational cell treatment in which allogeneic human stem cell-derived islets are encapsulated in a channel array device meant to protect the cells from the body's immune system. VX-264 is a surgically implantable device that is currently being tested in individuals with type 1 diabetes. Vertex intends to start Phase I/II clinical research in the first half of 2023 to investigate the safety, tolerability, and efficacy of VX-264 in type 1 diabetes patients. The company previously gained permission from Health Canada on the Clinical Trial Application (CTA) for VX-264, and the Phase I/II trial is currently underway in Canada.
Moreover, on March 27, 2023, CRISPR Therapeutics and Vertex Pharmaceuticals announced a new non-exclusive licensing agreement for using CRISPR Therapeutics' gene editing technology, known as CRISPR/Cas9, to accelerate the development of Vertex's hypoimmune cell therapies for type 1 diabetes. In exchange for non-exclusive rights to CRISPR Therapeutics' technology for developing hypoimmune gene-edited cell treatments for type 1 diabetes, Vertex will pay CRISPR Therapeutics USD 100 million upfront. CRISPR Therapeutics will be entitled to up to USD 230 million in additional R&D milestones and royalties on any future products originating from this arrangement.
Vertex is researching a number of investigative treatments involving stem cell-derived islets with the goal of replacing the insulin-producing islet cells that are lost in persons with type q diabetes. VX-880, Vertex's first clinical exploratory program in type 1 diabetes, is a stem cell-derived, fully differentiated, insulin-producing islet cell replacement therapy used in conjunction with immunosuppression. Vertex has proven clinical proof-of-concept in the VX-880 program. The Phase I/II clinical investigation is underway in the United States and Canada after the FDA withdrew the clinical hold on June 5, 2022. Additionally, on July 11, 2022, Vertex acquired ViaCyte for USD 320 million to accelerate its potentially curative VX-880 programs in type 1 diabetes.
AVT001: Tough Competitor to Vertex's Products
AVT001, being developed by Avotres, is a cell treatment that targets the novel Qa-1/HLA-E restricted CD8+ regulatory T cell (Q/E CD8+ Treg) mediated pathway to address the common root cause of autoimmune disorders. Recently in December 2022, the company announced that the primary readout in their combined phase I/II study (NCT03895996) for the treatment of type 1 diabetes patients with AVT001 was positive.
Avotres reported encouraging Day 150 data from the Phase I/II clinical trial of AVT001, an investigational autologous dendritic cell-based vaccination, in those diagnosed with type 1 diabetes within a year. Patients aged 16 and older (n=25) were enrolled in this randomized (2:1 ratio of treatment vs. placebo), double-blinded, placebo-controlled experiment. The study's primary objectives are safety and tolerability at day 150. The primary secondary effectiveness objective changes from baseline in the area under the curve (AUC) of stimulated C-peptide levels across a 4-hour mixed meal tolerance test (MMTT). The trial is still underway, with a long-term (2-year) safety/tolerability and efficacy follow-up planned by the end of 2023.
Gene Therapy for Diabetes Treatment: The Next Big Achievement?
In recent years, genome editing has become a hotly debated topic. With the growth of CRISPR technology in the news, neither scientists nor investors are surprised. CRISPR Therapeutics and ViaCyte created history in February 2022 when they performed the first-in-human transplant of gene-edited, stem cell-derived pancreatic cells for type 1 diabetes treatment. Genprex hopes to provide credibility to another genome editing strategy in the search for a functional cure for type 1 diabetes by publishing the results of animal research in February 2023.
Genprex, based in Austin, Texas, is dedicated to discovering life-changing medicines for cancer and diabetes. Three separate drugs are under investigation in the company's pipeline: Reqorsa, GPX-002, and GPX-003. While Reqorsa is in Phase I trials for cancer indications, GPX-002 and GPX-003 are in preclinical trials for diabetes treatment, with GPX-002 targeting type 1 diabetes and GPX-003 targeting type 2 diabetes. While traditional gene therapies for diabetes include replacement gene therapy, gene editing, and CAR-T, Genprex aims to deliver Pdx1 and MafA genes to the pancreas using adeno-associated virus (AAV) pancreatic intraductal infusions.
CRISPR and ViaCyte are a little further ahead with their diabetes genome editing treatment, VCTX210. This was a major draw for Vertex, which acquired ViaCyte in July 2022. Unlike ViaCyte's previous products, such as PEC-Direct, which required long-term immunosuppression with medicines, VCTX210 is intended to be a more permanent solution that does not require immunosuppression. The companies had finished treating Phase I participants by February 2023. While this is technically one step ahead of Genprex, the Phase I trial focuses on safety rather than efficacy.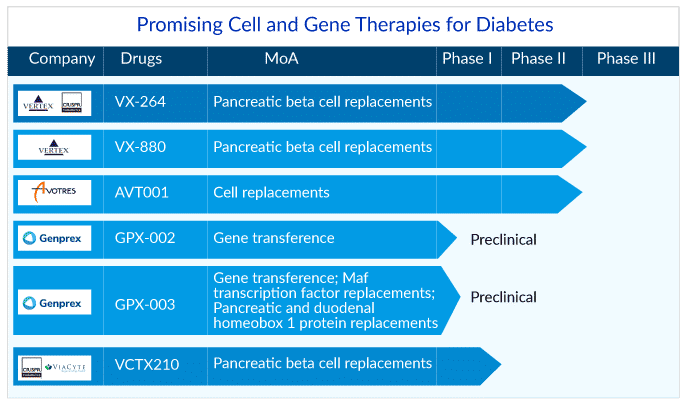 There are also some variances between VCTX210 and Genprex's products. VCTX210 is an allogeneic, gene-edited, stem cell-derived therapy aimed to be the best-in-class treatment for type 1 diabetes and insulin-dependent type 2 diabetes, whereas Genprex uses viral delivery. Whatever the future holds for Genprex against CRISPR/Viacyte, these gene therapy treatments have a lot of potential in the quest for a single diabetic solution. Keep an eye out for these frontrunners in the next years, as they have potential answers for a patient pool that numbers in the hundreds of millions worldwide.
Future Diabetes Treatment Space Looks Promising
The future of diabetes treatment is changing, with new treatment paradigms focusing on different parts of the pathological origins of type 1 and type 2 diabetes. The World Health Organisation now considers it an epidemic, with an estimated 700 million people expected to be impacted by 2045, and there is currently an unmet demand.
Gene therapy has been around for more than two decades, and diverse studies are still being conducted in this sector on a regular basis. Both gene therapy and gene editing offer a lot of promise for those with type 1 diabetes looking for a future without insulin or immunosuppressive therapy. Gene therapy research is ongoing, with the goal of reprogramming certain cells in the body to begin producing insulin without triggering an immunological response, as seen in people with type 1 diabetes. While gene therapy and gene-editing therapy are still in their early stages, there is a lot of hope for a type 1 diabetes cure in the near future.
FAQs
1. What is diabetes?
Diabetes is a chronic metabolic condition characterized by high levels of blood glucose (or blood sugar), which causes catastrophic damage to the heart, blood vessels, eyes, kidneys, and nerves over time. It is a chronic condition that happens when the pancreas does not create enough insulin, or the body does not use the insulin produced adequately.
2. What are the symptoms associated with diabetes?
Diabetes symptoms vary depending on the body's blood sugar level. The diabetes symptoms are first so faint that they go overlooked. However, as diabetes progresses, the person begins to experience symptoms such as blurry vision, dry mouth and itchy skin, frequent urination, foot or leg pain or numbness, fatigue, thirst, and weight change. Type 1 diabetes symptoms emerge quickly, but type 2 diabetes appears gradually and with minimal warning signs. Symptoms may appear following a viral disease. Diabetes complications can be managed more effectively if they are detected and treated early. 
3. How is diabetes diagnosed?
Urine analysis is the most basic test for determining excessive blood sugar levels. Blood tests to detect fasting blood glucose and hemoglobin A1C levels, as well as oral glucose tolerance tests, are used to confirm the diabetes diagnosis. Blood sugar levels are examined between the 24th and 28th weeks of pregnancy to determine gestational diabetes.
4. How is diabetes treated?
Diabetes has no cure but can be treated and controlled with diet, exercise, and medications to lower blood sugar levels. The core of treatment for type 1 diabetes is insulin delivery via daily injections or a pump. Biguanides, sulfonylureas, meglitinides, alpha-glucosidase inhibitors, thiazolidinedione, glucagon like-peptide-1 agonists, DPP-4, and SGLT-2 inhibitors are administered in type 2 diabetes. The US FDA approved several drugs in these classes, including AstraZeneca's Forxiga, Eli Lilly/Boehringer Ingelheim's Jardiance, Astella's Suglat, and Eli Lilly's recently approved Mounjaro (tirzepatide) and others.